Technically Speaking is the latest book from leading diving author SIMON PRIDMORE, and it's an entertaining and informative must-read for any diver who wants to understand how technical diving emerged and developed. To give you a flavour, here is an extract from one of the chapters in Volume 1: Genesis And Exodus – it's all about expansion

Technical diving did not explode into the world of sport diving. It did not erupt. It did not have the means to erupt. There were too many opposing factors and forces. First, there was resistance within the scuba diving establishment, where many were concerned that expanding the idea of what constituted diving for fun might threaten the reputation, independence and economic health of the whole sport.
And then there were logistical stumbling blocks and institutional deficiencies, such as lack of the right equipment, misinformation, general ignorance and lack of knowledge and experience, not to mention the fear of legal consequences.
To extend the metaphor, in hindsight you can see technical diving's progress as more like a lava flow, slow, steady, inexorable, inevitable and relentless, overcoming obstacles by finding a way past them or absorbing them, rather than smashing them down.
It is interesting to note that worldwide expansion came more quickly than mainstream acceptance in technical diving's US homeland.
* Not until ten years after Dick Rutkowski started IAND did PADI announce its own nitrox diver program.
* Eight years elapsed between Tom Mount, Billy Deans and Bret Gilliam introducing the first IANTD trimix diver certification courses and PADI adding tec and trimix to its training pyramid.
* Sport divers had been taking rebreather courses with IANTD and TDI instructors for 16 years before PADI hopped aboard the closed-circuit wagon.
I use PADI as the example here because it is by far the world's largest diver training agency and is largely perceived to be synonymous with the sport diving mainstream.
So, there was no explosion. The activities and interaction of people like Bill Hamilton, Sheck Exley, Bill Stone, Billy Deans and Michael Menduno in the mid to late 1980s – a period I define as the crucible of technical diving – generated the spark for what was to come but did not produce a big bang.
In hindsight, this was inevitable. After all, many things had to change in order for a diving world to exist where someone could walk into a dive store, express interest in nitrox or technical diving and sign up for a course. The store needed to have the personnel and the means to teach the course, the equipment to lend or sell to the students and the gas(es) they needed to use.
The store also had to have a licence to issue successful graduates with evidence that they now knew what they were doing in the form of internationally-accepted certification cards, so they could go to other places and rent equipment or buy gas.
Finally, in order to attract new nitrox or technical divers, there had to be boats and resorts in desirable dive destinations that could offer the type of diving they would be qualified to do.
To create this world, the movers, shapers and shakers of technical diving would need first to gather, discuss, share knowledge, set up systems and procedures, agree on course particulars and structures, create a cadre of teachers, establish gas blending protocols, have the right gear available in sufficient quantity and find a means of turning it all into an export as well as a domestic business.
This would all take time. The fact that much of it was in place well before mainstream diving acceptance arrived is quite astonishing.
Dick Rutkowski retired from US Government service in 1985 and started his own company Hyperbarics International, leveraging on his primary field of expertise. He also began a side-line business based on his big idea, which was teaching sport divers how to dive with nitrox.
Using nitrox instead of air as a breathing gas for single-cylinder diving with no required decompression stops was a concept that had proven its value in the scientific field, but it was virtually unknown in the sport diving world. And Rutkowski was the only one that had it. The name he chose for his new training agency, the International Association of Nitrox Divers (IAND), shows his ambition. He planned to take his big idea to the world.
If you build it, they will come. That was what he was thinking.
Simultaneously, at Key West Diver, 100 miles south of Rutkowski's Key Largo, Florida base, Billy Deans was developing his own big idea. Driven partly by the diving death of a close friend in 1985, he set himself on a quest to figure out how to make deep diving as safe as possible, constantly improving and refining the processes, equipment and gas choices and devising a training course so he could sell his knowledge to others.
Nobody else was doing this. Like Rutkowski, Deans offered a unique product that had the potential to transform the world of sport diving. He also believed that if you build it, they will come.
And they did come, but Rutkowski and Deans both ran into the problem that affects small businesses in every field of human endeavour—scalability. The number of customers they could cater to was limited by the time they had available.
Because it was all down to them. Their knowledge was the product, and they were also the delivery device. Their uniqueness was their weakness.
Neither had the means to build a network or a market. Rutkowski did not have a formal Nitrox Diver Manual until 1989 and, right up until 1992, the only reference material Deans could offer students was a research folder containing photocopied documents that he had collected from various sources.
In the beginning, a nitrox certification card was virtually useless. Rutkowski was the only source of nitrox fills. If you did not live within an easy drive of his place, then you had to resort to blending the gas yourself or trick your local dive store into giving you an air top-up in a cylinder partially filled with oxygen.
The first option carried the danger of an oxygen explosion in your house; the second risked blowing up your favourite dive shop's compressor room. This was not an ideal state of affairs.
In Deans' case, his dive store was the only one in the world that was deploying the sort of deep diving protocols he was teaching, such as supplying in-water oxygen from large cylinders on the boat via extra-long whips to divers on a decompression station below. You could learn how to dive his way, but there was nowhere else to do it.
In 1988, Rutkowski went to New York and launched a second training agency in partnership with Ed Betts of Island Scuba Centers in Freeport. They called it American Nitrox Divers Inc (ANDI). The number of nitrox training agencies had just doubled. The number of outlets for nitrox training and nitrox fills had just doubled too. It was a start. But it was not enough.
In 1990 Rutkowski sold IAND to Tom Mount, who had a lot of experience running diver training agencies, building programmes and instructor networks, and creating training materials. His long resumé covered cave diving, wreck diving, deep air diving, mixed gas diving, and even closed-circuit rebreather diving.
Rutkowski stayed on as a director, but the agency he founded would henceforth no longer be a one-trick pony. Mount would add a T for Technical to the acronym and turn it into a whole herd of wild horses…
Read Technically Speaking
Simon Pridmore's latest book is a series of themed talks about the early history of technical diving – where it came from, how it developed, how it expanded across the world, who the important movers were and how, in the decade from 1989 to 1999, the efforts of a few determined people changed scuba diving forever. "By the end of the decade, divers were playing in a much bigger pool than before and with far more advanced toys. But the pathway to progress was anything but smooth."
The author has been at the sharp end of the scuba-diving industry for 30 years, working as a guide, divemaster, instructor, instructor trainer and instructor trainer-trainer. In the 1990s he pioneered mixed-gas deep diving in Asia, and his shop Professional Sports Divers in Guam was the first dedicated technical dive-centre in the Western Pacific.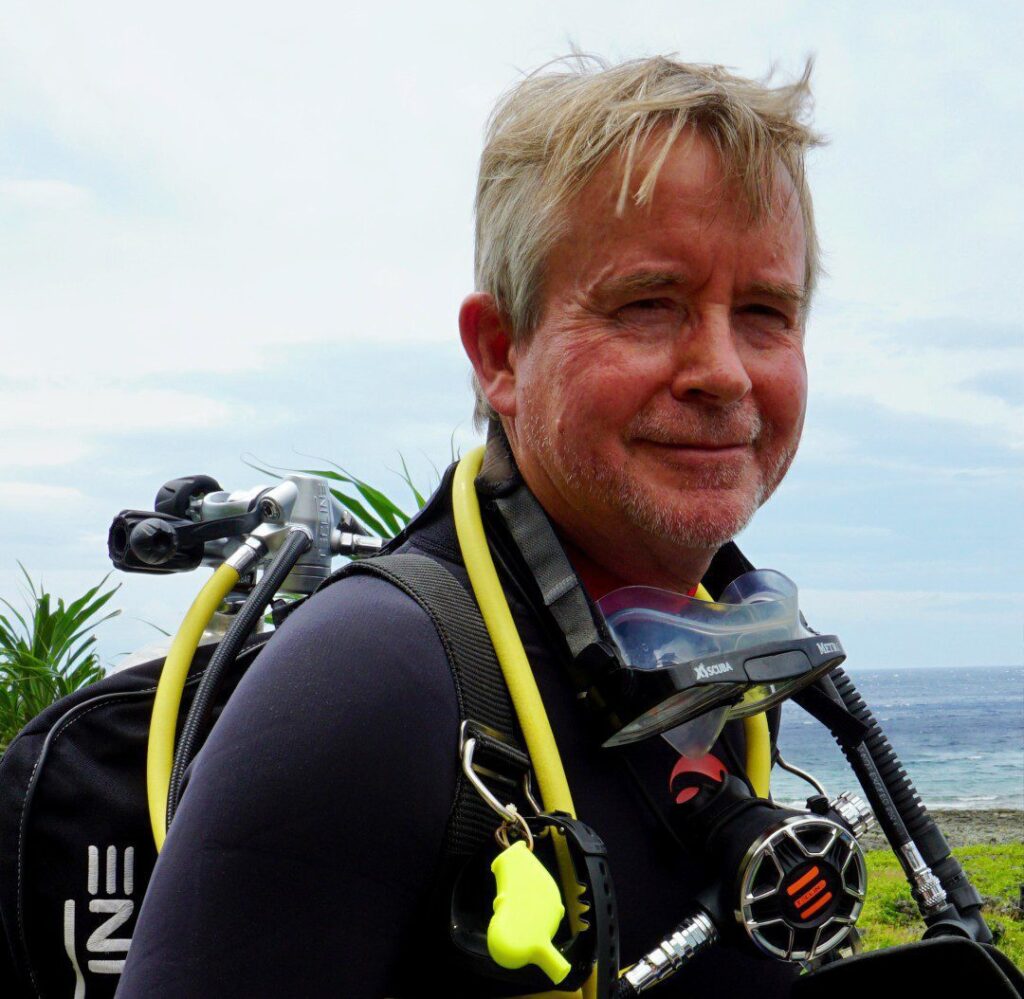 He also held the regional franchise for IANTD, with technical-diving operations in Bikini Atoll, Majuro, Palau, Kosrae and Truk Lagoon. He later moved to the UK as IANTD licensee there, as well as working for VR Technology.
Now Taiwan-based, Pridmore is one of diving's most prolific writers. His work includes the five-volume Scuba series, guides for travelling divers, a biography, a novel and divers' cookbooks. Check out his work on his website or sign up for his Scuba Conversational newsletter.
Technically Speaking, Hardback, ISBN: 9798376029596, 298pp, 15x23cm, £19.99 (also paperback £14.99, Kindle £5.99)