A tropical lagoon in the Pacific containing more than 60 WW2-era Japanese ships has been the wet dream of wreck-divers since the area was first dived in the early 1970s. Initially this was an expedition destination, but today divers can explore the wrecks at leisure from a comfortable liveaboard. JESPER KJOLLER spent 10 days there and had a blast
WHEN I DESCENDED ON THE famous San Francisco Maru, it is with a special feeling of having been there before – a kind of wreck déjà vu. For more than 25 years I've been dreaming of this wreck, and I've seen so many iconic images of the famous pile of tanks that it all seems vaguely familiar. But this is my first dive on the Million Dollar Wreck, as it is affectionately known.
Many divers consider San Fran the climax dive of the lagoon. And it is an impressive wreck, with its valuable cargo of mines, explosives and the three Type 95 HA-GO tanks on the deck. How they managed to squeeze a commander, a machine-gunner and a driver into those tiny vehicles is mind-blowing.
Japanese seamen must have been very thirsty. Beer-bottles are found everywhere on the wrecks, sometimes just here and there but often in stacks, in boxes or just in huge piles.
Between dives, I spend time in the reference library on the boat. I already found out about the events that led to the American air strike in February 1944, (Rusty Pilgrimage, October), but I wonder how Truk surfaced as a world-class diving destination. I know that Jacques Cousteau played a key role, but how exactly was Truk rediscovered after being completely forgotten after the war?
I had brought along a copy of a Cousteau documentary, and I put it on the screen in Truk Master's spacious saloon one evening after dinner.
The man in the yellow-striped suit
A lean man in a strange rubber suit with stylish yellow stripes climbs down the dive-ladder. He is so skinny that he barely manages to fill the suit.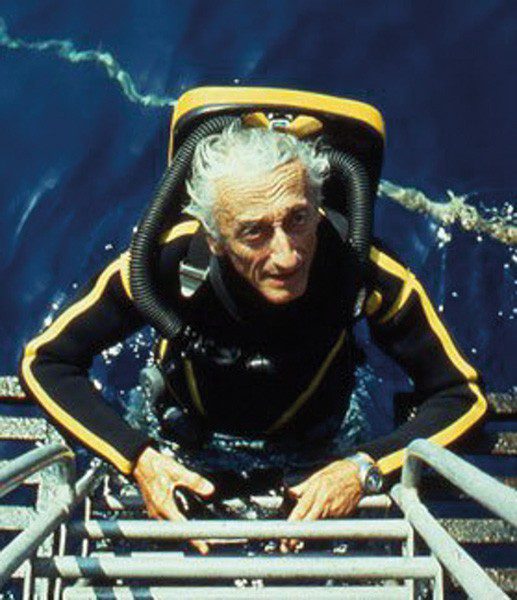 He is not a young man. His thinning grey hair, almost fragile appearance and weather-bitten features suggest that he must be in his 60s.
He is wearing the most basic set of scuba equipment imaginable. The yellow steel tank is strapped to his back with a simple harness. The tank has a first and a second stage connected by a single hose.
On his wrist is a diver's watch. His kit is completed by rubber fins and a mask. That's it. No frills.
He fits the mask to his face, puts the regulator in his mouth and disappears beneath the surface. He is moving around with an agility and ease that contradicts his age. He is exploring the wreck in Truk Lagoon with such agility that you might think he had invented scuba-diving.
Which of course he did. The man in the yellow-striped suit is Jacques-Yves Cousteau, and the scene can be enjoyed in the celebrated documentary Lagoon of Lost Ships.
Alone on the wrecks
San Francisco is a rather deep dive, with an average depth approaching 50m, so for divers who would rather spend time exploring the wrecks than on extended hang-times, I think the Nippo Maru has even more to offer. Among its highlights are the Haubitzer-guns, a HA-GO tank similar to those on San Francisco, tons of ammo and the usual assortment of mess gear, gas-masks and beer-bottles.
The very nice engine-room is a cornucopia of rusty panels, gauges and weird-looking instruments, but the highlight of a Nippo dive is the extremely photogenic bridge, with two intact telegraphs and an appealingly colourful steering binnacle.
It's a rare treat to have the wrecks completely to ourselves. During my 10 days on Truk Master, I meet no divers under water other than my travelling companions.
There are currently only three liveaboards operating in the lagoon, and the small day-boats from the land-based dive-centres have plenty of wrecks from which to choose.
To be alone on these world-class wrecks bestows on the trip an extra exclusive element, and a tangible sense of expedition.
I wonder if the Cousteau team also dived the Nippo Maru? And how did they find their way to Truk Lagoon in the first place?
Calypso gets a facelift
In 1966, the American producer David L Wolper approached Jacques Cousteau with the idea of making a TV series, but after visiting his vessel Calypso, Wolper became somewhat disappointed. "It looks like shit!" he said.
Everything needed to be streamlined on television in the USA during an era in which clean-cut NASA astronauts in sparkling white space-suits were the nation's biggest heroes.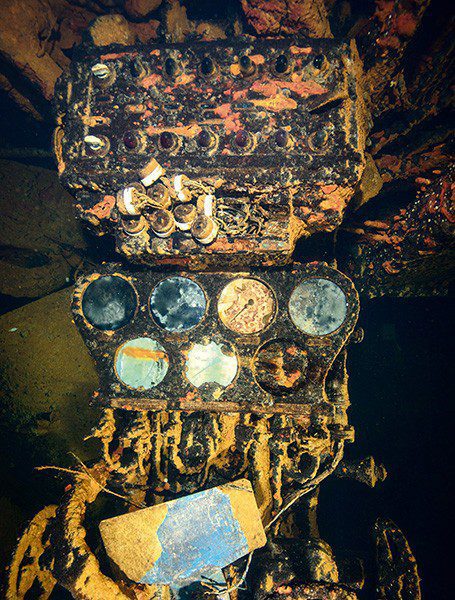 It was Wolper's idea to pimp up Calypso and the crew with the stylised wetsuits, the yellow helmets with radio communication and to wrap their aqualungs in streamlined plastic casings.
Cousteau took Wolper's space-age look and ran with it. Calypso got a much-needed facelift and was transformed into a floating TV studio with a huge capital injection from the ABC network.
The Undersea Adventures of Jacques Cousteau became a hugely popular series and ran all over the world from 1966 to 1976. The team and the producers were always on the look-out for new adventures, and Truk caught Cousteau's attention when he read an article in the Los Angeles Times by syndicated US journalist Charles Hillinger.
Hillinger knew about Truk from his time on US aircraft-carriers in the Pacific theatre during WW2. On 26 May, 1969, the LA Times carried the first newspaper story about the Truk wrecks under the headline Sunken Japanese Fleet Lie Untouched in Lagoon of Truk.
A few days later the journalist received a call from Cousteau, asking detailed questions. It's fair to speculate that Cousteau felt a sense of urgency. He wanted to be the first to plant the diving flag in Truk.
Steam punk
Another highlight of the trip is our exploration of Heian Maru, the largest wreck in the lagoon. The 163m ship rests on its port side in 35m and is very easy to identify, as the name can clearly be read on the stern – both in Western letters and Japanese characters.
Before the war, she was carrying 300 passengers and cargo across the Pacific. But when war became reality, she was converted into a submarine tender.
Our rebreathers are a big advantage inside the wrecks, where exhalation bubbles would have produced a rusty rain that can compromise the visibility and, at worst, make it difficult to find the exit. Our navigation is disadvantaged by the fact that the wreck is resting on its side, so it's difficult to maintain a mental picture of which is up and which down.
Aaron moves slowly and carefully in front of me. I stop to take photos of exciting details. This engine-room is a treasure-trove of rusty relics, and we cheer loudly in our rebreather mouthpieces as we find legible displays, intact gauges and weird configurations of twisted pipes and hand-wheels.
Large panels of electrical knife-switches look like something straight out of an old Frankenstein movie. Fans of the steam-punk style would have a blast here. We're in a haunted house of twisted ladders, stairs and gangways.
On the face of a big dial, I can clearly read "Burmeister & Wain – Kjöbenhavn (Copenhagen)". For more than a century, B&W was a leading Danish producer of diesel engines.
We could easily spend the whole dive in here, but it's time to return before we venture too deep inside the narrow and twisted passages.
And we also need time to investigate the enormous lance torpedoes and the pile of spare U-boat periscopes that Heian Maru was carrying. An epic dive.
New technology
The Cousteau expedition arrived in Micronesia less than two months after Truk was outed in the press. The crew didn't have time to make the long journey in the famed Calypso, so a local tugboat, the Hopeful, was hired.
Most of the identities of the wrecks the team dived were unknown or unconfirmed. They used the knowledge of local fishermen, eyewitness accounts, sonar, maps and spotter-planes to locate the wrecks. Some were visible from the surface, while others were revealed by oil slicks or the gasoline smell.
The technology and know-how that the Cousteau team brought into the lagoon made it possible to map and properly explore the wrecks for the first time.
Eight weeks later, the team had logged 480 dives on 33 wrecks.
Papa Cousteau flew in to sprinkle a little stardust over the footage, but he stayed in Truk for only a few days. This was a Philippe Cousteau operation.
Controversially, the Cousteau expedition not only left with hundreds of hours of 16mm footage in colour, but also with several crates of artefacts for "study". They didn't share the positions of the wrecks with anybody, and the relics ended up in the Cousteau estate, more pawns in the eternal legal battles in the family.
The Truk episode aired in May, 1971, as part of The Undersea World of Jacques Cousteau. I probably saw Lagoon of Lost Ships for the first time late in the 1970s, but I distinctly remember the sequence in which the team dives a wreck with human bones and skulls inside.
The voice-over claims that the wreck is at 300ft (92m) but the ship was probably the Aikoku Maru, which rests in 64m, and the superstructure where the captain's chest, shoe and cap were found are likely to have been not much deeper than 50m.
Still a deep-air dive, but a little more achievable than 300ft. A little exaggeration now and then for added drama was not uncommon in the Cousteau documentaries.
Hail Maru
Many of the merchant ships are of the same type. Before the war, the civilian Japanese shipping industry was heavily subsidised by the Empire and many private cargo vessels were designed – at the polite request of the rulers – so that they could easily be converted for military purposes should war break out. Other vessels were simply confiscated by the Ministry of War.
The Japanese convention for naming ships differed from the western tradition. Warships were never named after people. Merchant vessels always include the word Maru, but why is unclear.
Some suggest that it can mean "circle", and that it symbolises something perfect or complete, but as it also means round or even chubby, Maru was often used as an affectionate nickname for slightly overweight kids!
The merchant ships are significantly chubbier than the sleek destroyers and minesweepers, which were built for speed, not loading capacity. Maybe the Maru suffix was a way of giving
a personal touch to the names of merchant vessels?
It is true!
It's a challenge to avoid clichés when describing diving the wrecks in Truk Lagoon – "wreck-diving paradise", "holy grail of wreck-diving", "number one on wreck-divers' bucket-list", "world's largest underwater museum"… the list goes on. There is, however, a good reason for the diving having had these labels attached. They're all true!
Where else would you find in one place so much WW2 history, the Cousteau legacy and enough aircraft, submarines, warships and cargo vessels to last a lifetime of exploration?
And all in calm, warm and clear tropical water with plenty of marine life to complement the wrecks.
I know that after 10 days I have merely scratched the surface of the lagoon and that I want to go back. I'm already planning my next trip.
FACTFILE
GETTING THERE: Most people fly via Manila, from where United Airlines operates a route to Truk across Guam. Guam is US territory, so even if in transit, you need ESTA entry clearance to the USA. There is a US $40 exit tax from Truk.
DIVING & ACCOMMODATION: The four-deck Truk Master is the newest liveaboard in Truk, taking 16 guests for seven or 10 nights, masterliveaboards.com. It offers four daily dives, usually at least two on each wreck. The boat seldom needs to move for more than an hour. Technical and rebreather divers opt for fewer but longer dives. In 2018 and 2019, Aron Arngrímsson is offering expedition-style "Dirty Dozen" trips for technical divers on Truk Master, concentrating on 12 interesting and lesser-dived deeper wrecks, [email protected]
WHEN TO GO: Year-round. Truk is located in the northern Pacific and rarely exposed to hurricanes. Average temperature is 25-30°C, and water 28-30°. The weather changes all the time, but heavy rain lasts only for short periods. Currents are weak or non-existent.
A 3mm suit is fine, but consider gloves and hood for penetrations.
MONEY: US dollar
HEALTH: Basic recompression chamber in Truk
PRICES: A seven-night trip on Truk Master costs from £2408pp for full board accommodation and up to four dives per day, Blue o Two. Return flights from the UK cost from around £1400.
VISITOR Information: Visit Chuck Website