FREE DIVER
Mermaid at the Museum
MERMAID DEEPBLUE is back, this time getting a tad chilly in the Canary Islands, though her fellow-models don't feel the cold. Underwater photography by ARTURO J TELLE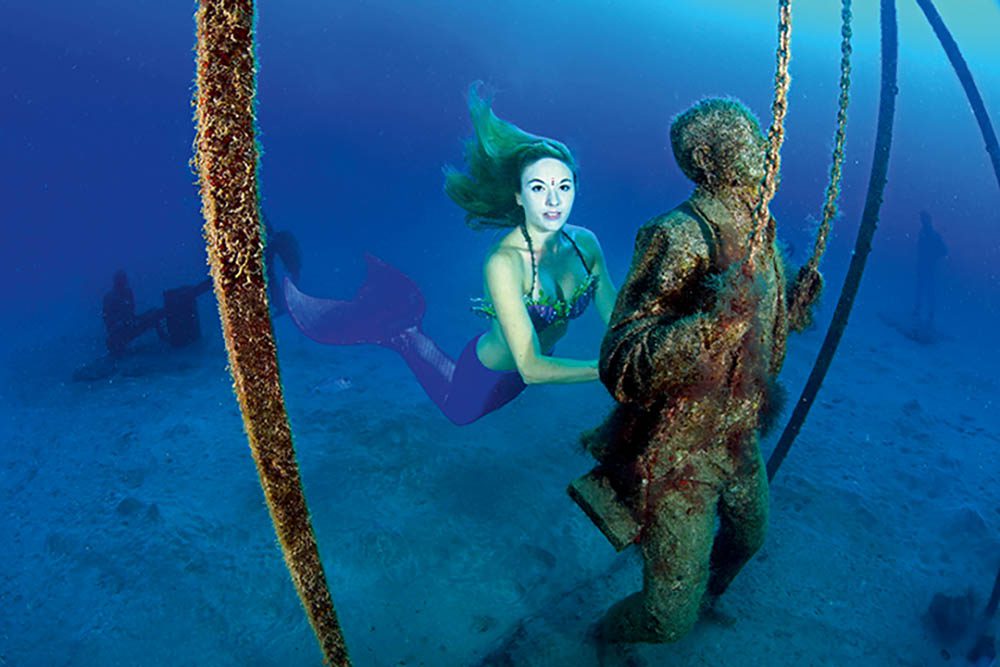 Pushing the swing.
When my boyfriend suggested that we go on holiday to Lanzarote in the Canary Islands last November, I wasn't immediately enthusiastic. I usually prefer Asian destinations, and tend to stay away from places that seem too touristy.
However, I quickly discovered that Lanzarote was the sort of island where triatheletes train and, even better, that it had an underwater museum. That sounded perfect for a photo-shoot, so I started packing my mermaid tail!
The Atlantic Museum Lanzarote was designed by British sculptor Jason deCaires Taylor, with 300 figures cast from moulds inspired by local people. The first of these were submerged at around 14m at the start of 2016, and a year later the museum "opened its doors".
It used to have an underwater mirror set-up though this soon corroded, but that had been a bonus – the site is well worth seeing, and always evolving as marine-life colonisation takes place.
There are 12 separate installations of statues, including a couple taking a selfie and a 30m-long gateway with figures walking towards it. It's possible to see all of these in a dive or two, as long as the visibility is good.
I'm a scuba-diver but I was eager to have some freediving training while I was away, so booked with Sergio Soria of Ocean Freediving Lanzarote. It was a great training week, during which I reached 21m depth and got much closer to my AIDA Level 3.
Sergio also helped me to set up a photoshoot by reaching out to talented photographer Arturo J Telle and arranging the logistics.
We all met up one evening to discuss the proposed sites and decide which would be best for posing as a mermaid and which wearing a fashionable dress. As always with one of my shoots we went into considerable detail about security, and one of Sergio's friends, Alessandro, kindly agreed to attend as safety diver.
Appeared in DIVER June 2019

Over the following days I kept up my freediving training, maintaining my activity levels ready for the shoot. Then we went out with another group of scuba-divers, who would be exploring the site while I was working.
I started putting on my mermaid tail at the back of the boat as we entered the museum area, to the puzzlement of other boat passenger, and paid for our entrance tickets (yes, just like a "real" museum!).
We jumped into the water, and the temperature was a bit of a shock for me initially. How I envied all the people around me wearing wetsuits! I quickly got used to it, however, and we made our way to the first site: the swing.
This is an amazing set-up for a mermaid, being able to appear to push a human on playground equipment under water, but getting the shot can be tricky because you need to hold yourself well enough for a position while ensuring that it actually looks like a push – and holding that smile! The outcome was very good, despite the low visibility that prevailed across the whole site that day.
We proceeded to our second selected attraction: the see-saw. With two human statues positioned on each side of it,
we had decided that I should sit in the middle as a mermaid, as if observing them. This pose was much easier and we surfaced to get me changed into my dress.
Back on the boat, I was having trouble getting back to my normal temperatures and was quite close to hypothermia.
I needed more time before going into the next shoot, but fortunately the divers and crew were all sympathetic and gave me time to recover.
The other divers on the boat had had enough with their single dive – they said they had been cold, even with wetsuits – and repeatedly expressed appreciation of my willingness to go back into the water without any thermal protection!
For our second session, we went into the spot that features a massive circle of bodies all piled-up on top of each other. "Human Gyre" features 200 life-size figures, and it's an impressive spectacle.
Arturo and Alessandro had to get far enough from me to be able to get the whole circle into shot, so I tried to stay as long as I could without breathing to get a good result.
Arturo was however limited by the prevailing visibility, so had difficult choices to make in selecting the correct distance for the picture.
Finally we arrived near a massive wall with 30 figures walking towards it, set up by Taylor to show that territories and ownership have no meaning in nature – especially in the ocean.
I still felt comfortable enough to sit down and strike a few more poses before the cold really set in, and we then went back up.
Every time we arrived at a site, Arturo and Alessandro looked out the safe spots for me to hold onto, without disturbing any colonising sea life, which made my life much easier !
Once back on land I was able to enjoy the bliss of a hot shower and the results of the shoot. Sergio, Arturo and Alessandro were incredibly helpful and serious about setting up this whole experience and it was truly enjoyable for me.
I would definitely go back to enjoy this site as a scuba-diver, and I hope everyone can go to the "Volcano Island" at some point to enjoy the spectacle.