archive – Diving News
Sabah archaeologists oversee WW2 wreck destruction
A WW2 Japanese shipwreck dive-site off the coast of Sabah in Malaysian Borneo has been destroyed – as the result of "research work" commissioned by the local university's archaeological unit.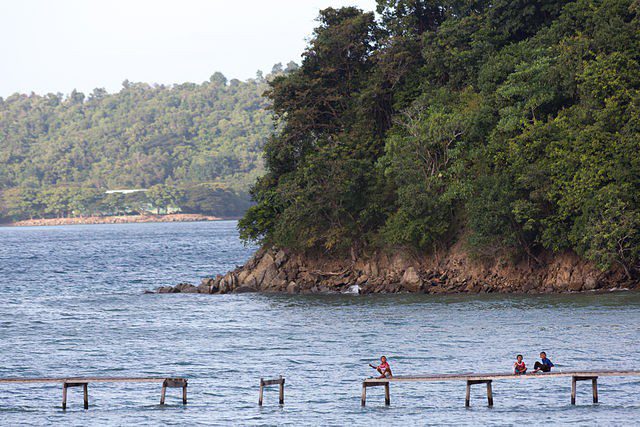 The diver attraction known as the Usukan Bay wrecks consisted of the three cargo vessels Kokusei Maru, Higane Maru and Hiyori Maru.
Torpedoed en route to Manila in 1944 by the submarine USS Hammerhead with 138 fatalities, the 5300-ton vessels lay close to each other and were known by divers as the Rice Bowl Wreck, Upside Down Wreck and Usukan Wreck.
Formerly said to be richly populated by corals and fish that drew both divers and local fishermen, all that is left is a "ghostly seabed with chunks of metal scattered," according to the New Straits Times.
Kota Kinabalu-based diving instructor Mark Hedger, who would bring guests on the 36-mile boat-trip to dive the wrecks, visited the site with a group of divers on 31 January and told The Guardian that the Usukan and Upside Down Wrecks were "98% and 99% gone". He described the Rice Bowl Wreck as an unrecognisable "heap of metal piled up into a ball".
Diver Monica Chin from nearby Kota Belud reported that when she had dived the site last year it had been in "beautiful condition… an underwater museum." Local fishermen had called her in late January to say that a Chinese-registered grab-dredger vessel was using a giant crane "to tear apart the Japanese ships", and backed up their story with photographs and video footage. There had been no advance warning of any such operations.
Sabah Marine Department told concerned divers that it had approved the commissioning of a company called Ugeens Berjaya Enterprise by the Universiti Malaysia Sabah (UMS) Archaeological Unit to undertake research work on the wrecks.
The university had reported that the wrecks contained large amounts of toxic materials that were damaging the environment, a claim the divers deny. It also stated that because of bad corrosion "the team had to use the salvage approach to access the ships' interiors", and said that Ugeens Berjaya Enterprise had suggested placing an artificial reef at the site instead, because it would be more environmentally friendly and safe.
However, Sabah Marine Department insisted that the work "only involved salvaging materials from the wreck and not removing the entire shipwreck from the waters", according to the New Straits Times.
Military wrecks are protected under international law and remain the property of their nations. It is illegal to destroy them without permission from the owner, in this case Japan, which is reported to have denied knowledge of the operation.
The State Tourism, Culture & Environment Ministry has now ordered the university to cease its underwater activities in Usukan waters, stating that "proper consultations are needed in light of the economic implications such operations might have on the tourism and fishing industry".
Local divers and fishermen are urging the police to investigate the incident.
"It is a huge loss," Monica Chin told the New Straits Times. "Scuba-dive operators have been helping the state to promote its underwater heritage to the world. We hope that the state government will look into preserving WW2 remains in our waters."
Divernet – The Biggest Online Resource for Scuba Divers