archive – Diving NewsVR adds new dimension to HMS Colossus dive
A virtual wreck discovery trail has been set up for the protected historic wreck HMS Colossus, which sank off the Scilly Isles in 1798. The idea is to enhance diver interactivity – and to show non-divers what they're missing.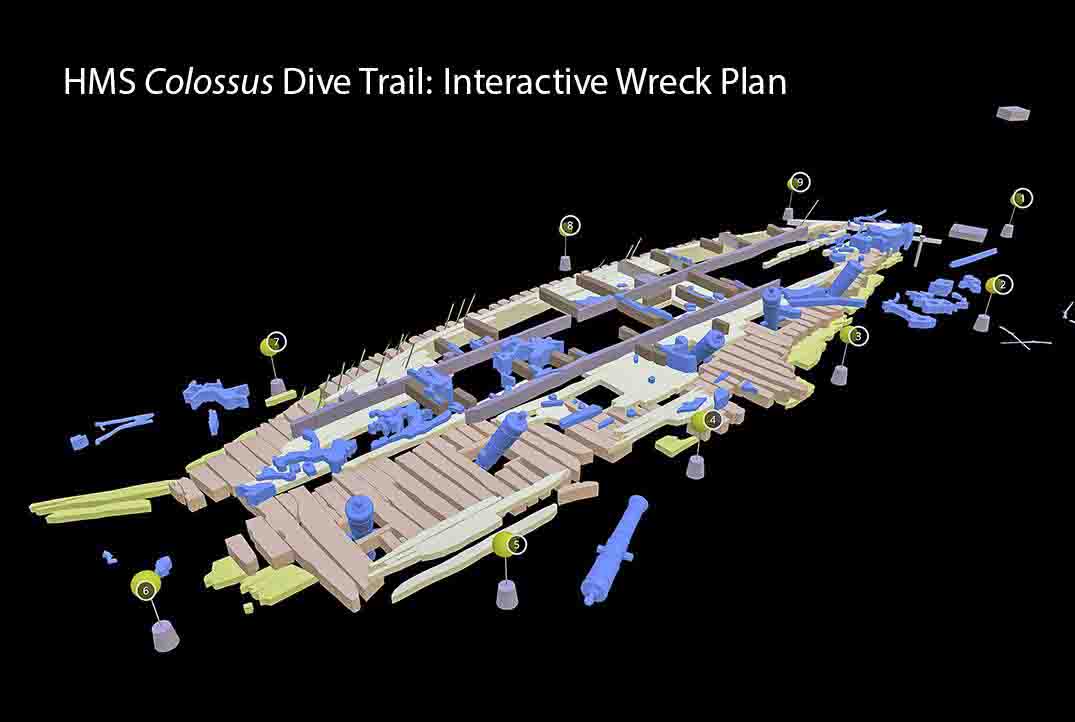 Commissioned by Historic England (HE) and created by archaeologists Kevin Camidge and Tom Goskar, the virtual trail mirrors the underwater trail created for divers seven years ago. More than 2300 divers are said to have explored the wreck under licence since 2009, following a map that shows 12 numbered dive-stations.
The interactive dive trail includes a 3D site plan, video of the trail, and plans and photographs of the site. Divers are encouraged to leave comments, photographs and video of their visits so that these can be incorporated into the virtual trail, which works on smartphones as well as computers.
The 74-gun warship HMS Colossus was built at Gravesend and launched in 1787. Eleven years later she was returning to England with a cargo that included eight crates of Greek antiquities and wounded sailors from Admiral Nelson's victory at the Battle of the Nile when she was driven aground south of Samson in a storm. All but one crew-member were rescued before the ship broke up and sank.
Features include a row of 18-pounder guns still within the hull gun-ports, and unusually well-preserved timbers. "The new virtual dive trail brings the site alive and includes a 'diver's-eye view' video of the whole dive trail, which gives the non-diver a pretty good idea of what it's like to dive the site," said Project Manager Kevin Camidge.
Diving the Colossus can be arranged through the operators of local dive-boats Tiburon (www.divescilly.com) and Moonshadow and Morvoron (www.scillydiving.com). Visit the virtual wreck discovery trail here
DIVERNET – The Biggest Online Resource for Scuba Divers