archive – Diver TestsBC
ZEAGLE
HALO
I HAVEN'T HAD MY HANDS ON A JACKET-STYLE buoyancy compensator for what seems like ages. The last two BCs to pass through our test lab were metal back-plated technical wings, so I was delighted when Zeagle's UK Sales Manager Justin Hanning sent me his one and only sample to put through its paces for a DIVER Test exclusive.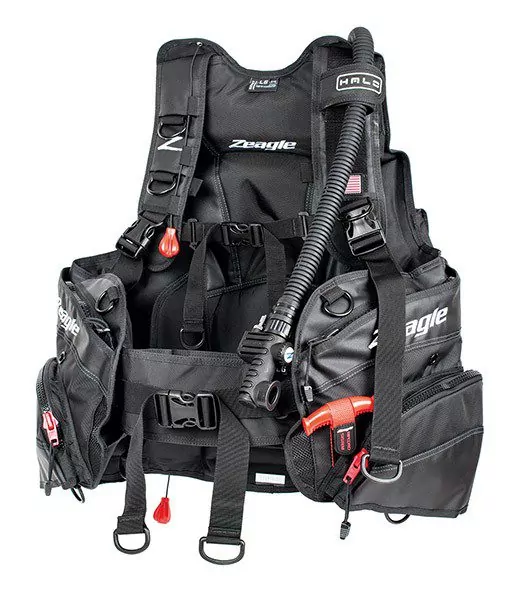 The Design
The Halo is made using a 1000-denier Cordura outer shell and a 420 PU urethane air-cell with heavy-duty 1680-denier Cordura for the cummerbund and shoulder harness.
The depth-compensating cummerbund is adjustable, as are the shoulder-straps via two stainless buckles positioned behind the padded back and kidney pads.
The BC carries seven stainless D-rings (with a black coating), two knife-sheath grommets and two capacious zipped pockets.
The corrugated hose has a screw attachment to allow removal of the power-inflator head, so that a garden hose can be used to thoroughly rinse the inside of the air-cell after use.
There are three dump-valves: two toggle pull-valves at the right shoulder and right kidney, plus a pull-dump integrated into the corrugated inflator hose. Cylinder attachment is via a standard camband positioned at the base of the backplate with an elasticated Velcro stabilisation strap above. An adjustable tank-positioning strap is fitted at the top of the backplate, along with a sturdy carrying handle.
Two integrated trim-weight pockets are positioned either side of the cylinder-mount, each one able to take 2.5kg of block or shot weights.
The Halo is finished in all-black with discreet white livery with red dump toggles and weight-pocket zipper pulls, and a Stars & Stripes flag on the left shoulder-strap.
Ripcord Release System
Dive-gear designers have come up with some nifty ideas for integrating dumpable weights into their BCs over the years. Using Velcro is possibly the most common, with plastic clips and chunky twin pull-handles a close second.
However, the Zeagle design team have been inspired by those crazy guys who jump out of planes wearing a backpack filled with nylon cloth and string, and release their life-saving parachutes with a simple but reliable ripcord.
The Zeagle Ripcord system consists of two lengths of thick monofilament nylon attached to a single pull-handle. The cords are threaded through a series of loops and holes to create a loose-stitched closure at the base of the Halo's integrated pockets, which hold either block or shot weights in zipped nylon mesh pouches, each with a 5kg capacity.
When the ripcord is pulled to its limit (about 45cm) the weights are instantly released and simultaneously drop away. Most importantly, this is a one-handed operation.
In Use
There's something reassuring about a classic jacket BC for me – the feeling of a wraparound air-cell gives me a sense of security and provides an element of comfort not found in back inflation wing and harness systems. The Halo excelled in this department, especially in the comfort stakes, thanks to padding around the lumbar, kidney and shoulder areas.
I dived wearing a neoprene drysuit, and its extra bulk and air spaces called for me to carry 8kg of lead for perfect buoyancy.
I distributed this with 3kg in each integrated side-pocket and a single 1kg block in each of the rear trim-weight pockets, and with this configuration the BC felt well-balanced, remained streamlined and put me in my preferred trim position (horizontal and slightly heads up) during the dive phase.
At the surface the jacket came into its own, holding me upright, slightly reclined backwards with my head and the top of my shoulders well above the surface. This position is best described as sitting in an armchair.
Under water, air migrated around the air-cell without any hindrance, always finding its way to the highest point. This made expelling air incredibly easy, especially with three perfectly positioned dump-valves from which to choose.
During the tests I released the integrated lead in the shallows, where it was safe to do so. Once the toggle was released from its securing strap and pulled forward, the weight pouches instantly and simultaneously fell away as the bottom of the pockets became "unstitched".
It should be noted that once this operation is complete it's "dive over". Rethreading the Ripcord is an easy task on land but nigh on impossible under water.
If you prefer to climb out of the water without the extra bulk, I'd recommend that the weight-pockets are unzipped from the top and the individual pouches handed over, rather than releasing them using the pull-cord.
Conclusion
The Zeagle Ripcord system was simple to use, and is possibly the quickest integrated-release mechanism on the planet.
That aside, the Halo has lots of additional features like the knife grommets, plenty of well-placed D-rings, capacious, easy-access cargo pockets and customisable keepers and straps that add up to create a fit-for-purpose product.
However, it was the Halo's superb ergonomics, build quality and extreme comfort that caught my eye. The rest is just icing on the cake for what I consider to be an excellent jacket BC.
SPECS
PRICE: £567
MATERIALS: 1000-denier Cordura, 420 PU urethane
DRY WEIGHT: 3.7kg (size M)
WEIGHT CAPACITY: 10kg (dumpable), 5kg (non-dumpable)
DUMP VALVES: 3
LIFT CAPACITY: 15kg (size M)
D-RINGS: 7, black stainless
ADJUSTMENTS: Personal Fit System
SIZES: S, M, L, XL
CONTACT: www.zeagle.com
DIVER GUIDE 9/10
Appeared in DIVER December 2016