archive – Diver TestsCOMPUTER Heinrichs Weikamp OSTC 2
IN LAST MONTH'S DIVER I reviewed no fewer than 19 dive-computers, representing the current state of the art for these must-have instruments.
In my humble opinion it's no longer a case of differentiating these hi-tec devices by algorithm alone, because other features involved in their design and construction currently give us choices that we could only have dreamt of just a few years ago.
Up-to-the-minute razor-sharp, super-bright displays, hi-tec rechargeable power and access technologies have been incorporated in these latest models, one of which uses induction charging and Bluetooth data-transfer protocols to keep it totally sealed and waterproof. It's the OSTC 2, designed by German electronics wizard Heinrichs Weikamp, and I took one with me on an expedition to Socorro to put it to the test.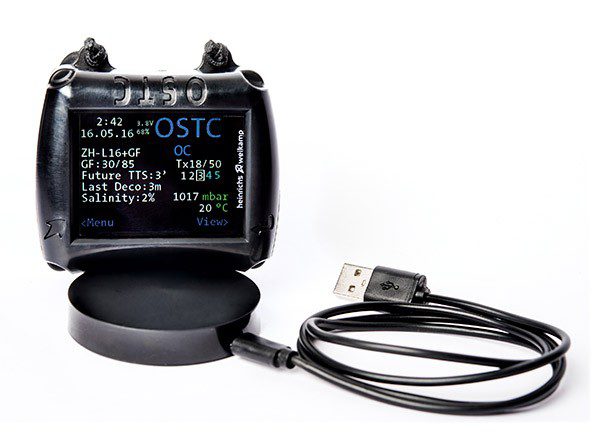 Hardware
The OSTC 2 is a block-style mixed-gas technical dive-computer with a 4mm thick scratch-resistant borosilicate glass screen bonded to a customisable 320 x 240-pixel full-colour LCD IPS-TFT display.
Menus and functions are accessed via two piezo-electronic buttons, and the electronic circuitry and batteries are totally encapsulated within the ABS body, to avoid the need for hardwires for charging or data transfers.
This also has the advantage that there are no air spaces inside the unit to compress, and no openings or connection points that could fail and cause an internal flood.
The battery-charging system is unique in the dive-computer world. It employs induction technology with the established Qi standard, using a base-plate connected from a USB cable to a suitable power supply, and a receiver built into the computer's body.
You lie the instrument on the power-transmission pad and the batteries are charged via resonant inductive coupling.
It takes up to seven hours to fully recharge the batteries from flat. Once charged, they are claimed to deliver 60 hours of battery life at maximum display brightness in Dive mode.
Mounting the computer to wrist, forearm or camera-system arms is done via a simple elastic bungee system, as favoured by mixed-gas divers, but an alternative bungee wristband is available.
Software & Functions
The all-important algorithms used in the OSTC 2 software are Bühlmann ZHL-16C with optional gradient factors (ZHL-16C GF).
The computer can be run in either Bühlmann Deco mode with conservatism factors, Gradient Factor Deco mode or Gauge/Apnea mode, and it can also be used for constant PO2 deco calculations.
The OSTC 2 has 4Mb of flash memory capable of storing up to 1000 hours of dive data. This, along with software or firmware upgrades, is transferred via Bluetooth to a compatible laptop or PC.
Six gas mixes can be entered. Five are pre-defined and one is configurable during the dive phase (should the need arise) – these can be a combination of trimix, heliox, nitrox or air.
The shallowest stop depth is user-definable and can be set to suit changing conditions and user preferences.
Other features include CNS tracking, an ascent-rate display and a tilt-compensating 3D compass. Real-time battery-voltage and low-power warnings are also displayed.
In Logbook mode, data is displayed in chronological order with a choice of dive-profile graph or list formats. There is also a simulator function to aid in familiarisation and dive planning.
The two piezo-electronic buttons allow access to the computer's menu and functions using a scroll-down and enter system. The force required to operate these electronic buttons is independent of the ambient pressure, which makes them easy to operate with gloves, even at depth.
User Manual
I used to find technical dive-computers very difficult to set up and operate. I've spent hour upon hour trying to digest often badly written and composed instruction manuals spanning hundreds of pages of geekspeak and confusing data, or scrolling through layer after layer of menus on the computers themselves, when I could have been watching the footie down the pub.
So it was a breath of fresh air to find the downloadable manual for the OSTC 2 written in a way that even I could understand – and it's only 79 pages long, including disclaimers.
The whole document is written in a simple format and suits what turns out to be a very intuitive computer.
In Use
The first thing I did was to set the date, time and personal parameters such as algorithm choice and stop ceilings, followed by the display-screen settings.
The OSTC 2 gave me the option of using its standard (white), red, green or blue graphics. For my ageing eyesight I found the high-definition contrast offered by the standard screen the best choice, with all the critical information easy to read and assimilate.
The blue, green and red schemes were also excellent, but I found them more suited to twilight and dark ambient-light conditions, with the blue display my favourite.
There is a choice of three brightness settings, with the brightest able to overcome direct underwater midday sunlight easily.
I then set the gas after analysing my own nitrox mix and mounted the computer (as is my preference) to the fat float-arm system of my camera set-up.
The bungee mounting-straps were a bit fiddly to adjust, but the initial time taken to do this correctly meant that the computer didn't slip around when I wrist-mounted it on later dives. The advantage of the bungee is that it self-compensates for exposure-suit expansion and contraction caused by changes in depth. It's also incredibly secure and reliable.
The large, high-resolution display is bonded directly to the borosilicate glass screen. This means that there is no air-gap to cause refraction when it's viewed at acute angles, and it gives a massive field of view of 170°.
In real-world diving this has a massive advantage over other types of screen arrangements in that you don't have to twist the unit or your arm around to get the optimal angle for viewing the information.
In Dive-Phase mode, risk-critical information such as actual depth, no-deco limits and dive-time were displayed using a larger font than that used for the less important stuff such as ambient temperature and current time, so they were instantly recognisable.
Single pushes to the left button brought up and scrolled through my set gas list, existing settings, deco type and gradient or saturation factors before arriving at the compass screen.
The compass display shows the heading on a horizontal scrolling north-to-south bar with a small yellow lubber line in the centre. Additionally the numerical heading is displayed at the bottom in degrees.
A bearing can be set with just a few button presses and is marked as an "H" in green on the scrolling bar, with the reciprocal heading shown in red. Real-time status is still displayed while the compass screen is activated.
This compass was possibly the best I've seen, especially when diving in open blue water without any topography from which to take a visual reference. It provided a platform for navigation that was easily read and understood.
Charging the batteries could not have been simpler. The unit is set on the induction pad, and a red LED indicator light on the pad turns blue when the charger and battery are linked, and the computer displays a small yellow charge-percentage icon to show progress.
Conclusion
Logistics and the dive location meant that I couldn't test this computer to its full potential – it is after all a tool for technical divers and (like most all-rounders) I used it for deep air as well as recreational diving breathing mainly 32% O2 mixes.
At first glance, everything about this dive-computer reeks of simplicity, from the modest but effective bungee-mount to its intuitive two-button access menu system and monolithic profile.
However, delve a little deeper and you'll find some of the latest electronic technology and hardware incorporated into this unique instrument.
I'm even informed that the operating-system software allows for computer programming geeks (yes, they dive among us) to write and install their own deco programs.
Herr Weikamp has clearly invested a lot of time and effort in developing this OSTC 2 computer, and the results are outstanding. He is surely one of those celebrated computer nerds that we refer to as a genius and, yes, he dives among us too.
SPECS
PRICE: £575
ALGORITHM: Bühlmann ZHL-16C with optional gradient factors (ZHL-16C GF)
GAS OPTIONS: 6 programmable gases (nitrox, trimix or heliox)
DIMENSIONS: 80 x 68 x 34mm
WEIGHT: 260g
DEPTH RATING: 120m
DISPLAY: Full colour LCD IPS-TFT
MODES: Air, Nitrox, OC Trimix, OC Bailout, Constant PO2 Deco, Gauge/Apnea
POWER: Induction-charged, factory sealed li-ion battery
ACCESS: 2 piezo-electric buttons
DATA TRANSFER: Bluetooth Smart Ready (2.0 & 4.0)
GAS INTEGRATION: No
MOUNTING: Bungee cord
ACCESSORIES: Supplied EVA zipped case, bungee wristband
CONTACT: www.deep-ideas.co.uk
DIVER GUIDE 9/10
See more computers in Divernet Showcase
Appeared in DIVER July 2016