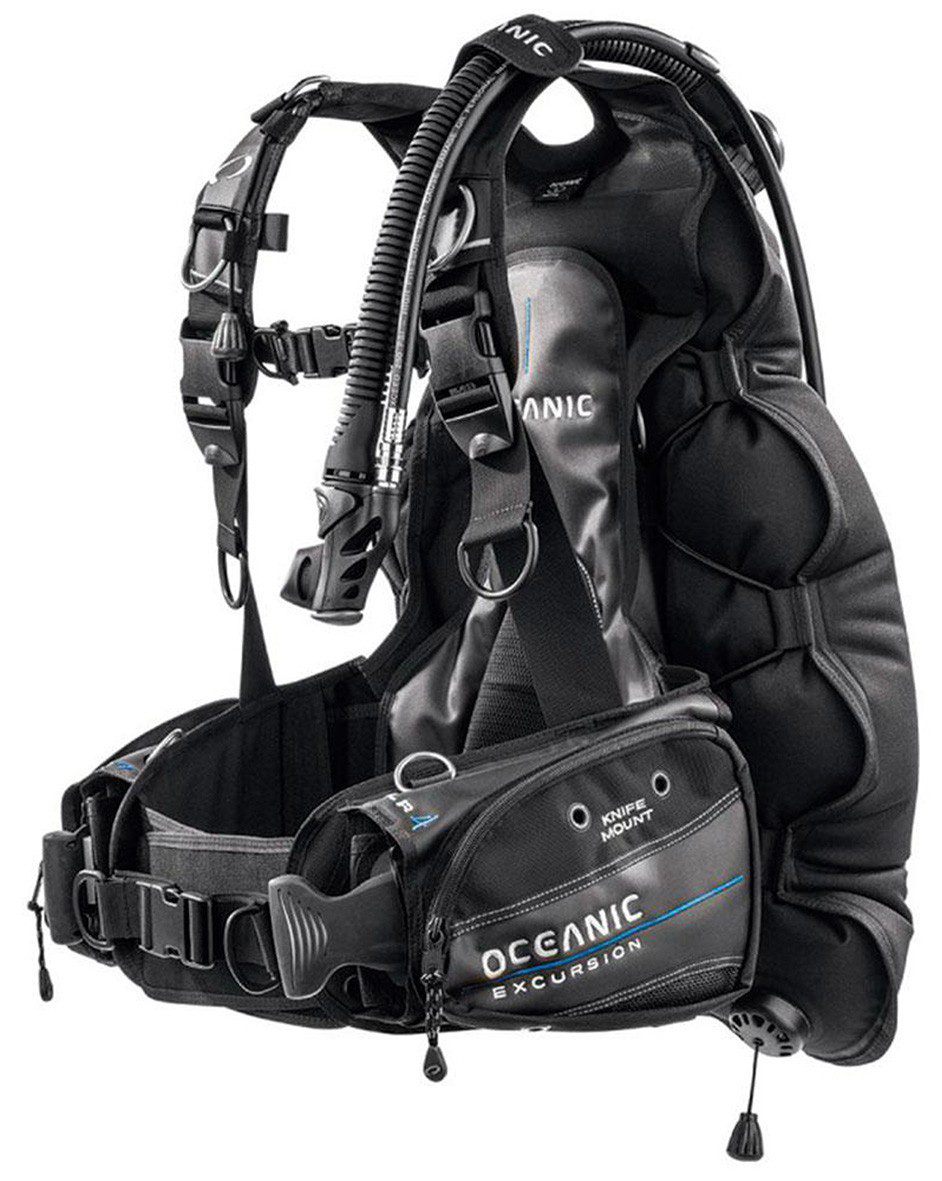 Appeared in DIVER July 2020
I do a lot of coldwater shore dives. The weight soon mounts up – thick wetsuits or drysuits for warmth, heavy cylinders for duration and enough lead to balance the suits and the dead weight of the gas I'll use.
And, at 56 and three-quarters, the out-of-water comfort of the BC that must support it all is important to me. In Gibraltar, I had just walked 500m in the Oceanic Excursion BC carrying more than 35kg. Now I stood waiting patiently for Gib time to catch up to real time.
Oceanic is one of the best-known brands in diving and has decades of experience designing and building BCs. Its Excursion is a heavy-duty back-inflation or wing-styled BC for single-cylinder diving.
The air-cell is the doughnut type, meaning that air can travel unimpeded around it whatever your position in the water. The other type of back-inflation air-cell, the horseshoe, does not connect at the bottom, so air can't move freely between the lower air-chambers when you're head-down.
Some technical divers prefer this, because it leaves space for stowing light-canisters, for example. There is no outright winner except in the eyes of the user.
The Excursion provides a lot of features including weight-integration and incorporates high-end niceties, such as a padded harness and an array of steel D-rings.
The Design
The air-cell is made of 1600D Bioflex, proven to be highly abrasion-resistant and long-lasting. Concealed, snag-free bungees run between the backpack and air-cell to help deflate the BC and keep the unused parts of the wing snug and streamlined when only partially inflated.
There's a full-length plastic backpack with a single camband and a nice built-in handle for manhandling your set out of the water. The harness comprises shoulder-straps with squeeze-release buckles; a chest-strap with two choices of height positioning to avoid interference with a drysuit inflator or to maximise comfort, again with a squeeze release; and a cummerbund with overlaid waist-strap with another squeeze-release buckle.
Dotted around the BC are three large pre-bent D-rings mounted in fixed positions on the shoulder-straps, two medium-sized D-rings at the back above your hips, a smaller one above each of these, yet another small one above each pocket and a final medium pair hung from the lower edges of the Excursion.
As well as the nine D-rings, two zipped pockets sit on top of the weight-pouches, so there are many choices for attaching and storing your accessories.
Releasable weight-pouches slide into the BC waist-panels. These use Oceanic's QLR4 quick-release system – just tug on the grab-handles and the pouches fall away. Trim-weight pouches sit on the cam-strap.
Buoyancy control is provided via the usual direct feed/oral inflator, a rapid exhaust valve, a shoulder-dump and a single bum-dump.
In Use
Back in Camp Bay, I had shrugged off the BC after about 15 minutes of standing around, waiting for other divers to arrive.
I wondered how many Ibuprofen pills it would take to offset the pain I fully expected to harden my neck and shoulders after the dive. But it never happened.
Even through my 7mm jacket and longjohns, I could feel the padding in the Excursion's lumbar support nestling into the small of my back, shifting much of the weight onto my hips.
Combined with well-cushioned, wide upper shoulder-straps, the BC proved very comfortable for long treks to the shoreline and up and down flights of steps.
I first measured how high above the water the fully inflated Excursion would float me. If you're caught at the surface out of air and aren't packing a snorkel, riding up and down in a short chop can mean that you swallow water.
The Excursion did its job well, putting 15cm between the water and my lower lip – about standard for most recreational BCs I've so far tested. The test was done with a full cylinder, however. I was carrying around 4kg of air that
I wouldn't have at dive's end, so this was a worst-case exercise.
At the start of a dive, the Excursion holds you plenty high enough out of the water to talk to your buddy or students or float with your mouthpiece out to save air while awaiting stragglers. Surface stability was great, as it supported me vertically.
A BC that face-plants you at the surface is a hazard – you can exhaust yourself trying to keep your head up and mouth out of the water.
Under Water
The team keeping us waiting were from the Rocks Department of the Environment Diving Section, run by my friend Clive Crisp. He had invited me to join a seabed survey in preparation for scuttling a new shipwreck.
Once his team had dropped buoyed shotlines from their cruiser, I would make a sweep search of the area.
Nicky Martinez, who has helped me on many Diver gear tests and has often worked with the department, would video the location.
Clive could then discuss the findings topside to ensure that there were no structures or marine life that might be damaged or displaced by the sinking.
On the bottom in 20m or so, and having set up the survey equipment, I spent a few minutes checking the Excursion's underwater stability.
To do this, I got neutrally buoyant just off the bottom to see if the BC held me horizontally. One that pitches you head-up makes your fins more likely to contact the seabed and kick up the silt. It also reduces your streamlining, so you work harder to swim and burn more air.
The initial static test showed the Excursion to be an accomplished performer, with no tendency to pitch or roll.
The BC would now be put to a real-world test. I had reeled out from the shotline, laying out a distance line to the edge of visibility. Keeping the line taut, I circled the shotline.
Nicky had chosen to stay just behind me, videoing as we went. So that he could film through clear water, I needed to stay high enough above the seabed that my finwash wouldn't lift the sand.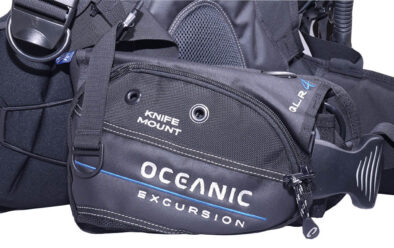 I would need to swim fast to cover ground within our time-limits, which gave me the impression that, as coldwater BCs go, the Oceanic was creating very little drag.
Moreover, the 15-litre steel tank I was using would never be my first choice – with some BCs, such cylinders had rolled me as I swam, destabilising me, which is exacerbated by fast finning. However, there was no roll using the Excursion.
With so many stainless-steel D-rings, there is lots of scope for neatly managing a lot of accessories, such as reels, DSMBs, power-packs and lights. The zippered pockets can be reached easily and will take folding snorkels, medium-sized torches and a full-sized DSMB.
There are grommets for attaching a knife on either pocket.
Controls
In the shallows I went through my usual BC safety checks. These test the ability to bring an unexpected buoyant ascent under control and ascertain how easy it is to jettison the BC's main weights.
I began by testing the controls. The mouthpiece has the usual pipette for oral inflation, then differently shaped buttons to deflate and inflate the jacket. At 10m, the Excursion filled in about 8sec.
Next, I wanted to confirm that either the rapid exhaust dump built into the oral-inflation hose shoulder or the toggle-operated pull-dump opposite could vent air faster than the direct feed could supply it on maximum flow.
Should a direct feed jam open, this is important to allow you to control your ascent speed. The Excursion performed flawlessly.
To simulate bringing an out-of-control full-blown buoyant ascent under control, I hung onto a bit of wreckage in 10m, fully inflated the Oceanic and let go. The shoulder-dump stopped the ascent in a distance of about 1.5m; the rapid exhaust in twice that distance.
These exercises confirm that the Excursion can be safely braked should you lose control of your ascent under the worst imaginable conditions.
That said, stopping distances were a little longer than I'm used to with Oceanic BCs. This might be because the BC I was using was a size too large for me, which can interfere with how efficiently air migrates to the dumps.
My expectation is that the real stopping distances would be around two-thirds of these distances.
When I tested a different Oceanic BC, the Biolite, which was the correct size for me, the stopping distances were much shorter.
This underlines one reason to choose a BC that fits – and that is especially important for kids, who should not be put into oversized BCs to allow for "growing room".
The bum-dump worked well, with an easily found toggle. I'd prefer the toggles to be in hi-vis colours to make them more obvious to another diver who might need to locate them quickly.
The QLR4 system makes emergency weight-jettisoning very straightforward.
Just pull firmly on the handles and the weight-pouches fall clear. It's almost instant and uncomplicated, and I like that. Again, I'd prefer the handles to be hi-vis.
Conclusion
The Oceanic Excursion is a very good, workmanlike BC, aimed at the serious diver. Its ruggedness inspires confidence that it will survive a lot of hard diving.
Both on the surface and under water it performs extremely well, combining comfort with adept buoyancy characteristics.
The array of D-rings and usable pockets lends it to carrying cameras, lights and the other accessories experienced divers tend to need as they undertake more specialised activities. Highly recommended.
Specs
TESTER> Steve Warren
PRICE> £440
SIZES> SM / MD / LG / XL / 2XL
BUOYANCY> 17kg or 23kg (XL / 2XL)
COLOUR> Black and blue
WEIGHT> 4.2kg (L)
DUMP VALVES> 3
CONTACT> oceanicworldwide.com