APP REVIEW
In his occasional app-reviews, HENLEY SPIERS considers 6 ways to keep digital records
DIVE-LOGGING IS A BIT OF A divisive subject in the diving community. While some diligently fill in a logbook at every surface interval, others take pride in having "so many dives" that they don't bother logging them anymore.
I would argue, however, that, in some form or another, we all log our dives, whether it be as an amusing anecdote to tell in the pub, a memorable marine-life encounter, a cherished photo, or an artistic depiction of the dive-site.
Increased access to technology means that pretty much everyone today has either a smart phone or tablet, and with a wealth of apps available, dive-logging should be easier than ever. Here at DIVER we decided it was high time to test out the best dive-logging apps out there.
SCORING THE APPS
Functionality: How well does the app function as a logbook? Which features are included, and how much information can you record?
User-Friendliness: Is the app easy to use, or am I left bashing the screen in frustration?
Design: How does the app look and feel to use? Is it a slick piece of technology with mouth-watering visuals?
Value: How does the price match up with the offering?
Each app review also has a note stating whether it offers the following functionality:
Dive-Computer Upload: Perhaps the biggest selling-point of a digital logbook is the ability to upload all the information directly from your dive-computer. With the latest generation of computers, equipped with Low Energy Bluetooth functionality, this can often be done via Bluetooth. For less advanced computers, it can usually be achieved via specialised USB dongles.
Back-Ups: The thought of losing all your preciously recorded dives is terrifying and, for many, a paper logbook just feels more secure than a digital file. How does the app address this issue? Does it provide the option of backing up your logbook and the option of moving them to other formats if necessary?
A FEW NOTES
This review covers apps for use with phones and tablets but not desktop-only. The idea is to uncover apps that can easily be used on a dive-boat, and phones and tablets are a more likely option in this situation.
I used iOS devices to test the apps. Where possible I looked at those that can be used across several platforms but, as a starting point, each app reviewed is available at least in the Apple app store.
The idea was to cover apps relevant to the widest possible community of divers and, as such, to ignore those designed solely for a particular brand or model of dive-computer.
---
Dive-Log
Cost: £12.99 + in-app purchases (iOS)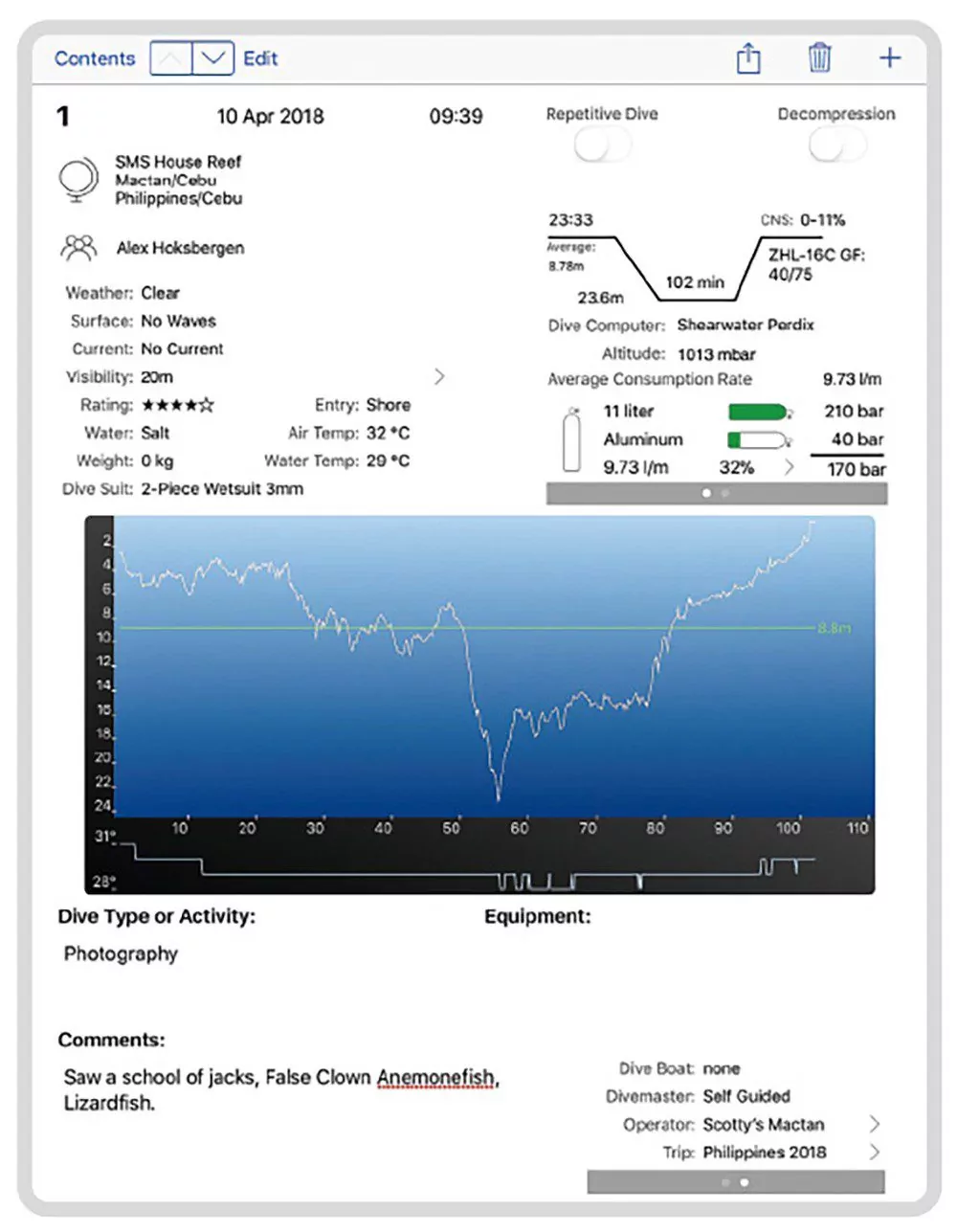 Pros:
Comprehensive data-inputting options, including technical diving friendly features such as CNS tracking and the ability to add multiple cylinders and gases.
Easy upload from dive computer and allows you to select exactly which dives to download.
Use the Google Maps functionality to find and plot the exact location of your dive site.
Using the data on your DC, it generates a beautiful graph plotting the dive which you can double click on for a more detailed view.
Clean, simple presentation.
Very easy to use.
Cons:
You can't add photos to individual dive-logs, only to trips or locations.
No in-built fish-identification feature to help you find the marine-life from the dive.
Most expensive app reviewed, and with an extra charge to pair your dive-computer.
The design is a little plain – an inspiring underwater photo or two would be nice.
Functionality: 4
User Friendliness: 5
Design: 5
Value: 3
Dive-Computer Upload: Yes, but as an in-app purchase (£2.99 for my Shearwater computer). Multiple dive-computer brands are available as individual purchases.
Back-Ups: Yes, excellent back-up functionality. You can also synchronise your logbook across multiple devices.
Verdict: An excellent dive-logging app that is a pleasure to use. It is best suited to data-hungry recreational divers, and is the best app to satisfy the needs of technical divers. The price is relatively high, but fair if we consider that it could serve as your log for a lifetime of diving.
Download Link: Dive Log
---
MacDive
Cost: £9.99 (iOS)
Pros:
Easy to use, with a broad spectrum of dive information covered – everything from SAC rate to dive-gear used.
Use the Google Maps functionality to find and plot the exact location of your dive-site.
The app looks good and is clearly laid out.
Upload your dives directly from a number of dive-computers, at no extra charge.
You can add photos and critters to individual dives to track what you saw and where.
Cons:
When syncing with your dive-computer, it automatically downloads all the dives – I would like the ability to select specific dives to upload.
You can add multiple overlays to the dive graph, such as NDT or temperature, but the values of these parameters are not displayed anywhere, meaning that the feature is wasted.
In an ideal world, it would be nice to have an in-built fish-ID database rather than have to manually input details and photos for each critter.
A few inspiring underwater images would not go amiss.
Functionality: 4
User Friendliness: 4
Design: 4
Value: 4
Dive-Computer Upload: Yes – free functionality which covers a large number of dive-computer models and brands.
Back-Ups: Yes, via cloud syncing. However there is no export function, so you will not be able to transfer your logs to another app if required
Verdict: A very good, well-rounded dive-logging app that doesn't charge extra to upload from your dive-computer. The ability to build up a critter database of your own is a nice feature that would be further enhanced by an in-built fish-ID resource.
Link to Download: MacDive
---
Tortuba
Cost: Free (iOS/Android)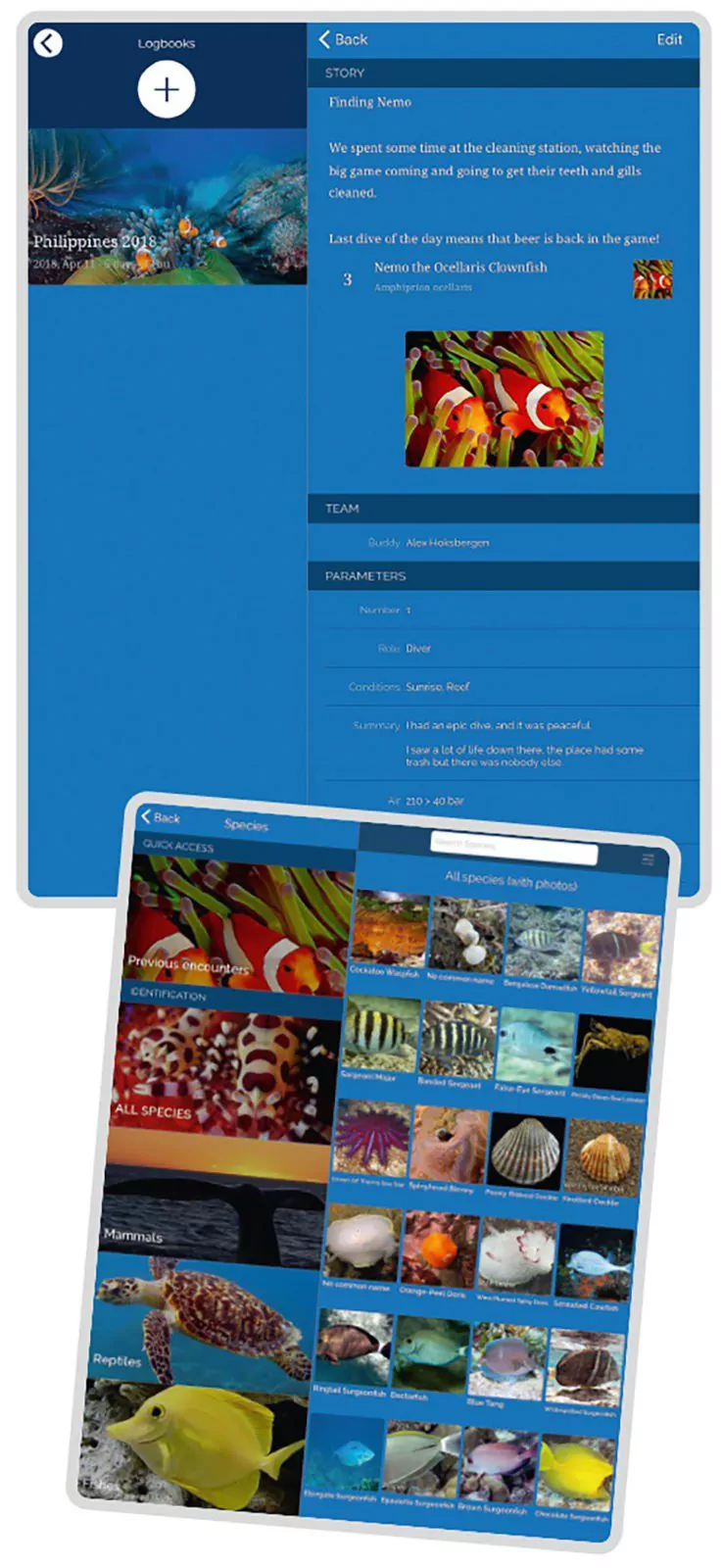 Pros:
A really fun and friendly logging app!

The app allows you to select from a dropdown menu of descriptions to create a dive-summary. If you have writer's block, it also provides inspiration for what to include in the log.
The design is vibrant and engaging.
In-built fish-ID database to search and add marine life to your log. As a bonus, the app can also be used as a fish-ID source.
You can add your own photos to the dive-logs.
Cons:
The dive-logs are presented in a story style with limited visual and technical information available.
You cannot upload dives directly from a dive-computer.
The species listed in the fish-ID database are limited and will not satisfy a more advanced enthusiast. There is the option of buying specific-location marine-life guides at £9.99 a pop.
The back-up option is limited to having a copy of your logbook on the Tortuba website. Should you ever wish to transfer the data elsewhere, it would not be possible.
Functionality: 3
User Friendliness: 5
Design: 5
Value: 5
Dive-Computer Upload: No
Back-Ups: No (see above).
Verdict: What a fun, friendly and inspiring logging app! Ideal for children and newbie divers, but lacking in the features more experienced divers will demand. The fish-ID resource alone makes it worth having as a free download.
Link to download: App Store
---
Diviac Scuba Diving Logbook
Cost: Free (iOS/Android)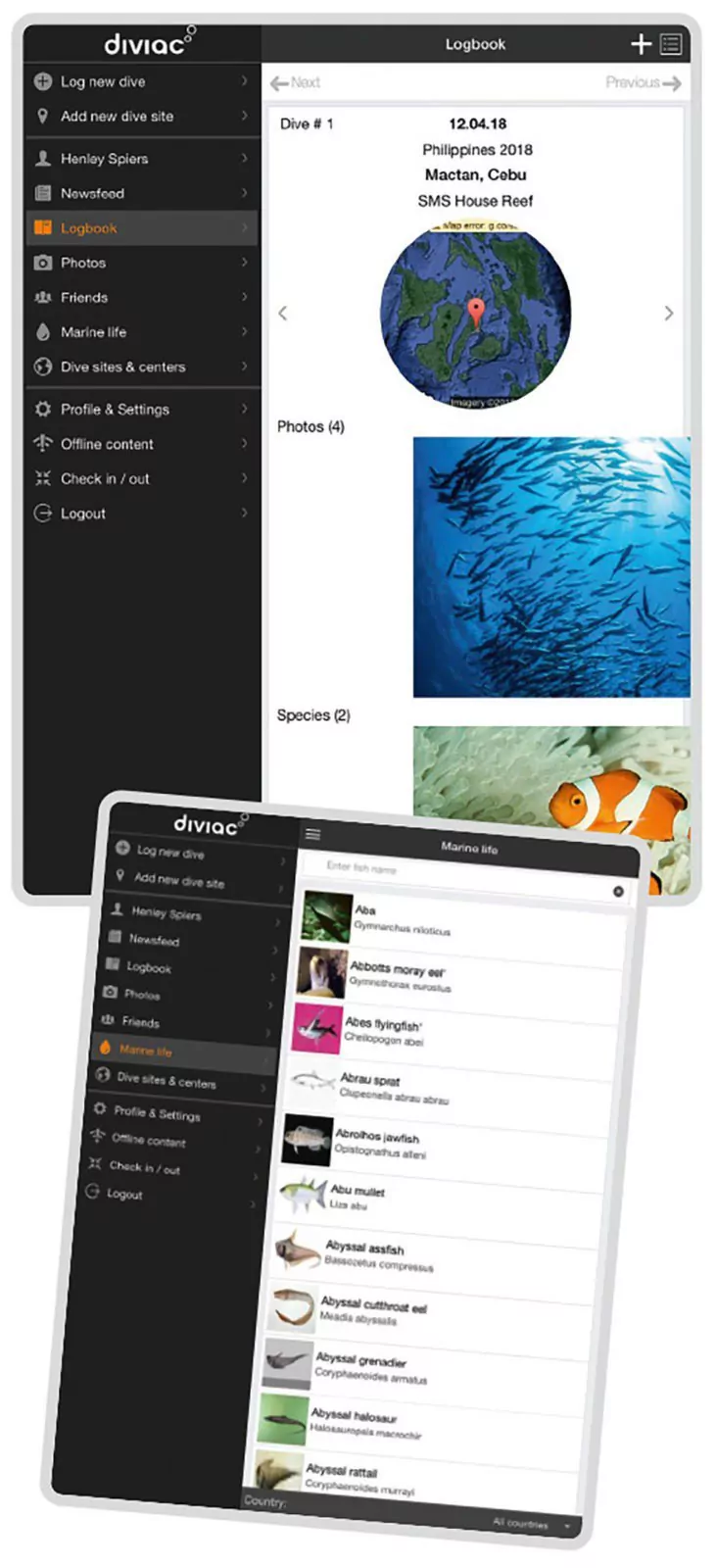 Pros:
The weights and wetsuit-warmth comfort-level functions are a nice touch.
Ability to add marine-life to the log using the search function and database is good.
The concept of Diviac acting as a kind of Facebook for divers is unique and intriguing in theory.
Cons:
Cannot upload directly from your dive-computer unless
you use the desktop version of the app.
When setting your dive-site location, you can either "use current location" or input the GPS co-ordinates manually, neither of which is very helpful most of the time. It would be better to click onto a map and select the dive-site location
from there.
Design-wise, in the dive-log the tab and plus buttons do nothing when clicked.
It would be good to have the marine-life database split into order and families to help with searching.
Whenever I try to add a country "package", the offline-content tab fails to work and crashes the app.
Functionality: 3
User Friendliness: 2
Design: 3
Value: 4
Dive-Computer Upload: No, only with the desktop app.
Back-Ups: Yes, your log is uploaded to the cloud and can be accessed on the Diviac website, but there is no export function should you wish to put your dive data elsewhere.
Verdict: For an app that pitches itself as "the world's most advanced scuba logbook", Diviac feels unloved by its developers and leaves a lot to be desired. The recent acquisition of its parent company by PADI might yield some significant upgrades, but for now I'd give it a miss.
Download link: Diviac – Scuba diving logbook
---
Reefbook Pro Divers Logbook
Cost: Free (iOS/Android)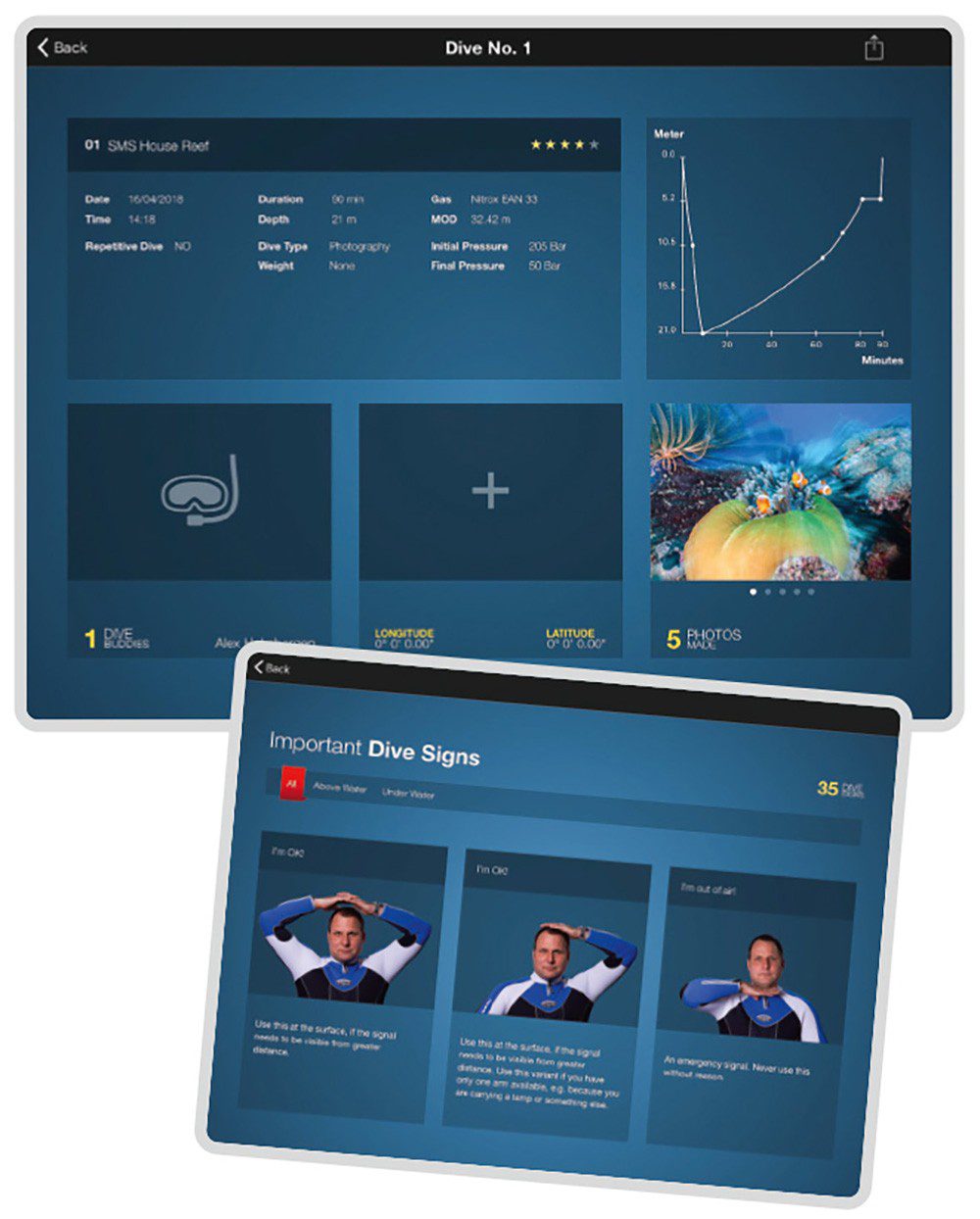 Pros:
It's nice to be able to scroll through dives by year.

The look of the site is neat and clean.
It's free and there are no additional in-app purchases to be made.
The dive-signals section is a nice touch for reminding divers who have been out of the water for a while.
Cons:
For iOS users, it works only on iPad, not iPhone.
Can't upload to the app directly from a dive-computer.
Once a dive buddy is created, there is no edit function to add information to his/her profile.
No fish-ID database; the only way to log sightings is in the description bar.
When inputting data, there is no "Done" or "Complete" button, you just click away on a different part of the screen to save, which takes a moment to figure out.
When trying to plot my dive-site location, I find the precise spot on the map, drag the pinpointed site there, but there is no "Save" button available to finalise the changes.
When exporting the dive data via email, no attachment is present.
Functionality: 2
User Friendliness: 2
Design: 3
Value: 4
Dive-Computer Upload: No
Back-Ups: Yes, you can easily export your logbook and dives to keep them safe.
Verdict: It might be free but the user-experience on this app left me pulling my hair out at times. The inclusion of dive-signals is a good idea but, other than that, this app has more style than substance.
Download link: Reefbook Pro Divers Logbook
---
Divemate
Cost: Free + in-app purchases (iOS/Android)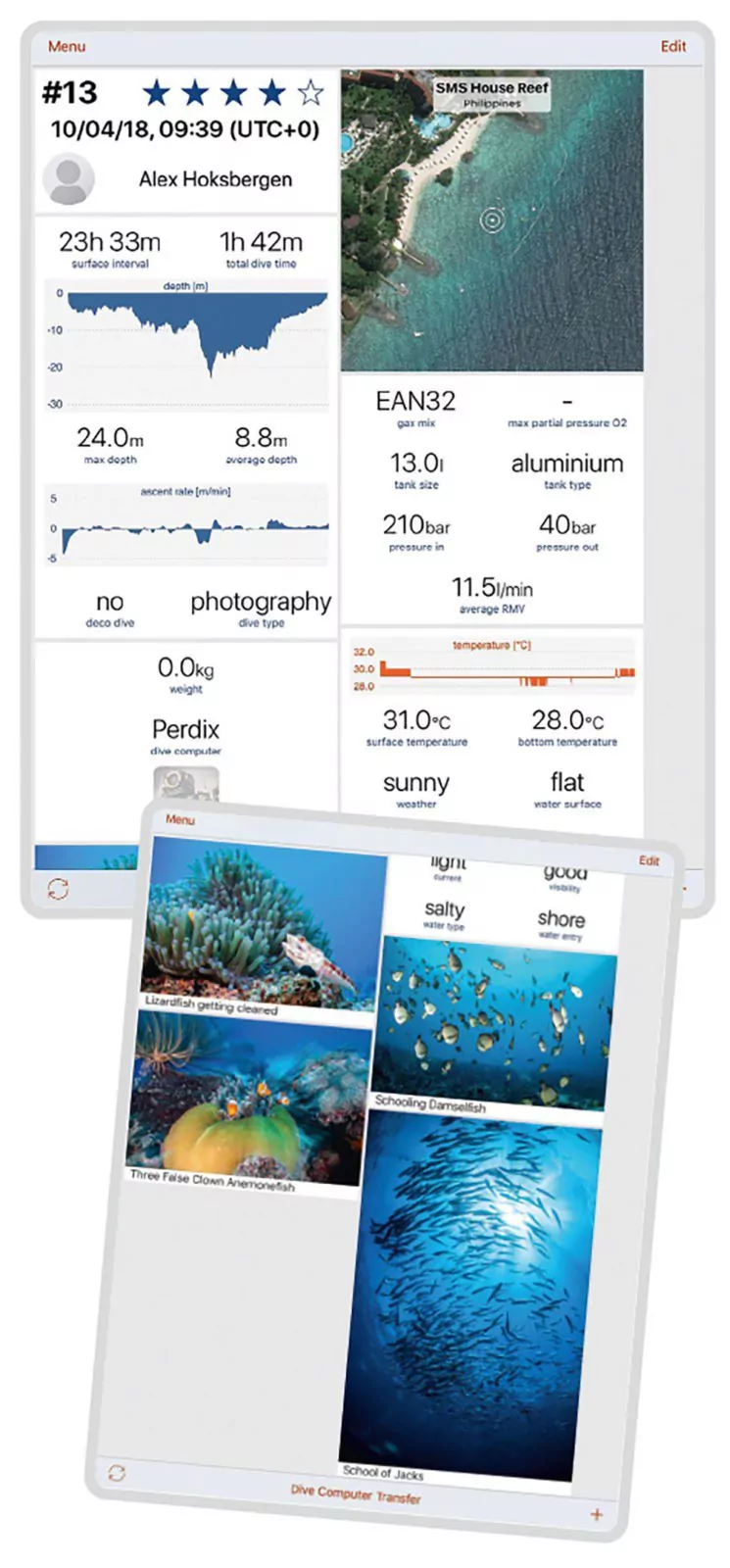 Pros:
Full suite of data-tracking for each dive, from average depth right down to individual pieces of equipment.
Beautiful dive-graph plotted once it takes the readings from your dive-computer.
The layout is clean and clear.
Ascent-rate tracking and the accompanying graph is a novel and interesting feature.
You can add your photos to individual dives.
Cons:
Most expensive app reviewed, once you account for in-app purchases.
An in-built fish-ID database would be the cherry on top.
You can input a variety of gases, including trimix, but only one cylinder per dive, which might be a limiting factor for technical divers.
It would be nice to be able to sort your dives by various criteria, such as year or location.
Functionality: 5
User Friendliness: 4
Design: 5
Value: 2
Dive-Computer Upload: Yes, available for pretty much every computer by either upgrading with the Bluetooth pack (£5.99) or buying the Divemate Fusion USB converter (starting at approx. £57).
Back-Ups: Yes, both locally and via cloud, but only as an in-app purchase for £9.99.
Verdict: For my needs and taste, this is the best dive-logging app out there. However, you'll need to add the premium features to make the most of it, which will set you back £20.98 and makes it the most expensive app reviewed. As usual, quality comes at a price!
Link to download: Play Store and Apple Store
---
BE PART OF THE PROCESS
That brings us to the close of another round of app reviews. As you will have seen, there is a wide variety of high-performance dive-logging apps out there to suit different types of diver, as well as a few that are best avoided.
This is part of an ongoing series of app reviews, so if you have any dive-related app you'd recommend, or if you have developed one and are keen to let other divers know that it exists, email its name and purpose to the DIVER office at steve@divernet.com – and we'll give it due consideration.
Also Check out 5 of the best underwater photo-editing Apps