Gift-giving became that much more difficult when the Age of Streaming arrived – DVDs and CDs are no longer the objects of desire they once were. Luckily printed books remain an ever-acceptable option as a present for all but the most Kindle-dedicated, so here is a selection of some of DIVER's favourite recent diving-related titles
FOR WRECK DIVERS
The Lost Intruder: The Search for a Missing Navy Jet, by Peter M Hunt
Genre-busting autobiographical book that follows a technical wreck-diver obsessed with locating an elusive military aircraft off the USA's north-west coast. Trouble is, Peter Hunt is also battling the rapid onset of Parkinson's Disease, possibly caused by extreme diving. This uplifting book about a self-imposed race against time should appeal to all wreck-hunters.
CreateSpace Independent Publishing, ISBN: 9781546334972, Softback, 238pp, £15.40
Ships of the Cunard Line / Ships of the P&O Line, by Sam Warwick & Mike Roussel
Companion volumes, the older Cunard book is now out in paperback with updated site info and some new photos. It focuses on 18 major losses, mostly diveable, including Lusitania, Carpathia and Alaunia, and rounds up 66 more. P&O lost 78 ships between 1837 and 1957, with 26 familiar names such as Salsette, Moldavia, Somali and Carnatic ending up in diveable depths, and all covered here.
The History Press, ISBN: 9780750985383, Softback, 168pp, £20 and ISBN: 9781775845348, Hardback, 180pp, £25
Dive Scapa Flow, by Rod Macdonald
There are many books about this world-class wreck-site off Orkney, based on the German High Seas fleet scuttling of 1919, but this one is masterful in meshing history with diving experiences, and its wreck illustrations are a big plus. Now in its sixth incarnation and twice as thick as it was originally, this centenary edition benefits from inclusion of the latest sonar scans.
Whittles Publishing, ISBN: 9781775845348, Softback, 344pp, £30
Deeper into the Darkness, by Rod Macdonald
Another Macdonald book but a new one, Deeper into the Darkness offers histories and dive narratives of major wrecks from Scapa Flow to Truk and Palau, but blended with anecdotes, background detail and local colour that provide more of a personal touch and insight into the author than usual. It forms the third part of a trilogy with Into the Abyss, (itself recently updated) and The Darkness Below.
Whittles Publishing, ISBN: 9780995567383, Softback, 340pp, 17x24cm, £20
We Die Like Brothers: The Sinking of the ss Mendi, by John Gribble & Graham Scott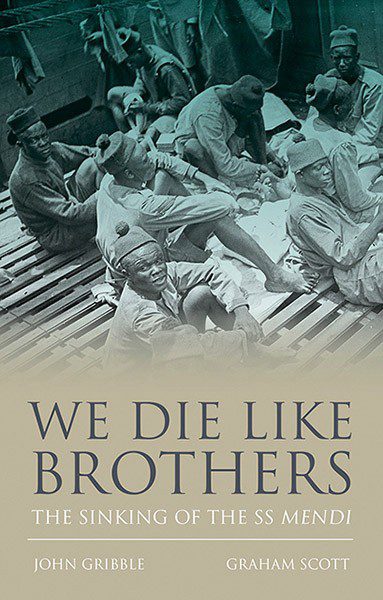 The transport ship Mendi, which sank off the Isle of Wight in 1917 with hundreds of black labourers from South Africa abandoned to their fate, was back in the news recently when its undeclared bell was returned by a guilty diver. One of the worst wartime sinkings off Britain, the story is one that should be widely known. The diving aspect is well-treated too.
Historic England, ISBN: 9781848023697, Hardback, 190pp, £17.99
The Titanic Expeditions: Diving to the Queen of the Deep 1985-2010, by Eugene Nesmeyanov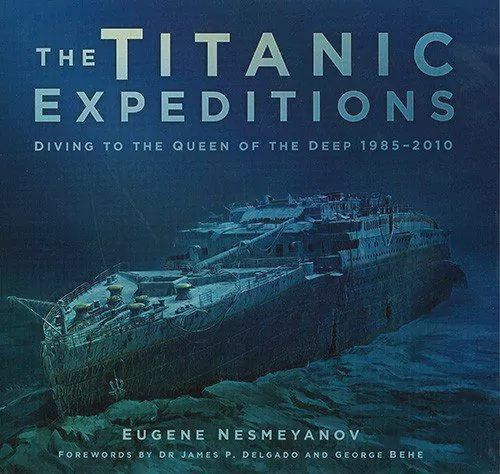 Another Titanic franchise product, but a good one for divers who are into manned submersible adventure because it's not about the history of the 4km-deep shipwreck so much as the history of its underwater exploration, from discovery by Bob Ballard to the last manned visit by Richie Kohler and John Chatterton in 2005. Heavy on words and detail, light on pictures.
The History Press, ISBN: 9780750985482, Hardback, 300pp, £30
FOR WILDLIFE DIVERS
Exploring Britain's Hidden World; A Natural History of Seabed Habitats, by Keith Hiscock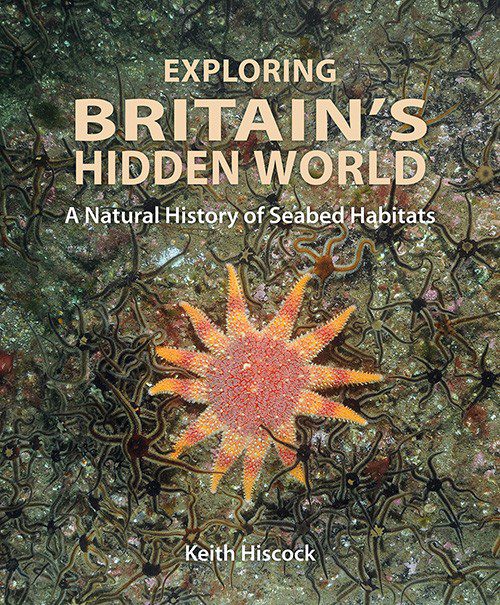 Keeping technical terminology to a minimum, this eminent diver has come up with a treasurehouse of lavishly illustrated information about Britain's seabeds, and what lives on and in them. The culmination of his 50 years of research into different subtidal seabed habitats and their associated marine life, it offers UK divers a solid foundation for understanding their underwater world.
Wild Nature Press, ISBN 9780995567344, Hardback, 272pp, £25
Deep Thinkers: An Exploration of Intelligence in Whales, Dolphins & Porpoises, edited by Janet Mann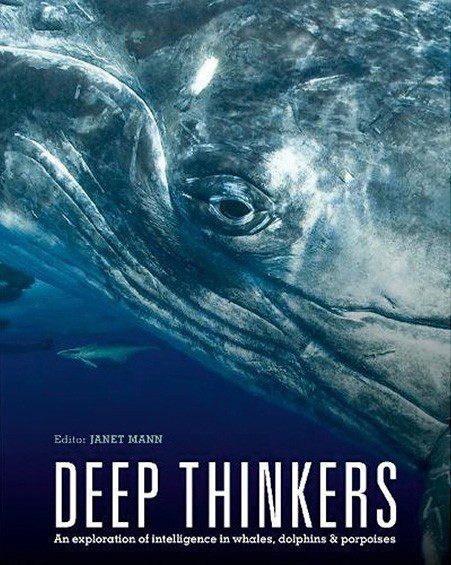 None of that cute-dolphin dippiness is to be found in this seriously scientific yet accessible book that treats cetaceans on their own terms, but it will help divers to understand their world better. Ten eminent researchers were involved in writing this book, which provides plenty of surprises and also underlines the many mysteries that await explanation.
Ivy Press, ISBN: 9781782405078, Hardback, 192pp, £20
In the Company of Seahorses, by Steve Trewhella &  Julie Hatcher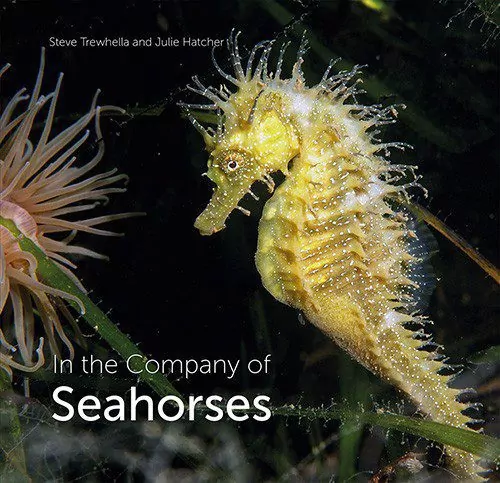 This coffee-table book majors on seahorses but also looks at other well-camouflaged tiny inhabitants of the threatened seagrass habitats dived regularly off Dorset by the authors. The photography is very good, though the seahorse portraits do become a bit repetitious by the end – the subjects' repertoire of poses is necessarily limited!
Wild Nature Press, ISBN: 9780995567320, Hardback, 240pp, £19.99
Eye of the Shoal: A Fishwatcher's Guide to Life, the Oceans and Everything, by Helen Scales
The author is a marine-biologist, broadcaster and diver and this clever book is based around a nine-month trip taking in 10 countries. Not a photo in sight, but it was one of our favourite books of 2018 thanks to the quality of the writing, observation and absorbing choice of content. Chapters cover broad themes such as coloration, light effects, shoaling, feeding, toxicity, sound, ancestors and feeling pain.
Bloomsbury Sigma, ISBN: 9781472936844, Hardback, 320pp, £16.99
Guide to the Manta and Devil Rays of the World, by Guy Stevens, Daniel Fernando, Marc Dando & Giuseppe Notarbartolo di Sciara
It's a rare diver who doesn't enjoy encounters with these intelligent, balletic and often awesomely large rays, and this book provides everything you're likely to need to know about mantas and devil rays. Excellent photography, along with the great illustrations of Marc Dando.
Wild Nature Press, ISBN: 9780995567399, Softback, 144pp, 14.99
Secrets of the Sea: An Underwater Journey Along the Norwegian Coast, by Erling Svensen & Bjorn Gulliksen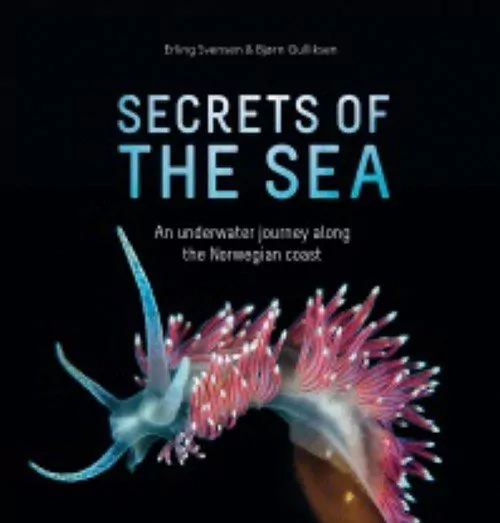 Yes, it's Norway, but many of the superb images will be of species familiar to British divers, seen in perhaps clearer water. This large-format book is organised by broad habitat types and is made for browsing at random – it's packed with fascinating facts and should sit well on the bookshelf of any British marine-life enthusiast.
Kom Forlag, ISBN: 9788293191407, Hardback, 317pp, 449 krone (around £42)
Blue Planet II: A New World of Hidden Depths, by James Honeyborne & Mark Brownlow
Accompaniment to the BBC wildlife documentary series that among other accomplishments achieved the seemingly impossible – engaged the public with the problem of plastic oceans. Often surprising marine-life behaviour is observed in 200 spectacular photos and a nice, easy style of script – great to flip through if you don't have time to watch the series again.
BBC Books, ISBN: 9781849909679, Hardback, 312pp, £25
Octopus, Squid, Cuttlefish:  A Visual Scientific Guide, by Roger Hanlon, Mike Vecchione & Louise Allcock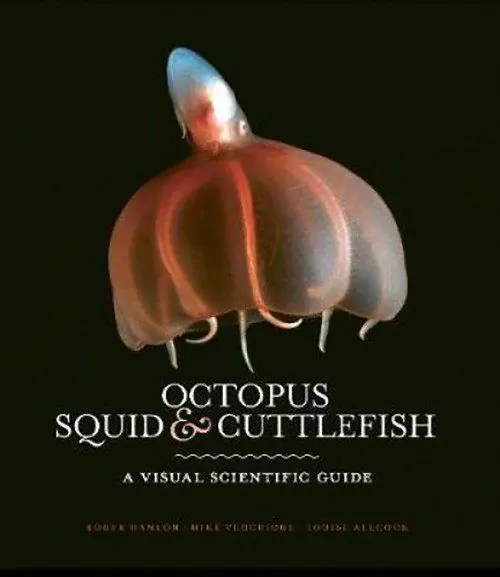 So hot off the press that we haven't even reviewed it yet (coming next month) but the fact that it's an Ivy Press title counts for a lot in this field, and it's clear at a glance that this book shares its stable-mates' high production values. Three experts share their knowledge of these mysterious species treasured by divers around the world.
Ivy Press, ISBN: 9781782405702. Hardback, 224pp, £25
Aquatical Latin, by TM Hayes
Golden trevally have 201 common names in different countries, which can be confusing for divers, but use its binomial Gnathanodon speciosus (Greek for toothless jack) and a marine biologist knows what we're talking about. For those who take their marine-life ID seriously, this book explores the meanings of the names of around 950 tropical fish and is written in a pleasantly light style.
Pogonichthys Publishing, ISBN: 9781545319222, Softback, 296pp, £14.99
Nicole: The True Story of Great White Shark's Journey into History, by Richard Peirce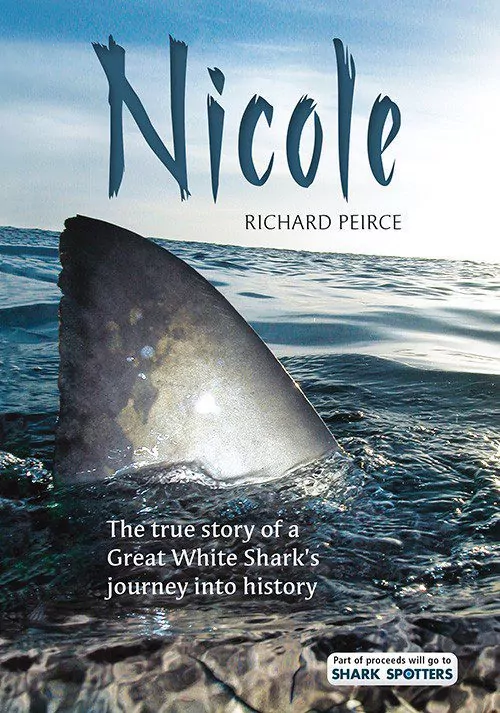 The epic round-trip of a tagged female great white from South Africa across the Indian Ocean and along the South Australian coast was the longest recorded at the time, underlined the shark's intelligence and navigational skills and was instrumental in gaining CITES protection for the species. Pierce's knowledge and imagination makes this an absorbing read.
Shark Cornwall Publishing, ISBN: 9781775845348, Softback, 136pp, £11.99
FOODIE DIVERS
40 Dives, 40 Dishes, by Al & Freda Wright
One of the dwindling number of UK liveaboards – it has been operating for some 30 years – is brought to life through the tales of Salutay's owners, highly experienced divers and wreck-finders, and known for serving tasty food onboard. A selection of Freda Wright's recipes is included. Read the excerpts elsewhere in this issue to get a flavour.
Sandsmedia Publishing, ISBN: 9781717270788, Softback, 168pp, £19.95
Dining with Divers: Tales from the Kitchen Table, by Simon Pridmore & David Strike
Another bright idea from the prolific Pridmore, this book combines diving tales from a range of scuba-divers around the world with their personal favourite recipes (which might or might not feature seafood). Our reviewer did have trouble following some of the recipes due to inconsistent guidance from their creators, but still found the book an entertaining compendium of diving and dining.
CreateSpace Independent Publishing Platform, ISBN: 9781981262021, Softback: 270pp, £29.90
TRAVELLING DIVERS
Diving in Southeast Asia, by Sarah Ann Wormald, David Espinosa, Heneage Mitchell, Kal Muller, Fiona Nichols & John Williams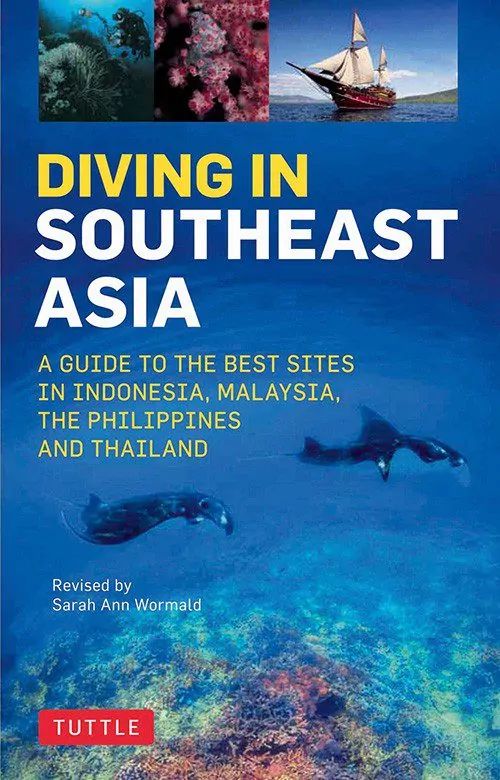 Impressive guide by a bunch of divers to their recommended dive-sites in Malaysia, Indonesia, the Philippines and Thailand. You might argue with the choice of sites but the writing and production values are good, and the maps and 55-page "Practicalities" section very helpful.
Tuttle Publishing, ISBN: 9780804845946. Softback, 290pp, US $19.95
Barbados: Scuba Dive, Snorkel, Surf, by Ian Popple, Otto Wagner & Peter McDougall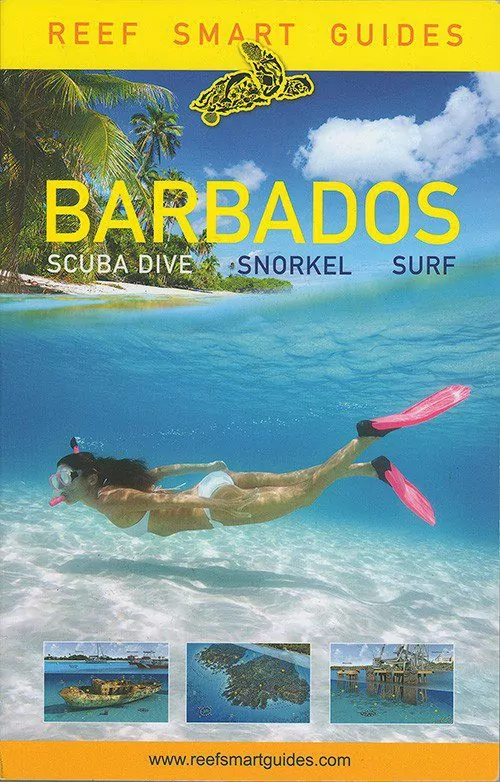 This is the first offering from a Canadian company, though look out for more Atlantic/Caribbean titles reviewed in divEr soon. The authors are all divers and we particularly applaud Otto Wagner's outstanding dive-site graphics, with wrecks shown from different angles with dimensions and depths – great for visualising and maximising your dives.
Reef Smart Guides, ISBN: 9781988818153, Softback, 184pp, US $27.95
Diving Gozo & Comino: The Essential Guide to an Underwater Playground, by Richard Salter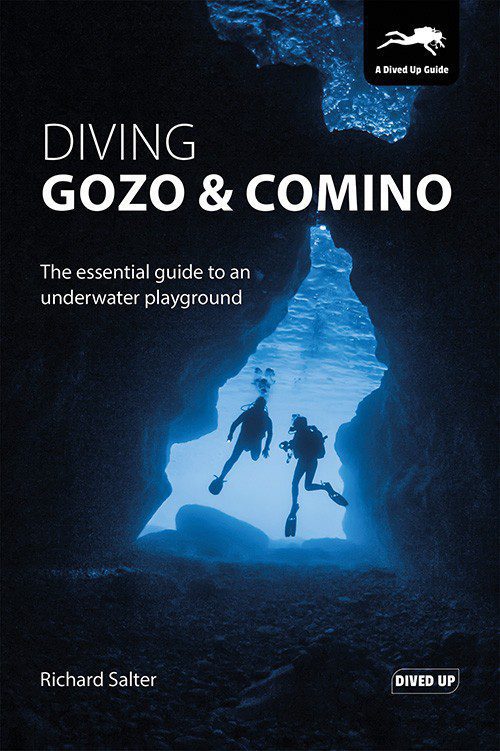 Published just a month after Gozo's famous Azure Window natural arch collapsed, the publisher impressively managed to include that new dive-site. The author, a local dive-instructor, has written an excellent guide for visitors, including 57 mainly shore-dives on Gozo and 14 on little Comino, with useful site-sketches and photos.
Dived Up, ISBN: 9781909455160, Softback, 176pp, £16.95
The 50 Best Dives in Micronesia: The Ultimate Guide to the Essential Sites, by Tim Rock
An aspirational and indulgent browse, designed to help divers decide which trip of a lifetime to take in possibly unfamiliar parts of the world. There is little technical detail but plenty of mouth-watering descriptions of bucket-list places such as the Marshall islands, Truk Lagoon, Yap and Palau. Formatted for the smaller coffee table.
Blurb Books, ISBN: 9781366221049, Softback, 180pp, £29.99
Galapagos, by Josef Litt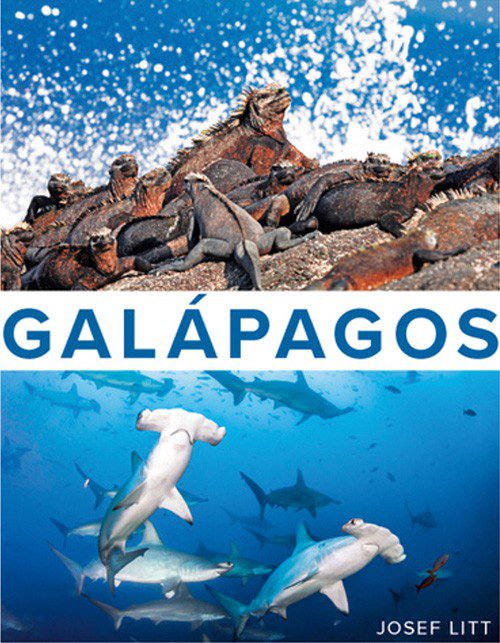 Described by Alex Mustard as "a must-read for anyone planning to visit and equally for those that already have a place in their heart for Galapagos" this glossy book covers all aspects of the Pacific dream destination, although especially bearing in mind the publisher's name we could have done with a lot more diving and underwater photography as a proportion of the whole! A handsome souvenir for divers who have made the trip.
Mostly Underwater Books, ISBN: 9781320999311,Softback, 288pp, £29
HISTORY DIVERS
Operation Tadpole: The Royal Navy's Underwater Diving Operations, Gibraltar 1940 – 1945, by John Bevan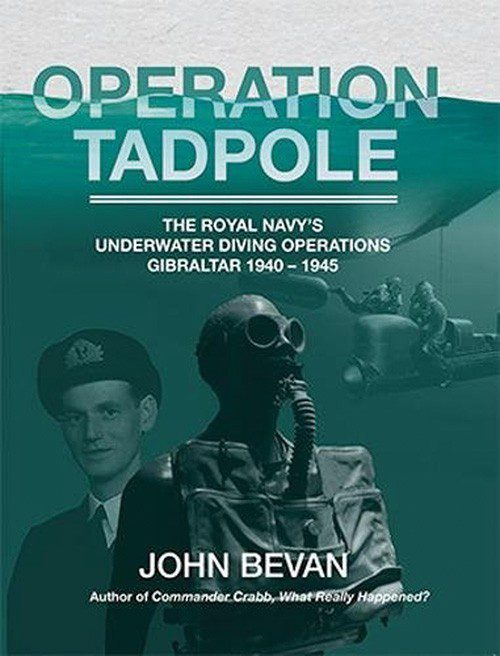 This is the WW2 story of Italy's "human torpedoes" and the Royal Navy divers tasked with foiling their efforts to sabotage shipping around Gibraltar. Commander Lionel "Buster" Crabb has long been given much of the credit but John Bevan sets out in his dispassionate style to show that it was Lt Bill Bailey who was the real mastermind here.
Submex, ISBN: 9781999822101, Softback, 100pp, 19x24cm, £10
FICTION DIVERS
Deep Steal, by Mike Seares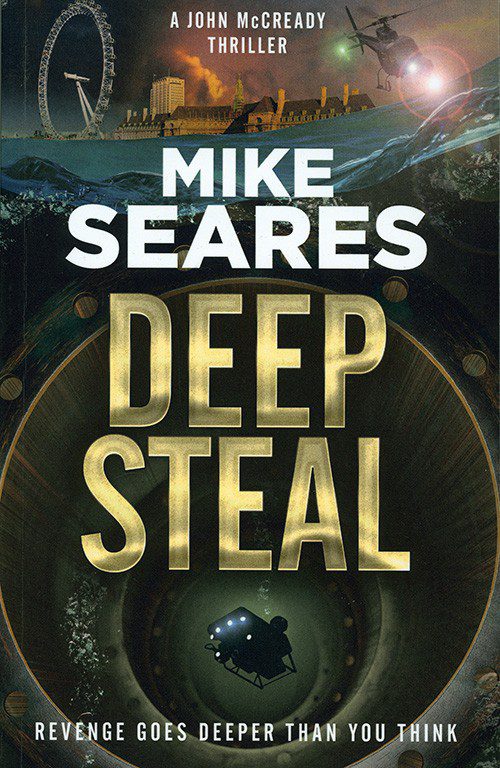 This is a filmic thriller that delivers on the thrills, and reflects the British author's long involvement with diving in the movie industry. The plot might be far-fetched (though what is really implausible any more, in the age of Trumputin?) but it's an exciting and well-written underwater caper ideal for taking on the plane. Light on scuba-diving, however.
In Depth Solutions, ISBN: 9780995733916, Softback, 424pp, £9.99
Waiting for Gordo, by Sue Knight
Short, eccentric thriller about a mixed bunch of middle-aged scuba-divers holidaying on a Maldives-style resort island. The lyrics of Ten Green Bottles Hanging On a Wall at the start give the clue to the theme as the generally unlikeable character list starts thinning out. Mildly unsettling and, again, light in scuba content.
Fantastic Books Publishing, ISBN: 9781912053667, Softback, 156pp, £5.99
Twelve Mile Bank, by Nicholas Harvey
Probably the pick of the fiction bunch, certainly for scuba content, this is another of those Nazi gold-based novels, this time based in the Cayman Islands and, although it could do with a little more suspense, a worthy page-turner. Packed with credible diving narrative and historic themes, the well-constructed plot unfolds in compelling flashback style.
Nicholas Harvey, ISBN: 9780692990469, Softback, 268pp, US $12.99
CAVE DIVERS
The Darkness Beckons, by Martyn Farr
This cave-diver's bible by the Welsh wizard first appeared in 1980 but has been extensively updated and broadened in scope. A practical guide, it is now far bigger than the original, embraces the great sites of the world and is packed with photos, maps and diagrams. As sharply written as ever, it's almost compulsory reading for cave-divers.
Vertebrate Publishing, ISBN: 9781910240748, Softback, 384pp, £25