archive – Diver Tests
Multi-Tool XS Scuba TL110
MULTI-TOOLS FOR DIVERS HAVE BEEN AROUND for a long time, and although I've never owned one I always seem to be the first person to need one, and have to beg, borrow or steal someone else's.
Well those scrounging days are over, because UK distributor Blue Orb sent me XS Scuba's TL110 so that I could have a play.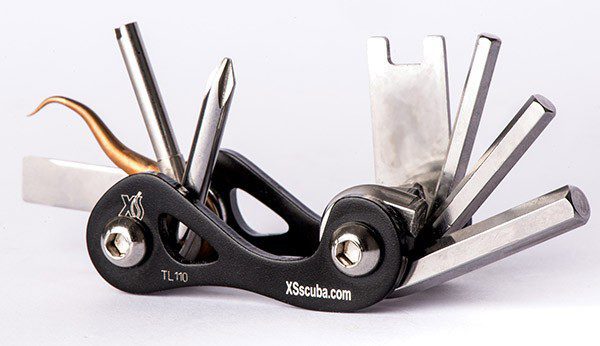 The Design
TheTL110 has eight individual tools mounted within a skeletal powder-coated metal frame. There's a set of three hex wrenches: quarter-inch to fit DIN-valve inserts, 3/16in to fit first-stage port plugs and 5/32in for valve dip tubes. There is also a slotted flat screwdriver for tank-valve nuts; a Schrader valve tool; a Phillips screwdriver; a flat-head screwdriver and an O-ring pick.
The tools are all made from stainless steel except for the brass O-ring pick. They're set on two axles and fold within the confines of the skeletal frame.
Multiple Uses
Do you really want me to detail all the uses to which we could put this little bunch of tools? Suffice to say that if you owned one there's not much else other than an adjustable spanner that you'd need. When I dive abroad and have a DIN connection on my regulators, that stumpy little quarter-inch hex wrench will be worth its weight in gold.
Conclusion
This little gem of a tool kit is small and light enough to slip into your Save-a-Dive Kit box, and it's likely to be in big demand on any dive trip. It has found a permanent home in my kit-bag, but left me wondering why I hadn't owned one sooner.
SPECS
PRICE: £26
WEIGHT: 103g
CONTACT: www.blue-orb.uk
DIVER GUIDE 9/10
Appeared in DIVER June 2016