COMPUTER
I'VE ALWAYS BEEN RELUCTANT to embrace watch-style dive-computers, thinking them a bit big for day-to-day use and a bit small for those times when the ordure has hit the spinning thing, and all you have time for is a quick glance.
Big numbers is where it's always been for me, and that has dictated that I use a big computer.
That was before Shearwater sent me its Teric watch-style unit to try.
The Teric boasts an AMOLED screen that's 36mm in diameter and is sharp, bright, colourful and so in-yer-face readable that as soon as I opened the classy zippered storage pouch and laid eyes on it, my fears about readability began to ebb away.
The computer comes with the font set to large for best readability, but you can change it to a smaller size to display more information if you prefer and, even for an old gimmer like me, the smaller font was large enough.
The Teric was supplied part-charged, so I started by charging it fully using the supplied wireless charging dock. The unit went from 24% to fully charged in under two hours. The dock can be connected to a charger plug, not supplied, or the USB port of your laptop or desk-computer.
I can see a pro and a con to the wireless dock idea. On the upside, no socket on the unit means no pins or socket to corrode over time, as they inevitably will despite even the most dedicated care and attention. On the downside, it's another item to carry around with you if you're travelling.
It isn't big or heavy, but it is something else to remember to pack and then not lose while you're away.
Shearwater claims 30 hours of use at 100% brightness in Dive mode, which seems reasonable.
The Teric feels weighty and well-built in your hand, without being too heavy as a dive-computer, though you'll take a while to get used to it on your wrist if you do wear it as a watch.
It comes with a substantial rubber strap for everyday use, and a longer tongue is supplied to make the Teric wearable with a drysuit.
Setting Up
It might just be me but why, when "ordinary" wrist computers use three buttons and are largely intuitive to configure, do most watch-style units use four buttons and totally baffle?
But not the Teric, which – drum roll, maestro, please! – I was able to set up to my preferences following the prompts on screen, and without reference to the manual!
I'm exaggerating the difficulty of watch-style units, of course, and we all very quickly get used to setting the computer we use, but the Teric is notably easy to set up and customise.
The secret is in that high-resolution and very colourful screen, with little icons to remind me which button to press to achieve which function.
You can download a full manual from the Shearwater site for those times when you need to make a setting change that you don't usually use. I did, and I have used it. The Teric offers so many functions that I found myself losing track.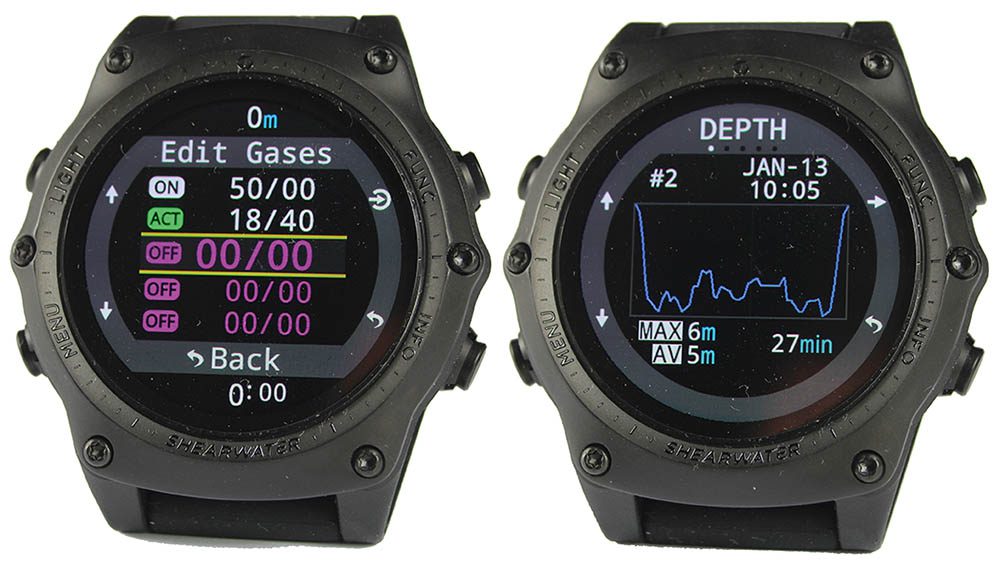 As supplied, you get a full-function dive-computer that's usable with up to five different gases selected from air, nitrox and trimix in any combination, which it will monitor in open-circuit, and there's a closed-circuit rebreather bail-out mode. It comes set to Recreational Open Circuit mode, but you can alter that to OC Tech or CCR modes easily and quickly, so it can grow along with your diving.
With a maximum depth rating of 200m, I reckon it's got pretty much the entire diving population catered for in one device.
The Design
The decompression algorithm is Buhlmann ZHL-16C and the Teric comes with pre-set recreational open-circuit gradient factors of 40/85 and tech or closed-circuit bail-out gradient factors of 30/70.
These are the medium-conservatism settings, and you can opt for higher or lower pre-sets or just set your own custom gradient factors if none of these options offers what you want.
Decompression research is ongoing, and who knows if the latest thinking today will still be valid in 12 months' time? With the Teric, you'll be able to stay up to date.
Buy the appropriate accessory transmitters, and it will sync with Aqua-Lung or Oceanic senders, and you can monitor tank pressures for one or two tanks. You'll need to download Shearwater's dive-logging app, which connects to the Teric using Bluetooth, to turn on the air-integrated function.
I've heard mixed opinions on the app – I found it a little slower than some to download and install but very usable. It connected easily with the Teric, and even offers a cloud function for sharing, if that sort of thing is your bag.
Deep stops and safety stops are available in Recreational mode, customisable to your preferences, of course, and there are Gauge and Freediving modes if you need them, though I have no idea who would drop a grand for a bottom-timer, even if it would be the swishest bottom-timer imaginable.
The compass function is nice and easy to use, but also offers a red triangle that points north, and you can set it to be visible at all times in Dive mode. That's a great idea.
I found it reassuringly easy to use as a rough-and-ready indicator of direction, but if you don't like it you can turn it off.
And there's the mechanical stuff such as the buttons, which are stiff enough not to be pressed by the creases in your drysuit, but aren't so hard to push that you get sore fingers.
Anything else? Loads. Alarms and alerts and colour choices and more. If the Teric offers it – and I have yet to find something it doesn't offer – then you can customise how it delivers the information to your taste. You can even get different-coloured straps.
Conclusion
I spent an evening playing with the Teric, running through menus and setting stuff up, and after a while I was deliberately trying to find something to dislike. I even got to the stage of reading the manual, just so that I could find something to criticise, and at the end of three hours the nearest thing I have to a criticism is that it does so much and offers you so many choices of set-up and so many screens of information that you'll need to spend time getting to know it before you're getting the best from it and if you don't use it for a while you'll forget how to access some of the information.
How to sum up such a capable unit? You know that old line about being "designed by divers, for divers"? Well, the Teric was or, at least, that's how it comes across. It's as near the perfect diving computer as anything I've ever used, even if it is a watch-style unit. I liked it a lot.
Specs
TESTER> Mike Ward
PRICES> £995, transmitters £243 (Aqua-Lung), £270 (Oceanic)
ALGORITHM> Buhlmann ZHL-16C
SIZE> 56mm diameter x 17mm deep, screen 36mm diameter
WEIGHT> 100g
DEPTH RATING> 200m
CONTACT> Shearwater Website
DIVER GUIDE> 10/10