BUOYANCY, BUBBLE-GUNS AND BLACK-OUT MASKS
TDI Intro to Cave-Diving / Cavern Diver Underworld Tulum, Mexico
LIZ SAVILLE was a classic example of an experienced diver content in her comfort zone. And then she agreed to go to Mexico on a cave-diving course – only to find herself kicked off it…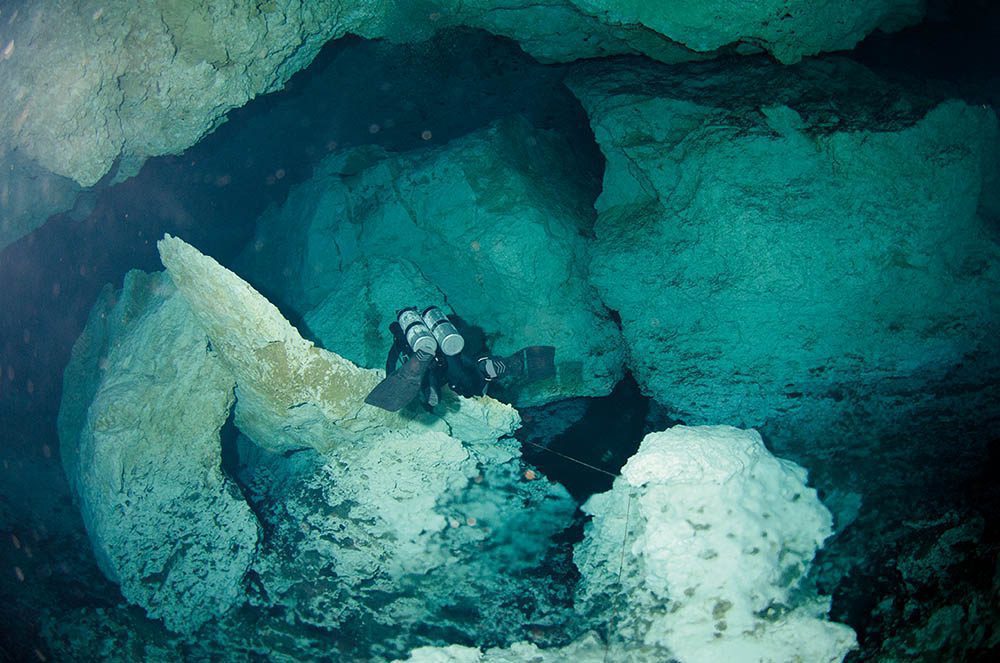 IT'S NOT OFTEN THAT you arrive home from work to be greeted by your husband brandishing a giant nappy, saying: "Here you go, love, try this on."
This is when you know you are enrolled on a cave-diving course, and your drysuit doesn't have a pee valve. This was starting to get real, and the nappy was only the latest in a series of pre-holiday preparations.
Six months earlier my husband Tim had been gently cajoling me into signing up for a CCR course. I had been resisting his attempts to get me to join him in the rebreather revolution for some time.
As a busy secondary-school teacher, my diving provides essential stress relief. I'm very happy with my trusty twin-10s and had no desire to make radical changes to my diving, and had little time for manuals and learning new skills.
I was deeply, happily and utterly entrenched in my well-appointed comfort zone. After 1200-plus dives, all done in the same mask and fins, it's safe to say that I don't like change.
So to close the subject I announced over a gin and tonic that while I had no intention of undergoing rebreather training, I would agree to a cave-diving course.
I had enjoyed some cenote dives a few years previously and thought it would be great to chuck on a twin-set and explore them a bit more.
So there I was, checking myself out in a giant nappy and thinking that this might not have been my best idea.
We had decided, on a friend's recommendation, to book a course with Lanny Vogel of Underworld Tulum in Mexico.
Following a few emails we settled on the TDI Intro to Cave Diving course.
Lanny sent us an extensive kit-list and we began to assess our existing kit. Our Custom Diver wings did not meet cave standards as they have a break in the harness and internal bungees, so we agreed to hire the centre's wings and backplates.
I bought new regs and fins (Tim had to prise my wonderful split-fins from my feet), and extra back-up torches with an array of new, shiny clips and split-rings to secure everything in place.
My evenings were spent reading the manual and completing knowledge reviews and exams, using the excellent TDI e-learning platform.
I passed the exam with a slightly higher mark than Tim, but we are not competitive.
With days before our departure, we had studied, prepped, packed and panic was now setting in as I realised the enormity of what I had signed up for.
My planned gentle bimble around a cenote with some photographic opportunities was shaping up to resemble a full-on cave-diving course with danger, risk and a generous dollop of stress thrown in.
I joked that Lanny would have his work cut out with me, and would probably throw me off the course by Wednesday.
Appeared in DIVER August 2017
Day 1: Carwash Cenote
Following a morning theory session on anti-silting finning techniques, the cave environment and kit-configuration, we were ready for dive 1.
It transpired that my regulator hoses were all too long, and the new torches were not attached correctly as they had metal to metal clips (everything in cave-diving needs to be attached so that it can be easily cut away).
So we arrived at Carwash cenote with a borrowed wing and harness, borrowed regulators, borrowed torches and new fins. I was beginning to miss my comfort zone.
Now, I can dive. I am chairman of a well-respected dive club and I am trimix-trained. I have dived deep wrecks and reefs around the world. However, at 3m, in my drysuit and newly configured kit, I was as slick as Bambi on ice. My trim was all over the place, and poor Lanny could have been excused for thinking that I'd never dived before. I spent a frustrating afternoon failing to fin backwards, despite my best efforts.
We demonstrated our s-drills and valve-drills, all without finesse.
For divers as yet uninitiated into the world of technical diving, an s-drill is an out-of-air safety drill involving the deployment of the donor's main regulator on a long hose.
Unlike standard recreational configurations the main reg on a 2m hose is worn looped around the neck and is deployed in an OOA emergency, with the alternative air source carried on a bungee around the neck.
An everyday skill for a tec diver, it's a whole different kettle of fish when done in the dark of a cave environment, while trying not to kick up any silt.
With dehydration adding to leg cramps and floaty feet aching with the repetition, we ended the session with the harsh realisation that perhaps we had more to learn than we thought.
Day 2: Ponderosa Cenote
Still unable to maintain horizontal trim when back-finning, we decided to add a tail-weight and shorten the crotch-strap on the harness. This, while not preventing my floaty-feet problems, led to my spine being stuck in a contorted concertina for an hour.
Getting nowhere fast, Lanny gave in and went back to the centre to fetch some Jetfins, the weight of which he was certain would sort the issue.
While he was gone Andy, a trainee instructor observing our course, suggested getting in with no fins or wing to develop the muscle memory needed for back-finning.
After only 10 minutes I was zigzagging backwards around the cenote with no problem! With the heavier fins and kit back on, I now had a moderately effective back-kick.
More s-drills and valve-drills, and our first experience of Lanny's dreaded bubble gun followed.
A simple air-gun attached to a low-pressure inflator provides a perfect,
if not slightly sadistic, means of simulating a blown manifold or valve failure.
Intended for inflating lift-bags or SMBs, Lanny found it much more useful for putting the fear of God into me in a variety of stress-management drills.
We had bubbles coming from every conceivable orifice, and we played out various failure scenarios and stress-management situations. It was time for a bite of lunch. Lanny provided huge sandwiches, fresh fruit and cakes every day all included in the price.
The afternoon was spent in the trees learning line-laying techniques and how to handle the reel.
There are prescribed methods to be learnt for primary tie-offs and secondary tie-offs, and we weaved ourselves around the jungle.
Just as I was starting to enjoy myself, Lanny spoiled the fun by pulling out a couple of black-out masks. Simulating zero vis, we were put through the paces of line-following using touch contact.
Maintaining contact with the line and your team-mate in zero-vis conditions is an essential skill, and one we did rather instinctively.
Then, of course, your air will run out and you'll need to maintain contact while sharing air.
We practised manoeuvring the long hose and keeping hold of the regulator while maintaining contact with the line and each other. No problem – this was more like it!
Day 3: Cristal Cenote
The briefing was simple. We were doing in-water line discipline with some gas-failure drills and zero-vis conditions thrown in. At some point, while unable to see, my air would be turned off and I would be required to "find and locate" my buddy's main reg and take it before resuming the swim.
Having dived with Tim for many years our in-water confidence and trust in each other is well-developed, and we were quite at ease with the no-mask swims along the line.
The warm, fresh water of the cenote was easy on the eyes, and I had no problem with the mask-removal sessions.
With mask back on but blacked out, we completed our out-of-air scenarios and astounded Lanny with our calmness when he sneakily turned off our air. We were beginning to feel more confident about this cave-diving gig.
After lunch, we descended into the cavern's overhead for the first time – and promptly forgot everything we had learnt.
Our canvas torch-mounts were way too floppy, and our beams were waving around in the dark, sending all manner of distracting signals. This, we realised, is why most cave-divers use metal Goodman-style hand-mounts.
The effort of writing down depths, times and pressures on wet notes in the dark and using cookies (cloth pin markers) to mark the line led to wobbly trim, and the concentration required to maintain position meant that I never got the chance to relax.
This had been a strenuous few days, with a much steeper learning curve than envisioned at the outset.
It was Wednesday. We were thrown off the course. Well, it was agreed that we were unlikely to fulfil the requirements for the Intro to Cave-Diving course in the time we had remaining, and that it was best if we restricted ourselves to Cavern Diver.
We ended the day feeling a bit low and demoralised, yet determined to meet the high standards expected by Lanny and the cave environment.
Day 4: Cristal Cenote
Feeling that the pressure was off us slightly we relaxed a bit, and had a fun morning dive practising in-water line-deployment.
I had never handled a reel like this before but mastered it reasonably quickly and enjoyed locating suitable tie-offs.
The dive went as planned. We finished with more s-drills and valve-drills, which were also starting to look good. Happy days.
However, this is not a course for the faint-hearted, and the afternoon had all sorts of fun in store.
Tim led and reeled into the cave with me following to check and verify the tie-offs. We reached our agreed turn-point and secured the reel.
Just as we turned to exit the cave, Lanny signalled for me to remove my mask. Not a problem – by now I was used to diving with no mask.
I contacted the line and removed my spare mask from my pocket and donned it. Great, now let's go.
But no. The dreaded bubble-gun came into play once more, and bubbles were surging from my valves. Not sure from which side they were coming, I first isolated, checked again and then shut down my left post.
The bubbling stopped. All good, and I signalled to continue to the exit.
Then, would you believe it, my right post started "bubbling" too. In my current predicament this meant that a shut-down would leave me out of air, so as I closed the valve I signalled "out of air" to Tim, who deployed his long hose.
We exited the cavern successfully and while I did find the situation a little stressful, I was pleased at how focused I had remained.
We repeated the same drills with Tim as the "bubble victim", and then we recovered the reel. It had been a far more positive day, and apparently we were "starting to look a bit like cave-divers".
Day 5: Carwash Cenote
Dive one began with our best s-drills yet! Our skills had been honed over the week and were beginning to be much smoother and instinctive.
In the cavern we endured more valve failures, but this time the mask of doom descended.
Thus we were plunged into black-out conditions while sharing air. Our training kicked in and we executed a successful no-vis touch-contact, air-sharing exit. It might not have been pretty but we would have lived.
Dive two involved more of the same drills, although this time on the exit I suddenly felt the line slacken. It had come loose from a tie-off, and the sensation was not a pleasant one.
I came to appreciate the life-saving importance of a correctly and securely laid line, and in that moment felt a surge of empathy for the divers Lanny had taught us about in his accident-analysis theory sessions.
Cave-diving is serious business, and people die doing it. A nice taut line is one of the best feelings when you are out of air in zero vis, I can tell you.
And with that final challenge conquered we qualified as TDI Cavern Divers and went for our first tentative "solo" cavern dive.
It was the first dive that week on which no kit failed and my mask stayed securely in place.
If asked if I enjoyed the course, I would reply that I enjoyed the challenge. I enjoyed Lanny's company, the location is terrific and the Underworld Tulum set-up and accommodation is excellent.
We received expert and rigorous tuition and completed 12 dives with a cumulative 700 minutes in the water.
We both returned to the UK as better divers and I had got so far out of my comfort zone that I have forgotten what it looked like!
The nappies? They stayed in the suitcase.
The training at Underworld Tulum costs US $250pp per day, including nitrox, equipment rental, lunch and certification fees, and there is a 10% discount for two divers or returnees. A self-catering apartment purpose-built for 2/3 divers with a shared pool costs $85 a night, underworldtulum.com
Photo credit:
Graham Waters