DIVING NEWS
Basking sharks meet to eat – and show off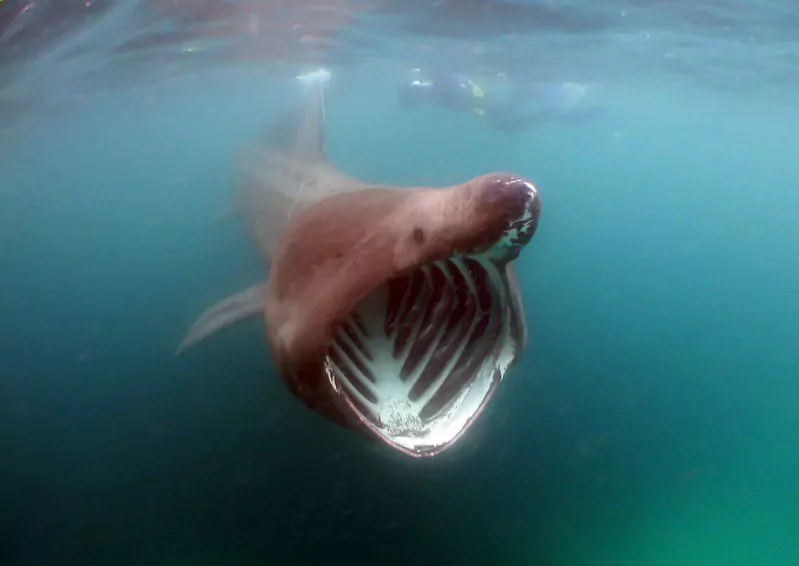 Picture: Yohancha.
Researchers studying video-tagged basking sharks in Scotland's Sea of Hebrides have recorded the first complete breaching event, as well as what is thought to be the first sub-surface courtship display, consisting of nose-to-tail chasing and parallel swimming. 
Their recordings included the first observations of basking shark grouping behaviour near the seabed.
The breach, captured from a basking shark's point of view for the first time, followed a rapid ascent from a depth of 77m in 70 seconds. The display was thought to be another component  of the sharks' courtship behaviour, of which little had previously been known, despite advances in biologging technologies.
The sharks were also observed breaching as many as four times in 45 seconds.
The study was carried out off the islands of Coll and Tiree, known to attract basking sharks (Cetorhinus maximus) in large numbers in summer and recently designated a marine protection area for this reason.
Six sharks were pole-tagged with towed cameras combined with time-depth recorders and satellite telemetry. These would automatically detach and float to the surface after a few days. The team followed the sharks for a total of 123 hours.
Groups of up to 13 sharks were recorded near the seabed swimming slowly either side by side, on top of each other or nose-to-tail, with their fins touching.
Feeding occurred only within a depth of 1m and made up 75% of the sharks' time spent swimming near the surface. To the scientists' surprise, they spent as much as 88% of daylight hours near the seabed.
The scientists believe that the solitary sharks come primarily to forage, as previously thought, but then take advantage of the short-term opportunity of socialising with others and finding breeding partners.
Whatever their activity or depth, the basking sharks maintained similar tail beat frequencies, said the scientists from the University of Exeter, led by Jessica Rudd and Matthew Witt. Their study is published in Plos One.
Basking sharks, the oceans' second largest fish at up to 8m, are found in temperate waters and are IUCN-classed as Endangered, having been hunted in the past for their liver oil. Other seasonal foraging aggregations occur around the Isle of Man, the south-west of England and the west of Ireland.