DIVING NEWS
Divers find smuggled coins on Rooswijk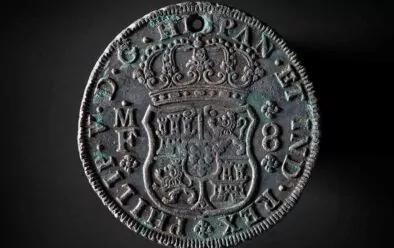 Pillar dollar with small hole for sewing into clothes. (Picture: Historic England/RCE)
Archaeological divers excavating the Rooswijk, the 18th-century Dutch East India Company (VOC) ship wrecked on Kent's Goodwin Sands, have uncovered evidence that some of the silver currency on board was being smuggled.
Owned by the Dutch Government, the protected wreck is being excavated by the Cultural Heritage Agency of the Netherlands in collaboration with Historic England (HE) and contractor MSDS Marine.
All 237 crew died when the Rooswijk sank in the hazardous area in January 1740. The ship was sailing from the Netherlands to Batavia (now Jakarta in Indonesia) carrying a sanctioned cargo thought to have amounted to more than 300,000 guilders worth of silver. This was to be traded for spice and porcelain in Asia.
The cargo was in the form of silver ingots and Mexican reals, or "pieces of eight", but the divers have come across many older silver coins that were not part of the official cargo, including ducatons from the Dutch Republic and the southern Netherlands (now Belgium).
The archaeologists believe that crew and passengers were flouting VOC regulations and smuggling the coins for illicit trading.
Small holes drilled into other coins suggest that they had been secretly sewn into clothes. Belts and shoes are known to have been among other common places of concealment, and by the time the Rooswijk sank, as much as half of money being transported on VOC ships was thought to have been illegal.
Examination of archives in the Netherlands has now enabled researchers to identify 19 of the crew, previously unknown apart from Captain Daniël Ronzieres. These include surgeon Gerrit Hendrik Huffelman, 19-year-old Thomas Huijdekoper on his first VOC voyage and sailor Pieter Calmer, survivor of a previous shipwreck.
Apart from the Dutch crew, there were Germans, Swedes and Norwegians aboard.
"It's extraordinary that after more than 270 years we now know the names of some of the people who may have lost their lives with the Rooswijk," said HE Chief Executive Duncan Wilson. "Seafaring was a dangerous way of life, and this really brings it home.
"The revelation that the Rooswijk was used to smuggle silver adds to our understanding of global trade at this time – we shall have to wait and see what else we might discover from this site in the coming months."
The excavation is continuing until mid-August as the divers gradually work towards the stern of the ship.
They are reported to have been finding personal items, boxes and barrels in the galley behind the main mast, as well as a knee – a piece of angled wood used to support the deck – the size of which is said to illustrate the enormous scale of the ship.
On land, archaeologists are working to conserve items already recovered, and the public are invited to see some of these at an open weekend at the conservation warehouse in Ramsgate (CT11 9LG) on 11-12 August.