DIVING NEWS
Fish eats shark – on video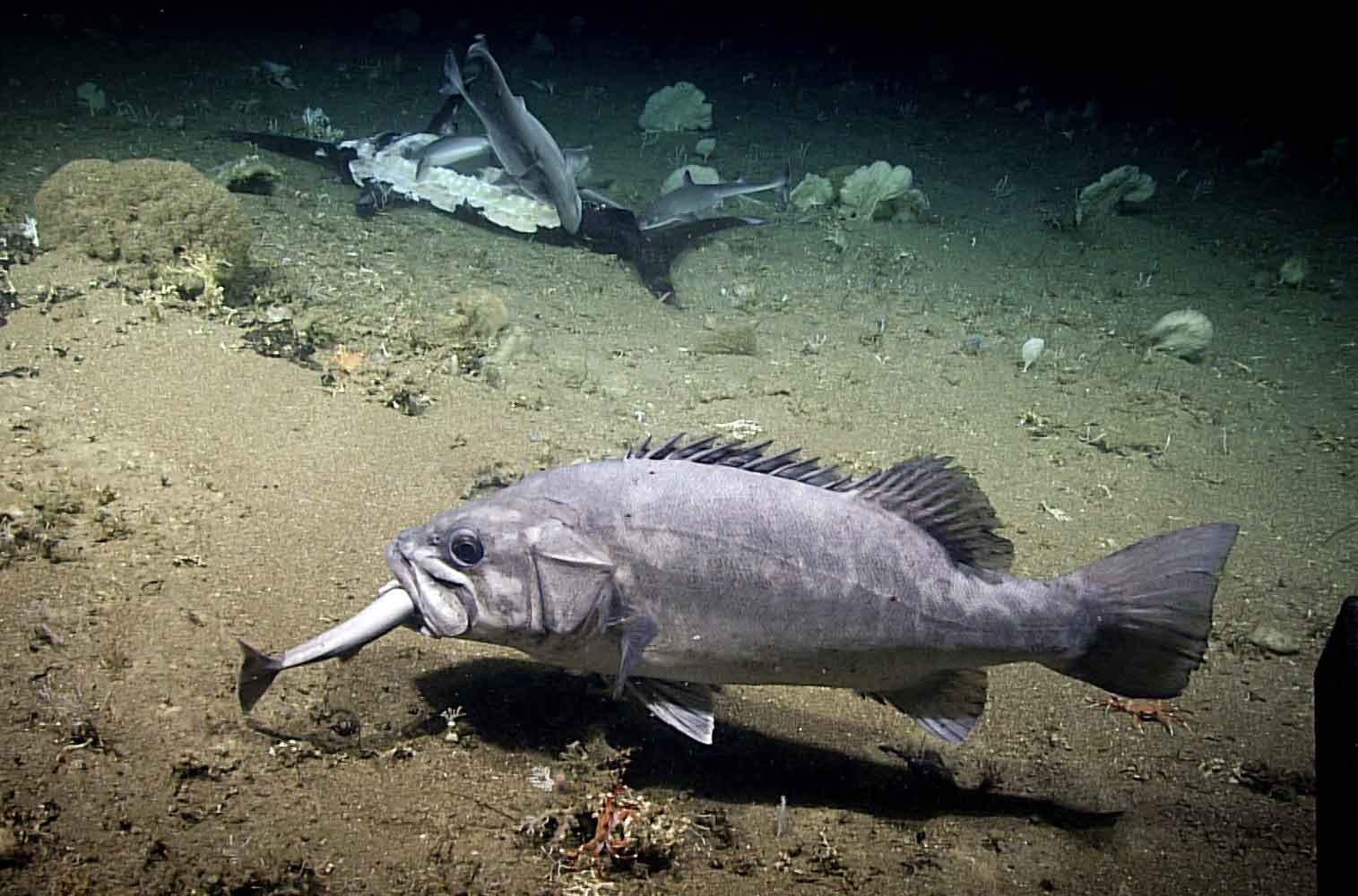 Wreckfish eats a shark. (Picture: NOAA Office of Ocean Exploration & Research, Windows to the Deep 2019)
A "once-in-a-lifetime event" was observed by a US scientific research team when a deep-sea fish was captured on video swallowing a live shark whole.
The incident occurred during a National Oceanic & Atmospheric Administration (NOAA) "Windows to the Deep 2019" expedition on 28 June, using a remotely operated vehicle from its research ship Okeanos Explorer to explore the seabed.
The ROV Deep Discoverer was operating at a depth of around 450m. The site, 80 miles off the USA's Atlantic coast, was being investigated as the possible resting place of a ship called the Bloody Marsh, but when no trace of a wreck was found the team switched to studying what they reported to be an abundance of sponge, coral and fish life.
Towards the end of the dive the scientists were surprised to see an aggregation of some 11 sharks devouring a 2.5m swordfish that appeared to have died recently and fallen to the seabed. Crabs, eels and other fish were also arriving to investigate.
The sharks were two species of dogfish found only below 200m – Genie's dogfish, first described only last year, and the larger roughskin dogfish.
A large wreckfish then appeared suddenly from behind the cover of the ROV itself, but instead of joining in the feeding frenzy it took the opportunity to ambush one of the sharks, swallowing it rapidly. Wreckfish (Polyprion americanus) can grow to more than 2m in length and weigh 100kg.
The dive at what was later dubbed "Shark Rock" was being live-streamed, and the rare event surprised everybody tuned in.
"Beyond witnessing an incredible predation event, our team remarked on how instances like this are good examples of how shallow waters and the water column are connected to the deep sea," said NOAA.
"When megafauna animals like the swordfish or whales die, they become an important food source for scavengers that live in the deep water below."
"Normally we don't see any deep-sea sharks in a group or aggregation, unless there is some nearby patch of food," commented Peter J Auster of Mystic Aquarium and University of Connecticut.
"As relatively small apex predators, they spend a great deal of time searching for prey. When a large food-fall occurs, like a 250-plus pound swordfish, the ability to detect and locate the food, and then maximise food intake, is the key to growth and survival."
See the video of the feeding frenzy and the wreckfish attack here.