DIVING NEWS
Join Monty Halls in Galapagos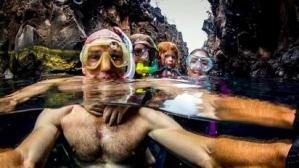 Diver, biologist and conservationist Monty Halls is back on TV screens for the next three Saturday nights (from 28 July) as he reports from his "favourite place on Earth" – and for the first time he has taken his whole family filming with him.
The Galapagos Islands are on most scuba-divers' wish-lists, and as this year marks the 40th anniversary of their designation as a UNESCO World Heritage site, Monty's task for "My Family and the Galapagos" was to investigate the wonders of the island group, the challenges they face and the steps being taken to protect them.
He and his wife Tam and daughters Isla and Molly spent three months experiencing a unique way of life and encounters with unusual wildlife both above and below the surface.
In the series Monty joins a research dive to tag Galapagos bullhead sharks and undertakes "what turns out to be a terrifying lobster-fishing night-dive with local fishermen".
He also joins a research trip to Wolf and Darwin, which he had wanted to visit since he was a boy, to tag and photograph whale sharks.
As President of the Galapagos Conservation Trust, Monty had been due to visit to carry out site-assessments, and decided that on this occasion he wouldn't need to be separated from the family.
"I had this hair-brained, ill-thought-out, poorly planned scheme of taking everyone with me," he says. "I'd been to the islands several times before, but always working, and to suddenly see them through a five-year-old and a three-year-old's eyes, and of course my wife's eyes as well – that's the concept of the series."
"The further we get into the series, the more it becomes about the kids' experiences and Tam's experiences, and I fade into the background. In presenting terms, I get presented off the screen by my children!
"The idea of a World Heritage Site is that each generation looks after it for the next generation. The time-scales the scientists were talking about during our visit there means our kids won't be able to see a lot of the things that are on the Galapagos now if they come back as grown-ups.
"That's really powerful. It adds quite an emotional element to it, which wouldn't be there if we were just looking at it through the eyes of our own generation."
The three programmes air on Channel 4 at 8pm on 28 July and 4 and 11 August.
Monty Halls will be speaking about his Galapagos experiences at the NEC Dive Show in October.