DIVING NEWS
Military hardware sunk for divers in Aqaba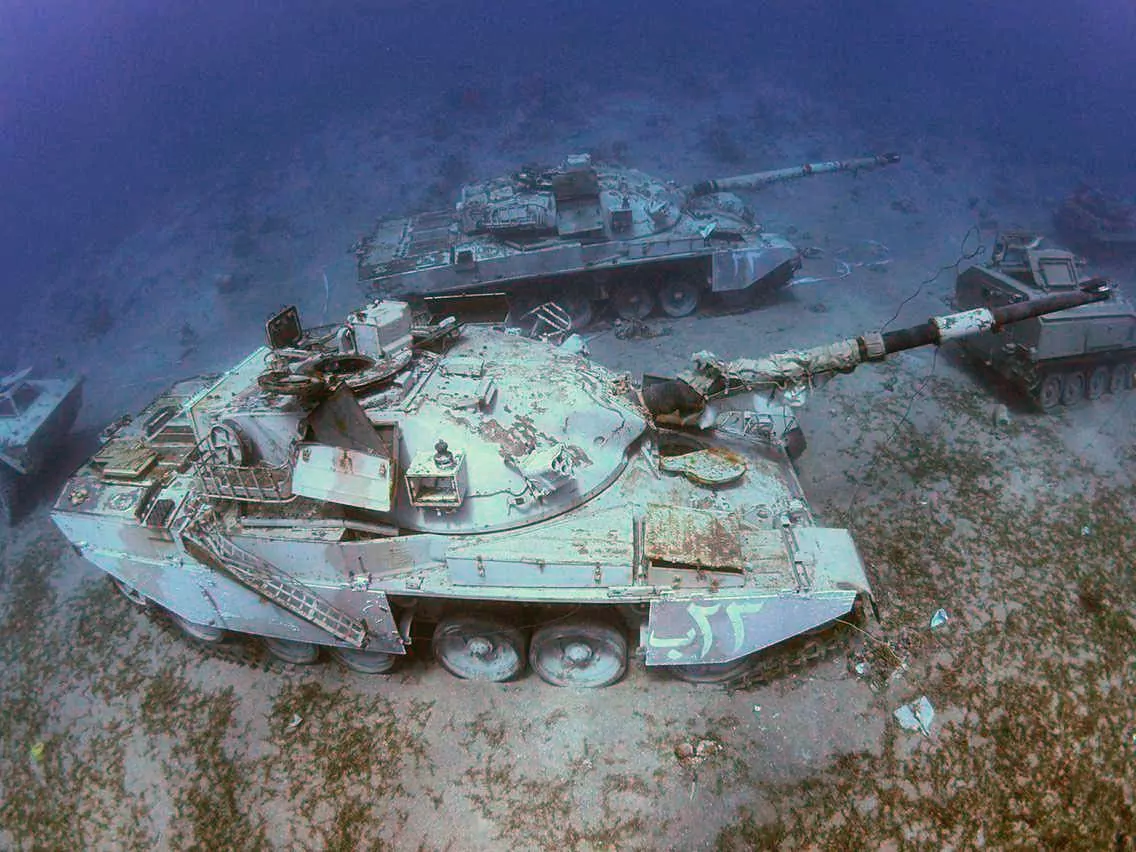 Picture: ASEZA.
Jordan is set on becoming the go-to place for scuba divers who enjoy the spectacle of hardware out of its natural element.
Its latest initiative is to install what it calls the Underwater Military Museum off the Red Sea coast of Aqaba.
"Exhibits" consist of 18 decommissioned Jordanian army vehicles, including tanks and armoured vehicles, as well as an air-force helicopter.
The cleaned-up equipment has been stationed to imitate a "battle tactical formation", according to the Aqaba Special Economic Zone Authority (ASEZA), which is behind the initiative. Dropped into an area said to be relatively barren at present, the artificial reef is expected to attract new marine life while at the same time drawing visitors away from Aqaba's natural reefs.
The underwater museum is intended to attract not only scuba divers but snorkellers and visitors in glass-bottomed boats. Ceremonially sunk on 24 July, eight of the items were placed at depths between 15-20m, while the remainder settled to a maximum of 28m.
The star of the collection is a US-built Royal Jordanian Air Force Bell AH-1F Cobra attack helicopter. Many of the other attractions are British-built, including a Chieftain battle tank with 120mm gun, an FV104 Samaritan armoured ambulance and an FV701 Ferret armoured car.
There is also an M42 Duster self-propelled anti-aircraft gun, a South African Ratel 6 x 6 infantry combat vehicle, a troop-carrier, a military crane and other items.
Jordan came early to the military-hardware-as-reef concept when diving enthusiast the King of Jordan had an M42 Duster sunk in shallow water in 1999. It has been a popular diver attraction ever since.
In 2017 ASEZA sank Aqaba's first aircraft wreck, a decommissioned Royal Jordanian Air Force Lockheed Hercules C-130 transporter.  And at the end of next month it plans to sink another, bigger plane, this time an airliner – a 50m Lockheed 1011 TriStar.
Although the Underwater Military Museum is now in position, recreational divers will be discouraged from visiting it until next year, once the expected colonisation is well under way.