DIVING NEWS
More diver discoveries in Greece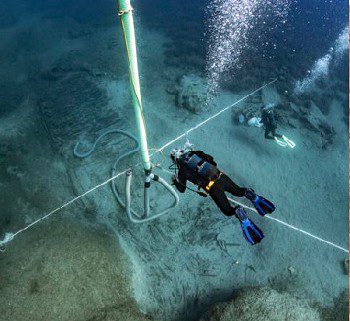 Divers on the Mentor. (Picture: Greek Ministry of Culture & Sport)
Three shipwrecks spanning eras from the pre-Christian to mediaeval have been discovered off the small Aegean island of Kasos, according to Greece's Ministry of Culture & Sports. Other scattered artefacts found, including cannon, suggest that the remains of more modern wrecks also lie in the area. 
Kasos is located between Crete and Rhodes on what was a key Mediterranean trade route with the Middle East. The discoveries were made during an October survey.
The oldest of the wrecks was a 2300-year-old trader, with a number of amphoras, tableware and also five stone anchors located. One of the other vessels was from the 1st century BC and the other was dated broadly between the 8th and 10th centuries AD.
The ministry has also announced new finds from the historic wreck of the Mentor, Lord Elgin's brig which sank off Kythera in 1802.
Marine archaeologists led by Dimitris Kourkoumelis diving on behalf of Greece's Ephorate of Underwater Antiquities have uncovered a gold ring and earrings, cooking pots, three chess pieces and timber and iron ship's fittings.
Dive-teams have been excavating the Mentor for the past eight years. The ship was heading for Britain carrying crates of antiquities taken by Elgin from the Parthenon, Acropolis and other Athenian monuments when she hit a storm. The vessel sank in 23m near the entrance to Avlemonas harbour.
A salvage operation undertaken by Elgin at the time of the sinking using Greek sponge divers succeeded in recovering the marbles, which are still controversially displayed at the British Museum.
Excavations since 2011 have revealed navigational instruments and many belongings of the crew and passengers, including gold watches, rings, chains, coins, bottles, buttons and other chess pieces.