DIVING NEWS
Stern of 'shipwreck that made it home' found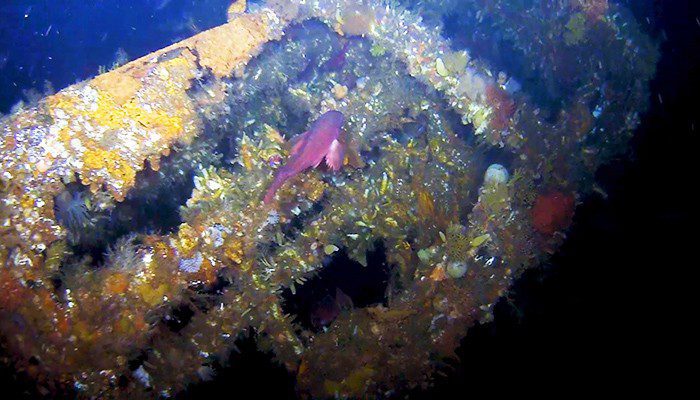 Stern of the USS Abner Read. (Picture: Project Recover)
The missing 23m stern section of a World War Two US destroyer that survived a mine-strike against the odds has been discovered off the remote Alaskan island of Kiska.
The USS Abner Read's stern was found at a depth of 88m by scientists on an expedition to the Bering Strait. The initiative was supported by the USA's National Oceanic & Atmospheric Administration and Project Recover, the body dedicated to finding the underwater resting places of Americans missing in action since WW2.
Kiska and another Aleutian island, Attu, were among the few US territories to have been occupied by foreign forces in the past 200 years, and the Abner Read was part of a US force that liberated them from the Japanese in August 1943.
The destroyer had been on anti-submarine patrol in the early hours of 18 August when she is presumed to have struck a mine. Seventy-one of the crew died in the explosion.
Despite the severity of the strike, which ripped the entire stern section away, the surviving crew succeeded in keeping the main part of the hull watertight while two other Navy vessels towed the vessel back to port.
"This was catastrophic damage that by all rights should have sunk the entire ship," said Sam Cox, Director of the US Naval History & Heritage Command.
Restored, the destroyer was back in action within months and took part in several Pacific actions. She was finally destroyed in a Japanese kamikaze attack during the battle of Leyte Gulf in the Philippines in November 1944.
"This is a significant discovery that will shed light on this little-known episode in our history," said NOAA administrator retired Navy Rear Admiral Tim Gallaudet. "It's important to honour these US Navy sailors who made the ultimate sacrifice for our nation."
The stern was located using multibeam sonar, after which an ROV captured video footage that revealed the stern complete with 5in gun, depth-charge racks and rudder for a positive identification.
The scientists aboard the research ship Norseman II were from Scripps Institution of Oceanography at the University of California San Diego and the University of Delaware, and finding the missing stern was a primary goal in their task of mapping for the first time the underwater battlefield off Kiska.
Many US and Japanese ships, aircraft and submarines were lost in the area during the bitter 15-month campaign.