A Haven for Hardware
Aqaba, Jordan's only coastal city, continues to stake its claim as an underwater playground for metal-loving divers. As other aspiring artificial-reef locations watch with envy, SAEED RASHID enjoys preview diving and photographing a score or more of attractions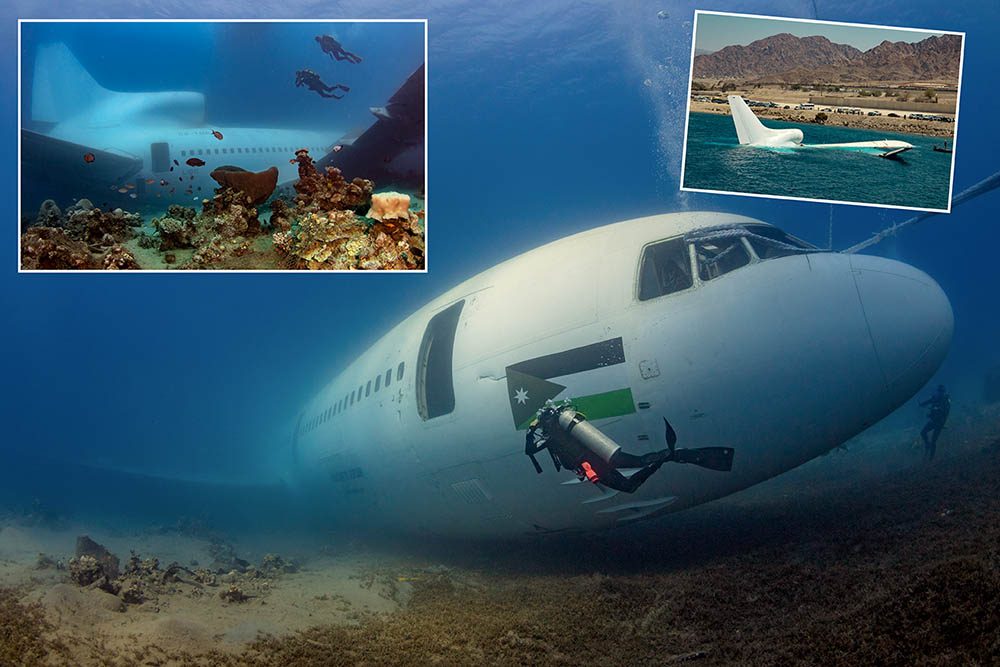 Jordan is taking the bull by the horns and letting the world know that it wants to be the top destination when it comes to wreck-diving and artificial reefs.
Opinion is split but, love them or hate them, we have been scuttling our cast-offs as artificial reefs for years.
Many countries have a history of using decommissioned military vessels for this purpose, from the largest aircraft-carrier, USS Oriskany sunk off the coast of Pensacola, Florida, to our very own HMS Scylla, scuttled in 2004 in Devon.
They have quickly become diving tourist hotspots, generating much-needed revenue for the industry and the locale.
I was delighted to receive an invitation from the Aqaba Special Economic Zone Authority (ASEZA) to witness the sinking of the newest addition to Aqaba's underwater curiosities – a Lockheed TriStar passenger jet.
The country's programme of establishing artificial reefs in its part of the northern Red Sea started back in the 1980s when the King of Jordan, a keen scuba-diver himself, ordered that a derelict freighter, the Cedar Pride, be sunk just off the beach.
This was quickly followed by an American M42 Duster anti-aircraft gun, which was named "the Tank". Lying in very shallow water, these two wrecks became icons of diving in Aqaba.
They were followed in the early 2000s by the Taiyong (a transport vessel) and Al Shorouk (a ferry). However, both settled beyond recreational diving depths at around 60m, so becoming technical dives unsuitable for the masses.
Then a few years ago, with much fanfare and celebration, Aqaba reinvigorated its programme by sinking its first aeroplane, a C-130 Hercules military transport.
After this, it was clear that the authority wanted to scuttle more man-made delights and secure Jordan's place on the map as a diver's and underwater photographer's playground.
Appeared in DIVER November 2019
Roll on two years, and I sit on a boat watching as the air is slowly released from the buoyancy bags next to the fuselage of the Tri-Star.
It's amazing how long it takes to sink a plane and, after what seemed an eternity, the machine's final moments above the surface were over and it slipped away so quickly that many of us observers almost missed it.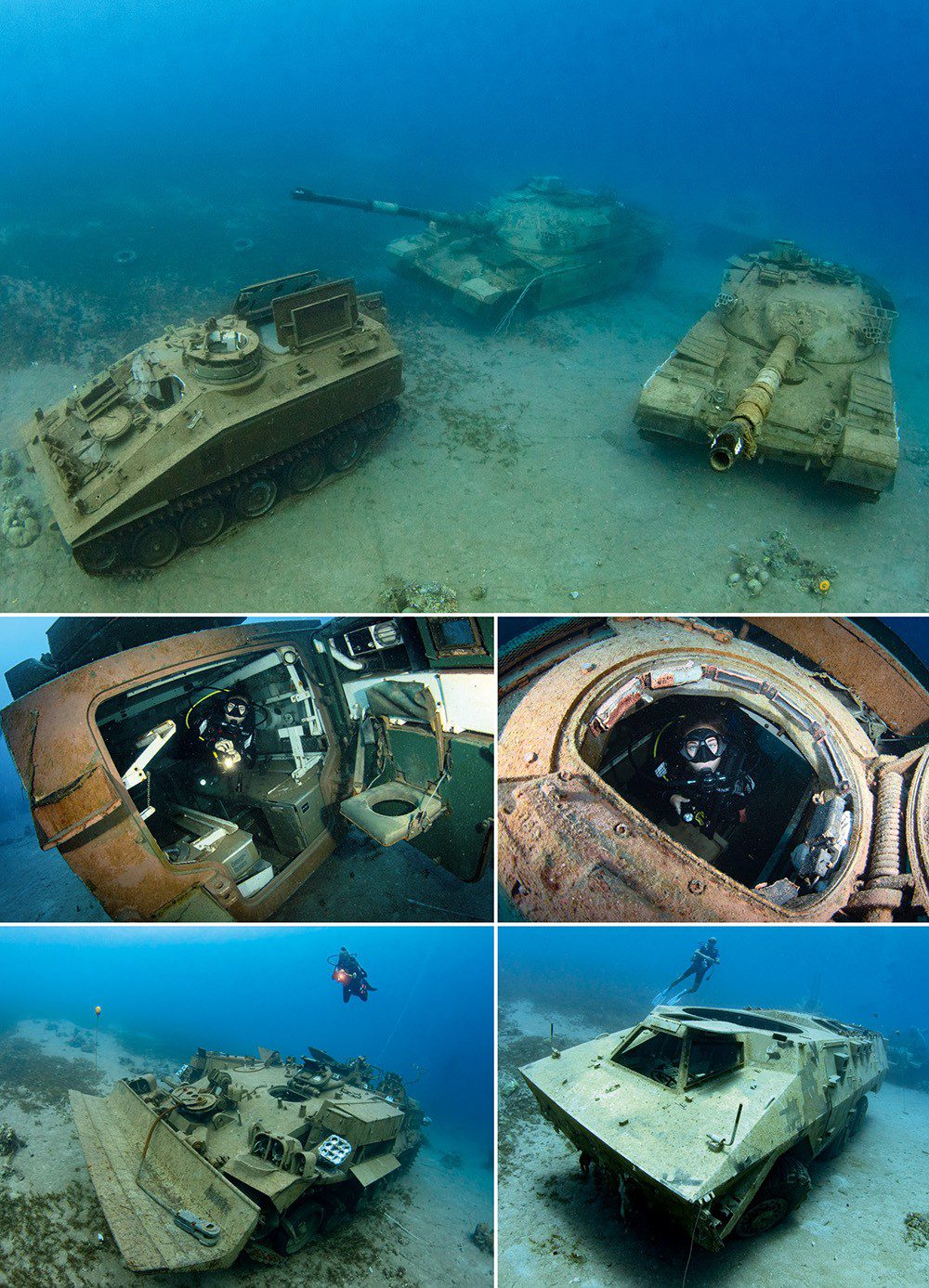 This Tri-Star was a non-Jordanian commercial jet that had been out of service and parked at King Hussein International Airport for several years.
Technical teams from ASEZA had looked at more than seven locations along the coast for the proposed sinking, and had conducted detailed surveys of all of them.
It had eventually agreed to scuttle it near an old phosphate port just south of the Power Station reef. We were scheduled to return to this site in a few days but, luckily enough, we had another new site to entertain us in the meantime.
A few weeks before we arrived, and completely under the radar, ASEZA had sunk 19 military vehicles.
This was to be yet another new attraction, and part of an expanding "Underwater Military Museum".
Sitting in battle formation on the seabed between 14 and 30m, the museum consisted of battle tanks, field artillery, armoured support vehicles and even two attack helicopters.
Although I have dived on Aqaba's other military vehicle wreck the Tank many times, this really was something new.
We were given special permission to dive here before this site officially opened, and even our boat captain and the guides had never visited, so we were among the first to see the sunken military museum.
Visibility was less good than it might have been, but it wasn't long before I saw a huge gun-barrel sticking up from the seabed.
To me, a child of the 1980s who had been obsessed with anything army-related, it looked just like the iconic British battlefield Chieftain tank. However, subtle differences made others doubt my ID.
In the end, with much deliberation and the help of a few military-vehicle geeks, we decided that the tanks were in fact Jordanian Khalids, modified Chieftains originally designed and built for Iran.
Just like a plane, tanks and helicopters are an unusual sight under water, so swimming around them seemed very strange. They are placed far enough away from each other that you can see only a few at a time.
I decided to start my tour at the shallower front of the formation, where they had placed the smaller armoured cars such as the Ferret, followed by the more modern-looking FV 104 Samaritan.
Most of the doors and hatches have been left open but it's not really possible to penetrate these apart from the medical Samaritan, which has large doors at the back for ease of loading and unloading of patients.
Some of the auxiliary equipment had been left in place, including switches, dials, folding patient beds and even the rear-door toilet, which was funny to see. Hopefully it will survive the inevitable Instagram photos of divers taking a pew!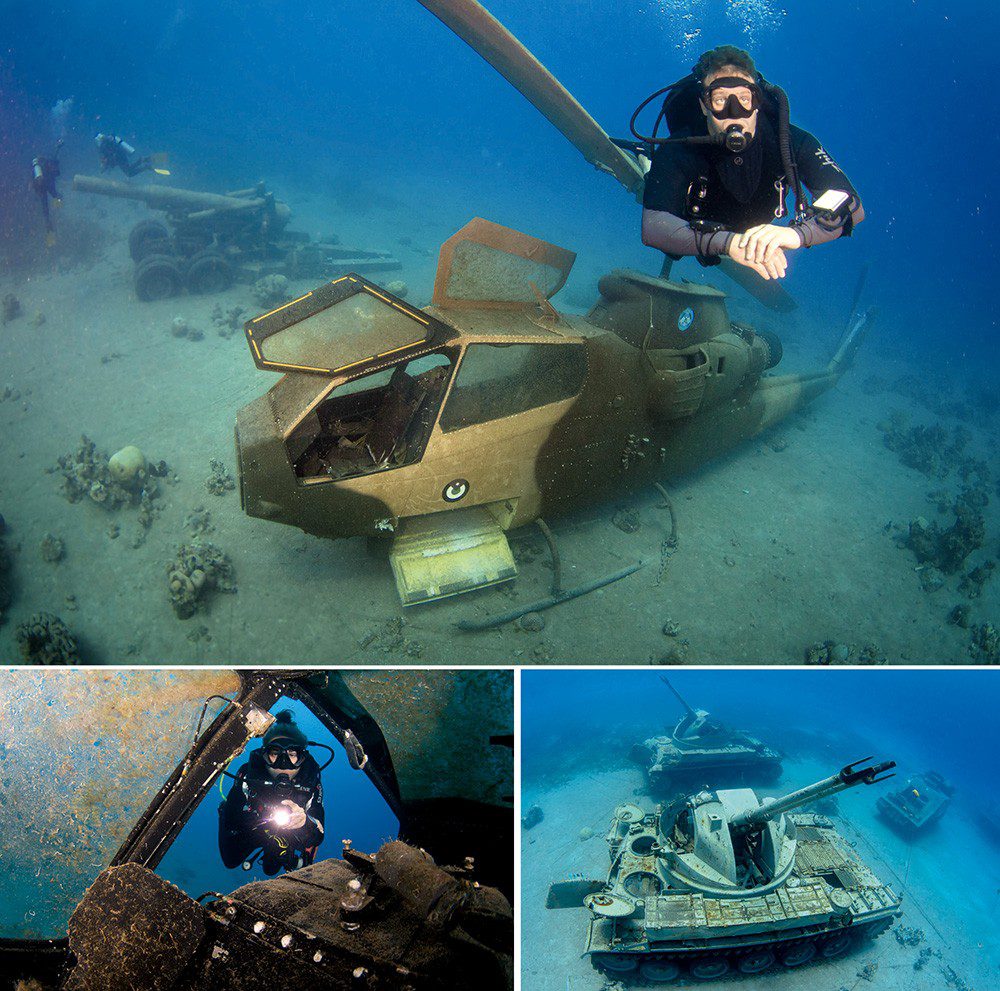 Behind these vehicles were the large battle-tanks onto which we had originally descended, leading to a South African Ratel with its unusual but distinctive angular front end.
The turret and gun had been removed, which made it easy to look inside to the troop-carrying area.
A Chieftain Armoured Repair & Recovery Vehicle or ARV with its bulldozer nose sat in tight formation next to the Ratel. As you poke around looking in all the nooks and crannies yet another sight comes into view – a couple of large M155 203mm field-guns.
The highlights for me are two Vietnam-era Bell AH-1 Cobra helicopters, still looking menacing even under almost 30m of water. I could have looked around them for ages, but as they are at the deepest point, time wasn't on my side.
With so many exhibits this site is huge, and could easily take several dives to explore. We dived here three times, but there was still plenty more to see.
Finally, the day came when we were to dive the Tri-Star. We moored up over the top, and it was easy to see the bright white fuselage below us.
The plane had come to rest perfectly on a slope at the intended depth between 15 and 28m, at a location about 15 minutes by boat from the museum.
Being one of the first to dive the plane was strange – in fact a little spooky. Many components had been removed to make it safe to sink but the cockpit, including all the pilots' gauges, dials and seats, is intact, looking for all intents and purposes as if they have just landed the aircraft.
Moving down inside the fuselage into the main passenger cabin, the central row of seats had been removed but everything else remained, including overhead lockers, outer seats and even the old TV projection system.
Floating there looking at this empty space, you could almost hear the in-flight movie playing, and people calling the flight attendants for their favourite tipple.
It actually gave me a chill looking at what appeared to be a long-lost plane just discovered beneath the ocean.
Much of the crew's galley was also intact – all that was missing were the trolleys from which in-flight food had been served. Behind the galley were the row of passenger toilets, looking eerily abandoned.
At a few points holes have been cut in the floor to allow access to the holds but, unlike ships' holds, these are tight, empty spaces that don't really hold much of interest – at least, as yet.
Outside it was much the same, minus all windows and the engines, but the plane, or should I now say wreck, looked gleaming and bright. It really did appear capable of being cleaned up and put back into service, but I'm sure given a few years under water that will change, and fish and coral will colonise this man-made reef.
If you compare the Tri-Star with the smaller Hercules, you get an idea of what it will become. Much of the surface of the Hercules is corroded and covered in algae.
Exposed to gentle currents, large, brightly coloured soft corals have started growing on the underside of the wings.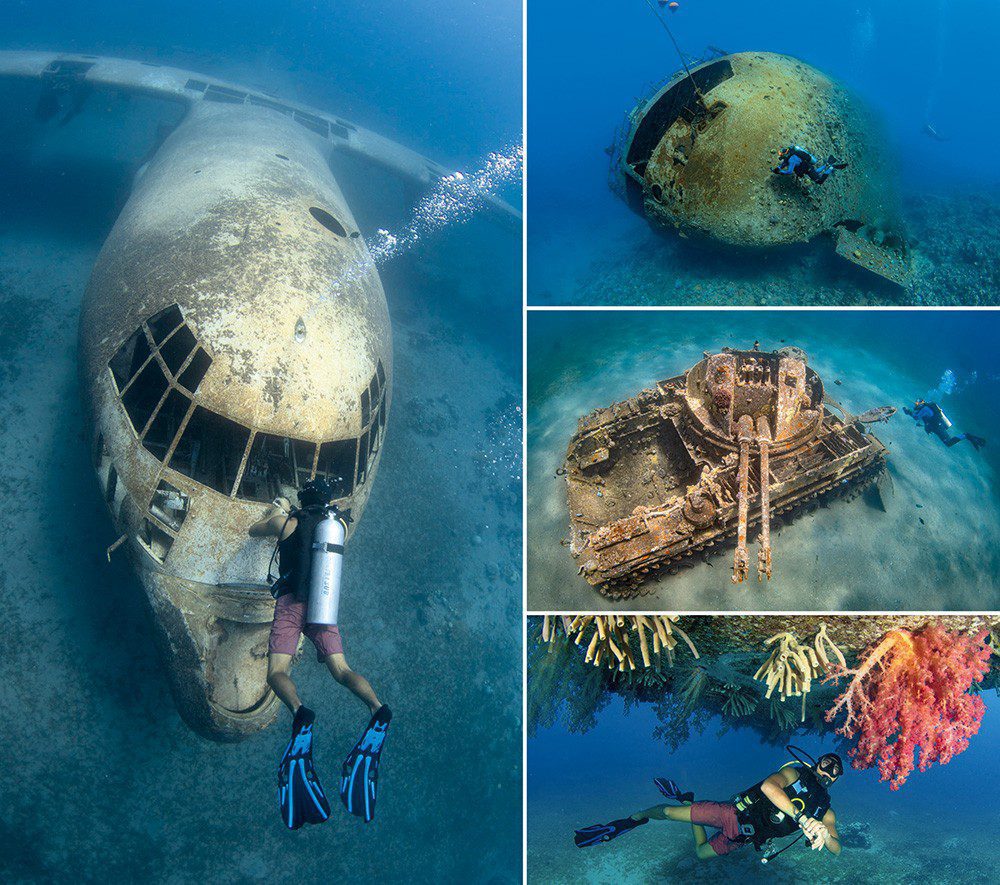 These look spectacular, and are something that's lacking in neighbouring hard coral reefs. I can't wait to see how these mature over the years, and what new life they attract.
Before they are opened to the public, both sites still need to be cleaned up. They still have cables, lift-bags and some items that could be hazardous littering the sites but, once they're ready, I can see people flocking to these new and unusual attractions. I know I'll be back to this diver's underwater playground soon.
FACTFILE
GETTING THERE> easyJet now flies direct to Aqaba twice-weekly from November to March. Saeed flew with Turkish Airlines via Istanbul. Visas are free for UK passport-holders.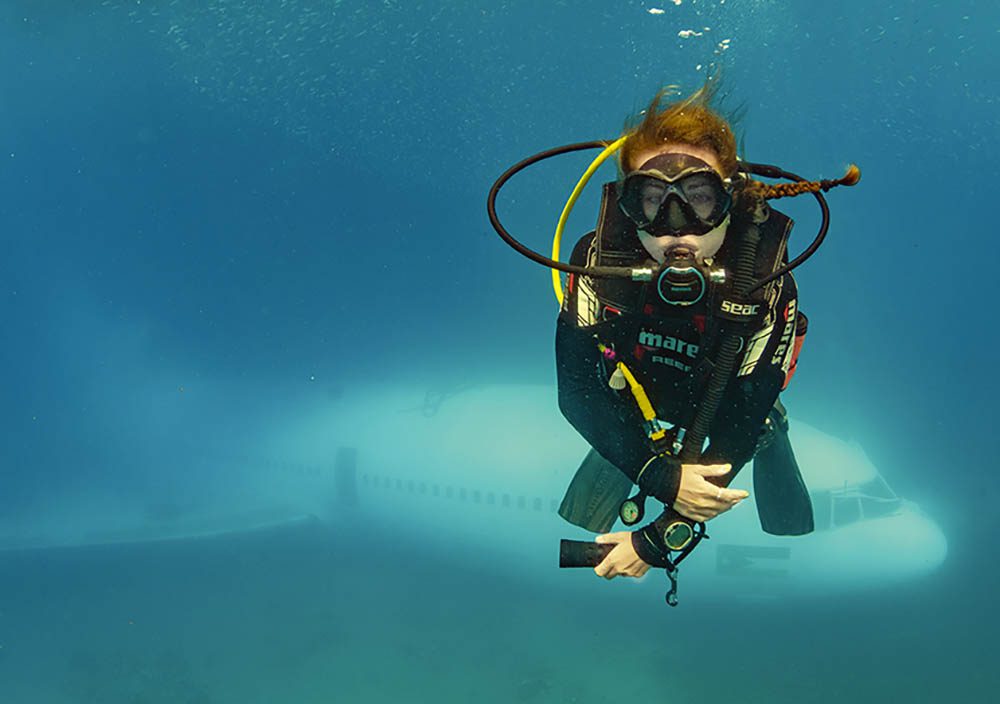 DIVING & ACCOMMODATION> Saeed dived with three centres during his stay and says that all of them offered "great facilities and excellent local knowledge". They were Sea Guard, c-guard.net; Sea Breeze, seabreezeaqaba.com and Diverse Divers, diverse-divers.com
WHEN TO GO> Year-round, but the best times are spring and autumn, when sea temperatures are in the 25-27° range and air in the low 30s. In summer air temperatures can rise to and beyond the 40° mark. From mid-December to the end of January, it can be windy and rainy.
MONEY> Jordanian dinar.
PRICES> easyJet return flights £200, Turkish £400. Dive Worldwide offers a nine-day trip from £1295 including return flights from the UK, transfers, seven nights' accommodation and a 10-dive pack, diveworldwide.com
VISITOR Information> aqaba.jo, visitjordan.com
Click here to read "HERCULES UNCHAINED"
– the sinking of the Royal Jordanian Air Force Hercules C-130.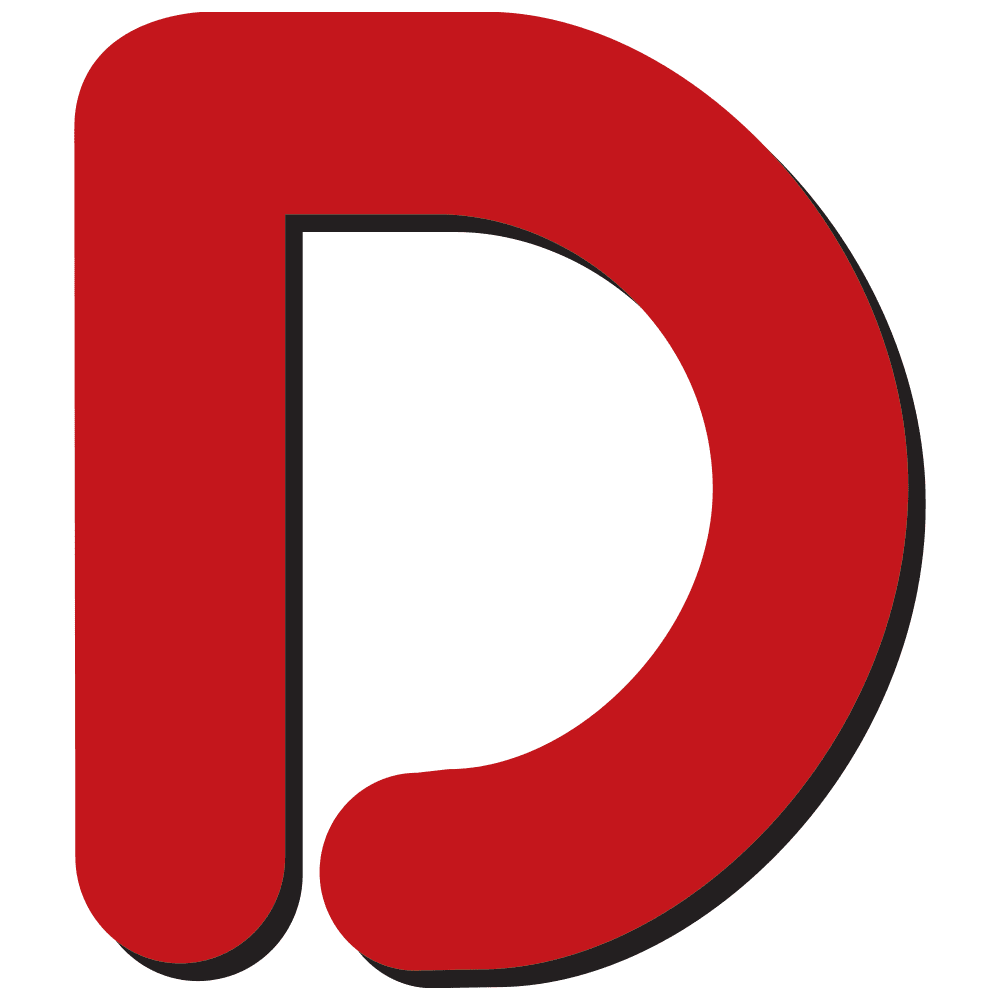 One of the world's longest-established diving websites, Divernet contains a wealth of information about diving destinations, equipment, techniques and much more, as well as daily news updates from around the world.