archive – Red SeaBack to Sharm
Why wouldn't you? The Egyptian resort's dive-sites are back to their best and there are plenty of routes in – how about a European city-break on the way, for instance? NICK & CAROLINE ROBERTSON-BROWN report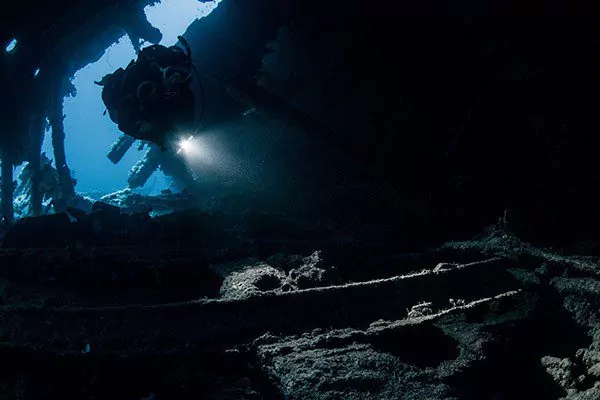 IT'S BEEN SOME years since Caroline and I spent any time diving out of Sharm el Sheikh, on the southern tip of Egypt's Sinai Peninsula. When we did, it would be pretty much typical to moor up alongside 10 to 15 other dive-boats, with numerous divers all trying to get their chance to examine what was on the reef at the same time.
There were bubbles everywhere, and for a photographer it was becoming increasingly difficult to get a clean shot. It was not unusual to be lining up a shot of the reef when a dozen or so divers would drift along beneath you, swathing you in an endless stream of bubbles.
That, however, was before the troubles that destroyed the atmosphere of this buzzing, lively town, full of tourists and divers seeking guaranteed sun and beautiful diving. After two revolutions and a terrorist attack on a Russian flight out of Sharm airport, the scene that now greets you on arrival tells an entirely different story.
Na'ama Bay in Sharm is almost a ghost town, and while the UK Government plays politics with the livelihoods of the people who live there, slowly the rest of Europe is making its way back.
It is not all doom and gloom, fortunately, because a vast reduction of diver numbers on the many dive-sites used by Sharm operators has given the soft corals, sponges, seafans, shoals of fish and even the hard corals the time and opportunity to recover their former glory.
We recently spent 10 days in Sharm, hosted by Camel Dive Club & Hotel, and on every single venture under water we were blown away by the colour and life that envelope the reefs.
Several reef systems are regularly used, and the reefs of the Strait of Tiran are all pretty spectacular. The four principal reefs were named after the British cartographers who originally mapped the area: Jackson, Woodhouse, Thomas and Gordon are all about an hour's boat-ride out of Na'ama Bay.
You can spot this reef system from some distance off as you approach, thanks to the wreck of the Lara. This Cypriot cargo ship hit the reef in 1981 and, despite being partially demolished in 1996, the remains still sit on top of it. The propeller has fallen to 56m at the bottom of the reef pinnacle.
Some of the seafans we saw were enormous, and on Gordon we had to use four underwater flashguns and two powerful video lights to do anything like justice to the wall of half-a-dozen fans, each one of which was enormous.
There is no shortage of big animals either, and we had several encounters, including with a small pod of bottlenose dolphins shepherding a young one, and looking after a very pregnant female.
There were scalloped hammerheads, too, cruising just off the reef in the distance, and the turtles present seemed totally unperturbed by divers, even when the two of us started sticking our oversize camera-rigs in their faces.
This has to be the best bluewater diving that you can do within easy reach of Europe – and it really is still quite easy to get there.
Another of the dive locations easily accessible from Sharm is the national park of Ras Mohammed. Diving there in winter doesn't afford the opportunity to see the large aggregations of schooling bohar snapper and barracuda, but there is still plenty to see, and anyone who has dived there before will surely have experienced Shark and Yolanda Reef.
There are several ways to dive this reef system, but many favour dropping in off the wall of Shark and, with the current gently nudging you, making your way along the deep vertical wall until you get to the saddle.
THE DEPTH SEEMS TO MAKE no difference as you traverse the reef-wall, because everywhere you look the surface is covered by purple, pink and ivory soft corals, all of which are surrounded by darting orange and lilac anthias.
Before you know it, you're at the porcelain-covered carnage that was the cargo of the Yolanda, after which this dive-site is named. Both corals and marine life have made the broken toilets, sinks and bath-tubs their home, and it's not unusual to see enormous Napoleon wrasse paying a visit too.
One soft coral has made its home inside one of the many toilets, and this is a favourite spot for underwater snappers to seize a Kodak moment.
There are at least eight or nine other famous dive-sites at Ras Mohammed, and on another visit to this reef system we dived Jackfish Alley and Ras Ghozlani. Jackfish Alley, like all these reefs, appears to be fully recovered from previous overdiving, and apart from the huge and colourful soft corals, some of the table corals are truly impressive.
There are two cracks cut into the reef and photographers can enter to be treated to sunlight streaming in through the gaps, and glassfish playing in the shadows.
Leaving Shark and Yolanda, we set off on the seven-mile journey to the Dunraven. Much of the wreck has collapsed, but what's left is still enough to make this one of the Red Sea's most popular wreck-dives.
It lies upside-down at a depth of 15-30m, and because the cargo of timber and cotton was lost when the ship caught fire, there are large cavernous areas where the light comes in through gaps and holes, creating a superbly atmospheric, almost cave-like, area in which to dive.
This is also a favourite haunt for large grouper, the occasional barracuda and numerous glassfish that move around the wreck like a swarm of bees.
The other wreck that we dived while there was the Red Sea's signature rust-dive, the Thistlegorm.
One of the issues that used to put us off diving this iconic wreck was the vast number of dive-boats, and hence divers, on the wreck at any one time.
Now, however, is a really good time to get out to Sharm and dive this wreck. We started our trek from the harbour at 6am, and when we arrived at 9 there was only a single dive-boat moored up.
As we set our lines, its divers were just coming up from their first dive.
We were heading down to the Thistlegorm a minute after the final diver from the other boat climbed back aboard, and had this amazing wreck all to ourselves for at least an hour.
As we came up the divers on the first boat were getting in for their second dive. It couldn't have worked out better, especially with the zero current.
There is plenty of local diving to be had around Sharm too, as well as the shore-dive where you can walk straight into the sea at Na'ama Bay.
On all the local dive-sites such as Near, Middle and Far Garden and Temple, for example, the story is the same – the soft corals are thriving, and wherever you go you're surrounded by colourful corals, fish and critters.
On Middle Garden, we were even visited by a turtle that came along to check us out and see what we were doing. The shore dive at Na'ama Bay is used by Camel for its night-dive, and this is a very safe and easy place to navigate your way around in the dark.
There are, however, a fair number of lionfish who like to follow you around in the hope that your light will illuminate some suitable prey, and colliding with one of these venomous creatures can cause you more than a little serious pain.
We used the opportunity to try out some black-light photography using two ultra-violet torches. Once you get your eye in, it's a lot of fun seeing the corals glow in the dark.
AT THE END OF OUR eight days' diving, we were sad as we started to pack our dive-gear away in preparation for the flight home. Camel Dive Club is an ideal place to stay, because everything a diver needs is all around you.
There is the famous rooftop bar where you can sit and have a beer with the other divers and dive-guides while you fill in your logbooks and discuss all the stuff you've seen on the day's dives.
Arriving back at the hotel coincides with happy hour at the bar, when all the beers are two-for-one. The rooms are big, and they all have a patio door out onto a balcony or the poolside.
One criticism we photographers had of the rooms was the lack of any bright lights above the table along the length of the room, making it quite gloomy when setting up our camera-rigs. But everything else was ideal – the food at the in-house restaurant was excellent, and there are two bars upstairs, one on the roof and one on the first floor for when the temperature is on the cool side, as it was during our January stay.
And despite what you might think since the UK's airport ban, getting to Sharm el Sheikh is not difficult.
We simply flew from Heathrow to Cairo with Egypt Air and caught a domestic onward flight. The baggage went straight through to the final destination and the allowance was more than enough for our dive gear, SLR camera rigs and clothes for the week.
There are, however, several other ways to gain access via European cities, and prices are not that much higher than the crazy package deals that were available before the troubles. Ornella at Camel can provide a host of alternative routes.
We met one UK couple who had flown to Milan and taken a short city break before jumping on a flight directly to Sharm. Also, contrary to popular belief, you can get insurance very easily.
So if you want to see Sharm back at its very best, with the reefs in gloriously healthy condition and very few boats and divers crowding the best sites, now is a great time to go.
FACTFILE
GETTING THERE: Nick & Caroline flew with Egypt Air to Cairo and on to Sharm on a domestic flight. Alternative options are available via Istanbul with Turkish and Pegasus Airlines, and there are also direct flights via Brussels (TUIfly) and German (Germania &?FTI) and Italian cities (Meridiana & Neos). For cover Camel recommends Westfield Sub Aqua & Marine Insurance Services, divinginsuranceuk.com
DIVING & ACCOMMODATION: Camel Dive Club & Hotel, www.cameldive.com
WHEN TO GO: Year-round
CURRENCY: Egyptian pound.
PRICES: Flights with EgyptAir via Cairo from around £300. Seven nights' B&B at the 4* Camel Hotel with a 10-boat-dive package, transfers and free nitrox costs 311 euros (no single supplement).
VISITOR INFORMATION: www.egypt.travel
Appeared in DIVER May 2017