MALDIVES DIVER
The big stuff is always around, but on STEVE WEINMAN's recent trip to Mirihi in the Maldives it's encounters with characterful fish that make a big impression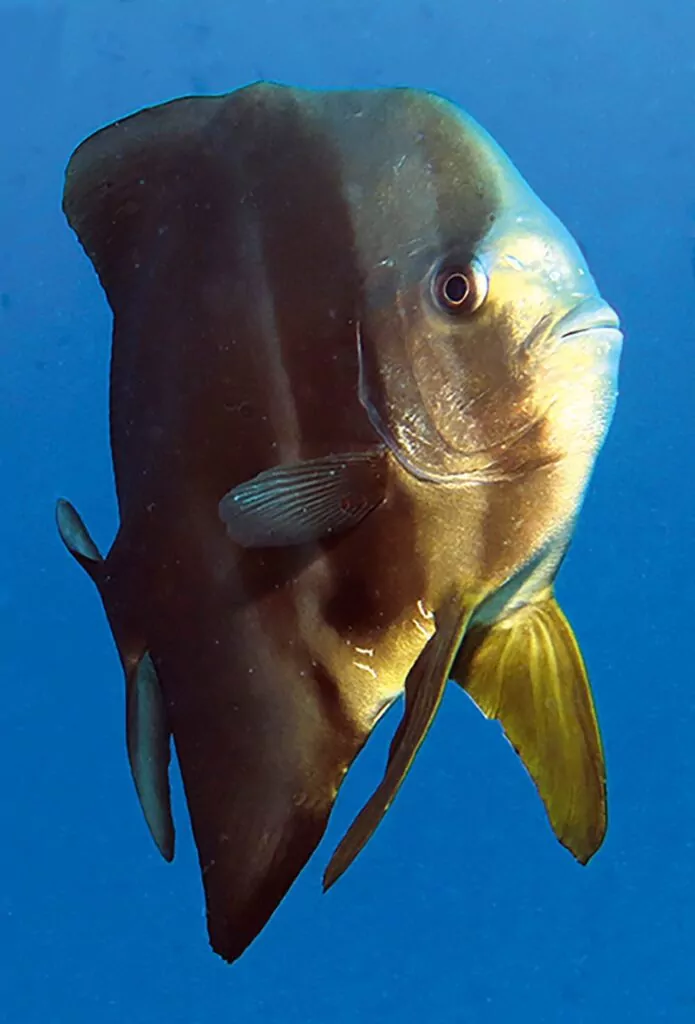 IT ISN'T OFTER THAT I feel the need to laugh aloud under water, but the sight of frogfish riding bicycles did bring me close to losing my second stage.
What this collection of a dozen or more bike-frames was doing on the seabed I'm not sure, but their dumping had clearly brought out the frogfishes' inner Wiggins.
Each of the burgundy-coloured Antennariidae had commandeered a different bike, and was posing in proud possession of its chosen machine. All they needed were helmets and water-bottles.
It was one of many highlights of a week's stay at Mirihi Island Resort in the Maldives' South Ari Atoll.
Mirihi is celebrating its 30th year as a high-end resort this year, and can claim to have been the first in the Maldives to build overwater bungalows, now considered de rigeur at most resorts.
Mirihi has 30 of these luxurious stilted dwellings, plus two overwater suites and six beach villas, and the island is agreeably compact at about 330m from end to end.
I've stayed on a fair few Maldivian islands, but this was the first time I had occupied an overwater rather than a beachside bungalow.
I enjoyed being able to observe the bountiful house-reef activity in the clear waters below the deck while sipping a Nespresso and toying with my dive-notes. When temptation overcame me I could join in the fun by grabbing a snorkel and slipping in off the steps.
A number of decent-sized (considering that they rarely grow longer than about 1.5m) blacktip reef sharks carried out regular patrols, too, so with all the fish there was plenty to keep me interested in the gentle late-afternoon light after a day's diving.
AROUND THE TIME I was on Mirihi, last October, there had been a lot of publicity about the first "underwater suite" opening at the nearby Conrad Maldives Rangali – a snip at $50,000 a night.
Mirihi isn't cheap, but that puts things into perspective. I could see the smaller Rangali resort just across from the island, but I felt no envy towards the occupants of that newsworthy suite.
I was comfortably accommodated, enjoying the same dive-sites, could access the underwater world directly from my bedroom and, to be honest, if I was paying that sort of money I'd feel bound to stay awake all night peering through the glass in case I missed anything interesting. Too much pressure!
Besides, Mirihi has found that perfect balance between luxury and simplicity. It's bad form to wear shoes there. Sand carpets all the covered areas such as foyers, restaurants and bars, and once you're barefoot you're on holiday.
The dining, facilities and service are as immaculate as they're user-friendly. There are no private pools or TVs. The emphasis is on personal recharging in an informal setting and the resort even occupies its own time zone – it's an hour ahead of the capital Male!
But I was there to dive, and the long-established PADI 5* Ocean-Pro dive- centre is the sort of knife-sharp operation that takes away the strain, and where no opportunity to enhance your diving experience is overlooked.
Cycling frogfish apart, I was struck by the fact that sharks turned up on every single dive, as well as on most snorkels. That decision 10 years ago to protect sharks in Maldivian waters might not have been all-embracing, but it did work.
As is commonly found in the Maldives, the whitetip reef and grey reef sharks rarely come as close as we might like,
though they seem more indifferent to, rather than bothered by, divers.
The same goes for eagle rays, of which there were many, and Napoleon wrasse too, although the turtles were less remote.
There were small mantas around too, though on this trip I saw and got close to them only while snorkelling from the dive-boat during a surface interval at one of their favourite hang-outs. Dusky mobula rays were happy to play too.
AND THEN THERE were the batfish. I'm aware that having these large fish accompany you on descents, ascents and especially safety stops is an experience that occurs in many locations these days, and that they often like to get close enough to peer into your mask and even brush against you, but I enjoy it very much – especially as it offers good close-quarters photo opportunities with large fish and divers in shot.
These seemed to be mostly Platax teira (platys is Greek for flat) or longfin batfish, the largest species at a maximum length of 70cm, as well as the rounder orbicular variety.
Those extended pectoral fins are bright yellow, so it's no stretch to see why these handsome fish seem to attach significance to the colour. Divers with yellow fins or other equipment would be especially favoured with their attention.
The fish would show up in mobs of 30 or more and, while some would stick with the shoal, others would disperse to check out the divers, sometimes quite intensely, and wouldn't take no for an answer.
Not that we wanted to say no; their company was always welcome, especially on a hang.
Batfish are especially interesting to watch when they're being cleaned, growing either darker or more silvery and their distinctive banding coming and going. Compelling performers, they're certainly among my favourite fish to encounter on a dive.
My first scene-setting dive in Mirihi was at Aiyabe Thila. The expected currents didn't materialise – in fact my current hook stayed in my BC pretty much throughout the trip.
We stopped in midwater in good visibility to watch a large shoal of barracuda hanging, while below us three or four whitetips made their way along the bottom.
I had a new camera, following the loss of my previous one on my first dive in Grenada (Passing Through, February), but on this maiden dive it was my computer that proved erratic, and eventually packed up. No drama, and I borrowed a more reliable one thereafter.
---
THERE WOULD BE TIME for another dozen varied dives during the week, and there wasn't a dud among them.
Early inspiration came with an hour spent touring the dog's-bone-shaped Thinfushi Matti Thila.
We started off in one of two huge overhangs that lit up scarlet with sponges, jostling squirrel and soldierfish and other colourful shadow-dwellers – and then we all found ourselves knee-deep in blue-striped snapper.
This was a spectacular gathering even by Maldives standards, and other divers in the group would disappear momentarily in the swirling golden cloudburst.
As the dive progressed, the cast of characters passing across the scenery included both whitetip and grey reef sharks and eagle rays, and the bushy soft corals were impressive.
There were healthy hard corals on the top of this thila too. In the Maldives, dive-crew often get their apologies in first for the ravages caused by successive El Niño events, but when you come across reasonably flourishing coralscapes it's all the more appreciated for that.
Often the volume of fish, soft corals and sponges are so distracting that it's hardly an issue for divers anyway.
And at other sites such as Mirihi Thila there was certainly no call for apologies, with its attractive plate and staghorn coral display.
THINFUSHI MATTI THILA and the manta snorkelling interlude were followed by the dive that yielded the amusing frog cyclists loitering in the bike scrapyard – the dive-centre quite likes to keep that one to itself – along with walls adorned with snapper and sweetlips, titan triggerfish and sting rays, passing tuna and a pair of moray eels enjoying the attentions of cleaner shrimps.
Nor was that all for the day – a third dive at tiny Bobana Thila found me with instructor Yukiko and an elderly guest who for some reason wore his mask and snorkel from before he boarded the boat until he was back on dry land.
He had some buoyancy issues as the dive progressed but I think we all enjoyed the sheer volume and variety of fish, interspersed with colourful diversions – blue moray, red octopus, whitetip shark and so on.
I stayed at the dive-resort on the island of Vilamendhoo years ago, and enjoyed the diving there. In mid-week Ocean-Pro's dive-boat crossed to the east of the atoll to dive Vilamendhoo Thila, and once again it provided an outstanding fish-fest in good visibility, its steep slopes rich in corals hard and soft, and swarms of red-toothed triggerfish and other tiny reef fish, bisected by hunting trumpetfish.
I watched two blue-faced angelfish quarrelling over something in a fight that turned into a sort of ballet, but this is a site rich in characters, from picturesque banner, surgeon, butterfly and triggerfish and oriental sweetlips to octopuses and morays. As we were about to ascend dive-centre manager Philipp whipped up a perfect storm of fish swirling around his DSMB, and for once a whitetip couldn't resist making a relatively close pass.
A follow-up dive at nearby Endiri Thila offered similar fishy attractions, and made a happy hunting ground for an enormous solitary king trevally.
We finished that day at another site replete with photo opportunities, including lobster and turtles, but it made its mark primarily as a bustling anemone city. How do you choose your photo subjects in such a habitat? Concentrate on those you can easily get below.
NOT ALL THE BIG setpiece dives were unqualified successes in terms of meeting objectives. Hukurudhoo Faru to the west was all about peering into the blue during a mild drift along the top of a rubbly wall.
A faru has reef extending above the surface, and this one is known to attract manta rays when conditions are right.
Whitetips patrolled the margin, a Napoleon trundled past one way and an eagle ray the other, but none of them was remotely close to us, and there was no hint of mantas.
The currents weren't playing ball, although as usual there was plenty of smaller reef-life to keep us entertained.
We tried to focus on the big stuff to the west of the atoll again on my last day.
This was at Huruelhi Kandhu, a channel connecting ocean and inner atoll.
Our group of six, hoping to be first to the action, took a longish swim against a modicum of current to reach a popular sighting point where the channel narrowed, but it was all too easy in terms of water-flow, so the hoped-for Sharknado failed to materialise.
We had been teased by a patrolling grey reef shark and a whitetip going our way along the wall, followed by some eagle rays and then a distant Napoleon – but they were all passing trains in the distance.
The star of the show was a sting ray that slipped beneath one of our number without him noticing and stayed there, to our amusement, like his shadow on the sand.
My final dives were particularly memorable. On Mirihi Thila you can root around under the deeper overhangs and spiral up slowly to explore the very lively top. Almost every familiar species seemed to be represented there, like some sort of Noah's Submarine – I won't list them, you could just look at one of those Maldives fish-cards – but I was particularly taken on this occasion by an amorous pair of peacock grouper.
It's a beautiful fish, is Cephalopholis argus, with its blue/olive colouring and stars & stripes markings. The patriarchal male likes to keep harems of up to half a dozen females scattered around his coral-head territory. He hunts morning and evening, but during the day finds time to visit each of his concubines.
The female sees him coming, grows pale presumably with excitement and comes to meet him for a catch-up.
Both fish, dorsal fins erect, then spend quality time nudging up against one another. The daily ritual is worth watching – as, I'm told, are male-on-male peacock grouper "colour fights".
AS AT MOST OF THE dive-centres I visit, and I would hope you have the same experience, the Mirihi team proved a likeable bunch you'd happily do all your diving with. Sebastian, who might not be there by the time you go as he seems to be a restless soul, volunteered his company for a two-man night-dive to protract my pleasurable Mirihi experience, and I believed him when he explained that any excuse to dive was welcome.
I'm grateful to him, too, because that dive was a fine climax to my trip. We entered from the steps at the end of the jetty by the centre and spent a few moments by a crack in the wall bursting with striped cleaner shrimps.
Then we headed out over the sand, following a line to the Madi Ge, a trawler sunk bow-down in around 24m in 2000. Yes, Mirihi even has wreck, and it's a nice one from what I could see in the darkness.
Stationed behind the bright red propeller and gazing into the scour beneath the hull, we watched a large tawny nurse shark lying asleep. Then we moved up and spent some time exploring the boat, where a queen angelfish was lording it in the upper reaches.
LATER WE MADE OUR WAY back to the reef wall along the sand, which was studded with map pufferfish. Their natural defences mean they don't need to hide while at rest.
We passed some thriving coral-propagation frames. A shy blue moray slithered away, as did what looked like a large, burgundy-coloured segmented worm. I think it must have been some sort of stretched-out sea cucumber, as its pale innards were protruding from one end – a new one on me.
Neither had I come across what made me start as it suddenly loomed in my light beam. It was a yellowfin emperor resting on the gravel, but I had been surprised by its size – these are the biggest of the emperors.
It's another appealing fish, with its bright blue head, green heavily scaled body and thick flame-coloured fins.
By way of colour contrast, a very pale mantis shrimp protruding from a sandy hole of the same colour nearby proved tricky to capture on camera.
There was much more. I was getting a little buoyant in the shallows, but just about managed to stay submerged as we made our back under the jetty legs, giving the folk in the restaurant a modest light show with our torches.
I love night-dives, and this had been a particularly enjoyable one. A shower, a change and it was time to see if there was any of the too-good-to-miss buffet left in the main restaurant overlooking the pier. Needless to say, there was.
FACTFILE
GETTING THERE: Steve flew with Sri Lankan Airways from London to Male with a short stopover at Colombo. A seaplane operates direct flights on to Mirihi, although on the way out because of bad weather he caught a regular flight to Maamigili in the south of the atoll and was picked up by a Mirihi speedboat.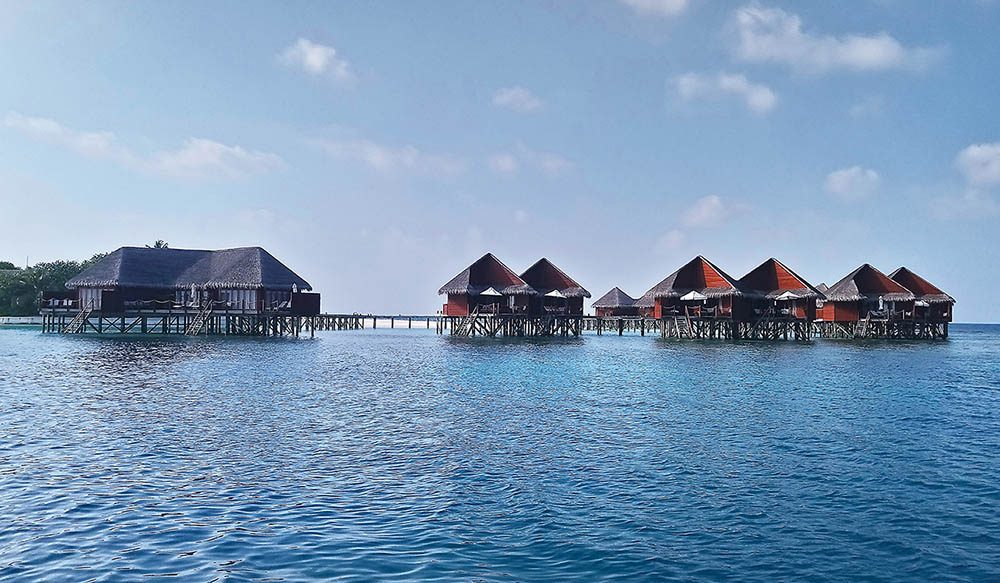 DIVING & ACCOMMODATION: The Ocean-Pro Dive Centre provided nitrox in 15-litre tanks when required, to the Editor's contentment, at Mirihi Island Resort. Mirihi also offers year-round whale shark trips (he was too busy diving!)
WHEN TO GO: Any time. It's calmest and driest from December to March, during the north-east monsoon, and wetter with rougher seas during the south-west monsoon from May to November. Water temperatures is in the 25-30°C range.
MONEY: Maldivian rufiyaa, credit card only needed at resort.
PRICES: Return flights to Male with SriLankan from around £800. Return seaplane transfer around £360. Nightly B&B rates at Mirihi start from US $600 per bungalow (two sharing) plus service charge and tax. A 10-dive package costs $540.
VISITOR Information: Visit Maldives Website