UK DIVER
Farnes – First Impressions
It's British diving at its most iconic, off the coast of Northumberland –
words & photos by first-timer HENLEY SPIERS
THE FARNE ISLANDS are one of those fabled British diving spots I had long meant to visit. When the invitation to join a trip there came from old friends (and accomplished underwater shooters) Dave Baker and Paul Pettit, it was too good to miss.
All the more so because my diving had been limited not only by Covid-19 but also the recent birth of our second baby daughter. Dave and Paul make an annual pilgrimage to the Farnes, and knowing that my UK diving experience was limited, they were eager to show me just how good it gets.
Grey seals were the headline act, and I was familiar with the viral videos of exceptionally friendly seals interacting with divers in this location.
Also read: Above 18m: Farnes diving gets seal of approval
Excitement built on the long drive from Exeter up north, accompanied by a steady soundtrack of underwater photography podcasts and shows – one of few blessings of the Covid-19 era has been the outpouring of great online content.
We arrived at our base in Seahouses to glorious blue skies and sunny weather, but with the wind due to pick up next day there was the usual trepidation as to whether the diving would go ahead.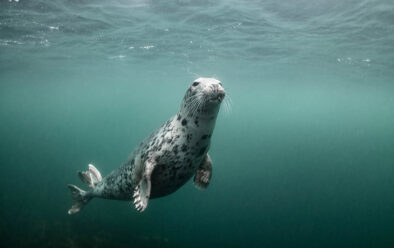 A dive-trip is always a source of excitement, but in these troubled times the prospect of an underwater escape was even more keenly anticipated.
Our small group, composed of old friends and new, instantly bonded in the special way that divers tend to have – by a passion that unites even the most disparate of characters through shared appreciation for being under the sea.
We regaled each other with scuba stories from times past, tales of incredible aquatic encounters, and memorable diver cock-ups!
Although the next day saw the skies turn grey, it wasn't enough to discourage our skipper. So we filled our bellies with a hearty English breakfast and headed for the harbour.
The thing with UK diving, especially for those (like me) who have done the bulk of their diving in tropical climes, is that there is no mollycoddling.
We were expected to show up with our own cylinders and weights, and then lug everything to the boat.
I imagine it's the combination of this hardy dive prep, as well as the challenging conditions, that sometimes causes hardcore British divers to look down their noses a bit at divers more accustomed to being eased into a BC before jumping into warm, tropical waters with nothing more than a rashvest as protection.
From the harbour we reached the Farne Islands in 20 minutes, and the soulful call of grey seals reached our ears.
It is a far more gentle cry than that of their cousin, the California sea-lion – like a cross between a melancholic dog and an owl, it's a soothing, vulnerable sound that echoes around the bays of these islands.
The Farnes are now owned by the National Trust, and there is a long history of conservation there.
Back in the 7th century, monks were the first human inhabitants of these isolated islands, and St Cuthbert's special law protecting seabirds, made in 676, is thought to be the first conservation law of its kind for birds anywhere in the world.
Although grey seals are protected and carefully monitored by the trust today, they didn't always enjoy such a privileged existence and have long been hunted by humans, with the monks prizing them for both their flesh and oil.
Appeared in DIVER February 2021
WE JUMPED IN and swam towards the seal colony. Because the seals are our primary dive objective, this would not be a traditional scuba-dive. Most of our time would be spent very shallow, hoping for visits from playful pups.
I was almost immediately buzzed by a grey seal that appeared suddenly out of the murky water, waving at me with its flippers before disappearing again.
The wind pushed the water against the shoreline, creating a rather nauseating sensation as we were swept to and fro over kelp-beds, waiting for the seals.
The excesses of the previous, celebratory evening certainly weren't helping, but even those who had abstained were suffering from sea-sickness in a quite literal sense.
The seals were not proving especially interactive on this dive, so we had more time to dwell on our physiological state.
One escape lay just a few metres deeper, into the valleys running out to sea.
There I could see the base of the kelp fronds, reaching above –an underwater forest with roots so densely packed on the sea shelf that we stood no chance of swimming in. The small valleys carved out by water movement allowed me to peek into this environment.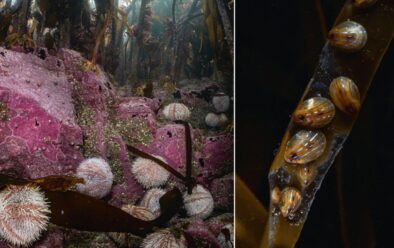 Edible sea urchins dotted the sea bottom, coming in a pleasing palette of whites and pinks. Kelp will grow and perish seasonally, and as fronds break off and fall to the seabed, the urchins will greedily gobble them up.
This kelp forest acts as both a place of safe refuge from large predators and a good location to ambush your prey.
The bright red eyes of a mating pair of velvet swimming crabs peered out from the roots. They were piled one on top of another, with their hind legs clasped around the kelp. It might be poor form, but I couldn't help but take a closer look. They looked back at me with fiery eyes.
My post-dive research on the length of this species' love-making would prove inconclusive, but my sense was that this was a lengthy coital ceremony.
Further along, a spider crab artfully clung to a sheet of kelp, proudly showing off its seaweed quiff.
The one area in which UK diving has the tropics outmatched for luxury is the diver's lift.
Ending our first dive, we swam to the back of the boat and were impressively lifted out of the water as we stood on a metal platform – now that is cool!
The atmosphere was a little muted during the surface interval, a function of lingering seasickness, and seal action that fell below the heights hoped for. We had timed our visit in late summer to coincide with the moment when the pups were old enough to feel confident enough to venture away from their parents, but so far the seals were proving rather skittish.
THE SECOND DIVE, at a site named Hopper, would also prove to be frustrating from a seal perspective, but I was having so much fun in the kelp that I didn't mind much.
The kelp fronds themselves are beautiful, and their bronze allure is a perfect match for the blue-green water. As the protective sheen on the fronds is worn away, small animals come to nibble at it.
In the Farnes I was finding fronds festooned with blue-rayed limpets, clustered into small colonies, and with some individuals as large as a thumbnail (which is a decent size for a blue-rayed limpet).
This might all seem like an excessive amount of excitement for a limpet, but iridescent blue lines running along the shell of these molluscs makes them visually unforgettable.
They carve out a small pit in the kelp where they hold fast. Look closely and you'll also see pockmarked spots on the kelp that they have already vacated.
Elsewhere in the shallow kelp beds, I came across small communities of two-spot gobies. Distinguished by (you guessed it) two dark spots front and rear, the males of this small species of fish proved far more confident in my presence than the seals, hovering in place as I approached within inches of them.
WE RETREATED TO Seahouses for the night before returning the next day. Spirits were high as the sun broke through the clouds and calm seas awaited us. The howls of the seals greeted us once again, and they hauled themselves awkwardly off the rocks as the tide rose.
Once in the water, they were once more in their element, transformed into agile swimmers with a Lewis Hamilton-esque burst of acceleration.
We too threw ourselves into the water, though sadly we couldn't match the seals for aquatic grace.
Dave and Paul enjoyed some tremendous seal activity on this dive.
Old hands at this location, they found a shallow bay near the seal colony, and basically lay on their backs on the rock.
This vulnerable position, and the outstretched fins of the divers, seemed to be catnip for the seal pups, which now felt confident enough to visit repeatedly, and close up, often nibbling at the fins.
My attention had been caught by something else, however, as I dropped 20m along a spectacular wall.
There, the kelp gave way to dead men's fingers cascading down a sheer rockface. Their orange and white bodies reached out into the water column, polyps raking in nutrition from the water column.
They effectively hibernate through autumn and winter, no longer extending their polyps at all until spring comes.
AS I CRANED my neck to look back up towards the kelp fronds waving in the distance, I felt as if I was beginning to understand this ecosystem in which the kelp plays a vital role, and where an entire, seasonal food chain is built vertically. The water was a crisp 12°C but for me this underwater scenery was as resplendent as a coral reef.
As I gazed closer, the presence of smaller creatures also became apparent: a colourful squat lobster here, a characterful Yarrell's blenny there, complete with tufted tentacles.
I was starting to miss my macro lens – this was a site that could be approached from so many perspectives.
"The Farnes are not just about the seals." Just as that thought occurred to me, I was startled out of my reflection by a nibble on my fin. Spinning around, I was greeted by a bewhiskered face and cheeky eyes. Two pups had dived down to join me, clearly wondering why I wasn't trying to play with them.
I barely had time to bring my camera up for a picture before they darted away again, quick as a shot. I followed their tracks through the gully, gently ascending close to the surface, where most of the other divers had positioned themselves for optimal seal encounters.
This relocation was rewarded by a seal coming to meet me at the surface, contorting its body in an impressive feat of flexibility. As I peeked my mask over the meniscus, I spotted big smiles from Dave and Paul, both high on diving and sea(l) life.
Hundreds of birds passed overhead, framed by perfect blue skies, and, for a moment, all was right with the world.
The seal encounters were not quite as I had hoped, but the Farne Islands impressed me in so many other ways. I intend to join the annual congregation of divers at this great British diving spot.