archive – Latin AmericaFestive Spirit
RICHARD ASPINALL's faltering Spanish might have prevented him from enjoying Cozumel's ScubaFest presentations to the full, but who cares?
The rainbow reefs in the marine park speak volumes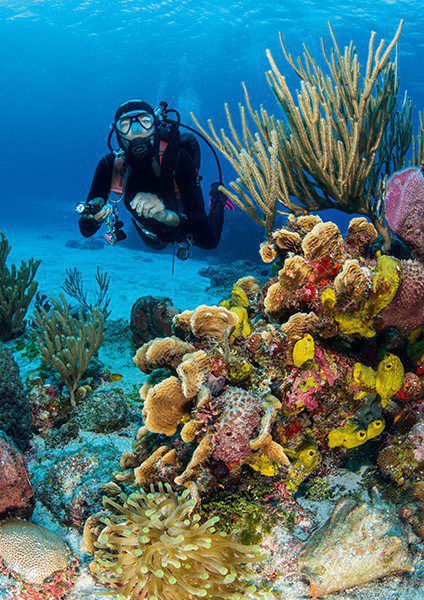 THE SMALL PLANE BANKED and I woke from a half-slumber. Below, the Mexican Caribbean was as blue as the photos in the brochures and, as the plane banked again, I could see the deep blue giving way to breakers over turquoise shallows and coral-sand beaches before the emerald jungle took over.
This was Cozumel, a teardrop-shaped island some 30 miles from tip to tail off the Yucatan Peninsula coast. Sunlight reflected back from the wet jungle below, indicating that there had been rain of late, but as I would find out, a little tropical rain wouldn't ruin my diving.
The verdant green was a far cry from the sprawl of Mexico City I'd left a few hours earlier, and I was itching to explore.
As the plane lost altitude the western coast came into view, a narrow strip of coastal development that includes the main town of San Miguel and the shops and restaurants that cater for tourists enjoying the relaxed atmosphere, sun, margaritas and diving.
I could make out the individual trees now and thought I'd enjoy a look-see in there between my dives. Then I remembered why this island was so famous for excellent underwater visibility – it's all made of limestone, which absorbs the rain.
Cozumel forms part of the second-largest reef system in the world, running from the Gulf of Mexico to Honduras, and my arrival coincided with Cozumel's annual Scubafest, which would see marine conservation champions Jean-Michel Cousteau and Sylvia Earle sharing a stage, along with presentations from conservation agencies, dive physiology experts and others. But first, it was time to get wet.
I was diving with Scuba Du, said to be one of the most well-respected dive operators on the island, and happily we weren't gathering until after 9am. After the long if comfortable flight from London I was grateful for the late start and time to get my camera set up and tested. It's always great to see that little green winking LED on my leak detector not flashing red!
WE LEFT SCUBA DU'S beachside centre in a well-equipped hardboat and headed south. The built-up areas soon receded into the distance along with the berths for the liners that stop here to disgorge their guests. The sky was cloudy but the weather was set to improve.
After half an hour we neared the southern tip of the island, and when the throttle was cut we loaded up on lead and listened to a comprehensive briefing. In the Caribbean fellow-divers and guides will likely have gauges reading in PSI, not bar, and signals UK divers have used for years might not be immediately understood, so we all confirmed the signals to use to indicate our gas levels.
The first dive in a new location I always find the most interesting. I had not dived in warm water for a few months so simply being in a 3mm shortie was a joy, but I relish that first glimpse of reef and the fish that call it home – how will it compare with other reefs around the world?
This site, Palancar Gardens, makes a great introduction to Cozumel diving, with its excellent marine life and generally mild currents. Like much of the western coast it lay within the marine park, in which fishing is banned.
Long ridges of limestone running parallel to the coast would form a common element to the dives. They were covered in sponges, sea plumes and soft corals above, while below, the lines of rock-formed ledges and overhangs where shy fish and filter-feeding animals might hide from the light offered rich pickings for macro photographers.
Within minutes the guide was signalling shark, and we saw a large nurse shark resting under a ledge. It didn't like the look of us and scarpered before I could get a shot, but I was pleased to see loads of large fish, from pairs of French and grey angels to a whopping parrotfish, and hoped this was an indication that the no-fishing rules were respected and the reefs were healthy.
BACK ON THE BOAT I chatted with my fellow-divers over pineapple and melon. We were pootling back north to give us a decent surface interval before the next dive. It didn't disappoint, with great numbers of purple creole wrasse and yellow Spanish grunts.
Under the ledges were scores of lobster, and amid the tube and barrel sponges small blue and yellow damselfish flitted about. Closer inspection revealed arrow crabs and Christmas-tree worms.
For divers more used to the hard-coralscapes of the Indo-Pacific and Red Sea, the Caribbean, with its lower coral diversity, is a real contrast. So much of the life is soft and – spongy! This isn't always a good thing, and when sponge-eating fish are removed by fishermen the sponges can overgrow slow-growing hard corals, which is why no-fishing zones are so valuable for the health of the reef.
That evening I ate delicious fajitas and attended the launch of Scubafest in San Miguel's Conference Centre. I can only imagine that the presentations were good because I couldn't follow the bulk of them.
I did manage, with my terrible Spanish, to chat with a few local conservation groups that had stands, including one that was asking people to submit images of spotted eagle rays to form a database of their unique individual markings.
I promised that I'd be sure to pass on any pics, hoping that my altruism would somehow ensure that I'd see some rays that week.
The following morning the weather had improved further, the swell had calmed and a quick tour of the limestone rockpools outside my hotel revealed a spotted moray, which I took as a good omen for the day ahead.
Cozumel's eastern shore takes a battering from the ocean, especially when tropical storms pile in from the Atlantic, and because the diving is easier in the west, that's where it all tends to happen.
So again we headed south, this time to a site called Devil's Throat. This would be a deeper dive, again created by Cozumel's geological history, and one not usually on offer.
We dropped onto the reef, and at around 25m our guide indicated a cave entrance. We had been assured that it opened up into quite a large cavern, with plenty of light and a clear exit, but I was still prepared to take extra care as we dropped into it and headed deeper.
YOU COULD SEE WHY it was known as a "throat", because it was as if the reef had opened up to swallow us into its big guts. Within a minute or two we emerged out of a wide cavern at just under 40m, posed briefly for photos and then worked our way back through a jumble of broken rock forming deep gulleys between colourful pinnacles, each topped with tube sponges and sea plumes.
As I rose slowly in the water column I squeezed off a few shots and hoped I hadn't kicked up a lot of silt for the divers behind me.
So far, so good. The vis was far in excess of 30m and Cozumel was impressing me.
After lunch I took a stroll along the beach to photograph the brown pelicans that hang around the smaller harbours, and that evening was able to enjoy a presentation on hazardous marine life from a doctor working for DAN.
As is the way on dive trips the week flew by, but Cozumel was saving possibly the best until last. We were moored up at a site called Paso Del Cedral which, from the boat, appeared like any other, sandy with a ridge of limestone reef.
However, as we finned along I realised that the first ridge was next to another and another slightly deeper one that marked the edge of a drop-off. A diver with good gas consumption could easily take in three different environments in one dive.
I spotted two large angelfish grazing away on something, which revealed itself to be an entirely unconcerned turtle that was perhaps benefitting from a spruce-up. I took some shots and moved away to let in a fellow-diver and spotted a small nurse shark a few metres away – not bad for the first five minutes.
Again the reef was full of life – angelfish, yellow and black rock beauties, scribbled filefish, shoals of snapper and the occasional barracuda.
Perhaps it was all the excitement but I was guzzling through my air. Every so often I think I should dive without my camera, but I can't risk missing anything. Perhaps I should simply get fitter?
I'd missed a lot of the festival proceedings at the Convention Centre – you can't do everything – but I did want to hear Cousteau and Earle. I had joined some press divers for a shoot of the unveiling of a sculpture of Dr Earle near the Sand Dollar Dive Centre, placed not that far from one of Jacques Cousteau, Jean-Michel's father.
For 40 years Sylvia Earle has been campaigning to raise our awareness of ocean conservation issues, warning of the dangers of overfishing from before many of us were born.
A wonderful speaker, she received a standing ovation when presented with an award by that other legend (and "rascal", according to Dr Earle) Jean-Michel Cousteau. Inspiring stuff, and a great way to bring the week to a close.
I DID MANAGE to explore the jungle a little, after meeting up with a chap called Sergio who runs tours of the island's interior. As I off-gassed before my flight we headed into the still-wet jungle to explore some old Mayan ruins and look for wildlife.
The interior revealed geology to match that of the reefs, with more long ridges of limestone. Each was a former reef system, and among the leaf-litter the limestone was full of fossil shells and corals from thousands of years ago, bringing together past and present.
I had enjoyed four great days of diving, and could have done with another week, but I know I will return, in the hope of seeing that spotted eagle ray.
I'm told that the island has changed as the tourism industry has developed, and those mega-mall cruise liners keep on coming. Happily, however, it's not difficult to get away and enjoy a wilder Cozumel, both above and below the water.
WAY TO GO
A week's diving package during Scubafest costs around £1400 with Caribe Maya, plus £800 for a return flight from the UK with Aeromexico. You get an all-inclusive stay in a 5* hotel (two sharing); flights between Cancun and Cozumel with Mayair; 11 day-dives, one night-dive and one cave-dive at Cenote Aerolito Cozumel; a visit to Latin America's biggest planetarium; conference attendance; turtle-nesting night excursion, a visit to San Gervasio Arqueological Area, restaurant meal with tequila tasting; boat, meal and drinks at Pasion Island; visit to Punta Sur Reserve and Colombia Lagoon; ScubaFest diving log-book; transfers and travel insurance. That's one busy week!
www.caribemaya.org, www.cozumelfest.com
Appeared in DIVER June 2016