archive – UK Diving, GeneralGoldeneye
It's a diver's dream, and Vince Thurkettle is the underwater prospector who came across the biggest gold nugget ever found in British waters. He talks to STEVE WEINMAN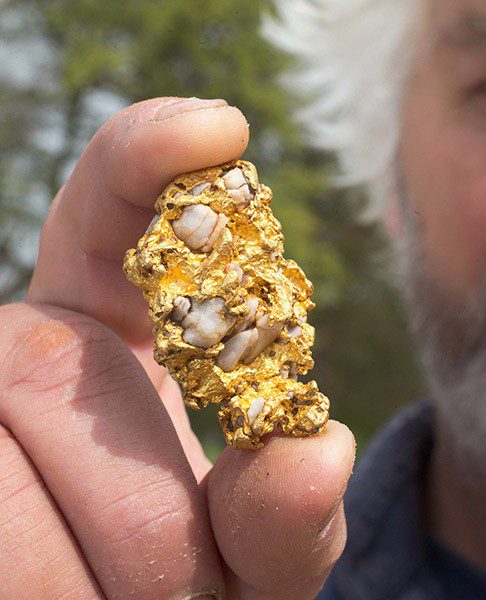 'There's gold, and it's fascinating and haunting
It's luring me on as of old
Yet it isn't the gold that I'm wanting
So much as just finding the gold'
I DON'T KNOW IF Vince Thurkettle is much given to reciting poetry, but he did quote the above verse from Robert W Service's The Spell of the Yukon to me, and it seems to sum up this scuba-diving gold prospector perfectly.
For a man who has dutifully handed over to the Receiver of Wreck his biggest single find, a gold nugget valued at some £50,000, he seems remarkably cheerful. But as he tells me: "Every little speck of gold I've found around the world has been a thrill – the campfires I've sat around, the people I've met, the places. For me it is genuinely the adventure and lifestyle rather than the desire.
"I'm not a collector. Within reason, when I've found stuff it doesn't interest me any more. I love the adventure of finding it."
"The 23-carat egg-sized nugget he found was far the largest ever found in Britain. He spotted it while diving in 5m of water, 40m from the wreck of the Victorian steam-clipper Royal Charter. In fact he found it in 2012 and declared it then to the Receiver, who claimed it as Crown property and should pay a finder's fee in return. However, a veil of secrecy was maintained while Thurkettle continued to search the area. Only recently did he go public.
The gold would have been aboard the Royal Charter when she sank in a vicious storm in Dulas Bay on Anglesey's north-east coast, on 26 October, 1859. The fast passenger ship had sailed from Australia for Liverpool carrying many gold-miners, with their finds brought along both as personal possessions and cargo. These were worth an estimated £120 million at today's prices.
As many as 450 passengers and crew died in the sinking, making it the most disastrous in history off the Welsh coast.
Norfolk-based Thurkettle was overwhelmed by the storm of media interest that greeted his find, as redtops urged their readers to join the gold rush in north Wales and get lucky. He's pretty sure they would be wasting their time.
"There's almost nothing material down there now," he says. "A hurricane tore the ship to shreds, then the Victorians under the direction of Lloyds spent four years ripping it to shreds again, when they salvaged not only the gold but brass, bronze, anything they could get. About a third of the stern was lifted, carried away and broken up. Then we had another 160 years of ad hoc salvage.
"Archaeologists in Wales have asked if the ship should be protected, but I said there's nothing left to protect. There's a location, with a scatter of iron and an imprint in the clay where the stern was, but you're almost looking at a fossil of a wreck rather the wreck itself.
"Still, it's a fun dive – it's shallow, it's safe, there are no currents, nothing nasty, and you can see bits of iron sticking up through the sand and part of the bow up on the rocks."
A CHARTERED FORESTER, Thurkettle worked for the Forestry Commission for 28 years. He was deputy director for the East of England by the time he decided on a drastic life-change in 2005. "I felt they were wasting my time – I was commuting, attending endless meetings and not spending enough time in forests. I wanted to go diving, to go prospecting, to write a book – so many things."
Funded by his own Christmas-tree plantation and freelance woodsman work, Thurkettle found that he was able to take four months off each summer to pursue his passion for gold prospecting. This had started when he was about 20.
"Part of my forestry training was in geology, then I got into minerology and met a man who searched for gold. It was one of those incredible moments – within two hours I'd switched from everything to do with rocks and minerals to focusing on gold." He never did learn the inspirational prospector's name.
It was the late 1980s, and Thurkettle was soon exploring classic 19th-century Gold Rush locations such as California and the Yukon, but with little success. He needed an angle. "The old-timers worked really hard, but they didn't have metal detectors and they couldn't go under the water. In the Victorian period they had the technology but diving was cutting-edge, difficult and dangerous, and not done routinely.
"So I thought if I learn to dive, a whole new area of gold will open up to me that the old-timers couldn't reach. It didn't turn out that easy, but that was the plan!"
At the time he was lecturing at the Forestry Commission's management training centre near Dumfries. "There's quite a lot of gold in southern Scotland so in my spare time I'd been panning. Then I learnt to dive." He trained the ScotSAC way with Dumfries & Galloway Sub-Aqua Club, diving West Coast wrecks and reefs: "It was often just beautiful, a lot of marine life and very good visibility."
When he returned to England he found himself too busy with job, prospecting and his three children to join another dive-club. But he was now equipped for underwater prospecting.
"I had a good understanding of how gold settles, which is a big deal when diving. Sydney Wignall wrote about the Armada wrecks off Ireland's west coast, and how 11ft of sand and gravel was searched but almost nothing found.
"Then they realised that not only had all the gold, silver and pewter gone into cracks in the bedrock but it had stratified there – gold at the bottom, then silver, then pewter at the top." The layering results from the metals' different specific gravities. "I thought yeah, this is bread and butter to a gold prospector."
Thurkettle wasn't searching for nuggets over the seven summers he spent diving off Moelfre in Anglesey – in fact he had never found one before. "Divers I've worked with sometimes give the impression of having watched too many Disney films. They think they'll see a shipwreck with a box and coins all over the seabed. I was looking for gold dust.
"Most natural gold occurs as dust – flakes or grains. A flake like a porridge oat is a big one. Ken, a friend who used to dive on the Royal Charter in the '70s, told me that other divers were looking for gold bars, but kit up to look for the dust and you'll do well.
"He was right and wrong. There is dust everywhere, but it takes an awful lot of little sparkly bits to make a gram, and hundreds of thousands to make an ounce. It didn't amount to much."
So how did his big discovery happen? "There's a glacial clay that's partially shattered and fractured around the wreck. I was at 5m following a crevice in this clay, and there was about 4g of gold dust in there. I was thinking this is good, I'll bring back a little suction equipment and suck that gold out. Then all of a sudden I saw this big lump four or five inches in.
"The sun was out, and this piece just glowed. Anyone who's found gold knows, it's not a shine, it glows golden – it's slightly weird."
THURKETTLE REGARDS scuba gear as part of his portfolio of equipment, useful somewhere like Anglesey or New Zealand, less so in the Australian desert. So apart from basic dive-gear, what tools does a gold diver need?
"An underwater metal detector is standard kit, though when you're close to an iron-hulled shipwreck there's such a massive amount of metal around there, plus all the discarded fishing weights, that they're not all that useful. Almost the industry standard now is the Minelab Excalibur and I've owned one for some years – that's my tool of choice.
"I've also taken to using a small DPV. Because of the different specific gravities of metals and pottery and so on, you can always turn the scooter round and use it as a little sand-blower. We had one blow up – we parked it and didn't hear anything, but when we went back the nose-cone was shattered. Salt water must have got at the battery.
"I don't like to think what would have happened if we'd been holding it at the time, but I do stress that it was a cheap Chinese copy. Should have known better."
For the Anglesey surveys, he bought an aluminium ex-NATO combat support boat with twin diesels driving twin jets, and a dive platform just 10cm above the surface. "With no props in the water it was the best dive-boat ever, an absolute darling. It was a family and friends project – few people can take 12 weeks off. About 14 people were involved all in all."
Organising the work rota with people coming and going and not necessarily being up to speed was one of his biggest headaches. "When I was planning it all I'd be thinking OK, we'll dive for six days and then take two off, or four and two. In the event, it never worked like that.
"If the conditions were right we'd just dive non-stop. Times when the sea was flat and clear were quite rare, so when they were, we worked from dawn to dusk – 14 hours a day was quite common.
"If conditions were wrong I thought we'd be bored but we weren't – we'd be sorting out air or kit, or the boat. I was very aware of us diving off-table most of the time but I'm very careful and we had no real incidents. We were diving off the back of a boat, and it's not deep."
THE PRIZE NUGGET weighed in at 97g. The previous biggest discovered in Britain, the Carnon nugget, weighed 59g and came to light in 1808.
"Some gold is natural to Britain, then there is shipwreck gold and then there is deceit. In the Victorian gold rushes a number of people salted the claims on their mines with extra gold to make them seem richer and drive their share price up.
"There has long been doubt about the Carnon nugget, because nothing else like it was ever found in the area. I've handled it and it's a beauty, but whether it was seeded to drive up the price of a patch of ground or whether it's genuinely of Cornish origin I don't know."
As his own find came off a wreck he at first worried about it being claimed as Britain's biggest. "But a couple of years ago a metal detector on Westward Ho! beach found a 37g nugget, and it went in the papers as the second-biggest ever found, though clearly off a shipwreck.
"So I thought well, if that's the story it obviously doesn't matter about its origin – it was found in Britain and it's the biggest chunk.
"There is natural gold in Anglesey, but I don't for one minute think it occurs in chunks like that."
In fact the Anglesey nugget isn't that big compared with one like the "Welcome Stranger" found in 1869, which needed a wheelbarrow to carry. But that was then.
"Miners would find their gold, rush into town, exchange it for coin and the gold would be melted down. So nuggets today that have a provenance of being 100% genuine first-grade pieces from a major world gold rush are extremely rare – because they didn't survive."
EVEN ON THURKETTLE'S occasional recreational dives, as recently in the Canary Islands, it's engrained in him to use his sharp eyes to scour any crevices for metal. "My mother says I'm obsessed, but diving in my experience is cold, hard and dangerous, and to do it for its own sake is a higher ideal than I have. I need a reason, like I need a reason to go out in the forest.
"For some divers the motivation is photography, for some its depth, but for me it's finding things. And they don't have to be valuable. When I first dived the Royal Charter with Ken I was looking for gold-dust, but then you find bullet moulds, knives and forks and broken crockery with crests.
"The Liverpool & Australia Steam Navigation Company had as its crest a kangaroo and a liverbird facing each other – only the kangaroo is drawn like a large mouse. Then it occurred to me, this is the 1850s, the illustrator had no idea what a kangaroo looked like. I became fascinated by the fragments and the artefacts and the stories."
In 2013 he featured in Welsh Wreck of Gold, a three-part documentary about the Royal Charter for ITV, and in Australia got to handle the ship's manifest. The passengers became more real to him: "You tend to think of prospectors as these grizzled old Lee Marvin characters, but mostly they were in their 20s – young, dynamic people."
And he dismisses the stories of miners drowning because they were weighed down by their gold.
"If you're the sort of man or woman who has the grit in the 1850s to go the other side of the world to a new land, survive dysentery, drought, poisonous snakes and everything else, find your fortune and you're within two hours of Liverpool and the bow is just 8m from the shore at low tide, you've worked your socks off for this gold, you're a go-getter and you're going to go for it.
"So I think it's more that their courage led to their deaths, not avarice. That's unkind and unfair to their memory.
"I also think that when you have a huge iron-hulled ship and bedded limestone just a few yards apart, 60ft waves, it's a mincing machine. It didn't matter if they were carrying gold or not, they're never going to survive that. It's late October and they're wearing Victorian clothing in a hurricane sea.
"The stories are heartbreaking. It's real history down there."
Appeared in DIVER July 2016