INDONESIA DIVER
Well, perhaps shoestring is stretching it a little, but it doesn't have to cost a monarch's ransom to enjoy what is currently regarded as one of the world's most exciting dive locations – so says TOM VIERUS
INSTRUCTOR JORGE HAD already briefed us that the currents were going to be strong at the Shotgun, probably stronger than anything I had experienced so far.
Anticipating an exciting dive, we were dropped by the two dinghies at the end of a channel between the islands of Gili Lawa Laut and Gili Lawadarat, and immediately descended to the rubble bottom in about 25m.
A relatively mild current carried us gently through the canyon, our eyes wide to spot potential large predators passing through. Besides sharks, manta rays are regular visitors, but for now I was concentrating on the colourful soft corals and impressive seafans, which offered no shortage of wide-angle photographic opportunities.
We reached a large, sheltered sandy-bottomed arena, the Fish Bowl. A group of giant trevally hovered in the exposed current about 10m above us. Just a few metres further on, a dense group of snapper described circles around the arena, swooping overhead as they enjoyed a break from the currents.
After a few minutes we continued towards the Shotgun ridge. We ascended a few metres, and one of our guides was first to "take the ride", disappearing over the ridge at great speed.
One after another we followed him into the Shotgun, though before I did so I made sure that my current-hook was available, and my large camera-housing attached to my BC.
There was nothing left to do but let go and embrace the ride. I was really flying as I passed over the slope. To get a better feel of the current, we grabbed some dead coral rocks just a few metres behind the slope and held on, hovering.
After a few intense seconds we let go and spent the rest of the dive drifting in 10-15m , passing wonderful coral gardens and fish swarms on our way.
I could see how this dive earned its name. It was indeed like being shot out of the Fish Bowl and into a drift dive.
Not only does the Komodo National Park offer a huge variety of fish and coral species, but a whole range of conditions for pretty much any diver.
Komodo had long featured on my wish-list. Besides the underwater life, I was eager to see the famous Komodo dragons up close. So when I had the chance of a few photographic assignments in Indonesia, it was clear to me and to my partner that somehow we had to make it to the national park.
Numerous reports on the Internet recommended liveaboard trips, because some of the dive-spots in and around the Komodo Islands are challenging to reach with day-boats.
As a photo-journalist who has just completed a postgraduate course in marine biology, I'm not exactly drowning in money, and the cost of liveaboard trips can easily reach into the thousands. But some research led us to the Amalia, a boat built in 2014, operated by Uber Scuba Komodo and in receipt of excellent reviews.
So I wouldn't be writing about one of those boats that only a minority of divers could imagine paying for.
A few weeks later we were on the ferry from Sumbawa (one of the neighbouring Indonesian islands) heading for the town of Labuan Bajo, the diving heart of Flores and the hub for trips into the Komodo National Park.
Labuan Bajo consists of one main street that stretches along the coast and is crammed with dozens of dive-centres, restaurants and tourist offices. As such, most travellers will find what they need without having to travel long distances.
THE BUSY UBER SCUBA office was easy to find, and after a quick check-in we were looking forward to a four-day trip through central and north Komodo.
After almost 40 years of nature conservation I would be surprised to find a diver who has not heard of the beauty of Komodo National Park's reefs, and most of us will have seen Komodo dragons in documentaries.
The park consists of three main islands (Rinca, Padar and, the largest, Komodo itself) and several small ones. Initially established in 1980 to protect the world's largest lizards, it was designated a World Natural Heritage site by UNESCO in 1991.
Nowadays it's not only dragons but the incredible variety of species under the water that attracts nature-lovers from all over the globe.
The park lies near the heart of the Coral Triangle, the area that encompasses the highest diversity of marine species, and its position between the Indian and Pacific Oceans results in gigantic masses of water pushing through the narrow passages between the islands.
Depending on the tide, these contain both cool and warm water running either from north to east (Pacific) or east to north (Indian).
This mixing of water results in a highly productive environment, as well as the strong currents inherent to the area. The diving spots teem with life, boasting more than 1000 species of fish and almost 300 species of corals, with several species of whales and dolphins regularly crossing these waters.
For comparison, there are only about 600 fish and 60 species of coral in the Caribbean. We anticipated colourful, fish-rich dives in potentially challenging but interesting conditions. After several weeks on Bali and Sumbawa, we already had beautiful dives and currents under our belts, and were expecting a lot.
Early next morning we boarded one of the long, narrow local transport boats and enjoyed 90 minutes of beautiful scenery as we got to know our fellow-passengers. Uber Scuba offers six- as well as three-night tours, and guests on the shorter tour can be exchanged in this way without the Amalia needing to return to Labuan Bajo. This allows it to cruise the Komodo National Park year-round in a weekly rhythm.
As we rounded the last headland the Amalia floated in full splendour in the small waves. We offloaded the luggage and continued straight on to one of the ranger stations from where the Komodo dragons could be visited. This would be a welcome component of the dive-trip, especially as we would have little time to spend on Flores afterwards.
Our hike was quite short, and most of the dragons were dozing almost immobile, shaded from the mid-day sun, but it was a great experience. If you want to see maximum lizard activity, you should plan at least an additional day and consider an extra tour.
A FEW HOURS LATER Jorge Trueba, one of the founders of the Amalia project, was briefing us on safety, the diving and the boat itself.
Besides the hull, it seemed, little remained after its conversion three years before to betray its previous history as a transport vessel. Now there is room for 10 diving guests and eight crew.
My camera-housing was tight, settings set, the dive-gear ready and the tank filled to 210 bar. We took our positions on the two 7m glass-fibre boats and headed for a site a few hundred metres away.
We disappeared under the waves and were immediately welcomed by colourful coral forests and a dense cloud of small reef fish.
We dived in three groups and on slightly different routes, avoiding any hint of "diver jam" (an additional benefit of diving from a liveaboard rather than a day-boat). We soon encountered a small group of whitetip reef sharks resting under table corals. Five minutes later, a large turtle swam past and almost appeared surprised to see us before moving on to nibble some corals.
Back onboard, the talented boat chef had already prepared the afternoon snack and welcomed us with fresh fruit juices.
We relaxed in the huge beanbags on the sundeck and enjoyed the tropical sun-rays on our skin. Next on the programme was the only night-dive.
I RETREATED INTO OUR cute cabin and exchanged my wide-angle for a macro lens and made sure that lights and batteries were fully loaded.
The darkness did nothing to reduce the impressiveness of the reefs, revealing an array of sand-eels and morays, seahorses, sea-snails in all hues and even a flamboyant cuttlefish.
The following days brought some wonderful dives. In addition to giant sweetlips and whitetip reef sharks at Castle Rock, strong currents at the Golden Passage and spectacular coral reefs at Tatawa Besar, we also dived Batu Bolong, for me the highlight.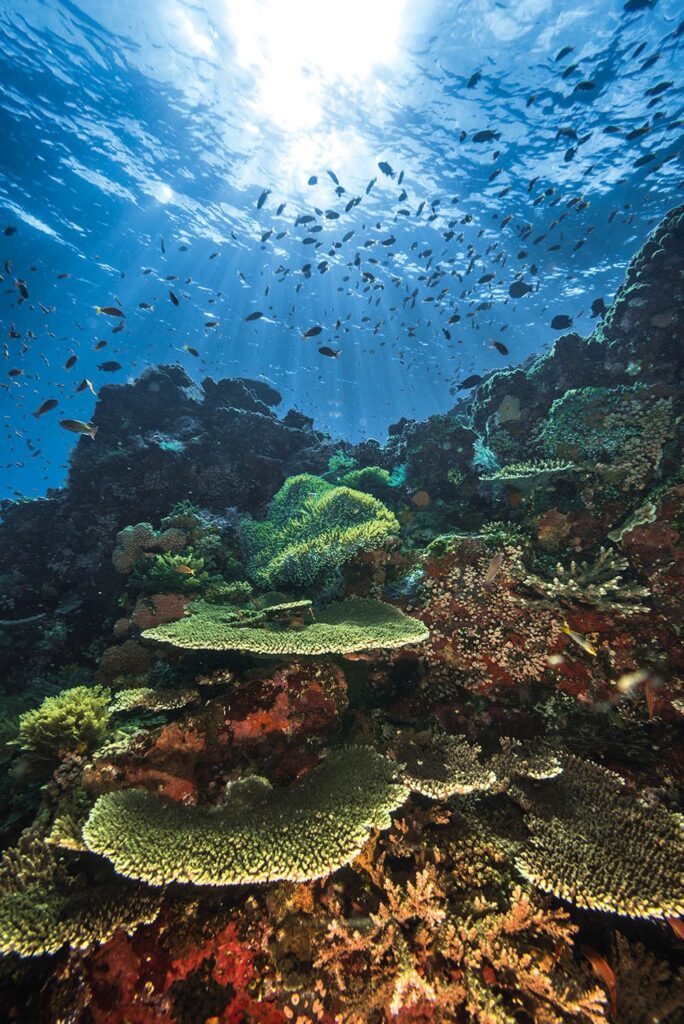 At the surface, the small rock reveals nothing of what lies beneath it – a slope overgrown with corals that plummets down, at some points vertically, to about 70m. This is hunting territory for pelagics – tuna, mackerel and grey reef sharks.
As with almost every dive-site in the park, the current ultimately determines whether the dive is feasible or not, and in this regard the instructors' experience is invaluable. Usually they jump into the water for a last-minute check and determine the current from observing fish-behaviour and water-movement.
We caught a good time-window at Batu Bolong, with only a fairly light northerly current but masses of reef fish. It wasn't easy to decide what to focus on there.
A gigantic moray swam freely above the reef to one side of us, while above our heads the silhouettes of chasing mackerel described circles. It's usual to dive on the sheltered side, because the exposed position of this dive-site often causes unpredictable currents, resulting in vortex water-movements that can shake you about like washing in a machine.
We stayed behind the rocks to avoid the currents of the exposed side, and spent the final minutes in the shallow waters, which were teeming with life. The late afternoon sun poured through the upper water layers on the reef, conjuring up a beautiful light.
On the final evening we completed three wonderful dives before anchoring in a sheltered bay. Jorge had announced that we would be making a landing, but had not promised too much.
The dinghies transferred us to one of the many secluded beaches, where some of the crew had been busy for some hours preparing the site. Chairs, carpets, a huge campfire, music and even a small sand staircase awaited us.
We landed just in time for a sunset that coloured the sky blood-red and dipped this photogenic landscape in splendour. Viewing this magnificent setting with a cold beer in my hand, I almost became a little sentimental that it was over.
But two more dives remained before we had to head back to Labuan Bajo. Watching the Indonesian dancing by the fire, we stayed a few hours before reboarding the Amalia and falling happily into our beds.
THE 10TH AND FINAL dive was at Manta Point. This usually hosts several day-boats from Labuan Bajo as well, so the dives tend to be more crowded than at many of the other spots in the park. It's a long drift-dive carried out in zigzag patterns from cleaning station to cleaning station in a vast desert of rubble.
With a bit of luck, you can observe manta aggregations of up to 15 animals, we were told. The luck was missing, however, and we spotted only one manta ray, which disappeared very quickly into the distance. The dive was still fun, however, and we came across two small schools of rare large bumphead parrotfish, as well as some juvenile blacktip reef sharks.
After a good hour, we finally emerged to be fished from the water by the Amalia crew. The days behind us were full of impressions of the sort of dives you don't experience every day, and I would need a while to process them all – not to mention my portfolio of new photographs.
Jorge suggested that we should return in the winter season, when conditions are better for the southern part of the park.
I could easily have stayed aboard and set up a new home on the boat, but for now we had to say good-bye to Komodo, though not without a "see you soon".
FACTFILE
GETTING THERE> Fly from UK to Labuan Bajo on Flores. Garuda Indonesia offers flights via Amsterdam and Jakarta. Another option is via Bali to Sumbawa with a ferry crossing to Labuan Bajo, which was how Tom Vierus arrived.
DIVING & ACCOMMODATION: The Amalia liveaboard is operated by Uber Scuba Komodo
WHEN TO GO: Year round, but best diving conditions are between March and October, and visibility is best from November to January. Average water temperature 27-28°C.
MONEY: Indonesian rupiah.
PRICES: Return flights from £650.Three-night central and northern Komodo trips on the Amalia start at US $815, six nights from $1500 and five-night Komodo south trips in November and December from $1270.
VISITOR Information: The Official Website of Indonesia Tourism