MALDIVES DIVERGLASSY-EYED AND LAUGHING
RICHARD ASPINALL enjoys the marine life at the Amari Havodda resort on Gaafu Dhaalu Atoll, Maldives – but finds that there are almost too many fish around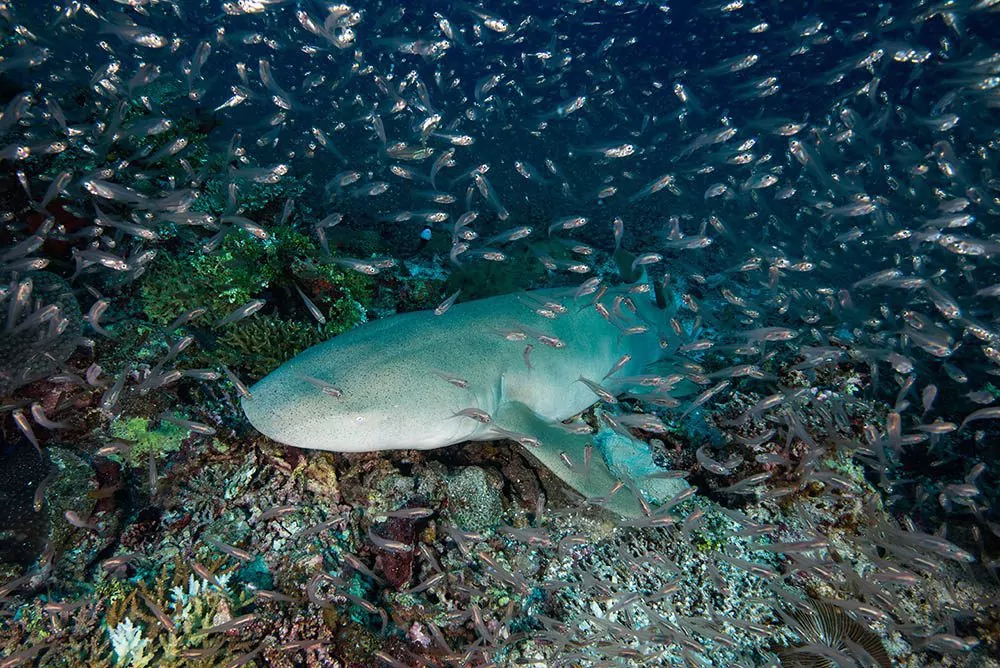 The glassfish parted to reveal a nurse shark.
VISIBLE FROM THE SMALL twin-engined turboprop plane which flew me down from the capital Male, a few hundred miles to the north, the Amari Havodda resort is built on a tiny island covered in lush vegetation.
From above it resembles an emerald-green teardrop, surrounded by pure white coral sand and set amid a network of reefs and channels.
I would be diving with Euro-Divers at the resort, which is set on the western side of Gaafu Dhaalu Atoll. It's the most southerly atoll of the Maldivian archipelago that I've visited, and I was keen to see how the diving would compare with an earlier trip this year to the north. Would the corals be similar, and what about the fish life?
As you'd expect of any Maldivian resort, this one has a spa, two restaurants, two bars and a gym. To me it seems that the designers wanted guests to focus far more on the island's location and sense of simple luxury than to be overwhelmed by glitz and glamour.
The architecture of the Amaya Food Gallery is open and bright, allowing views of white sandy beach and turquoise sea to be an ever-present backdrop. The tropical foliage provides sheltered pathways lending privacy to the villas. Covered but open-air bathrooms allow you to watch the fruit bats coming and going while you take a post-dive shower.
The Thari bar, which looks out over the pool, provides an array of refreshing cocktails too. If your holiday checklist includes words like tropical, island and paradise, the Amari won't disappoint.
I enjoyed a beachside villa with my own palm tree and, of course, easy access to the Indian Ocean for a cooling swim.
I was impressed with the Euro-Divers team, who quickly and efficiently sorted out my rental gear and patiently waited for me to analyse my gas-mix on my first morning of diving.
Normally I take my own kit, but I had decided to try to travel a little lighter than normal, and was pleased to find decent hire kit in good condition and from well-known manufacturers. As luggage restrictions get tougher, I can see more of us choosing this option.
My first dives unfolded in a way familiar to anyone who has dived in the Maldives, starting with a good briefing as the dhoni (the traditional timber-built boat of the region) headed out to the site, passing low sandy islands surrounded by turquoise shallows and topped by palm trees. We were approaching the line of islands, reefs and sandbars that mark the western edge of the atoll to explore a channel to the ocean, known locally as a kandu.
KANDUS ARE PARTICULARLY exciting places – currents and the nutrients they bring can support huge amounts of marine-life, from filter-feeding corals to sharks.
Footi Kandu was spectacular and, as we dropped to 20m or so, the current was weaker than I expected and I could enjoy the superb coral growths.
I saw huge table-corals, well over a metre across, providing shelter for untold numbers of anthias and glassfish. The ever-present blue-lined snapper added their yellow colour to shoals of bigeye trevally that flashed silver as they cruised past.
Closer to the coral, butterflyfish and parrotfish nibbled away and a distant whitetip reef shark eyed me warily from the blue. I was pleased to see that the coral was in fine health, having had an easier time of it during the bleaching event in 2016 than some of the northern reefs.
Back on the boat, we chatted over coffee and pastries about the lack of current. Our guide suggested that you can never really know 100% what the current will do. The phase of the moon, the local weather and the seasonal currents affect what happens amid the complicated jumble of islands and reefs.
I would enjoy several more dives following this easy pattern: a deeper dive first (diving is limited to 30m by law), and then a shallower dive to follow, usually exploring a thila or giri. These are the local names for shallow reefs, in the case of a giri a very shallow reef, just beneath the surface.
Of all my day dives, I think I enjoyed the thilas the most. Perhaps the shallow reefs acted like oases in the desert, concentrating the marine life.
On one small thila, known as Kuda Hafza, we enjoyed a 50-minute dive circling the long, thin reef.
Snapper were everywhere, mixing with shoals of goatfish, fusiliers and anthias. Under every overhang thousands of glassfish gathered.
I had taken plenty of "typical fish shots" but wanted to try to get a photo of my guide Nico among the marine life, to add that "this could be you" element to the pictures.
I spotted a small coral pinnacle that revealed itself to have the eyes and wide mouth of a scorpionfish, the camouflage of which hadn't been as good as expected.
I SIGNALLED TO NICO, and he slowly approached. As he did so, a large cloud of glassfish seemed to think: "Woohoo! Let's hide under him and his mate!" They swarmed around us.
I can assure you that glassfish can be very determined to ruin a photo.
I squeezed off a few frames as we both laughed through our regs at the absurdity of our situation. Then something caught Nico's eye, and there was a beautiful eagle ray slowly flying past, and close enough for a photo, too!
I was once again reminded that you never know what will happen when there is so much life around you. I imagine the scorpionfish was relieved that we had found a distraction.
Mindful of the gentle currents I'd been enjoying, Nico and I set out to explore the house reef for a night-dive later in my stay. I thought that a lack of current might prove ideal for some macro photography.
Just after sunset, we loaded our kit into a small dinghy and headed past the luxurious overwater villas, waving at happy honeymooners enjoying cocktails at the Sunset bar as we headed to a point where the reef formed a V-shape into the surrounding ocean.
"There are nurse sharks here," Nico said. "We might spot them, but I promise to try to find you some nudibranchs." He knew how much I liked nudi-hunting.
The coral life was again pretty good and, among the coral-heads, the eyes of boxer shrimps glinted in my torch-beam, while featherstars slowly folded as they sensed my light.
Straining my eyes, I tried to photograph the tiny squat lobsters that live within the featherstars' arms. I had little success, until I came across one particularly finely marked specimen: black and white against its pink-hued host. As far as I'm aware the lobsters blend in over time, so perhaps this guy had only just moved in?
Nico was trying to attract me with his torch, and I could see him making the nudibranch sign.
Perched on a piece of coral and, for once, moving quite slowly (for a bag of goo, they can certainly shift) was a Persian carpet flatworm, resplendent with its black and pink stripes. This is an animal that is not only gorgeous but has quite an interesting sex life (given that it has two male appendages).
Appeared in DIVER October 2017
HAPPY WITH MY PICTURES, we headed towards the shallows and emerged near the dive-centre's jetty. I had a memory-card full of fish shots, some good macro stuff but, as yet, a distinct lack of sharks, despite their reportedly being very plentiful.
It's always hard to know what to do as a photographer. Do you decide to shoot macro or wide-angle for the day? I don't like changing lenses and opening my housing on deck, so I make that decision before leaving my room in the morning.
I had some good photos of night-time marine life up close, I had a few wide-angle fish shots, and the glassfish had eventually relented to let me take a few shots containing a diver.
I had a few turtles and batfish and even a photo of a tiny cuttlefish the size of a grain of rice, so I think I was doing a decent job of showcasing just how wonderful the marine life was.
In the end I opted for a zoom lens, wide enough for reef shots yet with a little bit of reach to allow me to get closer to large animals. Ideal perhaps, especially as it was my last day
We were visiting Footi Kandu once more, this time from a different side. The current was negligible and the vis was pretty good, allowing me to see the reef structure around us.
After 40 minutes or so, Nico pointed out an eagle ray and, as we watched it cruise past, we noticed a big cloud of silt on the sand; there was large sting ray doing its very best to ruin the visibility as it hunted in the sand for shellfish.
I was glad of my lens choice, happily firing away at the ray before turning to a nice collection of anemones, each home to a few of the local species of clownfish.
AS OUR GAS RAN LOW, we started thinking about safety stops and could hear the engine of the dhoni above us. Just then, something large caught my eye. At first, I thought it was a small manta until I saw that long whip-like tail and the patterns on the animal's back: a rare ornate eagle ray was slowly cruising 20 or so metres below us.
I took a few shots which I knew at that distance would be of no value, but it was only the second time I had ever seen one of these secretive fish, so a poor photo was better than nothing.
Back on the pier, I walked back to the dive-centre happy with my lot in life and ready to go back to my room to pack and pull my camera apart.
"Shall we have just one more dive on the house reef?" Nico asked. He really wanted me to see the nurse sharks. I was 50/50 – I would have been quite happy with eating in the splendid buffet-style restaurant, followed by a few end-of-trip cocktails. But it didn't take much to persuade me: "Go on then," I agreed.
Mindful of my flight schedule, we agreed a surface interval that would give us a decent amount of bottom time before meeting at the jetty.
We were moving with a purpose, investigating under every overhang and behind every bommie. As expected, shoals of glassfish were everywhere, parting and reforming around us as we passed through them.
And there it was. The glassfish parted and a long grey shape was revealed. I think we spotted each other at the exact same moment, and I'm not sure who was the most surprised.
In an instant the 2m fish spun around and shot off into the murky blue, leaving a cloud of glassfish to reorganise themselves into another photographer-frustrating shoal.
I was genuinely amazed, because I had seen a shark or ray on every dive and I think I'd managed to get a photo.
Nico didn't see the nurse shark as it sped off into the distance and, as I showed him the shot afterwards, we laughed about how the glassfish had allowed me, albeit unwittingly, to sneak up on the dozing fish.
For once, they had done me a favour.
FACTFILE
GETTING THERE: Several airlines offer direct flights from the UK but, if you're prepared to change in the Middle East, cheaper deals are available. It's a 250-mile internal flight onward from Male to Kaadedhdoo airport, where the resort speedboat will pick you up.
DIVING & ACCOMMODATION: Euro-Divers at the Amari Havodda Resort, euro-divers.com, amari.com/havodda-maldives. Nitrox is available at no extra charge.
WHEN TO GO: Year-round. Rainy season is May-September but bad storms are rare and it is still sunny – diving conditions are at their best and you get the benefits of low season with fewer guests.
MONEY: The rufiya. US dollars widely accepted.
PRICES: Return flights London to Male from about £430 return. A beach villa room for two sharing on a full-board basis costs from US $650 a night, although package offers may apply.
A 10-dive package is priced at $440pp for shore-diving, with each boat-dive adding $18pp.
VISITOR INFORMATION: visitmaldives.com