PADI Mermaid team-members from around the world have been posing for the cameras around the Poor Knights Islands Marine Reserve and Whale Bay in New Zealand's Northland. Freediving with their "monofin" tails, the exercise was dreamt up to highlight marine tourism in the South Pacific country on the occasion of International Mermaid Day (29 March). 
Training agency PADI worked with Tourism New Zealand to produce a promotional video and imagery featuring five professional mermaids: US instructor Julie Andersen, who is PADI global brand director, and mermaid instructor-trainers Brandee Anthony, also American; Sacha Williamson from New Zealand; Ray Lei from China; and Maxine McLaughlin, who is also Australia's first female PADI freedive instructor-trainer.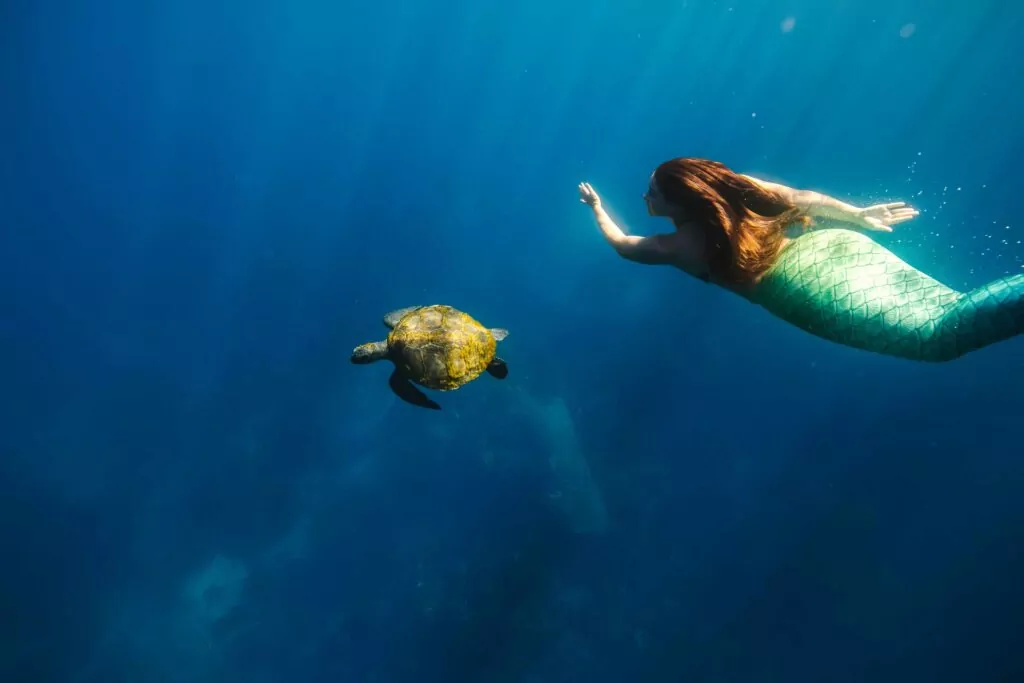 In the process PADI and TNZ came up with a quick guide to 10 of the the country's best diving, snorkelling sites – see below. Many would also suit mermaids, though the warmer waters of North Island would probably be more to their taste than far-south locations such as Stewart Island.
PADI says that mermaiding has built a strong following among all ages (from six up) as well as genders since it launched its global programme in 2021. There are seven qualification levels, and entry-level courses concentrate on the skills of breath-hold, swimming with a tail, reading ocean conditions and respecting and protecting marine life.
"The waters of Aotearoa [the Maori name for the country] are a special place for me personally, having had the privilege to explore above and beneath the surface as both an adventure-seeker and a diver," said PADI President & CEO Drew Richardson (who did not use a mermaid tail for his explorations as far as we know).
"I'll never forget the first time I experienced the Poor Knights Islands – the crown jewel of the Tutukaka coastline. From the dramatic topography to the thick kelp forests teeming with the unique combination of cold and subtropical marine species brought in by the Eastern Australian Current, not many dive-sites have ever rivalled this one for me. 
"Imagine what our shared blue planet would be like if we had 10,000 more success stories like the Poor Knights Islands Marine Reserve?" New Zealand has a total of 44 marine reserves and nine marine mammal sanctuaries.
"We are proud to team up with Tourism New Zealand this International Mermaid Day," said Richardson. "TNZ is a like-minded partner devoted to the Tiaki Promise – the commitment to care for the people, place and culture of Aotearoa." 
10 NZ dive / snorkel attractions
1. Poor Knights Islands Marine Reserve, described by Jacques Cousteau as one of the world's top five dive-spots, is a group of islands that are remnants of ancient volcanoes. They features drop-offs, caves, arches and tunnels inhabited by an array of underwater life that can include orcas, dolphins, bull rays and large shoals of fish. Rikoriko is one of the largest sea caves in the world. Poor Knights can be checked out with Dive! Tutukaka.
2. Aramoana Mole, Dunedin is an artificial rock wall built to protect a harbour entrance from gathering silt but became a dive-site said to be home to several wrecks, lined with kelp forests and full of fish. Attractions include carpet sharks, telescopefish, sevengill sharks and the New Zealand hooker sea-lion. Visibility is limited – 3-6m on average, 10m on a good day – but macro species such as seahorses and nudibranchs can be spotted. Above water hoiho (yellow-eyed penguins) sometimes lurk on the beach.
3. Goat Island Marine Reserve, Auckland was New Zealand's first marine reserve, and is a popular dive and snorkel destination. Lying only 100m from the beach it's a shore dive, and said to be one of the best places to see snapper and other fish such as kingfish, red moki, leatherjackets and blue maomao. The island is also frequented by dolphins, orca and fur seals.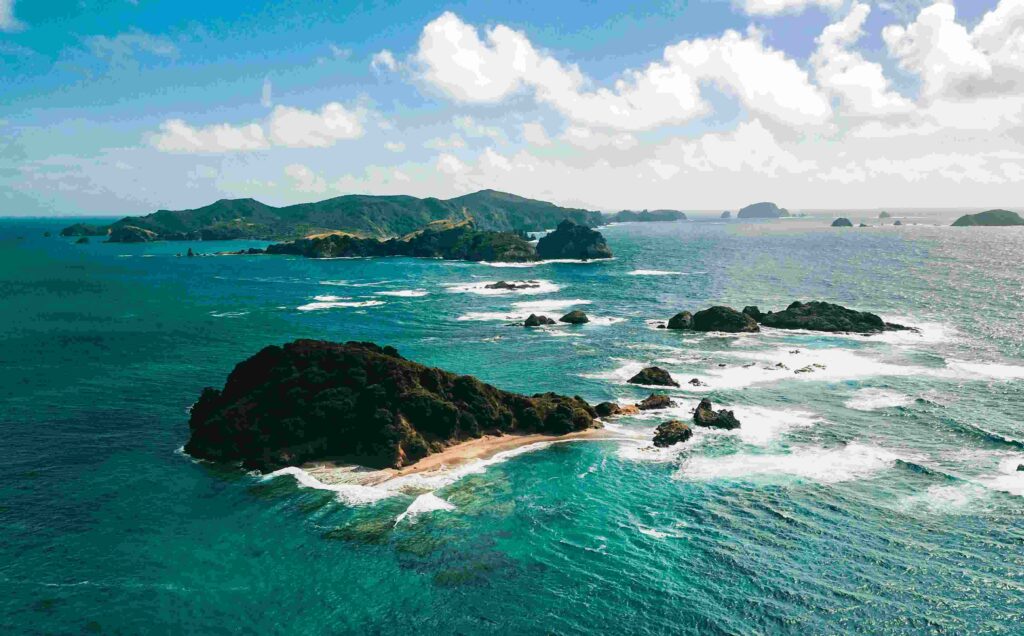 4. Cavalli Islands, Bay of Islands lie just off Northland's east coast, and on the seabed between the islands and Matauri Bay are the wrecks of the famous Rainbow Warrior, the sunken Greenpeace vessel that now acts as an artificial reef for corals, anemones and fish. Dolphins, orca, fur seals, monster crayfish and whiptail sting rays are among the species that can be found there.
5. Great Barrier Island, Auckland lies on the outer edge of the Hauraki Gulf in New Zealand's only national marine park and has volcanic rock formations and a subtropical climate. The chain of islands is said to be full of dive-sites suitable for all levels of experience, including a number of shipwrecks such as the Wairarapa, which hit the reef and sank in the late 19th century.
6. Kaikoura is a spectacular section of coastline where mountains meet the sea, with kelp forests, octopuses, sting rays, fur seals and a variety of native fish species to be found in the shallow bays of the peninsula. The biodiverse cold waters are recommended for snorkellers as well as scuba divers, and orca, dolphins and whales can also be seen. Daves' Diving is said to offer an adventurous shore-diving experience.  
7. The Coromandel Peninsula's marine wildlife also attracts both scuba divers and snorkellers. Just off Cathedral Cove's golden sands lies the Te-Whanganui-a Hei Marine Reserve, with Cathedral Cove Dive & Snorkel and Dive Zone Whitianga recommended to provide access to popular dive-spots such as Whitianga on Mercury Bay. While experienced divers head for Never Fail Rock, covered in sponges and soft corals and said to teem with big shoals of trevally, kahawai and blue and pink maomao, the less-experienced can enjoy the reef fish at Bumper Point. Meanwhile Gemstone Bay (Waimata) has a buoy-marked snorkel trail illustrating the habitats and species found below.
8. Milford Sound, Fiordland offers coldwater divers spectacular underwater seascapes in the form of cliff-faces, fjord walls and the black-coral trees usually found only in deepwater trenches, but here as shallow as 8m. Dolphins, seals, sharks, penguins, eels, octopuses, sting rays, crayfish, nudibranchs and decade-long resident eel Boris can be seen, with the help of Descend Dive in Te Anau.
9. Bluff, Southland is a tiny region known for oysters and as the gateway to Stewart Island, but is described as one of the world's best places for shark-cage diving. Shark Experience can provide an introduction to the great white, mako and blues sharks of Foveaux Strait.
10. Stewart Island's remote and untouched coastlines are said to provide a natural habitat for unusually diverse marine life, nourished by a warm current from the Australian Great Barrier Reef. The Neck Peninsula is the resting place of the Tarawera, a steamship that sank in 1933 and is now full of colourful corals and fish, while Maori Beach, with vast kelp forests and their resident fish, can count as one of the world's southernmost snorkel experiences.