EURO DIVER
LINN VENNBERG and MATTIAS GRANBERG are Swedish film-makers, currently travelling around Europe for 15 months in a campervan with their two dogs to discover the continent both above and below the surface. Part 1: Slow start in Sweden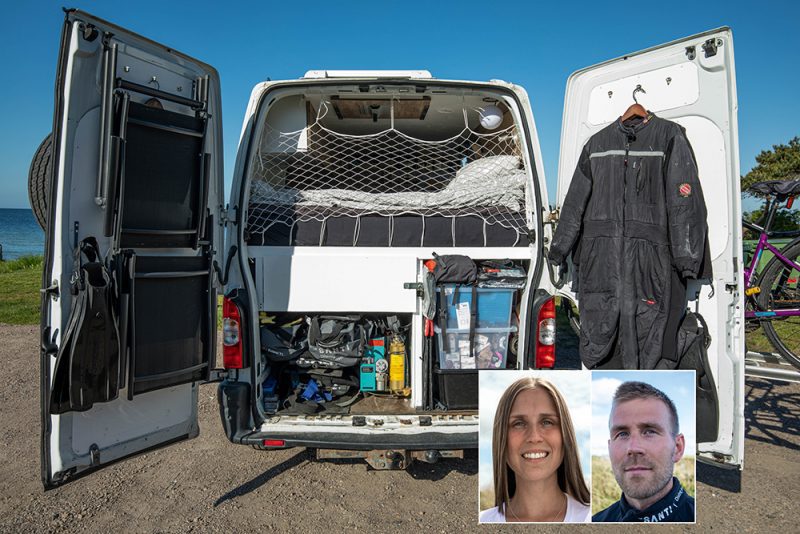 In the van we have everything we might need: refrigerator, charging station driven by solar panels, stove, storage for camera equipment and dive-gear and a compressor.
Our plan is to visit several countries along our European coastlines and dive in the Atlantic, Mediterranean and Baltic to discover the marine life, open caves and interesting historical wrecks to be found there.
Our dive-journey started eight years ago during a holiday in Greece. A friend of ours had done a Discover Scuba dive a couple of weeks earlier, and because Mattias and I like new challenges, this had sparked our interest.
Our hotel was next door to a dive-centre, which must have been fate, so of course we decided to book a DSD for the following day.
My 20-year fear of putting so much as my nose below the surface was all forgotten in the excitement of the boat-ride out to the dive-site, but as soon as we rolled back into the water from the boat it was very much present.
I panicked, but after a bit of a struggle we were finally able to descend and experience the underwater world close up for the first time.
Back at the surface, we agreed that we had to do it again, and booked another dive for the following day.
After that it wasn't long before we were on our way to Thailand with our open-water course booked.
Back home with our certificates we discovered the local dive-club, and were able to learn more about diving. We bought our own equipment and started diving independently.
Since then we've done a lot of dive-trips, especially to our neighbouring country Norway.
During a trip to Portugal we were diving with an Italian couple who were travelling Europe, living in their car. That's when the idea was born of travelling in a similar way to discover the diving in various parts of the world.
So we bought a van and started fitting out the interior to fit our needs.
At first the plan was to drive to Asia, because that was where we had enjoyed many of our best dives. But after some thinking and research we realised that there was so much amazing diving to discover around Europe, and we wanted to show off the diving around our continent to inspire more people to explore its waters.
So we settled for an approximate route around Europe designed to fit in as many dive locations as possible, and calculated that we would need about 18 months to be in the right places at the right time of year, and to appreciate them properly.
We also didn't want to be anywhere too hot during the summer months, because our dogs weren't used to that.
Heading out for such a trip is not something you can do without careful planning. We also needed to save up for a couple of years to be able to afford everything.
We custom-built the van ourselves, because what was available ready-made was either over our budget or unsuitable for our needs, especially in terms of storage for all our equipment.
We tried to find sponsors, and were fortunate to receive help with equipment from Reel Diving, Halcyon, Santi and Shearwater.
We also contacted dive-centres along the way and explored various shore-diving possibilities. A lot of variables would have to work out if we were to enjoy a smooth run.
We set out this May from Luleå in the north of Sweden, and our first stop was the Swedish west coast. We had originally intended to leave in April but because of the Covid-19 pandemic decided to postpone our departure for a month.
We started diving in Smögen, a place renowned as something of a mecca for nudibranchs, so our expectations were high.
Our first outing was a boat-dive, and because it was quite windy we went out to a rock close to shore where we could find a little shelter and calmer water.
We descended into the greenish water, and as we followed the wall deeper the light almost disappeared in the poor visibility. We just followed the wall until we were ready to end the dive and get picked up by the boat.
During the dive the strobes had not been functioning properly, and back at the dive-centre I discovered a leak in the connection between the underwater housing and the sync cord, so both had to be cleaned and dried.
The next day was about exploring the house-reef. We jumped in from the deck around the dive-centre and started swimming past the dock and through the channel at 3m.
The plan was then to follow the wall down to about 20m and explore it in search of nudibranchs and other critters.
However, as we were about to descend the wall we discovered that the seabed where we were was filled with nudibranchs and sea hares, and ended up spending the entire dive photographing and observing these fascinating little creatures. But to my disappointment, the strobes were still not fully functioning.
In springtime nudibranchs and sea hares gather in large numbers near Smögen dive-centre to mate and lay their eggs. We also found many species of crustacean, among them a great spider crab that had found a moon jellyfish on which to feast.
But that meal did not pass unnoticed.
A bigger crab saw what was going on and, after an intense struggle, the smaller crab ended up losing its catch, leaving the challenger to wander off with the prize.
Before the next dive I made some more adjustments to the strobes and tried changing the sync cord. We were determined to explore the wall this time – but made it even less far than before.
As the sun descended its beams were coming in between the supports below the decking and creating a beautiful scene, with several species of wrasse to be found in the seaweed and the surrounding waters swarming with a range of jellyfish.
We ended up with a maximum depth of 5m, many jellyfish photos, and videos of sunbeams playing in the seaweed beneath the supports.
Because changing the sync cord made no difference with the strobes,
I determined that the problem had to be the connection to the housing.
So our third day of diving in Smögen started out with a trip to the local supermarket to buy some detergent, cleaning the connection and leaving it to dry during the next dive, hoping that this would do the trick.
The wind had calmed down and we could take the boat further out in the archipelago on a wall descending to about 30m. Parts of it were beautifully covered in dead men's fingers, ascidians and sea anemones.
Other parts, on more of a slope, were filled with rocks in which we found many crustaceans and wrasse.
With the camera back on land, I could take my time to inspect the marine life and enjoy the dive to the fullest.
During the following days we did a couple more dives around the dive-centre, and to my great joy the strobes now worked.
Eventually we did make it down the wall, which meant seeing different varieties of nudibranch to those we had found in the shallows.
The diving hadn't disappointed, and neither did the after-dive, with sauna or hot tub on the deck. Our stay at Smögen Dyk och Upplevelse gave us a nice start as we got used to life on the road – or perhaps it just spoiled us, with access to all the facilities and our filled tanks always waiting for us before the next dive.
We moved a little further south to Gullmarn, Sweden's only fjord.
A body of water classified as a fjord needs to have a shallow entrance or threshold and a supply of fresh water over which deeper, more saline water can be pushed inside.
This is why many fjords are good places for spotting marine life that would otherwise be found only at greater depths.
The unusual marine fauna in the area also makes this a popular place for marine-biological research. The first research facility established there in 1877 is one of the oldest in the world.
In 1983 Gullmarn became Sweden's first marine protected area. It is regarded as important for scientific research because of its varied and diverse marine environment and its popularity as a reproduction area for many species of fish.
The diving is easy enough. Most dives can be made from shore, and they suit everyone from beginners to technical divers.
We decided to stay by the Jordfall dive-site, because the van could be parked at a campsite just 100m away.
The site starts out with a sandy bottom and seagrass bed. You can find small flatfish, various crabs, shrimps, sand gobies and, in spring, many nudibranchs there, and the seagrass beds are also important nursing areas for a lot of species.
Further out, the bottom is muddy but there's a great deal to find in this environment that might appear lifeless at first glance. Common dragonets, gurnards, bigger flatfish, stone king crabs, giant anemones and much more can be seen as you make it down the slope.
We stayed a couple of days in Jordfall, enjoying some easy diving with friends. One day Mattias went out by boat to dive at a wall nearby.
The wall slopes right down to 90m so if you're a technical diver it's an excellent place to find decent depth. Mattias and his buddy settled for around 30m and enjoyed an excellent dive on the wall, which had some nice overhangs and was covered in marine growth.
It's time to continue our journey through Europe. See you further down the road! You can follow our journey on Facebook and YouTube (@Ocean Exposure) and Instagram (@ocean.exposure)
Smögen Dive Centre is affiliated with SSI, located by the sea and has a 9m boat. Most sites are a five-minute ride out, and divers return to the centre for refills and lunch. It offers accommodation in twin or six-bed rooms. Three-day dive packages with accommodation, meals, air fills and six boat dives start from 4000 krone (about £350), smogendyk.se