archive – Red SeaSomatic Reaction
With access to a world-famous shipwreck, a flourishing house reef and all sorts of underwater pleasures between the two, Somabay provides a stimulating Red Sea dive-base, as STEVE WEINMAN discovers. Indeed it's sunshine and rainbow corals all the way – except, of course, for that wreck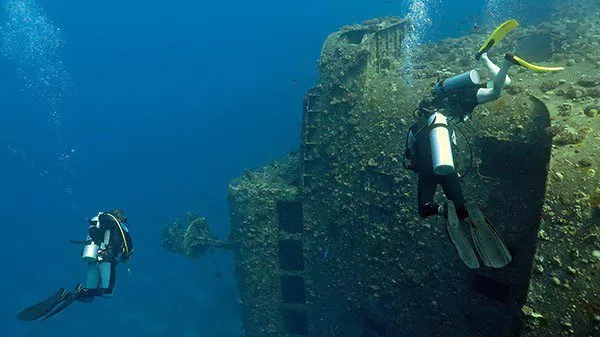 Over the years I have come to expect accounts of diving the Salem Express to be prefaced by the writer's internal tussle about the ethics of diving such a controversial wreck, often followed by reflections about the "spookiness" of the dive-site. I hoped to approach it differently.
After all, this wasn't the first time I had dived a wreck on which deaths had occurred relatively recently. I had resolved to treat the Salem Express neutrally, like any other wreck, avoid soul-searching and concentrate on its physical characteristics.
Easy to say, of course. Settling at 30m in the first moments to photograph Orca Dive Club senior instructor Mohammed beside one of the propellers, it certainly is like being on any other big wreck.
Then you turn away to find yourself at the stern end of the starboard-tilted deck, faced by a sight that hits home – a debris-field of hull-plates punctuated by popped-open cases and deck-furniture, with two lifeboats propped impotently at angles against the deck. It's like a stage-set of disaster.
Then you're away, too occupied to reflect, pausing to examine the details, moving gradually higher in the water with the deck on your left, twin funnels and davits pointing towards you, slowly covering the 115m length of this intact Red Sea roll-on, roll-off passenger ship.
AROUND THE BOW you note the damage caused by the midnight impact of vessel on reef, which must have jolted open the pivoted visor and caused the sudden influx of water that overwhelmed all those people below.
You're off again, up to the sunny side of the bow where the outline of the closed visor can be traced. You move along the rail towards the semi-circular bridge and beyond. On the port funnel you note the morbidly appropriate wreathed-S insignia of the Samatour Company. Though cast in relief, it's becoming difficult to make out among the coral growth, of which there is plenty on the ship but not nearly enough to obscure its outlines.
The Salem Express sank in a gale near Safaga 25 years ago. Official reports claimed that 470 people died, but there are accounts of many more bodies being recovered before, when the work became too dangerous, any remaining at seabed level were sealed off.
This was a sizeable ship, with 430 cabins and capacity for 142 vehicles and 1200 people, but it has been claimed that even then it was overcrowded that night, full of pilgrims returning to Egypt from Mecca in Saudi Arabia.
Whatever the truth, only 180 survived.
"Because the passengers came in groups from all parts of Egypt, this was a national tragedy in every sense," says Mohammed later. Some Egyptian divers still choose not to visit the site, but this very erudite man believes it's important that the tragedy should not be forgotten.
The Salem Express sank around the time I started diving, but the event still feels comparatively recent to me.
We move back to the upper stern deck and dip through a glassless window to follow the companionway back towards the bow, taking in the cafeteria with its fixed tables and counter with tray-rail and multi-coloured floor-tiles. We've all been on ferries, and even viewed sideways the scene is oddly mundane. We exit around the start of the cabins.
There's plenty of time left to hang and explore the upper stern deck area again, with its windows and portholes and mysterious views deep inside the vessel.
Detached from its bleak history the Salem Express is indeed a great dive, but I was wrong – it's difficult to detach from emotionally, and touring it should be a salutory experience for any diver.
Even looking through the pictures later I found the memory of the dive haunting. If you're a diver, tragedies like this will never be out of sight, out of mind.
A follow-up dive is lined up for us not far away, at what I consider a spectacularly beautiful and under-rated coral garden called Sha'ab Shir, where fish come to feed in numbers and the hard-coral formations just go on and on.
The site is on the way back north for our dive-boat Lady Cristina, which then heads for the marina at Somabay.
We have just experienced two persuasive reasons for diving from this secluded resort complex.
WHEN I FIRST HEARD THE NAME Soma Bay years ago, word association conjured up an Egyptian location with dreamlike qualities. Soma was after all the imaginary pleasure drug in Huxley's novel Brave New World, and the narcotic herb once associated with Hindu rituals – in short, Soma Bay sounded blissed-out.
And it could certainly turn out to be addictive, especially for travelling divers. But never mind the daydreaming – soma is also Greek for body, so let's get physical.
We're supposed to call the resort Somabay now (a marketing gambit that has yet to be universally applied among the resorts that make up the complex, but does serve to distinguish the concept from the bay itself).
I wasn't prepared for Somabay's sprawling size, but its five (soon to be seven) hotels and leisure facilities occupy nearly four square miles of secluded Egyptian real estate.
Surrounded by Red Sea on three sides, this horn of land is accessed by a single private road with security checkpoints, and feels like a real enclave.
However, it's only a half-hour drive south from Hurghada airport, along the quiet coastal road to Safaga.
Many divers stay at the popular Breakers Diving & Surfing Lodge where the Orca dive-centre is located, and the hotel was 100% full when I arrived in early November, but that was OK because I was staying at the Sheraton, also nearby.
In fact from my lush executive suite on the fringes of the Sheraton site, I could stroll across to Orca in a few minutes.
The Sheraton was considerably less busy than Breakers and perhaps caters for an older, slightly more sedate clientele (that's me). The five Somabay properties all have their own distinct identities, and fans of wind-assisted watersports, golf (Gary Player-designed course) or spa treatments (one of the biggest thalasso centres around, at the Westin golf resort) can indulge to their hearts' content.
They can easily visit Nile tourist sites such as Luxor on day-trips, too.
In fact the Sheraton design has echoes of the historical temple of Karnak (who knew that the ancient Egyptians had gyms and pool bars?), so there are pillars and sphinxes everywhere. It all looks very impressive, especially lit up at night.
The hotel is as sophisticated as you might expect, with very good buffet-style dining, pleasant and efficient staff and well-appointed, spacious rooms. This and Breakers are the least expensive of the Somabay hotels, though both are 5*-rated.
What I especially liked about Somabay, however, was Orca Dive Club. It's always said of the best restaurants that they have a buzz about them as you enter, a hard-to-define murmur of contentment from the customers. Orca seemed to have the equivalent buzz, whatever the time of day, and club is the right word for it.
Hundreds of divers going about their chosen pursuits, from hitching a lift on a buggy to the end of the long pier to dive the house-reef, to setting out for a rebreather training session, or just off-gassing around the bar.
It always seemed a big, happy hub, and the cheerful staff keep the plates spinning with the right mix of banter and expertise. They work hard but make the process seem relaxed. Want to set up your own dive-centre? Spend a while watching how teams like Orca's do it first.
Many of the divers here are German or Dutch at present, which is fine by me because they're usually great company.
ON MY FIRST DAY I did two dives on the house reef, heading north from the pier in the morning and south in the late afternoon to enjoy the fading light. If you have preconceived ideas about house reefs, leave them at the door at Somabay.
Whichever way you go, this extensive reef is a joyous procession of healthy pastel-hued hard-coral formations that will keep you happily occupied from start to finish. It's the Red Sea, so it's typically populated by a lively cast of anthias, pairs of banner and butterflyfish, damsels and anemonefish, bright red squirrelfish, aloof picasso triggerfish, candystripe shrimps and colourful clams, and the occasional moray or pink scorpionfish. Or at least it was that day.
My guides from Orca appeared to be enjoying the dives as much as I was.
This is a manor-house reef, a feast for the eyes, and not to be confused with poor-house reefs, the battered shallow training areas found in front of some overseas dive-centres.
If you're staying at Somabay, you can dive here whenever the fancy takes you, from 6am to 11pm. It's also a wonderful facility for any snorkellers in your group.
UNFORGETTABLE as the house-reef dives and the Salem Express/Sha'ab Shir day out were, they were the intro and outro to my week at Somabay – there was also some tasty meat in the sandwich.
Mostly this consisted of dives at popular Panorama Reef, an hour's ride away on Lady Cristina or Orca 2, the comfortable hardboats at Orca's disposal.
Panorama is Safaga's largest reef, big enough to deserve a couple of dives on each visit. It offers views as spectacular as its name suggests, with broad expanses of plateau and steep walls dropping off to some 80m, often with a healthy current from the north for lively drift-diving.
Our first dive was a gentle one that took us south-east to where the boat had moored. We pivoted around a lone seafan that stood on a corner at about 30m, and turned out to contain one of those beautiful little long-nosed hawkfish.
The terrain was marked by imposing hard-coral pillars – a giant black moray stood upright like a pillar itself, and blue-spotted rays, a Napoleon wrasse and many anemonefish colonies were among the characters waiting along our route.
That afternoon, Mohammed and I passed on the west-side drift and went straight to where the drifting divers would end up, on coral slopes packed with photo-subjects such as anemonefish, lionfish and rose corals, and where a friendly turtle joined us for a while.
On our next trip to Panorama a few days later, however, we did do the after-lunch drift – only this time with the help of DPVs.
These Bonex five-speed scooters are expensive models, and I could see why. Used by Orca for training courses, they were a far cry from the clunky DPV I had last used, in a vis-free British lake.
In fact it took me a while to master the Bonex on the morning dive, and the fault was all mine because trying to juggle scooter and camera proved a really bad idea. But once I had grasped the simple expedient of not bending my right arm (duh) I wondered how I had managed without prop-power for so long.
In the afternoon the whole group was dropped along the west wall, but while the others set off south on their drift, Mohammed and I moved away north at around 25m, and the powerful scooters made the going easy against the current, even in lower gears.
At 100 bar or so we turned, moved a little shallower and were able to enjoy nature's bounty in the form of the current but with power assistance, stopping only to savour the sight of an outstandingly colourful pinnacle swathed in fish.
Then, motors turned up to four, we were once again enjoying the views and the good vis, overtaking stragglers and arriving back below the boat with plenty of time to spare to enjoy the inevitable bubble-ring competitions. Panorama is a spectacular playground.
And there was yet another fine diving experience in mid-week, close enough to home to be carried out by a small group from a RIB. The first dive was at Ras Abu Soma, not far beyond the southern tip of the house reef, and began at a deep recess stuffed to bursting with glassfish.
Following the slope we came across a turtle that appeared to me – through the camera display – to be on a collision course, but passed just beneath me.
Mohammed stretched his arms wide to indicate the vast size of an acropora table coral, and I enjoyed the sight of dozens of bannerfish dancing in formation across the sand, as well as lazy blue-spotted rays and countless anemonefish.
BUT IT WAS THE SECOND DIVE at Tubya Arbaa in which I found myself in my element – seven pillars not necessarily of wisdom but certainly of jam-packed vibrant life.
Hard corals, soft corals and clouds of basslets and anthias adorned the fat pinnacles, which provided a backdrop for a swarming array of lion, butterfly, porcupine, squirrel and other fish named after land animals, big masked emperor angels in pairs and much more.
I was torn between the colourful wide-angle temptations and peering more closely at the rainbow surfaces, because that too was richly rewarding – a striped pipefish nudging a Christmas-tree worm, perched coral trout and freckled hawkfish following my movements suspiciously as they wondered whether or not to bolt, even a little mottled frogfish, unfortunately planted the wrong way round for my selfish purposes.
Seventy minutes of fun and no deeper than 13m, we flitted about happily between the bigger and smaller pinnacles – from pillar to post.
If I've given the impression that diving from Somabay is a great pleasure, that was my intention.
Take a first-class dive-centre, add superior accommodation and good company and mix well with a range of pulsating dive-sites and what have you got? The itch to do it all over again.
FACTFILE
GETTING THERE: Easyjet flies from Gatwick to Hurghada, plus a half-hour transfer to Somabay.
DIVING & ACCOMMODATION: Sheraton Soma Bay Resort, www.sheraton-somabay.com. Orca Dive Club, www.orca-diveclubs.com
WHEN TO GO: Any time.
CURRENCY: Egyptian pound
PRICES: Until the end of April (ex Easter week) Sheraton Somabay offers a dive & stay package of seven nights' half-board for two sharing, with three days' boat-diving for one for 1018 euros (add 178 euros for another diver), or with six house-reef dives for one for 976 euros (add 136 euros for another diver). Bookings online. Return flights from £210.
VISITOR INFORMATION: somabay.com, www.egypt.travel
Appeared in DIVER March 2017