GREECE DIVER
Surprise Mainland Package
You don't have to stay on a Greek island to enjoy Greek diving with all the trimmings, and 'best-kept secret' Epidavros offers its own argument for a mainland base. STEVE WEINMAN reports
The waterfront at Epidavros. Inset above from left: Painted comber; remains of storage vessel and paving in the Sunken City.
IT'S EXCITING TO VISIT ancient ruins and let your imagination run riot. The less you know about a site, the more riotous the imaginings. Whether it's Pompeii, Carthage or Stonehenge, it's easy to lose yourself in the mystery of history – yet somehow nothing matches seeing the remains of the past beneath a layer of sea water.
Call it the Atlantis Factor, but somehow the experience seems more exclusive. Years ago I was conducted with great ceremony to dive a site off the Greek island of Kalymnos referred to as the Lost City of Potha, said to have remained unseen to all but a few archaeologists for 1500 years. It was fun but to my untrained eyes little resembling a city could be recognised.
But now here I am drifting excitedly over a network of finely paved roadways and walls, interspersed with a clearly defined well (full of water!) and the remains of massive embedded globes, all broken at the top. In ancient days these were called dolia, earthenware vessels far bigger than amphorae and used for bulk storage of wine, oil or wheat.
It's exciting in a way that exclusive Potha was not, and yet I must come clean, because the sunlight dappling what's left of a 2nd-century BC Roman settlement in Greece indicates the truth – these remains lie no deeper than a couple of metres, and I am merely snorkelling over the top to take in the view.
We've come to associate Greece with jealous preservation of its wealth of historic underwater remains, yet this site, known as the Sunken City, can be visited freely by anyone who cares to do so.
There has been talk of encasing it in a giant glass cage, but everyone knows that will never happen. Greece has so much to preserve but so few funds to spare for the task, so pragmatism rules.
Appeared in DIVER September 2018
I'M STAYING IN THE TOWN of Epidavros in mainland Greece, an easy two-hour car-ride south-west of Athens and on the other side of the Saronic Gulf, so straightforward to access from the UK.
I realise that Greece probably has more "best-kept secrets" than most places, but Epidavros is one, and it's outstanding.
If my archaeological snorkel was a shallow experience for a scuba-diver, many other experiences offered by the town's only dive-centre Epidive are on the deeper side of the recreational spectrum – not necessarily because they have to be but because Epidive likes it that way.
During my week we'll veer between 40m dives to visit a modern wreck and another with a single amphora (which I won't get to see, as I'll explain) and an outstanding cavern with unusual occupants that would have been worth the trip by itself.
The dive-sites are scattered along the coast or off the nearby islands of Kyra, Agistri, Egina to the east and the volcanic peninsula of Methana to the south.
I often get a good feeling about places before I visit them – in this case I wasn't sure at first, but by the end of the week I was already planning in my head a return non-working visit to Epidavros.
Epidive has been run for the past few years by Yves le Jannou, an accomplished French diver who tells me he has been diving since he was eight (which means about half a century's experience).
Yves wants his guests to have fun both on the boat and under water and, as far as I could see, they do.
Yves employs an almost entirely female team, with a rotation of youthful interns, some learning to dive as part of the experience, and some permanent.
He also had two British assistant instructors, James and Vicky Martin, who were not only excellent company on dives, on the boat or on dry land but worked hard to put Yves' plans into practice.
I would say that there was at times a certain "creative tension" between Yves, who works tirelessly from dawn till late but does have a tendency to try to communicate his plans using telepathy, and his crew who, as a consequence, have become good second-guessers.
For all that, it appeared to be a rewarding relationship (though I did hear later that James and Vicky had moved on).
Kalymnos gave me my first taste of Greek-island diving, and my Epidavros trip came not too long after my first mainland experience near Athens (In The Lap of The Sea Gods, January 2017).
I enjoyed all of these and other trips, in large part because Greek diving becomes part of a seamless package that includes spectacular scenery and ancient ruins, plentiful food and drink, the culture and the native generosity.
The latter really shows itself in Epidavros, which seems to have attained a certain status by word of mouth yet where, as several people told me, the cost of living can be half that of the fashionable islands.
Despite the country's economic woes, this is a place where they'll insist on supplying overflowing starters, salads and sweets even if you only asked for a main, and you'll barely notice the difference on the bill. If such hospitality gives pleasure, I'm grateful to be a recipient.
Epidive's centre is close to the jetty and right next to the comfortable Posidon Hotel, where I was staying. It's good to be able to stroll onto the front for breakfast and watch everyone hard at it preparing the kit and the boats – there's nothing like watching others work. We cast off at a civilised 9.30 or 10.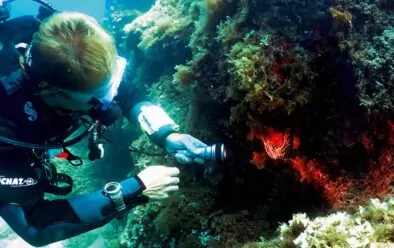 The deep amphora dive I mentioned was definitely an odd one. I've seen quite a lot of amphorae over the years and wouldn't go out of my way to see a single one, however beautiful the sponge growth I was told decorated it.
In this case we descended to 38m or so and were regrouping when it transpired that a very experienced guest diver, who had opted to try out a drysuit in earnest for the first time, had misunderstood his instructions and omitted to put any weights in his BC pouches.
Fearful of any attempt on his part to ascend in this delicate state, weights were sent for and duly dispatched and fitted, while other divers made sure that the guest didn't go involuntarily ballistic.
By the time everything was sorted out, I for one was about to go into deco and, as it didn't seem worth staying, thumbed up.
There had been no sign of the amphora, so I had fired off a few snaps of what appeared to be an abandoned cephalopod midden of discarded shells.
Only later did Vicky tell me that she had seen the site-owner, an octopus "almost as big as me", scrambling to conceal itself beneath its detritus on my approach.
It needn't have hurried – I hadn't captured so much as a protruding tentacle on my memory card.
SO THAT WAS A DIVE TO FORGET, although of course I'm duty-bound to record any unusual experiences for DIVER readers.
The first dive had been to the same sort of 40m depth, with James and Vicky and setting out over sand from the mooring point and heading down onto a sheer wall.
The fish down on the wall were isolated examples of the main species you get used to seeing in these waters – the very colourful ornate and rainbow wrasse, handsome painted combers amid the swarming black Mediterranean chromis.
The sponges were as profuse and colourful in crimsons and golds as I'd been promised, with here and there a fireworm or starfish to be seen, and after ascending it was pleasant to explore the various gullies on top of the wall.
At Zeus's Labyrinth in the 25m range there were some nice little swim-throughs complete with moonpools, and small sting rays rose out of the sand when disturbed by the passing of a diver.
At the multi-level site called Aquarium, I struggled on my first foray to focus even on inhabitants as big as moray eels, thanks to a baffling and infuriating fogging problem with my trusty old Bigeye mask.
After a while I came up, swapped it, and went straight back down for another crack at Aquarium on my own in the shadow of the boat. I had a relaxing time shooting fish portraits at this well-named site – the craggy topography gives it interest, and while the fish might be small they were plentiful and colourful, with the wrasse, combers and damselfish but also quite a few silvery bream.
I also spotted a couple of tiny Flabellina affinis, the spiky violet-coloured nudibranchs common in parts of the Med.
Epidive does a lot of try-dives for visitors. I missed the one it did during my stay for the town's kids, which sounded like a cat-herding exercise, but did join in the fun when a boatload of mainly American students on a yoga-retreat holiday in Epidavros opted for a day of activity. Most of them were going beach-cleaning, but half a dozen wanted to try diving too. This they did from one of the boats in a shallow, sheltered bay.
Rather than an awkward boat-entry the kits were fitted to the swimmers in the water – a good arrangement, and the students all seemed relaxed.
Only one of the new divers decided after a brief immersion that beach-cleaning would be a preferable pastime, but the others were clearly buzzing.
Jolisa, an environmental-science student, had dived before – six times in a cold Pennsylvanian lake – so she was able to join Yves and me on a quick underwater clean-up in slightly deeper waters over damsel-dotted seagrass beds.
She flitted about tirelessly, picking up more discarded items than Yves' bag could hold, as if she did it for a living.
Later we joined in cleaning a tiny beach often used for barbecues and picnics. It looked fairly innocent of litter as we swam towards it, but very different at close quarters.
The shock came as I realised that even with many bags filled, mainly with plastic bottles, we had merely scratched the surface. But the enthusiasm for the clean-ups under a blazing sun was good to see.
THE LAST DIVING DAY was one that sticks in my mind. The Aventis III was an 85m cargo ship, 27 years old when, in the early hours of a November night in 2004, she hit rocks off a small island west of Agistra, some 15 miles from Epidavros.
The weather was fine and it was a clear night. Word is that the captain was being distracted by a lady in his cabin at the time.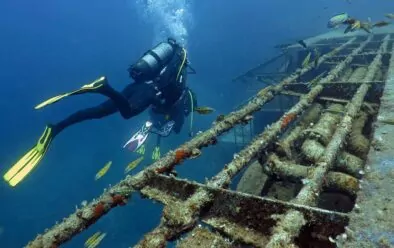 The vessel lies to port bow-uppermost at 18m, this section clearly visible from the dive-boat through the crystalline waters. The stern rests a shade short of 50m, so there's something for everybody at the site.
We trailed across the expanse of the starboard side of the hull, over the bridge and down towards the seabed, where various deck items have ended up, before weaving back up in leisurely fashion over the decks. There was plenty to explore on the intact wreck, after which we spent time degassing on the rocks. That sinking was a boon for divers.
Later we headed for a site north of Epidavros – Yves doesn't advertise the exact location of his "minotaur cave", and for good reason. We moored close to the entrance, a long slit at about 5m deep towards the base of the wall.
Pre-warned, I had added a shortie to my 3mm wetsuit and a hood too. I was glad of the precaution as I followed Yves through the crack and into a mind-warping thermocline.
On the other side of this liquid barrier, warmish saltwater had been exchanged for a shock of cooler water at about 14°C.
Any chill was quickly forgotten in the excitement of being in the extensive cavern that now presented itself. The lights of our group of four illuminated a sculpture garden of ancient stalagmites among grey slabs and boulders, and sent shadows chasing around the walls. These confused the eye; I was hoping to see fast-moving things, but not shadows.
THEN YVES' LIGHT picked them out, not shadows yet wraith-like – big seals, two of them, flying along the walls very fast, nose to tail. The chamber was too big for my camera to catch more than a shadowy glimpse. We carried on, parallel to the sea and only now could I make out the narrow blue windows far off to my left.
We passed through a small thermocline and into a further chamber. There was a large moonpool in here, but as we rose into it Yves indicated that it would be a bad idea to remove our regs. The space held an unhealthy measure of seal-gas.
Back in the first chamber we saw the flying seals again. And then again, heading the same way as us but racing ahead of our slow procession – only this time there were three of the phantom shapes, one a little smaller than the others.
This surprised even Yves, who had expected to find no more than two. They turned out to be a pair with a large child.
These were no ordinary seals, either. Mediterranean monk-seals have the distinction of being earless, and count among the world's most endangered marine mammals. There are reckoned to be no more than 600 left around.
Once before in a cavern in Madeira a lone monk seal had startled me by emerging from nowhere and whipping past my shoulder, so I knew how fast they moved – I hadn't been able to photograph that one either. But I hadn't expected such a soul-stirring experience in Epidavros.
Monk seals are said to be making a bit of a comeback in the Aegean, which is why Yves's secrecy is a sensible precaution.
People who get a kick out of spearguns exist in greater numbers than do monk seals in these parts, so it's advisable to keep them well apart.
THERE IS PLENTY TO ENJOY when not diving, not least the two ancient theatres, still used for concerts, built in the 4th-century BC and later extended by the Romans. One is close to Epidavros town and the much bigger one, able to seat 14,000 people, is a drive away to the west.
This is a wonder – the acoustics are such that they say you can hear a match struck centre-stage from anywhere in the vast space. Beside it are the remains of the Asclepeion, a sort of hospital-spa resort complex. It made this part of Greece famous in classical times, attracting people and their wealth from all over the ancient world to stay and sample its cures.
Today's Epidavros can still offer divers an attractive rest-cure, I reckon. I'm no doctor, but I would prescribe it.
FACTFILE
GETTING THERE> Budget flights from UK to Athens – Steve flew with British Airways. Epidive will arrange the two-hour road transfer.
DIVING> Epidive is an SSI dive-centre and nitrox is available, epidive.net
ACCOMMODATION> Wide choice in Epidavros town, but the Posidon hotel-restaurant near the dive-centre is clean and comfortable, has balconies for kit-drying and serves good food, hotelposidon. com/en. For something a touch more upmarket and secluded, try the Mouria Pension, mouria.gr
WHEN TO GO> Summer. A 3 or 5mm wetsuit should be fine depending on the month.
MONEY> Euros.
PRICES> BA charged £233 return in June. The Posidon Hotel costs 45 euros a day for a double room with breakfasts and 80 euros half-board (55/90 euros in July and August). A 10-dive package with Epidive with all basic equipment (mainly Beuchat) costs 540 euros pp.
VISITOR INFORMATION> visitgreece.gr