WRECK DIVER
THE HAZARDOUS CREW
For almost 40 years West Sussex divers have been keepers of the flame of an English shipwreck from the early 1700s, describing it as a site that just keeps giving.
BRIAN SHEPHERD, keeper of the group's website, shares the Hazardous story
A painting of the Hazardous commissioned by diver Dave Johnston.
After almost 40 years, I still get excited about what we might find on the next dive and, once ashore, what we'll find from researching recovered artefacts." So says Iain Grant, who took over as Her Majesty's Ship Hazardous wreck licensee in 1995, when he had already been diving it for 13 years.
"My first experience of diving the wreck in 1982 was a somewhat fraught affair," recalls Iain. "Kitted out with borrowed gear from various divers on the boat, I went over the side to look at a concretion that was being recovered for identification purposes.
"It was hanging under three 40-gallon drums – early lifting-bags!
"My performance must have been a little suspect, because on returning to the boat I was asked if I could swim!
"Swimming lessons and dive-training with our branch, SAA 308, started soon after that."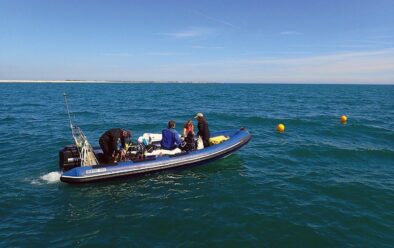 For several years, Iain couldn't see the totality of the wreck. "It was never visible from the surface and, even when working on the seafloor, often visibility was confined to about 1m in all directions.
"Then one day, from the surface in about 8m of water, there it was, in full view. In 40 years, that's happened only a handful of times.
"For a number of years, I spent an awful lot of time fanning sand from inside 1m-square frames. Inevitably, hand-fanning didn't do a lot for visibility.
It required good eyesight and an even better sense of touch.
"Initially, there were often surface artefacts to be found: buttons, musket-balls, buckles, the odd coin and, for some unknown reason, a number of dividers!
"Occasionally, something more exotic peered out from the sand, refreshing enthusiasm. Later we used metal-detectors, making it all much more productive."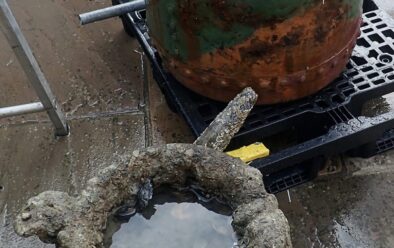 Identification is that much more interesting when artefacts appear to have no logical connection with the ship.
"In the early years, we came across an item later found to be an elephant tusk, and several more have come to light since then.
"Another interesting item was a whale-oil hanging lamp in several pieces, definitely not used on board.
"It wasn't unusual for the officers in particular to make maximum use of spare hold space for a little additional income on returning to England!
"In time we began searching outside the hull and found cannon and other artefacts, which led to expansion of the protected area.
"Gradually we're searching those areas, making new and interesting finds."
Appeared in DIVER April 2021
It all started in 1977, when two local divers looking for lobsters in Bracklesham Bay came across a cannon protruding from the sand. Over the next few years, several members of Sub-Aqua Association Branch 308 became involved in efforts to name the ship.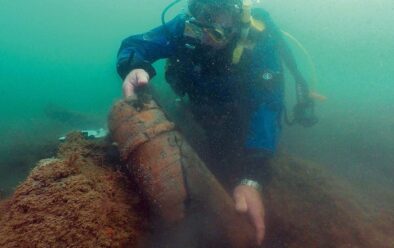 From recovered artefacts and historical records it was eventually identified as Hazardous, a 54-gun Fourth Rate warship that had been run ashore on a stormy winter morning in 1706 in an attempt to save both vessel and crew.
The previous evening, Hazardous had sought shelter from "hard gales and much rain" in St Helen's Roads, north-east of the Isle of Wight, but had failed to secure anchorage. In darkness, churning seas and blinding rain, she was blown relentlessly across Bracklesham Bay towards the shore.
Main and mizzen masts were cut away to reduce windage, but eventually there were no options left bar grounding.
Hazardous had been captured by the Royal Navy three years earlier. Originally named le Hazardeux, she was built in Lorient and commissioned into the French Navy in early 1701 as a 50-gun Third Rate warship.
Because of financial constraints the French Navy would contract out some fully prepared warships to private investors for a share of any prizes – in the case of le Hazardeux this was to Jean Beaubriand-Lévesque, an experienced privateer from St Malo.
In November 1703, returning from escort duties to Newfoundland, le Hazardeux was spotted west of Ushant by three English warships. After a chase, a six-hour exchange and "very much shattered in her masts & sails", she struck colours and was towed back to Falmouth.
Handed over to Her Majesty's Agent for Prizes, she was valued at £1000 – a huge windfall for her captors.
The following year the Admiralty refitted the ship and commissioned her as Her Majesty's Ship Hazardous.
In April 1706, Hazardous sailed for Virginia to escort home a convoy of some 200 merchantmen.
With three other escort ships and after much delay the convoy eventually left in September, and was battered by bad weather for most of the Atlantic crossing.
Approaching the Channel, Hazardous split from the main convoy to escort 40 merchantmen to the Downs. Three days later on 12 November her captain died "in his bunk strangled in his own blood". The First Lieutenant assumed command.
The following day the small fleet was found by Advice, another of the escort warships, which had delivered her charges to Plymouth and continued east.
Hazardous's captain was buried off Start Point, and Captain Lowen of Advice took command of the convoy.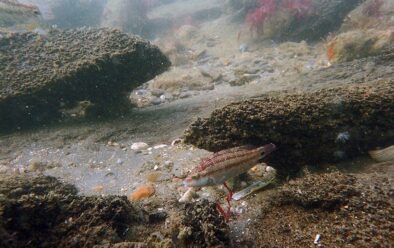 The weather gradually deteriorated until late on 18 November when, with winds veering wildly, Lowen ordered the convoy to seek shelter. Unaware that Hazardous had failed to anchor, the next morning he watched as she was driven ashore "under her fore sails and spar set sails with colours flying".
The Commissioner of Portsmouth Dockyard took over responsibility for what was quickly realised to be the irrecoverable ship. Over the next few months sails, equipment, stores and some cannon were recovered.
At the start of October 1707, with the wreck starting to break up, the remains were sold. They fetched £33 (about £8000 today) at auction.
Initially, only a few enthusiasts in SAA 308 branch dived the wreck-site. Later they formed what eventually became the Hazardous Project Group.
In 1986 Hazardous was officially designated a protected wreck-site, and the group was granted a licence to dive it.
Today the group consists of just a few volunteer divers assisted by archaeological advisor Dan Pascoe.
It manages around 10 visits per year, largely dictated by sea and weather conditions, the state of the tide and divers' availability.
For group-members, the project is no turn-up-and-dive Saturday-afternoon jolly. Significant personal costs are attached to it.
"On that fateful night in 1706, it was the strong, prevailing south-westerly winds that blew Hazardous into the shallows on a lee shore," explains logistics officer Dave Johnston. "Those same winds determine site-access and conditions today, regularly stirring up the sea state and seabed to make operations uncomfortable, unsafe or unproductive for us. The joys of British diving!"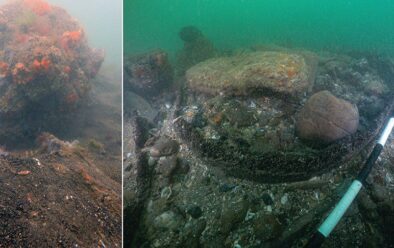 The log for Dave's first Hazardous dive in 1m visibility in 2002 recorded that he "…couldn't really get any impression at all of the site (or even that it was a wreck-site)"!
As for many of today's dive-team, Hazardous represents the vast majority of his diving: "If conditions allow, I'm out on site. You never know what to expect, see or find, especially early in the season after winter storms have done their damage, and the site is always yielding new surprises on all scales.
"On the first dive of 2007, we found and recovered a pristine small glazed drinking jug.
"It had lain buried for 301 years and would probably have been lost forever if we hadn't managed to dive that day.
"Similarly, in 2014 and 2019 we chanced across two separate large clusters of cannon, well away from the main site, opening up two more areas for research and discovery.
"On a recent visit to one of those areas, protruding from the sand were a pair of copper cooking pots in really nice condition, one with leather rolled up inside it. The wreck just keeps on giving."
The protected site lies about 800m offshore and measures 300m in diameter, with remnants of the hull at the centre and cannon and other artefacts around it.
It's an area with a longshore drift that moves sediment along the shoreline.
The effect, apart from deciding water clarity, is that the site sometimes gets buried and at other times scoured.
So each visit is different. With perhaps several weeks having passed, much will have changed as the effects of tides and weather play out, sometimes dispiritingly so but at other times with new areas and the possibility of new artefacts uncovered.
Reduction in protective sand cover is also the principal threat to the surviving ship's structure. It is gradually being destroyed, so routine dive activity consists primarily of observing and recording the site's ever-changing state, and taking any action required to preserve its archaeological integrity.
"There aren't many places in Britain where you have the opportunity to see a longitudinal section of an old wooden warship under water, but that is exactly what you can see with Hazardous," says Dan Pascoe.
"Main gun-deck guns can be seen piercing through the hull or, at the bow end, lying across their gun-ports in the same position as they were lashed for the catastrophic storm of 1706.
"Immediately below them, the deck is visible, supported by a row of deck-beams protruding up from the sediment. It's amazing to think that after 315 years under water, these wooden beams are still supporting the weight of the guns.
"Moving down through the ship and into the belly of the hold are rows of barrels, some lying on their sides, others upright. Scatters of butchered animal bones all around tell us that they were once filled with meat to feed the crew."
Other loose artefacts are continually being found as the sediment within the hull gets washed away, says Pascoe.
"Wooden artefacts including spare rigging and gunnery equipment, which are emerging from the bosun's and gunners' stores, have to be recovered before they are either washed away or ravaged by marine borers.
"I feel extremely lucky that I get to enjoy this amazing wreck, but sadly it can't last forever. As each year passes, another layer is lost to the physical and biological environment."
The group is legally obliged to abide by best archaeological practices in recording and preserving this piece of maritime history. Its limited excavation licence requires specific permission and stringent conditions are attached.
Planned excavation is an intensive operation requiring additional divers, equipment, boats and funding.
It has been attempted over the years, but inconsistencies of tide and weather would often mean cancellation, or work left incomplete.
The site might be close to shore, but visits are seldom easy. The group RIB would launch from Bracklesham Bay's public slipway until accumulated shingle and lack of maintenance put a stop to that. So the divers now have to launch from Itchenor, significantly increasing the time it takes to get to and from the site.
And with diving best at the low point on neap tides, time on site is critical.
Diving into 300 years of history might be the romantic notion of the Hazardous Project Group's activities, but much additional work is needed to fulfil regulatory obligations.
Artefacts were previously conserved, stored and displayed at a visitor centre in Earnley until its recent closure, and new arrangements are still being negotiated.
"Recovering artefacts is all very well, but they need to be stabilised before they turn into dust or something soggy and unrecognisable," says Iain Grant.
"Once exposed to air and light they degrade rapidly, which highlights the importance of timely conservation.
"All recoveries are held in water from the moment they're brought aboard, and transferring them to more controlled storage with fresh water is a priority.
"That can be just the start of a very long process, taking up much more time than it took to recover the items."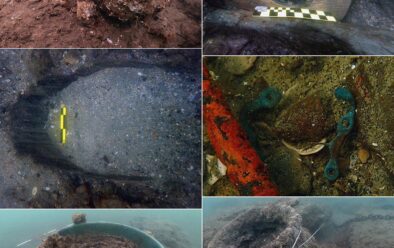 Some artefacts are naturally preserved, but others can be fragile and friable. "Organic material, such as wood, leather and textiles can deteriorate and crumble within hours if allowed to dry without appropriate treatment," says Iain.
"Other materials, such as bone, glass and pottery, if not conserved, will slowly de-vitrify and in extreme cases degenerate into a pile of slivers.
"Initially, large quantities of fresh water are required. The water is changed frequently and many times until conductivity readings indicate that the salt has been flushed out. Then the next stage of conservation can be started.
"Preservation for most artefacts is a specialist activity, often time-consuming and expensive – an important consideration when recovering artefacts from the wreck."
The group relies on the Mary Rose Trust or Historic England conservation department at Fort Cumberland to carry out this final part of the conservation.
"Costs vary according to the requirements of each artefact, but thankfully HE helps with some funding. Once the process is complete we can see about displaying them for public viewing.
"We hope it won't be too long before we can get all our finds back on display."
In the early years, divers would use lines, poles, compasses and tape-measures to map out the site, later transferring the details to paper.
In recent years, improved imaging and technology have provided a much clearer understanding of the site.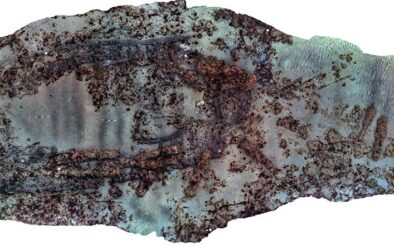 Side-scan sonar gave a good indication of its spread and points of interest but photogrammetry can map the site to a level of detail that enables precise measurements to be taken from images.
The latest cameras can cut through poor visibility and improve photographic records.
Technology is available to record and cross-reference activity and the location of artefacts in a 3D context.
"Diving the Hazardous site has changed a lot over the years," says Iain. "Equipment improvements have made working on it much easier, and years of experience have honed our techniques.
"When I started in 1986, creating the site-plan was done by measuring distance and bearing between two divers, sometimes in near-zero visibility. It was painfully slow! We then progressed to trilateration, with three measurements from known points on the site.
"Now, using modern high-resolution underwater cameras and photogrammetry, creating a plan of the wreck in fine detail is amazingly easier.
"It's possible for one diver to scan a site in less than two hours, though rendering several thousand overlapping photos does require considerable computer muscle and many more hours.
"However, as ever, even the best technology remains subject to the whims of that longshore drift!
"I'm proud that comparison with the earlier site-plan does show the high degree of accuracy we achieved with just 'pen and paper' – and a lot of dive-time."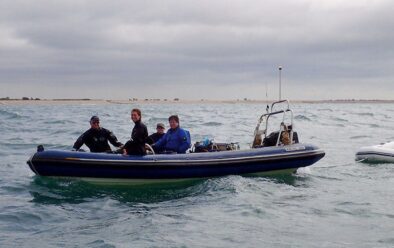 The Hazardous Project Group has always welcomed visiting divers. There is a "Diver Trail", currently closed but eventually to be resurrected. Divers can contact the licensee to arrange a visit.
Her Majesty's Ship Hazardous didn't participate in any major battles, nor expeditions to exotic places.
She wasn't famous and barely gets a mention in naval records. She was a mid-range warship, one of many similar vessels that made up the core of European navies at that time.
Nevertheless, she provides an insight to a period when nations fought to dominate the seas, to expand and protect their own lucrative colonial trade and disrupt that of others.
In ships like this, thousands of men and boys, volunteers and pressed, lived and died pursuing these objectives.