COMOROS DIVER
They're celebrating the 1000th dive off the Indian Ocean island of Mohéli, which gives you a good idea of how little it has been dived to date. That's what attracted MICHEL LABRECQUE in the first place…
HAVE YOU EVER HEARD the name of an island without knowing where it is located on the planet, and wondered what the diving would be like there?
That's what I did before visiting Mohéli, a small island in the Union of the Comoros.
The Comoros Archipelago is in east Africa's Mozambique Channel, almost centred between the coast of Mozambique and the island of Madagascar. This tiny country of fewer than one million inhabitants comprises four islands: Grand Comoros, Anjouan, Mohéli and Mayotte.
Mayotte has a particular status that links it to France, although it is claimed by the Comoros and recognised by the UN as being part of the union. It's always a hot topic when speaking to locals and not relevant to this article, except that when I talk about the Comoros I will be referring to the other three islands.
Scuba-diving is in its infancy in the country. There is no diving infrastructure in Anjouan, and we preferred Mohéli to Grand Comoros because, bordering on a huge marine park created in 2001, it was logical to assume that the island's waters would be more diverse and plentiful.
The general manager of the Laka Lodge resort Jon and his team arranged everything, from airport transfers to our overnight in Moroni, the capital of Grand Comoros, to our transfers to the resort on Mohéli. This 5* turnkey service was appreciated, especially on Mohéli, where there are no taxis.
Once in Comoros everything went as planned. All I had to do was add the international flights, which came in via Addis-Ababa in Ethiopia.
Laka Lodge resort is perfectly located in the heart of the marine park, centred on the south coast of the island and neighboring the community of Nioumachoua.
Facing the resort, four main islets host the most beautiful reefs. The 156sq mile marine park covers all Mohéli's south coast, including the most important green-turtle nesting sites in the area. The island's shores are their second-largest Indian Ocean nesting zone.
Laka Lodge hosts the island's only dive centre, and it has a high level of equipment. My technical background always pushes me to visit all areas of a dive centre, a ritual that reveals much about the quality of the diving operation.
All is well-maintained, and dive operation manager Richard is very proud of this. Compressors are shiny, cylinders and regulators serviced regularly when not new and so on. It was enough to put to shame many centres I've seen in North America and Europe.
However, although introduced in 2013 this dive-centre is still in its development phase. Nitrox is not yet available, and for the safety of the staff and guests the number of dives per day is limited to two.
The fact is that hardly anyone has dived or explored Mohéli. On 5 October last year the dive-centre staff celebrated their 1000th dive!
Fewer than 100 divers a year have explored Mohélian waters, which makes every dive pure exploration. This was my main reason in choosing to visit – to nourish my inner explorer and dive virgin sites.
I LISTEN TO THE BRIEFING as the staff carry our equipment, emergency oxygen and my camera to our small boat, and we head to the first dive-site, Magic Rocks. The name is inspiring. I back-roll in, take my camera, start the descent – and the magic starts!
It's difficult to concentrate on my camera with so many fish surrounding us. The diversity and abundance is disconcerting.
On the dive I notice most all those fish species you expect to see in the Indian Ocean – the yellowback fusiliers, powder blue surgeonfish, melon butterflyfish and regal angelfish.
Then, after a great day's diving, I return to the resort to download my memory card and find that something is bothering me.
Many of the fish are similar to those I have encountered in places such as the Maldives but, after a careful review, I can't seem to find some of those I've photographed in the classic Indian Ocean ID books.
Fortunately the resort has other books specific to Madagascar and the Mozambique Channel. This is where I find my mystery species… or not.
Now I understand what was bothering me. Some species are very similar to those listed in the book, but still seem a bit different. This is the case with the moray eel Gymonthorax hansi, which could easily be confused with the Gymnothorax albimnarginatus.
When I ask Jon and Richard about this, they point out that virtually nothing is known about the underwater realm of Mohéli or its levels of endemism, as very few scientific studies have been undertaken on its reefs. I am under Mohéli's spell!
On subsequent dives, it just keeps getting better. Time spent under water is never long enough. Visibility is usually 25m-plus and sometimes 40m-plus when we're further out from the coast.
Such vis helps us to appreciate the impressive size of the many schools we encounter.
I'm reminded that I'm in Africa when I hear the name of the next dive site: Mchaco! (Bird Islet). When we get closer, the smell explains the name – thousands of boobies and other bird species call this rock home.
On Mchaco, the schools of fish are abundant. Unicornfish appear by the hundreds, fusiliers by the thousands and snapper pass before us in an endless parade.
We end the dive on a portion called Shark Passage. I feel like a kid in a candy store!
After a short encounter with grey sharks and giant trevallies the dive comes to an end and I do my safety stop. While decompressing, I look up to see a large school of needlefish that hugs the surface of the ocean. I have to be disciplined and end these three interminable minutes before heading for the surface, where I frantically swim in an attempt to capture images.
While not a huge success in terms of needlefish shots, my reward is a short visit from three large tuna. As it turns out, tuna appear on almost every dive in the area.
Although the large animals stand out, critter enthusiasts will also enjoy the dives. After close inspection of the reef, I find many species of nudibranch as well as various crabs sometimes hidden in the cauliflower coral.
Frogfish, our guide's favorite critters, are present at several sites, and a location that begs to be explored further in terms of muck-diving is the one that starts at the end of the resort's beach. You simply walk down the slope on the private beach inside a protected bay.
COMOROS IS KNOWN, if it's known at all, for cœlacanths (Latimeria chalumnae). This prehistoric fish, dating back 400 million years, was once thought extinct, but a specimen made headlines in 2010 when a team of divers found it in its natural habitat more than 100m down.
The chance of encountering one at recreational depths is sadly close to none but the species is very popular in the Comoros…even the national soccer team bears its name!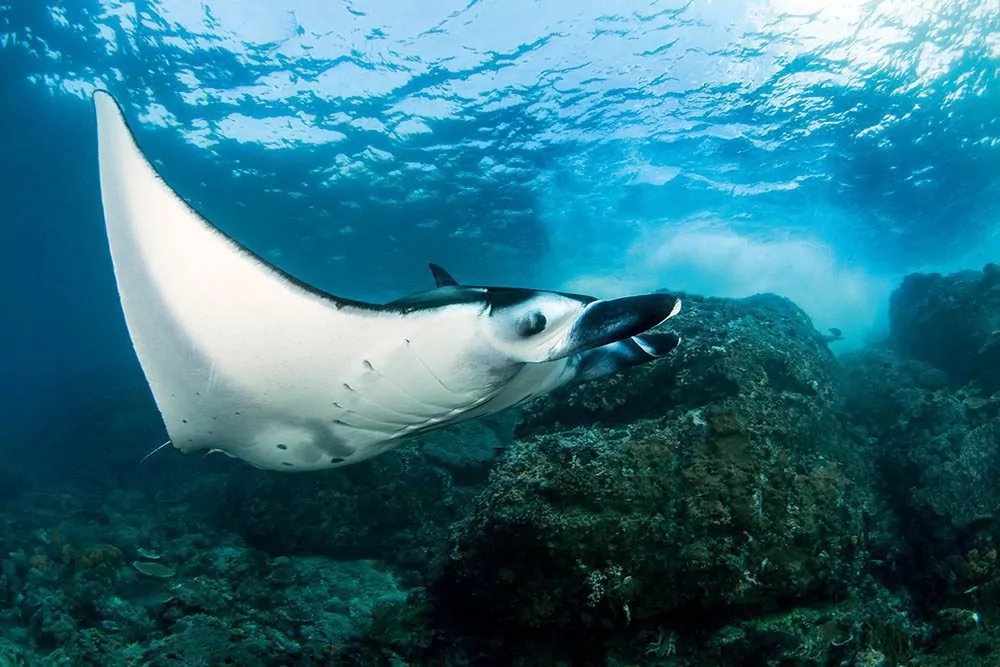 Diving in Mohéli without mentioning pelagics would be unthinkable. A resident population of manta rays has yet to be studied appropriately but a small research group has started collecting data, and estimates there to be 30 to 60 individuals, though it has yet to link these rays to a population of similar size in Mayotte.
During our short stay, we managed to jump in the water twice with the mantas.
I didn't see any dugongs but I'm told that they are occasional visitors, attracted by abundant seagrass south of the island. And as we motored between sites we always kept an eye out for the many species of dolphins present.
Humpback whales migrate to the area to give birth from July to October, and the resort offers the opportunity to swim with them, and says that mother-and-calf duos often allow an approach.
As I was leaving the resort a group was able to enter the water with the whales six times on a half-day excursion.
LAKA LODGE IS A very intimate resort, with only 13 rooms giving a total capacity of 26 divers and non-divers, and the team makes colossal efforts to be eco-responsible.
The resort produces its own electrical power from solar panels, the food is supplied by local traditional farmers, and beach and underwater clean-ups are conducted regularly.
The resort team even implemented a rubbish-collection programme in the village of Nioumachoua, and helped in the construction of an incinerator.
The small dive-boats avoid using anchors that might damage the reef, and no permanent moorings have been installed – they simply hover above the divers like liveaboard tenders.
The resort also supports the marine park, and has a project to produce a short film on the destructive effect of pollution and unsustainable fishing, narrated in the Comorian language, to raise awareness with the local villagers.
Because of Laka Lodge's close ties with the community, villagers are happy to see visitors. Even though the average Comorian lives in great poverty (average annual salary was US $698 a year in 2016), neighbouring villagers never ask for money when they see tourists or when they help you. The people are generous and very friendly.
Going to east Africa without experiencing the culture and seeing local attractions should be out of the question. On a hike in the forest you can observe one of the world's largest bat species, the Livingstone bat, which can attain a wingspan of 1.5m.
Endemic to Mohéli and Anjouan, in 2012 it was IUCN-listed as one of the world's 100 most threatened species.
At the resort mongoose lemurs appear every evening at 5 like clockwork near the banana trees in the hope of sampling their favourite fruit. An offering guarantees the chance to pet them!
A visit to a busy green turtle nesting site can also be arranged. At Istamia, you will almost certainly observe one or more turtles laying eggs, and perhaps even turtles hatching.
Usually under cover of dark or at dawn, often during a rising tide, females come ashore to lay their eggs. They avoid daytime because a lengthy exposure to the sun would be fatal.
For hatchlings, if the temperature is too high they stay buried, but as soon as it drops they dig their way out of the nest and rush to the sea.
This is why they often hatch at the end of the day or on a cloudy day.
DURING MY STAY the tides were just right at sunrise to allow us to see hatchlings from two nests, followed by females crawling back to the sea. The young turtles have to be quick to avoid being eaten alive by birds and other predators. What a show!
After 10 days in the Comoros I had become accustomed to the pleasant weather conditions. It was not too hot, not too cold, not too humid.
Nights are usually cooler, with temperatures around 22°C. I was starting to live to the rhythm of Africa, but my time was up.
Hans, the owner of the resort, had warned me that I would fall in love with the Comoros and its people. Now I understand what he meant.
FACTFILE
GETTING THERE> Ethiopian Airways, KLM, Kenya Airways and Air France fly to Moroni via Addis Ababa or Nairobi. Internal flights with Hahn Airways, but might well require an overnight stay in Moroni. Visa 30 euros payable on arrival.
DIVING & ACCOMMODATION> Laka Lodge
WHEN TO GO> The climate is tropical and the rainy season is November-May, so tourist season is June- November, when temperatures range from 29°C during the day to 23°C at night. Water temperature ranges from 26°C in June to 29°C in November.
HEALTH>Nearest hyperbaric chamber Mayotte.
MONEY> Comorian franc (KMF), but bring euros in cash (490 KMF = 1 euro). Credit cards not widely accepted and no cashpoints.
PRICES> Return flights from UK to Moroni from £740. Flights from Moroni to Mohéli from £170. A one-week dive and stay package costs around 1100 euros.
VISITOR Information> Comoros Discover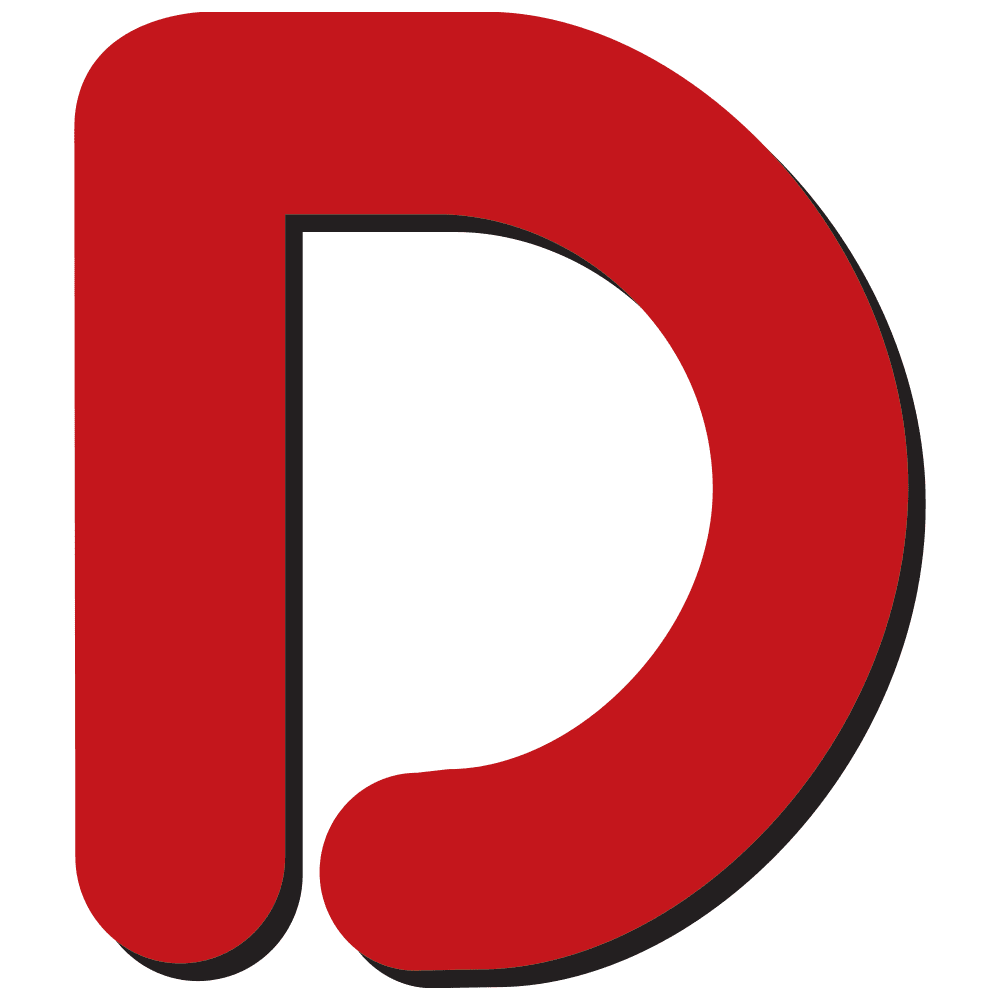 One of the world's longest-established diving websites, Divernet contains a wealth of information about diving destinations, equipment, techniques and much more, as well as daily news updates from around the world.