archive – UK DivingTrouble Brews in Porthkerris
You know what they say – you don't appreciate what you have until you think it might be taken away from you. A popular UK diver beauty spot is under threat – WILL APPLEYARD discovers what's at stake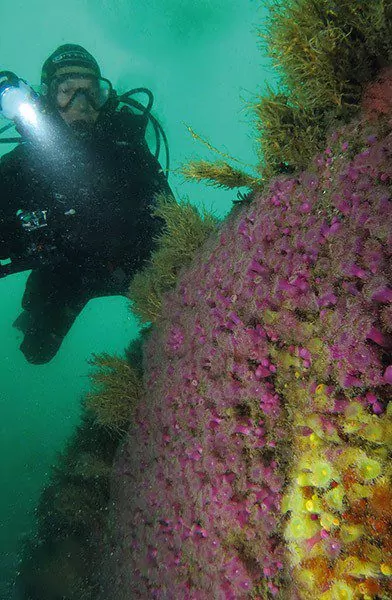 ASK ANY AVID UK DIVERS about their favourite UK dive destination and I'll bet you my dive gear* that Porthkerris would feature in their top three (*OK, perhaps not all my dive gear).
I've been making an annual summer pilgrimage to this beauty spot for some eight years, and 2016 was no exception.
I loaded my campervan with all the necessary paraphernalia, threw some petrol in the tank and headed off to the ancient Celtic kingdom of Cornwall, or Kernow, as Cornish speakers know it.
It's a long old schlep from Brighton and usually takes me around six hours, but it's nothing that a few coffee-breaks en route can't iron out.
Porthkerris Divers provides the most immediate access to the diving along this part of Cornwall's south coast, and is often regarded as the gateway to the Mannacles Marine conservation zone (MCZ) and other popular dive-sites.
This family-run business, with Jo and Mike Anselmi at the helm, is situated in an idyllic cove sandwiched between the dormant Dean Quarry on one side and the fishing village of Porthallow on the other.
These guys provide camping facilities, self-catered accommodation, boat charters and all the gear you'd expect to find at a dive-centre, whether to buy or hire. They can also boast a spectacular shore-dive just metres from their beachfront HQ.
This might all sound perfect, but while in the dive-shop on arrival I discovered something else in the wind. It seemed that there was a threat to this area of outstanding natural beauty!
Jo explained that there was talk of a major development at the Dean Quarry site that would affect local people, employment, tourism and both the land and marine environments.
The quarry, which has been out of action for about a decade, had apparently been purchased with a view to extracting its minerals to construct tidal lagoons elsewhere in the country. The new owners "put in a scoping and screening request to Cornwall Council to build a breakwater over 500m long and two jetties adjoining the quarry – actually within the Manacles MCZ," Jo told me.
"The Manacles is also an extremely treacherous shipping area," she said. "Navigating the inner Manacles with two tugs guiding a barge laden with rock several times a week is surely an accident waiting to happen."
I quizzed Jo further about the effect she thought this activity would have on the local marine life. The MCZ is known for its fast-flowing tidal currents and clear waters, which she says "support an amazing range of marine life, including jewel and plumose anemones, seafans and spiny lobster to mention a few. It's a perfect, protected breeding ground for many types of fish.
"Basking sharks also visit the area, and they are highly sensitive to noise."
I asked her what she and Mike were doing to fight on behalf of divers, and was told that last year Porthkerris Divers and organisations such as The Wildlife Trusts, Marine Conservation Society, Seasearch and underwater photographers had carried out extensive marine surveys of the area.
Together with Exeter University they are now producing a report based on the findings. "The surveys recorded a mountain of marine life, including those protected within the MCZ such as pink seafans, anemones, spiny lobsters, jellyfish and maerl beds," said Jo.
A group called Cornwall Against Dean Super Quarry (CADS) has also been busy fighting for the cause. One planning application has been turned down by the council, but Jo reckons the locals are still some way off from winning the battle.
"All divers are stakeholders," she says, urging everyone to "pull together to help protect our amazing marine environment".
I can't argue with that. With a freshly pumped cylinder now waiting for me in the gas shed, I scrambled my gear and hopped aboard the mini-catamaran Celtic Kitten to remind myself of what the locals were campaigning to protect.
Dave was skippering the boat, as he usually does, and his enthusiasm for his job was, as always, infectious. He reiterated what Jo had been telling me in the shop, and pointed out the proposed area of development as we motored past the quarry on a heading for Raglan's Reef.
This, the most popular of the reef-dives on the Manacles, forms a pinnacle-dive from 5 to 45m. Raglan's Reef starts seaward as a very steeply rising rock covered with a thick blanket of many different species of jewel anemone of every colour.
Life is usually prolific, with ballan, cuckoo and corkwing wrasse and goldsinny making up the vast majority of the fish presence. In deeper water on the many ledges we were told to look out for ling, dogfish, John Dory, striped mullet and anglerfish – although 45m wasn't on my agenda this time.
Pinnacle-dives in the UK often showcase the best range of life and in my experience can also produce the best visibility, and this dive was no exception.
ON REACHING MY MAXIMUM chosen depth of 30m, I spotted more spiny lobsters (crawfish) than I'd ever seen on previous visits, and they seemed happy to pose for a photo or two.
Spiny lobsters are rare in water shallower than 20m, and are reported to be in decline. They're easy to identify, as they have no claws, are orange and brown in colour and sport antennae longer than their bodies.
Forests of delicate pink seafans were present as expected, too, gently flowing back and forth in the current and in groups to provide a wonderful display.
This gorgonian seafan species is said to be restricted to south-west England and south Wales. It grows super-slowly, so some of the larger examples are thought to be more than 100 years old. They are protected by the Wildlife & Countryside Act.
I headed for a wall where I knew I'd probably find my favourite species of anemone – the jewel. These light up brilliantly under strobe- or torchlight and, as per Dave's briefing, we discovered a swathe of differently coloured examples covering a vast area of rock.
Jewel anemones are most likely to be found in this part of the country, as well as off Wales and western Scotland.
The other familiar symbols of UK diving that you'll always find in these parts are dead men's fingers, corals that thrive on both rock and wreck. In Cornwall it's more common to find colonies of the white variety – the orange version is more likely to be seen further north.
HANGING FROM MY SMB REEL on ascent, just above the tip of the pinnacle and clear of the swaying kelp, I chanced on a lone barrel, the largest species of jellyfish found in UK waters.
These are big old boys at nearly a metre across, and thought to be sensitive to engine noise because they'll often head into deeper water as a boat approaches.
Their sting is harmless to humans, but any critter that finds itself passing through its densely bunched tentacles will be dined upon.
My dive-buddy Rob and I decided to mix the day up and enjoy a shore dive in the afternoon at Drawna Rocks, right by the dive-centre's beach.
Drawna, or Dragon Rocks (translated from the Cornish) is well-protected from anything other than an easterly wind, when you'd have no chance of entering, or, more importantly, exiting the water safely. Despite being a shore dive, it's possible to achieve a depth of 20m, and the site can be dived in any state of the tide.
I've been here on many occasions and have often found lone hunting John Dory, cuttlefish and, keeping one eye on the stony seabed, the occasional solitary gurnard.
With that wish-list in mind, we waded into the flat-calm water, slipped below the surface and finned out towards a section of rock.
Ideally you'll want to take a compass bearing here, as the site is made up of a series of cracks and gullies and it's very easy to become disorientated (I've done this several times).
Moments into the dive, Rob signalled for me to check out one of his fantastic finds – an anglerfish (or "monkfish", as it's named on menus) minding its own business on the seabed.
Anglerfish do angle, with a rod-like feature at the front of their dorsal fin used to entice prey within striking distance.
It was a great find for sure, because the markings make these fish difficult to spot against a similarly coloured seabed.
Like Raglan's Reef, Drawna Rocks provides a habitat for jewel anemones and dead men's fingers, proving that you don't have to go far offshore to observe this kind of life.
Pollack, the occasional bass and ballan and corkwing wrasse put in appearances during the dive, and we kept an eye on the blue in case one of the many visiting basking sharks should turn up (it didn't – again).
Cuckoo wrasse are particularly friendly at Drawna Rocks, so don't be surprised if you find one checking itself out in the reflection of your mask should you visit. I could spend all day diving there, although when there's a swell on, the kelp sections can bring on a bout of motion sickness, if you're prone to it.
Visibility is often superb, as it was that day, with the mixture of stony and sandy seabed reflecting stacks of light within the clear water column.
We got lost for a while (again), and after an hour or so down, made our way back to the shore, where we had some very cold beer that needed dealing with.
If the varieties of marine life I've mentioned are as healthy so close to the shore at Drawna Rocks, I couldn't help wondering what might live in front of Dean's Quarry just around the corner.
I imagine that building a series of breakwaters and jetties could only have a detrimental effect on this marine environment.
Should these habitats eventually then recover, I only hope that the various species would begin to populate the proposed new structures.
Whatever the outcome, and whether you enjoy diving local wrecks and reefs or exploring exotic sites overseas, as divers we do have a responsibility to maintain and protect these fragile environments.
Appeared in DIVER December 2016