LIVEABOARD DIVER
Two-island Hop
BETH & SHAUN TIERNEY specialise in liveaboard diving in the Coral Triangle, so how would a Caribbean jaunt match up to their expectations?
ALTHOUGH MANY OF US START our underwater journey in the gentle, clear waters of the Caribbean, we don't always continue our exploration of the world's oceans there.
Is it a lack of excitement, or reefs that pale in comparison to other more vivid destinations – or simply the assumption that the entire area is that bit too touristy? Whatever the perception, diving around the Caribbean islands is certainly worth a closer look.
A few years back – decades actually – we chose to focus our dive attention on the Coral Triangle and liveaboards. The Triangle grabbed us for its exceptional diversity, and liveaboards because we thrive on waking at dawn, then watching the sunrise over a remote island with little else in sight.
This strategy took us away (we felt) from busy resorts and lifeless reefs. More recently, however, we were invited to join a liveaboard that sailed around the Leeward Islands on the north-eastern edge of the Caribbean Sea. It was time to rediscover what was there, and learn how right or wrong our thinking had been.
We were traveling on the Caribbean Explorer II, a steel-hulled vessel that has been sailing these waters for some time. Our trip started from the island of St Maarten. Getting there from the UK required a direct flight to one of the larger islands, Antigua, then a connection to a small hopper plane after a layover of four hours.
This made the journey seem slow, but by the time we landed in the balmy evening air the hours seemed worthwhile. St Maarten is exactly what you would expect, typical of the Caribbean with glistening white-sand beaches, tropical flowers and palm trees and yes, several very busy hotel strips.
We had only one night there before boarding Caribbean Explorer II and were pleased to settle into our cabin. It wasn't exactly the biggest we've ever seen, but it did have en suite and air-con, and it proved to be very comfortable.
The other decks were thoughtfully laid out, with good gear space and storage on the dive-deck and a large camera table, while on the top deck the saloon and open spaces were set up for between-dive lounging about.
Appeared in DIVER December 2018
THE BOAT DEPARTED soon afterwards, and we caught just a few scenic glimpses of the island as we sailed away from dock. From what we could see from the surface, the local reefs did not appear to be that prolific.
The crew backed up this thought, because we didn't dive there, sailing instead straight to our first diving destination, Saba.
When we asked why we didn't fly straight to Saba, we were told that it has the world's smallest airport. As we approached, we understood. This volcanic island is a steep-sided pyramid that bursts aggressively from the sea. An ancient eruption has left sharp cliff-faces that are almost vertical at points.
The dramatic landscape is interspersed with rainforest-clad surfaces, and despite the extreme geography there are several small villages that cling to hills and nestle in valleys. There is also a delightful lack of mainstream tourist development, with a relaxed atmosphere that feels rather like a Mediterranean island.
Beneath the sea, Saba also differs. Rocky shores replace the sandy beaches typical of the Caribbean, while the sheer cliffs extend beneath the water to meet tall, submerged pinnacles and massive boulders. The waters around the island are a National Marine Park, so the dives are inside a protected zone and this shows in the quantity and calibre of reef life.
Dives are conducted all round the island, and our first was at Big Rock Market, a long, loaf-shaped reef that dropped on either side to rocky outcrops.
We entered near a mini-pinnacle, then swam across to the main reef where, on cue, a Caribbean reef shark swam in, assessed the divers and swam off again.
Along the reef were plenty of encrusting corals and some algae patches protecting lettuce-leaf slugs, small shrimp, coral-banded shrimp, coral trout and lots of butterflyfish.
This gentle dive was followed by Dave's Drop-off, which lies on the windy, rougher side of the island and right up under the cliff-wall. A large bed of boulders tumbles down to about 24m in a wide swathe that covers the area.
The topography was impressive, much of it covered in sponges and soft coral plumes. It was more colourful than we had expected, especially up in the shallow areas right under the wall, a surge zone.
There was none while we were there, but we saw some substantial elkhorn corals that shone a mustard colour and were surrounded by lots of small yellow and white fans and yellow sponges.
Under the wall, two inlets were home to turtles, flutemouths and lizardfish.
WHILE BOTH THESE DIVES were impressive in their way, the big adrenaline-rush was Eye of the Needle, a deep pinnacle dive. We dropped to a plateau at about 30m. To the side we saw
a tall needle pinnacle similar to the ones that break the water above.
With the pinnacle top at 28m time was limited, but not so much that you would miss the barracuda and nurse sharks, schools of Creole wrasse and many small fish. The needle itself is very pretty and colourful, and the current attracts hunting jack. Around the side of the plateau are three protruding rocks, each covered in pretty corals and sponges.
The remaining dives around Saba were similar in style to these three, but we felt they were the signature dives, each one revealing a new creature or topographical feature.
The second half of our trip involved sailing north to St Kitts. Along with sister-island Nevis this is a far busier location, with a lively atmosphere and a huge cruise-ship jetty.
We studiously ignored this as the Explorer sailed us along the coast, passing gentle rolling hills and some famous historic landmarks. Christopher Columbus discovered the island in 1493 and claimed it for Spain but, typically, the French and British soon muscled in.
The colonists were attracted to the calm and protected bays on the western side of St Kitts, so fought with the local Carib Indian tribes and each other until the 18th century.
The reefs that created safe anchorage back then now provide shallow and easy conditions for divers. And with quite a few surprises – ancient anchors are evidence of past battles, while the wooden galleons have disintegrated. There are still quite a few interesting wrecks to explore, but they are far more recent.
OUR DIVE-TOUR STARTED on the north-eastern coast, where the waters were indeed calm. Anchors Aweigh had a level, sandy bottom surrounded by raised reef beds. We entered and immediately spotted a small black frogfish sitting on a black sponge. Then, across on the sand, we were surprised to see our first pike blenny.
As we explored, mackerel and yellow-tailed jack constantly swam overhead, but we were focused on the smaller creatures such as pufferfish (known as balloonfish here), crabs and both juvenile and teenage-stage spotted drums. Several old anchors are embedded into the reef, well disguised by sponges.
Paradise Reef is where ships moored in past centuries, and was the site of many battles between French and English. There are even more anchors dotted about the reef, with its raised ridges and gullies that form a haven for morays and big crabs.
A turtle stayed around for much of the dive, happy to munch on the sponges.
We spotted another pike blenny, and our divemaster showed us a technique to coax him up from his hole – placing a mirror upright on the sand tricked him into thinking he had a rival, and he emerged to fight his reflection!
The wrecks were a pleasure to dive, because they are in shallow waters and all easy to access. The River Taw was a freighter that broke into two main sections during a hurricane. The site also has the chassis of a truck and a bulldozer to the side.
The wreck itself was very good, its hull coated in encrusting corals and sponges, tunicates and small fans. Swarms of fish included schools of snapper and anthias up around the bow, plus some small gangs of jack. Swimming inside the hull, we spotted arrow crabs and a variety of shrimp before exiting through the holds.
Most of our dives here were a strong mix of small critters in the sand with man-made structures sitting on the seabed to balance it up. Perhaps our favourite dive was the last – the Corinthian.
We descended over a rather sweet little tugboat wreck upright on the flat sand. Many fish were schooling around the wheelhouse and there were signs of corals developing on the hull.
A short fin off to the side was a mini-raised wall covered in small corals and sponges, with a chain leading across to the remains of a crane. This looks as if it is almost bursting from the reef, while nearby there is the lonely chassis of a bus.
THESE TWO CARIBBEAN islands made a great combination for a diving week. The drama and pinnacles of volcanic Saba are a stark contrast to the level seabed in St Kitts. One island reveals the ancient forces of nature, the other the historic forces of our colonial past.
Both offered a huge variety of small and curious critters and larger attractions, natural and man-made. It's not often that you can see such variety on two clusters of neighbouring reefs, but here it is the draw. And being on a liveaboard made it easy to experience both in just one week.
The boat organises a land tour on Saba that is well worth missing a dive for. Take some time to see the other islands on either side of the trip, although St Kitts has more of historic interest.
So, back in the Caribbean, we found far more boxes ticked than we had expected. We probably wouldn't go back to stay on either island, but the idea of repeating this boat-trip is very tempting!
FACTFILE
GETTING THERE> There are no direct flights from the UK to St Kitts or St Maarten. Virgin and BA fly to Antigua, where you can connect with a LIAT flight to either island.
DIVING & ACCOMMODATION> Caribbean Explorer II is the only vessel that sails this route. The trips start from either St Maarten or St Kitts and reverse by week. Accommodation at St Maarten at Juliana's Hotel, julianas-hotel.com and on St Kitts the Ocean Terrace Inn, oceanterraceinn.com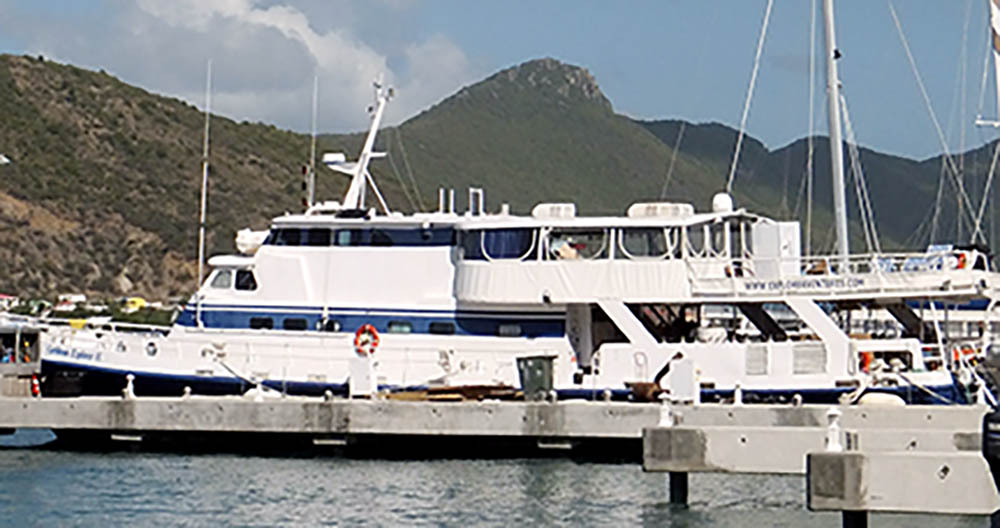 WHEN TO GO> The liveaboard sails year-round. Rainy season is June – December, the dry season is January to May. Beth & Shaun travelled in September and found weather and vis very good.
MONEY> US dollar.
PRICES> Return flights to St Kitts from around £600. The liveaboard cost US $2000pp, including all meals and drinks and up to five dives a day. Nitrox, fuel and marine-park fees extra.
VISITOR Information> stkittstourism.kn, stmartinisland.org