FLORIDA DIVER
Weather Windows
LISA COLLINS plans a six-day dive trip to Florida, but with the weather gods conspiring against her, how many dives would she manage to get in?
A green giant moray peeks out of its cave.
Appeared in DIVER November 2019
It had started so well. We nabbed BA direct flights from London to Miami at £370pp return. Brilliant! Six days of warm March weather, somewhere we had visited several times but never dived before.
I contacted Lauderdale Divers after searching online for centres in the Miami area. It took space on different boats ranging from the Keys all the way up to Jupiter, and had links to other dive-centres all over Florida.
You could book all your diving in one go based on its recommendations.
This suited us, because we had a four-day, eight-dive plan to visit a couple of sites in Miami, go up to Fort Lauderdale then continue north to dive the famous Blue Heron Bridge. Francis Belland, owner of the PADI 5* facility, emailed an offer to take us out on his boat and show us the best of the local dive-sites.
We arrived in Miami on a sunny Sunday afternoon, picked up our hire car and checked into a condo in Miami Beach, one block back from the ocean. A four-mile walkway ran parallel with the beach.
The flat emerald sea sparkled enticingly, reflecting the tall apartment buildings lining the shore. The temperature was a perfect 27°, the air still and calm but without humidity.
Monday was to be an unwinding day, with a road trip to Key Biscayne. But just as we were about to leave, Francis emailed to say that his boat needed a new engine-part, and it wouldn't arrive until after we had left. He promised to arrange diving for us on other boats instead.
I had been hoping to visit Neptune Memorial Reef, three miles off Key Biscayne, where the ashes of loved ones can be scattered either above or below the reef. The artificial reef was designed as a futurist, hurricane-proof Lost City of Atlantis.
Construction began in 2007 and, when complete, it is set to cover more than 16 acres of previously barren seabed.
The pieces are often made using concrete mixed with cremated remains, with textures and angles to help promote the eco-system.
Relatives of the dead can buy a free-standing memorial, a column, plaque or
a starfish- or shell-shaped structure to become part of the reef. More than 100,000 such memorials will make up the complete reef, with the bereaved encouraged to snorkel or dive the site whenever they wish.
It is also open to a limited number of visiting scuba-divers on certain days.
We drove over the Rickenbacker Causeway and near the end of the bridge pulled into a small marina. The sparkling green water was very clear as we watched fish darting around the pier legs. Then, out of nowhere, a large, pale blob floated towards the surface.
A comical face with a hairy snout was soon snuffling above the waterline, to be joined by several others. We had happened on a group of manatees, relaxing and feeding in the quiet marina.
We spent almost an hour watching them as they followed us around the quiet marina, almost raising themselves out of the water at times to interact with us.
The rest of the day saw us exploring the Bill Baggs Cape Florida State Park, enjoying the beautiful weather, lighthouse and nature walks.
Francis had organised a two-tank dive on Neptune Reef with Tarpoon Divers the following afternoon. Back at our condo, I opened my laptop to check my messages.
Oh no! Tarpoon had emailed to report a weather warning for small boats for the following two days. Diving was off.
We couldn't believe that the impending storm could be that bad, and hoped the forecast would be wrong.
But next morning we woke to swirling gale-force winds and torrential rain. We couldn't even get onto the balcony. Tarpoon told us it hoped to get out the following afternoon.
We had experienced problems with the accommodation, so moved to another apartment in one of the high-rises lining the Intracoastal Waterway.
The 32nd floor provided a great view of the water separating the mainland from the barrier island of Miami Beach.
Next morning as the sun rose the skies were clear. It was still windy but less so, and the water looked reasonably calm.
Tarpoon told us that the warning would remain in effect until that evening, and that the lagoon's calm waters belied what the waves would be like three miles out at Neptune.
We were losing hope but Rob Davis, the General Manager at Lauderdale Divers, assured us that we would all dive together next morning. He had booked us space on Scuba Fort Lauderdale's American Dream II dive-boat.
Captain Todd and his cheerful dive-guide Kate gave the briefing. Only 10 of us were diving, so we could spread out on the 14m vessel. In the open ocean we saw only tiny swells under a clear blue sky.
We were to dive Hog Heaven Barge, an artificial reef from 1986 that had seen new installations added in recent years. The 55m barge had flipped as it sank, so lay inverted on the white sand at 22m.
Half an hour after leaving the marina, we kitted up as Kate fixed the mooring rope and checked the current.
She came up wearing a big smile. Conditions were exceptional, she said, with more than 20m of visibility despite the storms, and virtually no current.
Fort Lauderdale is one of the cities closest to the Gulf Stream. This 62-mile-wide, fast-flowing and warm ocean current runs along the USA's eastern seaboard, and had quickly cleared away any detritus left by the storm.
Normally the Gulf Stream means that dive-sites in the Greater Fort Lauderdale area have varying degrees of current, but it can shift with the wind slightly further from land, as now.
Hog Heaven, normally a "currenty" dive, was flow-free at depth as we followed the mooring line down to the top of the wreck. I was also pleasantly surprised by the 25° water-temperature reading on my computer.
The wreck had remained intact until Hurricane Irma in 2017, but wasn't as broken up as I had expected. We followed Rob towards the stern, where there was access through the cargo hold to the other side. He had told us that he sometimes found a Goliath grouper inside.
Unfortunately, it was either hiding further inside the wreck or had swum away that day. Katie had led her group along the other side and we took it in turns to swim through the coral-encrusted hold, alive with schools of snapper and Nassau grouper.
As we exited one by one, Rob beckoned us over to where the hull met the sand. Peering out was a large nurse shark.
We headed out 30m to the north of the wreck and a large structure called Jungle Gym. This had once been the Pacific Reef Lighthouse, keeping sailors safe in Biscayne National Park. It had been used to embellish Hog Heaven in 1989, along with 60m of dredge pipe.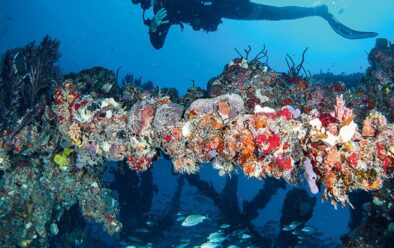 Clouds of snapper and grunt swirled around the structure. I hadn't expected so many fish or such diversity, and sizeable red seafans, sponges of all shapes and colours and encrusting corals had colonised the structure.
A beautiful, almost glowing, gold and turquoise queen angelfish had also made the structure home. On the struts I saw a wealth of macro life – different species of blennies, nudibranchs and gobies, as well as fireworms. It felt more like the Caribbean than Florida's Atlantic coast.
Weaving in and out of the structure, after 35 minutes our deco time was almost in single digits and we moved back to the mooring line on the bow of the barge. Oddly, someone had also installed a large Christmas tree there.
Todd manoeuvred the boat closer to shore, where the triple barrier reef ran along the coast. The Florida reef, the only one off mainland USA, runs from Palm Beach south to the Keys.
The first reef is only 275m from shore and is around 5m deep. The second, a little further back, goes from about 10-18m and the third reef is a mile offshore at depths of 25-30m.
We were diving on the second reef at the Caves, named for small fish caverns and overhangs rather than the sort big enough to accommodate divers. Here, on what was normally a gentle drift-dive, the current had all but disappeared.
We took our time exploring the crannies. The reef rose a metre or two above the sand and was encrusted with green, orange and red tube sponges, azure vase sponges and sea-fans. The sheltered areas housed many small schools of fish – snapper, dusky sweeper and grouper.
The reef is not a living one of coral but is formed from a soft sandy stone, covered with an intricate honeycomb pattern made by marine worms.
Its foundation is limestone covered by a compressed formation of stone made of sand grains and crushed shells more than 100,000 years old.
In a dark crevice, almost hidden in the shadows, a giant moray slowly opened and closed its mouth, and came further out of its hole to investigate my camera.
Painted lobsters, long antennae waving about, were prevalent throughout the dive, this being a perfect location for them – sheltered and shallow with few predators. In season, however, I felt sure they would be the first to go, being so close to shore.
The top of the reef, less protected from waves and storms, was fairly barren.
Single parrotfish, grouper, hogfish and blue surgeonfish pecked away at the algae.
A strange pufferfish, quite large, yellowish with horizontal stripes and long spikes, moved about the reef. A grey angelfish rested while being cleaned.
We saw many delicate-looking purple seafans and large red barrel sponges. Soft corals waved about.
We found an electric ray in a large sandspit. A stonefish, mustard-coloured rather than camouflaged as you'd expect, stood out starkly against the white sand.
I could have stayed for longer than our 62-minute dive, but mooching slowly had made us all a little cold by this time and I could see Rob shivering, so we ascended gently to warm up.
The conditions and marine life had been much better than I could have imagined at both sites. I had also been impressed by the professionalism of, and help given by, Rob and Francis.
West Palm Beach lay an hour north of Fort Lauderdale, and Blue Heron Bridge connects it to Riviera Beach. Accessed from the beach under the bridge, this shore dive is renowned for the macro life around the large supports, and the wrecks and artificial reefs around the site. There is parking, showers and toilets and ramps to allow divers with disabilities to access the water.
Tide is a big factor, because the currents can sweep in and visibility drop quickly, so it's best to enter on slacks 30 minutes either side of high tide. Weekends get very busy, especially in summer – no problem, we were there on a Friday.
We had contacted Pura Vida Divers to hire a guide to help us get the most out of our dive. The tides meant an early start, so we met Andrea at the shop at 7.30 – but, yet again, disappointment beckoned.
A large ocean swell the previous day had brought nutrient-rich water into the protected bay – great for marine life, but terrible for visibility.
Andrea had checked the vis the night before, and again coming into work. It was down to half a metre! Impossible to take the wide-angled images of the bridge I wanted, difficult to find the tiny macro life, and tricky for Andrea to navigate us safely around the site.
Another dive cancelled. At the bridge to take topside pictures we saw several divers, but all confirmed that there was virtually nothing to see but murky water.
So we were mostly unlucky with our dives that week, but that's diving – you never know what the weather and ocean will give you.
I still want to dive at this destination so overlooked by overseas divers, to check out the wrecks and reefs, the memorial park, the macro life at the bridge, and perhaps venture further north to Jupiter for its shark-diving and Goliath grouper spawning (DIVER, May 2019).
FACTFILE
GETTING THERE> Many airlines now fly direct to Miami or Fort Lauderdale. Lisa flew with British Airways.
DIVING> Lauderdale Diver, lauderdalediver.com. Scuba Fort Lauderdale, scubafortlauderdale.com. Tarpoon Lagoon Dive Center (Miami) tarpoondivecenter.com. Pura Vida Divers (Palm Beach), puravidadivers.com
ACCOMMODATION> Lisa stayed in a condo booked through Airbnb.com
WHEN TO GO> The Greater Lauderdale area can be dived year-round, but during hurricane season (June -November) storms are possible, especially September and October. Water temperatures 22° in January to 29° in August. Air temperatures in those months are 25 and 32°.
MONEY> US dollars.
PRICES> BA and Virgin Atlantic offer return flight and accommodation packages from around £750 for seven nights. Lisa booked BA flights in its sales for £370 (usually July/August and November/December). Dive prices $75-90 for a two-tank boat-dive.
VISITOR Information> visitflorida.com