archive – Indian OceanWHAT WOULD YOU LIKE TO SEE?
Turtles, sharks and anemones galore, wrecks, an underwater restaurant and mastering the art of the hands-free DPV – RICHARD ASPINALL enjoys a happy landing on Hurawalhi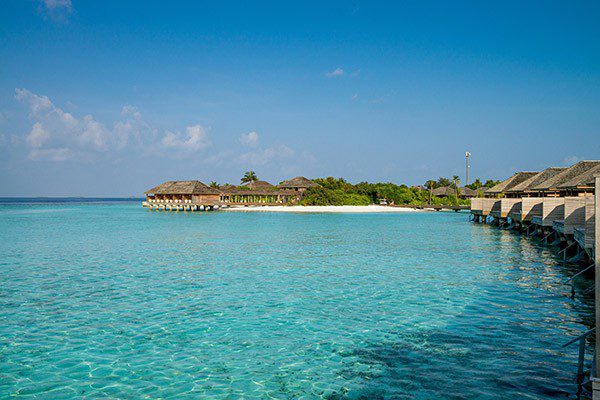 "WHAT WOULD YOU LIKE TO SEE?" Hannah asked as we sat in Prodivers' smart beachfront office.
"Well, assuming my camera turns up… I'd like to see the best you can offer," I replied, conscious that my photographic gear was somewhere between London and Male, and very much on its own.
"Don't worry, the hotel staff are chasing it up. It'll be fine," Hannah said, reassuringly. "Let's plan for the best. We can do Fushivaru and Anemone Thila, and Kuredu Caves. There are turtles, lots of turtles. And for sharks, let's do Kuredu Express."
And on we went, putting together a great-sounding itinerary of channels, corners, giris and thilas, and even the promise of a wreck. This was shaping up, with luck, to be special trip.
That night, after the long flight from Heathrow via Qatar, I had a fitful sleep. But waking to a wide vista of azure sea and white sand from my overwater villa did a lot to restore my spirits.
I set off to eat. Several juvenile blacktip sharks were swimming in the beachside shallows, and I took this as a good omen.
After a fine breakfast of pastries and fruit, we began with a quick check-dive on the house reef. It was a while since I'd worn a shortie, and it was liberating not to have a large camera with me. It was a rare treat to be able to watch the fish at the cleaning stations and enjoy the reef.
The Maldives can have currents and poor vis sometimes, but diving there is always rewarding. In this sheltered spot, with minimal current, I could take in the corals and the endless shoals of fish.
Indeed, there were fish everywhere. I remembered a chap from my club, more than a decade ago, who described the Maldives as a place for "just playing with fish".
All these years later, I'd now say: "Yes, it is. And you know what? It's stunning!"
AFTER THE DIVE, the hotel manager found me and told me that my camera gear would be arriving on the seaplane next morning. I'm not sure if she wanted a hug, but she got one anyway.
The Hurawalhi Resort oozes elegant, understated luxury. You can easily find a quiet spot to be alone and watch the stars, yet also order cocktails with the minimum of effort and, should the mood take you, book a table at one of the two à la carte restaurants.
Completed at the end of 2016, it is also ideal for anyone who might have a non-diving partner who looks for something more to do than twiddling their thumbs by the pool. The gym, yoga sessions, sporting activities, watersports, games room and the extensive selection of treatments available at the Duniye Spa are easily enough to keep anyone occupied. The food in the Canneli buffet-style restaurant is rather fantastic too.
Hurawalhi sits on the north-western flank of Lhaviyani atoll, on the Maldives' north-eastern side. You can walk around the island in 20 minutes, but only from the air do you see how all the islands fit together.
What land there is, is old coral and sand, which the currents, tides and winds have conspired to pile into 1200 or so individual islands across the entire Maldives, some sporting a few palm trees, and others large enough for airports and, in the case of Male the capital, an increasingly busy skyline.
Between the islands are channels through which the tides and currents move uncounted litres of water. Just below the surface are shallow reefs called giris, and a little deeper are the reefs known as thilas. The diversity of marine life is fed by the nutrient-rich plankton those currents bring.
My first proper dive was one close to the northern tip of the atoll – a spot called Kuredu Caves. It promised turtles and fish-life in abundance, and was only 10 minutes from the hotel.
"If you're unlucky, you may see only three or four turtles," said Hannah. Sounded bearable to me.
The sea was as blue as the photos on the resort's website and, as we dropped onto the reef, the current was less strong than I was expecting. Below me, the reef was covered in fragile growths of black cup coral, and in the blue huge numbers of jack swam past, reflecting silver.
I took a few shots of snapper and sweetlips as we headed to around 20m to find a series of overhangs, each rich in its own assortment of marine life, often grey and brown until revealed as multi-hued
in my modelling lights. The site is an important spot for green turtles, which enjoy snoozing amid the rocks.
Hannah, with the eyes of a well-practised dive guide, pointed to two individuals resting up, and we carefully took a photo of her getting close.
Happily, the turtles are used to divers, and I was promised that they would be fine with our presence. Indeed they were. So were the rest of them and, after a while, I lost count of how many we had seen. This was a cracking start!
I enjoyed the dive immensely, and the next one on the other side of the channel too – a spot called Kuredu Express. We were joined by a few grey reef sharks cruising in the blue, but I could tell that Hannah thought we could do better.
"Have you ever used a scooter?" she asked, as I rinsed my camera down on the foredeck of the dhoni.
I had to admit that my experience of scooting was limited, and would I even be able to use one with my hands devoted to working my camera? We agreed to have a shallow practice the following day, but first there was the matter of a wee bit of macro photography.
I WASN'T SURE WHAT TO expect from the life on the house reef but, as we left the sandy training area behind, we found a seascape of bommies and isolated rocks.
As we moved around we fell into a happy rhythm of Hannah pointing and me finning over, camera at the ready.
I realised that she was a skilled spotter when she pointed to the yellow of her alternative regulator and then traced a square with her finger. Yellow boxfish – excellent news! I had always wanted to shoot what is in effect a tiny bright yellow cube with spots and huge eyes.
My guide went on to find me tiny shrimps in the tentacles of anemones, cute little blennies staring out of crevices, octopuses, clownfish and a spectacular juvenile emperor angelfish.
This might not get everyone excited, but to a fish geek like me it's quite something, because as the fish get older they lose their "baby colours", and so are not around for long in this garb.
I could have stayed there for ages but, alas, gas is not infinite.
The following day found us on the house reef once more, with Hannah showing me how to work one of Prodivers' Apollo scooters.
Easy enough, I thought, but I'd never tried one in hands-free style, the DPV between my legs. I wasn't convinced that I'd avoid making an arse of myself, but Hannah had more faith in me than I had, or else she simply enjoyed a good laugh.
We loaded up the dhoni and headed back out north once more to have a better crack at Kuredu Express.
The current was quite strong and, as we set off along the side of the channel, we took it slowly, making little progress.
I was trying to steer using my upper body to determine direction and doing a poor job of it, until I tried to steer the scooter with my knees.
Within minutes, we were scooting along at top speed, and I'm not sure I've ever had such a feeling of complete freedom under water. Taking care not to exceed our depth limit (dives are limited to 30m, as were the requirements of our gas mix), we sped along.
BELOW US AND INTO THE BLUE, we passed grey reef and whitetip sharks. I lost count at 40. None would come close, sadly, and the visibility was a little more typically Maldivian.
Out in the blue, a rare ornate eagle ray flew by and, as we started to shallow up, the jack and snapper shoals parted.
More turtles caught my eye, as did a sting ray, which we carefully and slowly approached. It was an epic dive.
It was raining when we surfaced; a trillion tiny hammers had beaten the sea flat-calm. Surprisingly, a grey day was just what we wanted as we headed over to a site called Anemone Thila.
This shallow reef is quite a well-known site in the Maldives and is, as you'd expect, covered in a not-insubstantial number of 'nems. There must be hundreds of them covering the reef, which tops out at around 14m.
Low light means that the anemones close up a little and reveal the bright colours of their mantles, which range from orange through to violet, with all shades of pink in between. A good torch really brings our their "true" colours.
It's a unique dive-site, and I couldn't help wondering: "Why here? What is it that allows all these anemones, many the result of a previous 'nem splitting in two, to thrive in this spot?" Clownfish swam freely from one to another – not something you would normally see.
I had several more dives over the next few days: Khalifushivaru Kandu, Fushivaru, Tinga Giri, each as wonderful as their names suggest. The final dive I want to share, however, is something I hadn't expected – a wreck, and not just one but two.
The site, close to the fish factory at Felivaru and known as the Shipyard, boasts two old freighters from the factory, both which were scuttled in the 1980s.
I read one account suggesting that the scuttling didn't go too well for one ship, with a fire breaking out onboard.
The other vessel was scuttled in the same spot, but came to rest with its bow pointing straight up out of the water, until a storm broke it off, and the ship fell to lie at a more respectable angle.
The vessels sit at 30m at their lowest point, and are perhaps best explored over two dives (especially if your plan is to take photographs). Neither is of interest internally, and both were stripped of anything valuable, but over a few short decades they have become superb artificial reefs.
Sprays of black cup coral adorn the superstructure, and fish are simply everywhere. It's easy to get caught out by the currents, however, and watching the shoals of anthias will show you if the flow has picked up.
If they're swimming hard and tucked into the superstructure, leaving the shelter of the wreck will mean some hard finning to stay with your buddy.
THAT WAS MY LAST DIVE AT HURAWALHI. I stored my memory cards safely and set about enjoying a few deco cocktails and a tremendous meal in 5.8, the resort's underwater restaurant.
This unusual establishment is fantastic, especially for anyone who has never dived. At night its lights attract plenty of life, from batfish to lionfish, and it proves very atmospheric. There's an area of anemones, and even a few cleaning stations apparently in operation.
My fellow-diners were loving it, and even for experienced divers it's enjoyable, even if you do feel as if you're in the walk-through tunnel of a large aquarium.
On my final day before the seaplane flight back to Male, I had a chat with the resort's resident marine biologist, Lisa from the Manta Trust.
The resort supports her work, and she offers snorkelling trips and runs a project to identify the local green turtles, with the help of divers.
Guests can submit photos, and if a new one is spotted they get to name it. So far, more than 100 green turtles from the atoll have been identified.
This is the sort of responsible tourism that the Maldives can do so well, and it offers an extra element to a holiday. I've sent Lisa my pictures, but have yet to think of a suitable name, should I have found a new turtle. I suspect that Turtly McTurtleface has already been taken.
FACTFILE
GETTING THERE: Several airlines fly direct to Male from the UK, but changing in the Middle East can be cheaper. Hurawalhi is a short seaplane-flight from Male.
DIVING & ACCOMMODATION: Prodivers offers free nitrox and is rebreather-friendly, prodivers.com. Hurawalhi has beach and overwater villas. It is an hour behind Male time to save daylight, generates 30% of its electricity from solar power and has excellent wi-fi, hurawalhi.com
WHEN TO GO: Year round. Wet season from May to August may reduce visibility, but any rain is usually short-lived. Best vis and dry weather is from December to March. The best time to see mantas locally is in the UK winter months.
CURRENCY: Rufiyaa, or US dollars.
HEALTH: Hyperbaric chamber at nearby Kuredu.
ADD-ON: The Atoll Marine Centre on Naifaru is worth visiting to see rescued and rehabilitated turtles.
PRICES: Return flights from the UK from around £580. Over-the-water villas (two sharing) from US?$689 per night. Two-tank boat-dive $29, six days' no-limits diving $725, DPV hire $39 per dive.
VISITOR INFORMATION: visitmaldives.com
Appeared in DIVER June 2017