CANADA DIVER
Wreck-Diving
the Bell Way
CLAIRE GOODWIN reports from Bell Island in Canada, where a rare U-boat attack
killed 70 and left a chilly legacy for divers to explore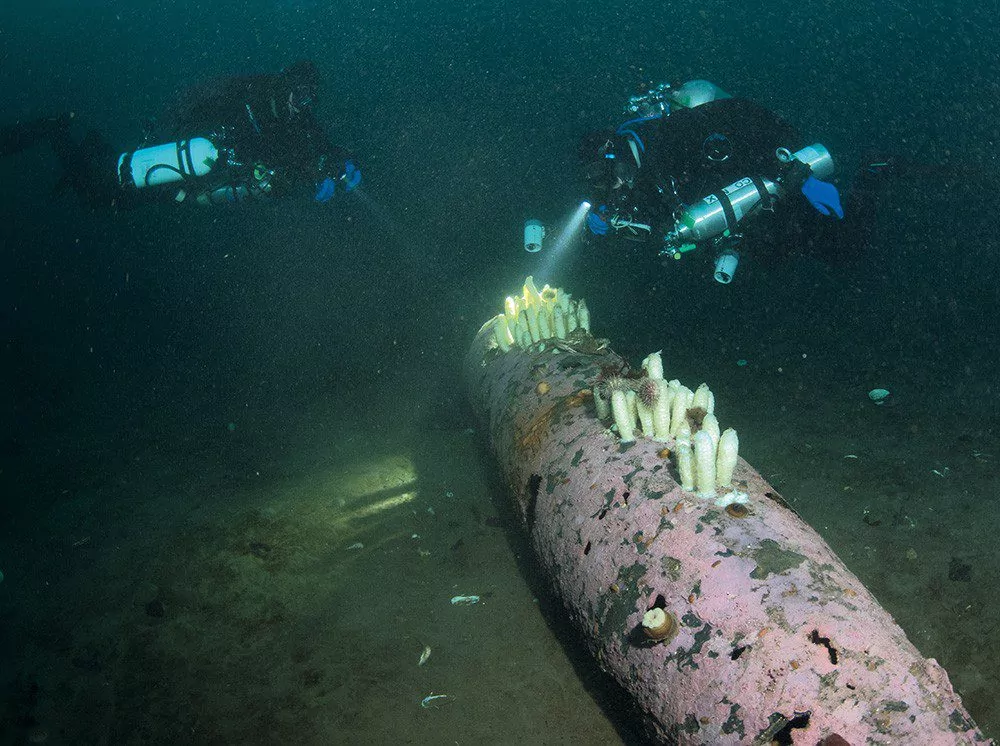 We descended the shotline through clear water.
If it hadn't been for my ice-cream headache, I could have convinced myself that I was in the tropics.
More than 40m below us the deck of the 139m Rose Castle was visible. I could see Mike, one of our rebreather-divers, making his way into a cargo-hold.
I sank past undulating sea angels and jellyfish, as masts and cranes loomed towards us.
We swam over the deck towards the stern, pausing to admire the nets dangling into the hold, festooned in thick garlands of soft corals and plumose anemones.
The telegraph-room would have to wait for next time, because we had another mission.
Reaching the rails, I paused to check in with my buddies Connie and John and take a bearing on our target before descending to the seabed at 46m.
After a short swim we reached it – the torpedo. It's an impressive sight even minus the warhead, and a stark reminder of the downfall of these ships.
After the obligatory photographs (a touch narked, I had to think hard about my camera settings!) we ascended, mindful of clocking up too much deco time – not much fun in 2°C water!
Appeared in DIVER November 2019
I was visiting Bell Island as part of a trip organised by Joe and Connie of New Brunswick-based COJO diving. It's my local dive-shop, since I moved from the UK to the Canadian side of the pond.
We were a mixed group, ranging from experienced rebreather-divers Mike and Luigi to sidemount solo-diver John, and Joey and Ali who were doing their PADI Wreck
speciality course (watch out for a forthcoming article on Canadian diving by Ali in DIVER).
We based ourselves at Oceanquest dive resort in Conception Bay South, hosted by Debbie, Rick and their team.
Accommodation was in Oceanquest's dive-lodge which has, rather luxuriously for dive accommodation, spacious en suite twin rooms and a well-equipped kitchen for self-catering. The lodge is five minutes' walk from the marina from which the boat departs.
The Bell Island wrecks could have been designed for divers.
The four sizeable vessels are close to each other, making for easy two-dive days – we were often back in harbour by 2pm.
For the hardy, a third shore-dive a day was possible, and on one day I even managed four.
To those used to the short slacks on many UK wrecks, it comes as a pleasant surprise that these are diveable at most states of the tide, and although there might occasionally be slight current, it is manageable.
The crystal water makes navigating around the wrecks easy, and is a welcome treat for photo- and videographers.
The only real hardship is the cold. The wrecks are situated in "Iceberg Alley" and temperatures can drop as low as 0°C at depth. On our trip they ranged from 2-4°C. Many divers wore heated vests and gloves, although I was warm enough in my trusty Weezle Extreme Plus undersuit.
I did however end up moving to dry gloves, rather than diving in mitts. The resulting warmth and dexterity left me wondering why it had taken me so long to make the switch.
Diving from Oceanquest's 13m hardboat meant that there was shelter in which to warm up on the journey back.
After exiting the water we would immediately be plied with warming tea, coffee or soup by the attentive crew.
Our first dive was on the Paris-Lyon-Marseille (PLM) 27. Hovering off the stern, I paused in awe at its sheer size, clear in the 20m-plus vis.
This made a change from my former local wrecks, where you could often find features only by banging into them.
I followed Connie down the vast rudder towards the seabed to get a better look at the propeller. She posed for a photo to give some impression of its size.
Ascending to deck level again, I noticed that much of superstructure was crushed – surely this hadn't happened in the sinking? I later learned that, as the shallowest wreck, PLM 27 had experienced a few encounters with passing icebergs over the years.
We continued along the deck to an area where the side of the wreck had been gashed open by a torpedo, leaving the steel wrinkled like cloth.
Bell Island is one of the few North American locations that German forces attacked during WW2. They targeted it because of its iron-ore mine, which was supplying materials for the Allied war effort. Before the war Germany had been the principal consumer of the ore, and it might even have been used to make the submarines and torpedoes that inflicted this terror.
On 4 September, 1942, under cover of darkness, the U-boat U-513 followed the small merchant ship Evelyn B into Conception Bay. It then lay in wait on the seabed at 24m. Next morning, rising to periscope depth, commander Rolf Ruggeberg selected his target.
He fired two torpedoes, but the torpedo men had neglected to set the battery switches and they sank to the seabed.
The sub was spotted from the Evelyn B, which opened fire, forcing it to dive.
Ruggeberg selected a second target, the Saganaga, and, while submerged, hit it with two torpedoes fore and aft. It sank immediately.
While ascending for another attack
U-513 struck the stern of the Lord Strathcona, suffering serious damage to its conning-tower.
Yet the sub was still able to fire two torpedoes 25 minutes afterwards, sinking the Strathcona. The Saganaga lost 29 men but, having had more warning, Strathcona's crew were able to abandon ship before their vessel sank.
On 2 November, U-518 under Friedrick Wissman launched another raid, but this time by night. To avoid detection, the U-boat came so close to Bell Island that its crew reported seeing cars on the roads.
Wissman fired his first shot at a moored coal-boat. He missed it but hit the pier, causing substantial damage.
Two torpedoes fired in quick succession at Rose Castle, one at the stern and one at the bow, sank the vessel fast, giving its crew of 43 little time to abandon ship, and 28 men lost their lives.
A further shot hit PLM-27 dead amidships, ripping a large hole that sank it in seconds, with the loss of 12 crew.
As well as disrupting the iron-ore transport these raids resulted in 70 deaths, so these wrecks are war graves.
Apart from being disrespectful, taking souvenirs in the past would have been downright dangerous. This summer military divers spent 10 days clearing unexploded artillery shells that had become exposed as the wrecks corroded.
After campaigning by Rick, Debbie and others, the Canadian government has recently recognised the sinkings as a "National Historic Event".
In waters ranging from 15-46m the wrecks are all diveable without decompression, but I recommend being qualified to do some if you want a reasonable bottom time. Using nitrox is also beneficial. The sheer size of these shipwrecks (122-139m in length) combined with the depth means that you need many dives to explore each one.
A week's diving typically starts with a shakedown dive on the shallowest wreck, PLM 27 at depths from 15-24m, and progresses to the deepest and most impressive wreck the Rose Castle, which ranges from a depth of 30m on the deck to 46m at the seabed.
On the Saganaga, I felt as if I was diving in an aquarium. The deck, despite being in 24m, was bathed in shafts of sunlight. Frilly white plumose anemones covered every inch of space on the hull.
I swam through the shoals of fish schooling over the deck. They barely seemed to register my presence, apart from the cheeky cunners (a Canadian relative of our cuckoo wrasse) which attempted to snack on my mask.
As we approached the winches Connie gesticulated to me, pointing out a bright red, squarish fish with a pout to rival any tabloid star – a lumpfish.
I was amused to see him square up to Connie, as if daring her to get any closer.
From the red colour we could tell that he was male and in breeding condition – non-breeding lumpfish are a rather insipid grey-green. He would be guarding a clutch of his partner's eggs.
It was hard to prise myself away from such an engaging subject but I wanted time to see the anchor.
We followed the chain to where it rests on the deck, flung from the bow by the force of the two exploding torpedoes.
The Lord Strathcona is Rose Castle's sister-ship and often overlooked in favour of its deeper, prettier relative.
This time Jeff was my buddy. He wasn't qualified for decompression, so I was glad of its shallower depth allowing us more bottom-time. It is 23m deep at the top of the superstructure, giving us plenty of wreck to explore without descending to her 38m keel. There are also many open swim-throughs for those not qualified or wishing to do full wreck penetration.
Ali and Joey finned towards me through one of them, practising their line-laying under Joe's watchful eye.
Jeff poked his head out of a hole in the stern superstructure, framed by a garland of white, green and orange anemones.
Glancing up to check on him, I appreciated the sheer scale of the wreck towering above me.
Jeff and I swam around the sizeable stern gun. In an odd juxtaposition to its purpose, it is now cloaked in more of the flower-like anemones, like a living memorial to those who perished.
My week of diving was up and work was calling. I didn't get to take advantage of any of the extra trips available, which include snorkelling with humpback whales, diving around an iceberg or, if you are cave-certified, diving the Bell Island mines.
Mike, Luigi and Annie had a very close encounter with humpbacks. I jealously viewed their videos while back at my desk. I'll just have to go back.
After all, having been "screeched in" by divemaster John (a ceremony involving silly hats, bologna, rum and a cod) I'm an honorary Newfoundlander now!
FACTFILE
GETTING THERE> There are no direct flights from the UK and flying via Montreal is recommended as fog can cause delays at Halifax. Fly to St John's airport, Newfoundland and Labrador. Oceanquest in Conception Harbour South, 19 miles from the airport, can arrange shuttles but a hire car is a good idea for shore dives and afternoon sightseeing after the boat-dives.
DIVING & ACCOMMODATION> Oceanquest has a dive-lodge, oceanquestadventures.com
WHEN TO GO> April to October, with mid- or end of season the warmest. Water temperatures range from 0°C in early season to 10°C at depth in summer.
MONEY> Canadian dollars.
PRICES> Return flights from the UK with Westjet or Air Canada from £600. Oceanquest's wreck packages start at £1637 for a week's accommodation, transfers and five days' diving.
VISITOR Information> newfoundlandlabrador.com. Jill Heinerth's film on the Bell Island wrecks and mines can be found on YouTube.