archive – General Diving
Your Strangest Dives
We asked you to share with other readers the dives that stood out as being out-of-the-ordinary, that stayed in the memory for whatever reason. Here is a small selection – why don't you think about contributing to a future Strangest Dives?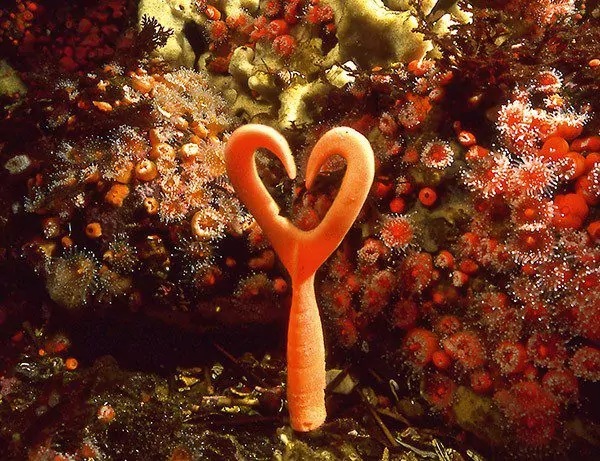 WHAT WAS THAT FOR?
by David Armstrong
I STARTED DIVING IN THE EARLY 1980s, and in those days the equipment was very different to that we have now. I dived for a good few years, ending in the '90s as Dive Leader.
In 2008 my son asked if I wanted to take the sport up again and dive with him. Great, a dad who does things both he and his son love, but that aren't football or drinking!
So we started, and after a couple of years we decided to move to twin-set 12-litres (I had spent a good few years on twins while diving in the Navy). We didn't do a twin-set course at that time.
Time went by, and we had used the twin-sets a few times before we decided to go to Scapa Flow. While there we had some amazing dives, as anyone who has been will tell you is pretty standard – all those wrecks in one place.
The dive in question, my memorable dive, was from the John L on SMS König, with an expected bottom depth of 38m.
Now I dive with my twins inverted. To my mind this is the right way up, and the Navy way. This requires turning them onto their boots to stand to be charged, and I would open the isolation fully and disconnect one first stage to allow charging, then I would close off the isolator, just cracking it open to allow air transfer to move to and balance the bottles, while taking only a half-turn to close it off in case of an issue.
I would open my two main valves, then turn them half a turn back, which I had done from the old days, something to do with the valves sometimes sticking in those days.
This dive was memorable due not so much because of the great wreck we were on but more because of my lack of attention while kitting-up and buddy-checking.
So we all jumped into the water, went down the shotline and saw the great wreck coming into view. As we got to about 30m we picked an area where we could stop to make any kit-adjustments, then moved off over the wreck.
At 35m I felt a tightening on my main regulator as if I was out of air. I did a smooth transfer to the octo regulator, thinking: "Thank God for that!" as I got that air into my lungs.
On that side I had a 2.1m hose, and it held about three breaths, which I took before everything went tight and I was out of air. I signalled to my son, who was 4 or 5m away, to close with me, and then signalled "out of air".
Checking my main valves, I found that they were a half-turn back as they should be, and I checked my isolator to see if it was open and all seemed to be in order.
I thought to myself as my son approached that I must be narked. I got onto his octo, all neat and relaxed, then signalled to him what my issue was, thinking "we've dealt with this well so far" as he moved behind me to check before we headed up, as practised and as procedurally we should do.
Then, out of the blue, I felt a big whack on the back of my head from my son. He came round and offered me my own regulator back. It was working fine again.
With a little explanation from my son, it turned out that I had closed my valves down and cracked them open, not opened them up and cracked them down.
I had done this while the bottles were still standing on their boots. I had not inverted them first, and had not been paying attention!
We continued to do the rest of the dive with no issues, and returned safely having had a really good dive on the wreck, and with me having a really sad embarrassing story to tell back on board.
Which I did, without holding back, as it is a good lesson for others.
WHY I LOVE DIVING
by Dave Weeks
EVEN THE SPONGES REFLECT our love of diving. I was diving off the west coast of Canada in Discovery Passage near the town of Campbell River, at a dive-site called Row and Be Dammed, when I discovered this sponge in the shape of a heart.
Using my Nikonos camera, I photographed the sponge with all the remaining shots on a roll of 36 exposures.
I wish I had had the benefit of the almost unlimited exposures available today with digital but 36 is all you had available with film cameras.
So I had to send my film into the camera lab and wait for the day the transparencies were ready to pick up, knowing that I had something special on that roll of film.
It was only then, looking on the lightbox, that you knew that the shot had been captured on film – a sponge shaped like a heart.
I have never seen another one since. I went back multiple times to try to find it again but the site is a bunch of rocks and boulders with no distinguishing features. Three exposures and my memory is all I have of that dive.
SINGLE BED
by Barry Whitfield
A LEMBEH STRAITS NIGHT-DIVE gave me one of my weirdest dives. Fish are odd critters, and several species have strange habits when going to sleep for the night – such as the parrotfish that encase themselves in a globe of protective yukky-tasting jelly.
There are also some species that amend their colour when they put their heads down, to blend in with the surroundings. But I've never seen the behaviour shown in my photograph in any other location. In five separate places I found fish asleep in cup or tube sponges, including this little guy.
Of course, I might have got it wrong and actually discovered the location of the first-known carnivorous tube sponge!
DRAMATIC ENTRANCE
by Ray Williams
THE PHOTOGRAPH BELOW is from a dive we did on the Oceana in the Channel with Dive 125 out of Eastbourne a couple of years ago.
Chris (pictured) and I were the last buddy-pair in. I exited the boat from the lift-platform and made my way to the buoy. As I turned, I saw Chris stride off, and as he surfaced noticed that he was creating a plume of spray!
I signalled to him to hurry over and turned off his air. We signalled to the boat and were picked up.
On inspection, and evident by the remains the captain held in his hand, an untidy high-pressure hose and gauge had caught in the lift and ripped off the first stage as Chris had exited the boat.
Hasty repairs (we had a full spare set of regs, luckily) and we were ready for a second attempt.
After a few deep breaths and calming words we left the boat again and continued on our dive – down the shotline for a most enjoyable exploration of the wreck.
It just goes to show what can be achieved with a clear mind, a calm approach and, of course, the right spares. Our dive weekend was a great success!
ME & MY SHADOW
by Haico van der Heijden
THIS SHORT STORY STILL GIVES me the shivers after all these years.
Several years ago my wife and I were on a well-deserved diving holiday at Sipadan, actually just months before the resorts would close.
Five to six dives a day were not unusual, each one of them with unique sightings. On one dive, for example, we were in the middle of a gigantic fishball.
The last dive of the day was always a very relaxing night-dive at the famous wall just in front of the pier, ideal for pictures of the small creatures normally in hiding during the day.
On this particular dive we were joined by Yuki, a Japanese diver. She would normally dive with her husband, but that evening he preferred to have a cold beer rather than yet another dive.
The dive went ahead as normal, with the women screening the reef with their torches and admiring the colours and me taking pictures of the nudibranchs, shrimps and small fish.
Enjoying floating across the wall, I drifted somewhat apart from my buddies. It wasn't a problem – visibility was 20m-plus, there was no current and I could still see their torch-lights.
Suddenly I spotted a very large crab, its claws raised ready for an attack. It was a bit too close for comfort, but at the same time fascinating to see.
So I turned left to signal to my buddies about my discovery… and right beside me, not even at arm's length, was a 2m blacktip shark!
OK, they're harmless during the day, and normally wary of divers, but this one was different – it was very used to humans. It turned out that my torch would slightly stun the fish and provide it with an easy catch. It was using my torch to hunt.
It sure does get your pulse racing – they do look very scary that close, and this was not a small one either.
After a few minutes, the shark slowly swam away into the darkness. Once surfaced safely, the adrenaline was still flowing, and my buddies were asking about the strange big shadow in the water.
They became a bit pale when I told them the true origin of the shadow. It's quite different from seeing a shark during the day at some distance and getting that close to one during a night-dive. Of more than 500 dives, this was definitely my most memorable.
O-O-HEAVEN!
by Marie Jewkes
DOING YOUR HOMEWORK before you travel is always a good idea, and as we were going to Curaçao I checked DIVER and DIVERNET for ideas. A brilliant find in the Booking Now section was a James Bond dive – it looked exciting, so we booked straight away.
We turned up at the helicopter pad and had a training session. So with the pilot in place and our helper between us in the back seat, fully kitted-up with our fins tucked into our BCs, we took off.
This was a small helicopter with no rear doors, so the view was amazing as we flew over a cruise ship and then under the road bridge (one of the highest in the world) and out to sea.
Waiting for us was a fast RIB. We hovered, and when the pilot was satisfied we were given a tap on the shoulder. We climbed out onto the skids on either side of the helicopter, and our helper held us on both sides by his fingertips.
We were leaning backwards with one hand on our masks when he let go, and we fell about 3m into the sea. It was stomach-lurching, but fantastic fun.
Our divemaster then took us on a dive at the site, which was excellent – eagle ray and turtle, it couldn't have been better.
We then had a fast ride back in the RIB, and the only thing missing was a Martini, shaken not stirred.
THE EARTH MOVED
by Clive le Coq
SO THERE I WAS, on 23 July, 2014, 33m down on the Heinrich, a World War Two German wreck five miles north of St Malo on the Brittany coast.
Enjoying the good vis and huge shoals of pout, I became aware of a rumbling in the water around me.
In this area we're used to the sound of passing ferries, but I knew that none were due and, anyway, this was different – not just a sound, but an increasing low roaring that I could feel deep in my stomach and chest.
After 40 or 50 seconds, the rumbling eased, then died away. Quiet restored, we continued our dive and soon were heading back to the surface.
Climbing back aboard the boat, talk was already of the disturbance. Some divers were asking what ship had passed, only to be told that there hadn't been one!
Then, a call from the second club-boat, several miles inshore – its divers had also reported the phenomenon.
To me there was only one possible explanation – earthquake!
That evening, a check of the Jersey Met Office website confirmed it: an earthquake of 3.3 on the Richter Scale, 12km beneath the sea and centred about 35 nautical miles north-west of us!
OK, so the deep rumbling tremor I felt wasn't exactly the shaking, collapsing wrecks and sunken temples of old films like City Beneath the Sea, but it doesn't half make for a good story over a pint in the pub!
Appeared in DIVER October 2016