PHOTO TECHNIQUE
The Micronesian destination of Palau opens up big vistas for divers lucky enough to get there, and ALEX MUSTARD weighs in with winning advice in another episode in his sub-series on photography in classic locations.
LAST MONTH, I WAS PLEASED to read that the famous Jellyfish Lake has reopened to visitors in Palau, Micronesia. It's the ideal excuse to make Palau the next stop in my current series of photographic guides to shooting in once-in-a-lifetime dive destinations.
Also read: Black Pearl Explorer has Palau covered
Palau is certainly an exotic location for British divers, not least because its location out in the open Pacific Ocean is a long way from home. But it is certainly worth the air miles, with amazing landscapes both above and below the surface, fascinating World War Two wrecks, a super-abundance of big marine life and a host of iconic dive sites. The last of these tends to dominate the experience for the photographer.
From our perspective, the photos we want to be taking home don't tend to be shots of a typical Palau-style dive. Instead, most photographers want images from Palau's celebrated dive-sites – which are all quite different.
BLUE CORNER IS an action-packed drift packed with marine life, while Chandelier Cave is a shallow, cenote-like limestone cavern; Jellyfish Lake is a surreal snorkel and German Channel is a manta cleaning station. All classic Palau, all completely different.
That said, there are a few things to expect in Palau. This is the open Pacific Ocean, so the visibility is typically excellent, and the currents can often be very strong.
STARTER TIP
German Channel is a classic manta cleaning dive, and the key as always is to follow exactly the advice of the guides.
Mantas can be curious and playful, but they can also be easily scared. Experienced guides understand much better how to get close encounters. Do as you're told and you will get that proximity – and better photos.
Good visibility means that we have the chance to take on larger scenes than normal and the fisheye will be our go-to lens.
In such clear water, we shouldn't limit ourselves just to close-focus wide-angle, but instead take on some big-scene wide-angle.
Currents bring reefs to life, but, at the same time, make photography a challenge. I've run many workshop trips in currenty locations, and the main thing I've learned is that photographers are never happy!
When the currents run, we moan that it's hard work shooting images. When they don't, we complain that the reefs aren't alive!
My approach is to try to avoid the strongest currents, but otherwise I'll always take them on.
Learn how to hide from the flow in the lee of objects, or ride back eddies to get where you want to go.
Also be prepared to swim more, breathe more and have a shorter dive in the right place – then spend longer in the wrong part of the dive-site, just because the conditions are easy there.
close to the main islands are many of the wrecks. Most are Japanese from WW2 and remain reasonably intact, but are not as photogenic as those in Truk. They're well worth diving and shooting, but they shouldn't be the focus of your trip.
I found the Teshio Maru and the Iro tanker to be the most productive.
The visibility in these areas is less good than further offshore, so it's often worth shooting these large ships without strobes, to avoid backscatter.
Alternatively, because these WW2 wrecks are densely colonised there is the possibility to make the marine life the subject of the photo, and let the wreckage form the backdrop.
My favourite wreck in Palau is the Japanese Aichi E13A-1 or Jake seaplane. There are other plane wrecks, but this one is the most complete, amazingly so after so many years.
As you will have read in last month's DIVER, seeing a plane wreck under water "snatched out of its element" always excites, and that same feeling is conjured by our pictures.
MID-WATER TIP
Blue Holes is one of the easier dives in Palau, because this huge cavern is protected from the current and any waves.
The best shots here are big scenes, ideally shot without strobes with a model giving scale to the scenery. Consider shooting a panorama of stitched images to capture the grandeur.
The Jake seaplane is in shallow water and easy to shoot using a filter and available light. However, despite making a great image, there isn't enough there to entertain for a full 60-minute dive. I've always asked to do it as an extra, by finishing our planned dive a bit early and then using the rest of our air to spend 10 minutes or so shooting the plane.
The other must-do dive close in to Koror is Chandelier Cave, which is a four-chambered cavern, with stalactites jabbing down through the surface of the dark waters. An off-camera light-source is key here, either a remote strobe or a very powerful video light.
The best way to shoot the cave is to work as a team of three, with one group shooting, one modelling and one hidden behind the model holding the backlight.
Chandelier Cave is very shallow so you'll have plenty of time and you can surface (mind your head) to discuss ideas for shots.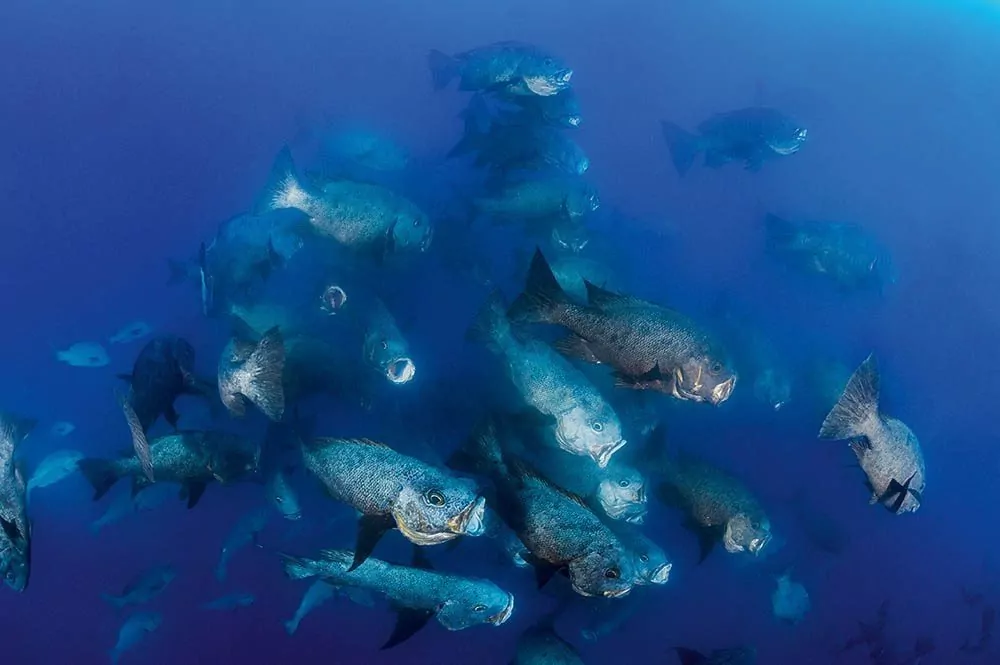 THE OFFSHORE REEF dives south-west of the mainland are where most of Palau's iconic sites are found. Blue Corner is the most famous, but with changeable currents it is the most unpredictable.
The best approach here is to switch over from fisheye to a wide-angle zoom to give flexibility. There are often lots of grey reef sharks here, and a zoom can help us to fill the frame with them.
ADVANCED TIP
Shooting fish-spawning aggregations is tough. The action is fast-moving and often hard to reach out in the current.
Estimate your shooting distance and practise shooting your buddy to dial in your exposures as you wait. Strobes out wide, ISO bumped up and aperture opened up will all help.
You also need some luck, so if in doubt, shoot!
The wide-angle zoom also suits the many schools of fish lined up in the current. Turtles (green and hawksbill) are common here, especially when the current carries you down the reef in a southerly direction.
If you remember just one thing when shooting turtles it is "see a turtle, turn your strobes down". Turtles have reflective skin, and they are always brighter than whatever we were photographing before.
So as you stalk into shooting distance, always take a moment to drop the power of your flashes – it will massively increase your hit-rate.
Perhaps the most exciting dives in Palau are those targeting spawning aggregations that occur on the big corners of the reef, like Shark City or Peleliu Express.
The strong tidal currents in Palau mean that many larger reef fish gather for synchronised spawnings, and these massive groups can be spectacular, especially the bohar snapper and the bumphead parrotfish.
However, getting your timing right is not easy, and it's essential to work with local knowledge – such as the guys at Unique Diving, who have done a lot in the way of research – to maximise your chances of being in the right place at the right time.
Get it right, because you have the chance for something truly unforgettable.