The winners of the 10th annual UN World Oceans Day Photo Competition were announced in a live broadcast event at the UN's New York headquarters on on 8 June. The free contest, which was launched in March, explored six thematic categories linked to the 2023 World Oceans Day theme "Planet Ocean: Tides Are Changing". UN WOD has been an annual event since 2008.
Also read: Winning images for World Oceans Day 2022
The top three places in each category were selected by an international panel of photographers from thousands of entries by both amateurs and professionals. The 18 winners represented 14 countries, and three were from the UK.
In the Underwater Seascapes category, a female orca splitting a herring baitball as it dived through it to catch a fish (above) took first place for Swiss photographer Andy Schmid, who captured the shot from below while freediving. "Every winter enormous schools of herring migrate from the open ocean into the fjords of northern Norway and attract large numbers of big predators such as orcas and humpback whales," he stated.
"Witnessing orcas feeding on herring using the so-called carousel feeding technique is very exciting but not easy to capture, due to various factors: limited light and visibility, fast-paced action plus cold surface and water temperature.
"Being able to freedive and capture the action on an ongoing feeding frenzy in these conditions is difficult but this winter I managed to create a series of photos I had never dreamt of capturing."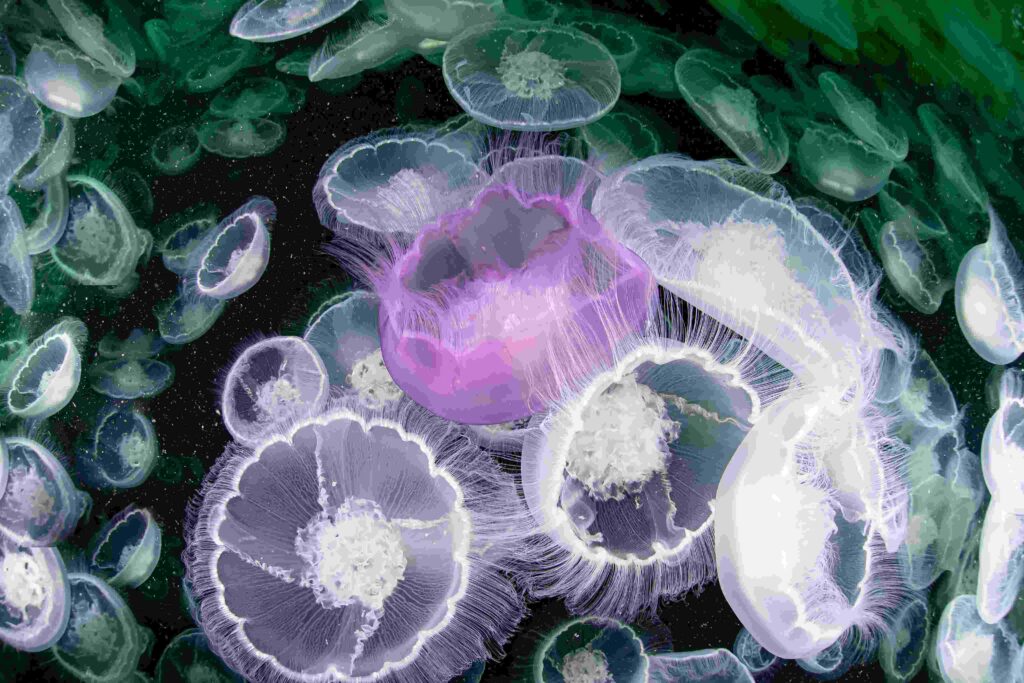 Second place went to UK entrant Mayumi Takeuchi-Ebbins, who witnessed a huge bloom for moon jellyfish from Alaska. When a female is ready for mating she changes colour to pink or purple, but it took a long time for the photographer to pick out a mating female jellyfish from the crowd. "I could find only one pink female, and lots of male jellyfish were chasing this pink bride!"
In Putting The Ocean First, winner Tom Shlesinger from Israel showed a hawksbill turtle, a Critically Endangered species but still quite common in the Gulf of Aqaba in the northern Red Sea, checking out an artificial reef dubbed the Igloo. This had been installed as a coral nursery more than two decades earlier.
"This sea turtle is among the smallest of all sea turtles and its diet is diverse, ranging from sponges and soft corals to jellyfish, crustaceans and more," stated Schlesinger. "Quickly after corals were transplanted onto the Igloo, many more established themselves naturally, which in turn attracted numerous species of fishes and other animals to visit and inhabit the structure."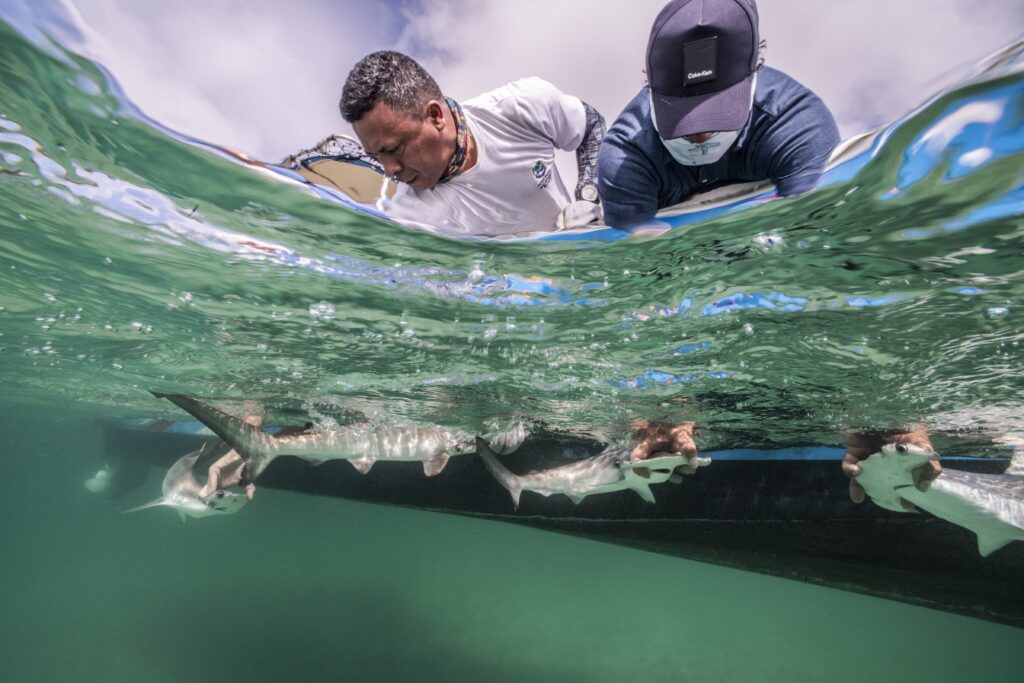 Runner-up was Full Hands by marine biologist and boat captain Edwar Herreño Parra from Colombia. He had volunteered to help capture and oxygenate shark pups while they were tagged, measured, sexed and had bio samples taken before they were released, with 11 specimens handled on the day. The tasks had to be performed within a few minutes or the sharks could suffocate.
The site was one of the most important shark nursery areas, in the heart of the Galapagos Island, accessible only at high tide by small boat. "On my first visit I just couldn't believe that a place like this even existed," said Parra. "It was like being in a cartoon movie: baby sharks of many species, baby rays and baby turtles in large numbers but especially hammerhead and blacktip sharks. This is one of the most important providers of life for the ocean."
The Wonderful World Of Tides category was won by US photographer Chris Gug, who had been scouting day after day with his drone for a mobula ray aggregation off Cabo San Lucas in Mexico. "I came across the most beautifully powerful shorebreak where the massive waves crashed directly onto the sand," he said, and set to capturing images but was disappointed to find the waves breaking about 20m out and no longer churning up the sand in the same way – because, as he later realised, it was now low tide.
"A quick Google search gave me the time of the peak high tide, and I returned yet another day to find the waves forming beautiful barrels energetically exploding directly on the beach, and sucking huge amounts of sand with each impact."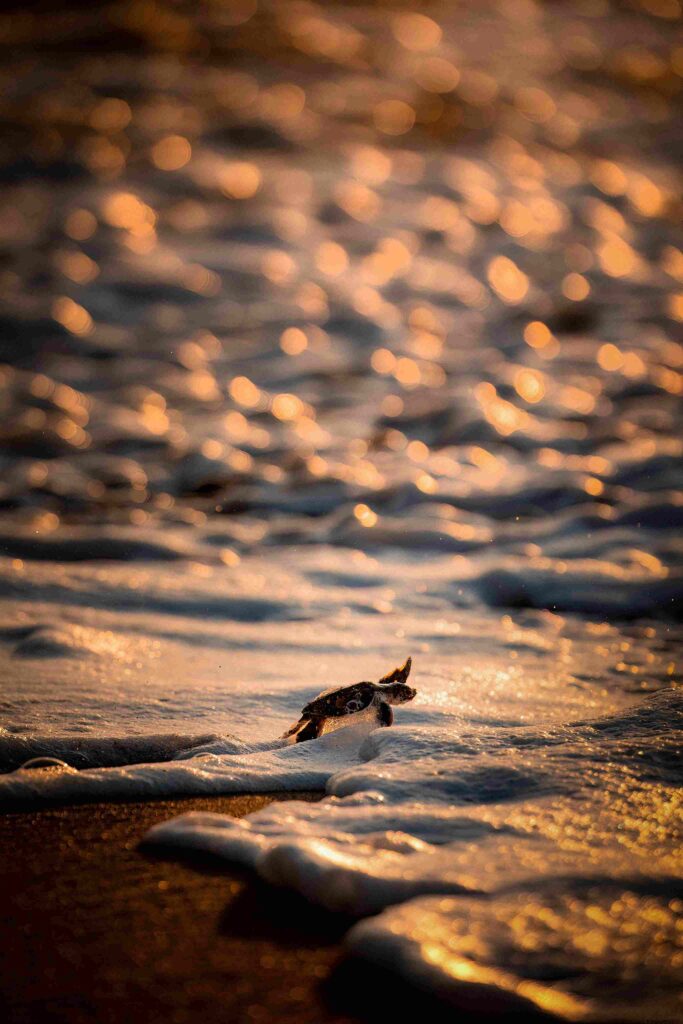 Sina Ritter from Germany came second in the category: "Witnessing the sheer delight of experiencing the ocean's embrace, as a tiny black sea turtle hatchling takes its very first steps into the surf of Costa Rica's Osa Peninsula," she said. "Bathed in the golden glow of the setting sun, this little adventurer takes advantage of the high tide, making its journey shorter and escaping the watchful eyes of predators."
Top shot in the Ocean Is Life was by Canadian Shane Gross, who captured a mother and son gathering sea urchins for their family at low tide in a seagrass meadow in Bali, Indonesia: "Seagrass is an often overlooked coastal habitat important for food security, biodiversity, storm protection and fisheries. Seagrass meadows also store carbon more efficiently than rainforests, helping in our fight against climate change. Seagrass is something conservationists and fishers agree need to be protected."
Niklas Manger of Germany took third (no second place was awarded) with a "fleeting moment of intimacy in the vastness of the ocean in Cabo San Lucas".
He described the subject as "the timeless dance of the humpback whales, a dance that has been performed for centuries in the depths of the ocean. The touching of their pectoral fins seems almost like a gesture of affection, reminding us of the strong emotional connections that exist between these intelligent and sentient beings."
The Big And Small Underwater Faces category was won by US photographer Glenn Ostle. A short boat-ride from La Paz, Mexico are the rocky islets known as Los Islotes, which have a population of up to 500 California sea-lions, the largest reproductive colony in the biologically diverse Sea of Cortez.
"We were fortunate to visit the islets at a time when huge schools of fish were also in abundance around the islets," said Ostle. "The water seemed to boil with life and it was hypnotic to watch the sea-lions dart into huge aggregations of silver fish, only to burst back through the schools, splitting and dividing them.
"The fish would quickly regroup but so densely that it was often difficult to even see another diver just a few feet away. At times, the sea-lions seemed to pause and appear somewhat overwhelmed at the sight of so many fish within easy reach, as this young sea-lion seemed to be doing."
Runner-up was a UK photographer, Simon Temple, with his shot of a common goby tending eggs laid on the inside of an urchin shell. "I captured this image while diving in the Marine Protected Area of Loch Carron in Scotland," he said. "Quite often the shells are covered with an unattractive layer of algae; however, this shell was incredibly fresh and full of colour and obviously caught my eye!"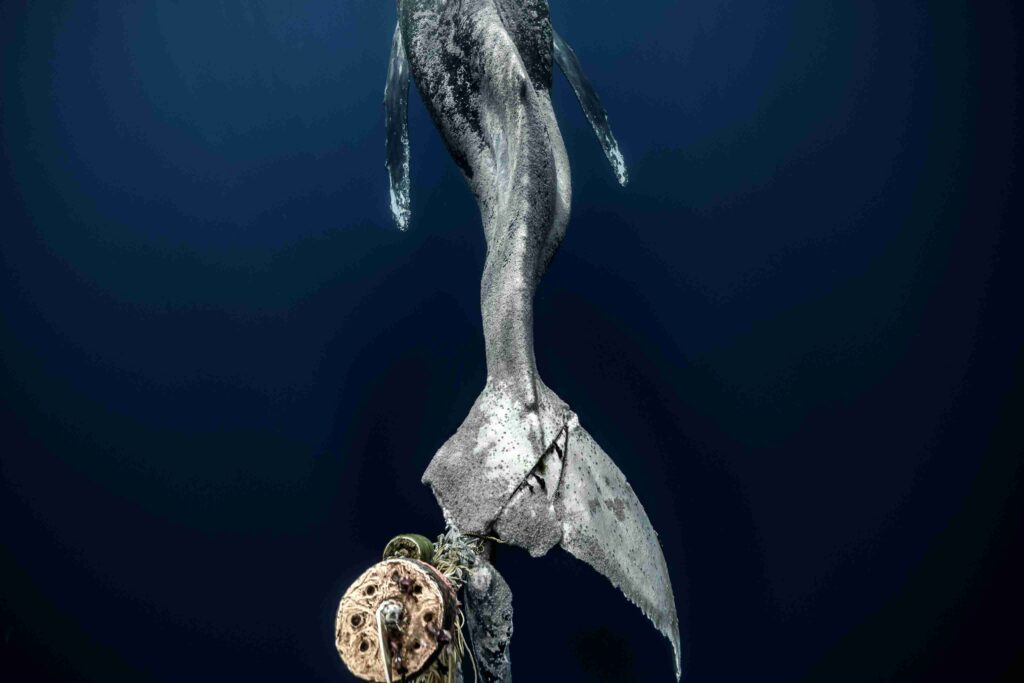 The final No Time To Waste category called for three images, and was won by Spanish photographer Álvaro Herrero, who showed the agonising death of a Pacific humpback whale. off Mexico's Baja California, its tail entangled with a buoy and already decomposing: "A clear reflection of the slow and painful death that we are giving to our oceans, our planet," was the judges' verdict.
UN WOD and the photo competition are hosted by the UN Division for Ocean Affairs & the Law of the Sea in partnership with the NGO Oceanic Global.
The contest is curated by underwater photographer Ellen Cuylaerts, and co-ordinated with DivePhotoGuide (DPG), the Intergovernmental Oceanographic Commission of UNESCO, and Nausicaa. All participants were required to sign a charter of 14 ethical commitments in photography.
Winning UN WOD competition photographs from past years can be seen at the UN World Oceans Day site.
Also on Divernet: Winning Images For World Oceans Day 2022