What's makes good fins? Those you find comfortable and that perform the way you want them to! "Bring unto us 16 pairs of your very best fins, for we wish to compare them one against the other!" we demanded of the nation's leading fin suppliers. Which are your dream fins? John Bantin tests them, you decide

I ASKED THE DISTRIBUTORS to enter what they considered to be their best-performing pair of fins for my side-by-side comparison test. In each case I used size XL. The price range varied from £30 to £160.
Full-foot or "slipper" fins usually do best in these tests, but I specified open-heel fins, as these reflect the style most often used by divers.
I have no axe to grind, and was genuinely interested in which would be the best fins for me. I would say that I am of average fitness, and have accumulated a lot of experience with fins over the past 20 years.
I endured my HSE working diver's medical a few days earlier, and I have a BMI of 24.1, with blood pressure of 104/64.
The Harvard Step test gave me a final result of 90, which, I am told, is very good for a man of my long experience.
To ensure absolute fairness, I swam over exactly the same route at Wraysbury Lake during the course of one day, and I'm pleased to say that the water temperature was a balmy 22°C.
This allowed me to do the test runs in a sleek semi-dry suit rather than a bulky drysuit, which might have affected results. I wore a single tank and a sleek-fitting BC with nothing dangling.
I was well-rested between each swim, and I made sure that my heart-rate had returned to normal along with my breathing before fitting the next set of fins. As a control, I used some of the fins from the beginning of the day at the end too, confirming that I was getting constant results.
I was assisted by Max Eaton and Alex Khachadourian.
I kept the range of my fin strokes to within the area of water pushed through by my body, and held an underwater speedometer calibrated in metres/sec out in front of me at full stretch with two hands. I swam gently at first, accelerating until I was doing my heart-busting best to get the maximum speed out of the fins. The speedometer registered this.
What has speed to do with it? I was testing these fins in still water. All the effort I made was transformed into forward motion. If I had been finning into a constant head-on current of one knot, my speed over the ground would have been one knot slower.

It's the speed in still water that is meaningful, and equates to thrust.
At first glance the speeds I reached might not seem that quick. Towards the end of the day, I had a leisurely swim round part of the lake. Richard Major of Wraysbury Dive Centre swam behind me, trying to get pictures.
I was using one of the less-well-performing pairs of fins and thought
I was swimming slowly, but he reported difficulty in keeping up.
I'm sure an athlete at the height of his powers would have managed better than 1.0m/sec (ie, 3.6Km/hour) during the test runs.
---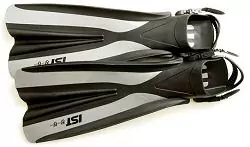 IST Bora Bora £30
0.8m/s
A narrow foot-pocket that left a lot of my foot protruding from the back meant that I got extremely tired feet and calves very quickly. The massive blades were very effective, which is reflected in the speed
I achieved, but they seemed very uncomfortable and I felt that the tops of my feet would have got sore with extended use. However, they offer a lot of performance for very little outlay.
Sizes: S/M, L/XL. Cols: Blue, black.
Weight: 2.6kg
Website: SEA&SEA
BEST VALUE
---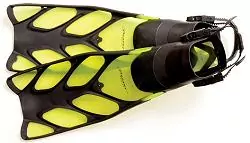 Beaver Prodigy £35
0.7m/s
Lightweight blades but a shorter foot-pocket meant that a lot of the effort made with these fins was taken up by my calf muscles rather than thighs. I felt my calves cramp badly after a few seconds of hard finning, and I couldn't maintain it for long.
Sizes: S, R, L/XL. Cols: Blue, yellow, black.
Weight: 1.69kg
Website: Beaver Sports
---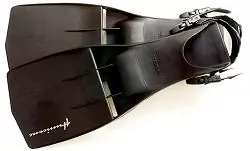 Typhoon Hurricane £40
0.6m/s
They may be really old-fashioned looking and have foot-pockets smaller than I would have wished for, but these lightweight fins surprised us by being more effective than we expected. With the straps tightened fully so that there was no wobble, I got a creditable turn of speed out of them. They are probably too light to use in conjunction with a drysuit. 0.65m/s
Sizes: S, M, L, XL. Cols: Black, yellow.
Weight: 1.97kg
Website: Typhoon
---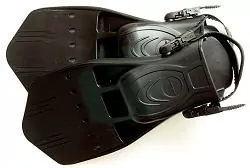 Beaver Assault £49
0.55m/s
A heavy pair of traditional fins that left a lot of my heel protruding from the back of the foot-pocket. During fast finning I felt that all the pressure was on my calf muscles and toes, and I couldn't keep it up for long. If you wear a drysuit, you won't need ankle weights – they're heavy.
Sizes: M, L, XL. Cols: Black.
Weight: 3.4kg
Website: Beaver Sports
---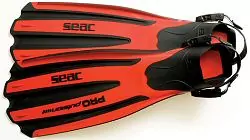 Seac ProPulsion £59
0.65m/s
These are probably the most beautiful-looking of all the fins, although again with a foot-pocket shorter than I would have liked. Underwater, they felt like sheets of plywood attached to the ends of my legs and seemed to take all the strain on the balls of my feet. The result was disappointing, although you could argue that I wasn't fit enough to make the most of them. They have an interesting buckle that allows you to slacken the straps to take them off without disconnecting them.
Sizes: S/M, M/L, L/XL. Cols: Blue, yellow, red, black, pink.
Weight: 2.28kg
Website: Bland ford Sub Aqua
MOST ATTRACTIVE
---
Cressi Reaction £64
0.8m/s
These are fins for the super-fit. The foot-pocket swallowed most of my foot, thereby making the best use of my thigh muscles, but the blades are so rigid that again I felt as if I had planks of wood attached. I got a good result, and a top athlete would certainly have gone faster. Cressi offers stainless-steel spring straps as an extra-cost option.
Sizes: XS/S, S/M, M/L, L/XL. Cols: Clear/yellow, blue, black, silver, clear/pink.
Weight: 2.34kg
Website: Cressi Sub
---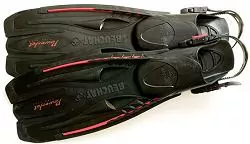 Beuchat Power Jet £66
0.75m/s
A very rigid fin that felt quite unforgiving. Most of my foot was encompassed by the foot-pocket and I got a good speed, but wondered if my own personal fitness was good enough to get the best out of them. They'd probably suit someone with short, strong legs.
Sizes: S, M/L, XL. Cols: Yellow, blue, black.
Weight: 2.18kg
Website: AlphaD
---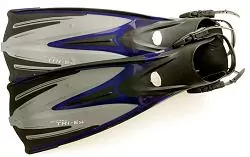 TUSA Tri Ex £67
0.85m/s
These conventional fins have elicited good reports from other magazines, despite being quite boring to look at. I found them to be very comfortable. They encompassed most of my foot in the foot-pocket, and I experienced no pain in the leg department when finning hard, and achieved a surprising top speed as good as the best. It seems you don't need fins with an avant-garde design to get good results.
Sizes: XS, S, M, L, XL. Cols: Light blue, pink, blue, black, yellow, red, lilac.
Weight: 1.78kg
Website: CPS Partnership
BEST PERFORMER FOR PRICE
---
Aeris Velocity £69
0.75m/s
American-branded, these look like simple paddle-style fins but are said to be designed by split-fin guru Pete McCarthy. Around 5cm of my heel protruded out of the foot-pocket, which didn't auger well for a totally painless sprint, but in the event I didn't suffer any calf pains and got a fast result nevertheless.
Sizes: XS, S, R, XL. Cols: Blue, black, yellow, red.
Weight: 2.48kg
Website: Oceanic UK
---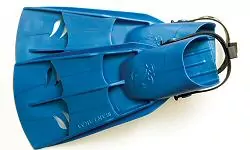 APS Mantaray £100
0.6m/s
These American-made lightweight small fins are very comfortable to wear, but there's no gain without pain, and I worked exceptionally hard to get an effective speed, resulting in cramp in both legs. Their positive buoyancy is unusual and needs getting used to, especially if using a drysuit. They'll feel good until you find yourself head-on into a current. These fins have a unique universal strap.
Sizes: S, M/L, XL. Cols: White, blue, black.
Weight: 1.46kg
Website: Aps Mantaray
---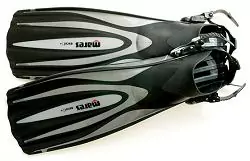 Mares Excel Plus £115
0.8m/s
The Quattros have been a hard act to follow, and although I'm told that the foot-pocket is longer than on the first Excels, these still left about 35mm of heel protruding. These are much stiffer fins, and consequently need more effort to push through the water, but that effort will pay off in results when you need it. The strap buckles are unique to Mares, and allow you to lever the straps tight. With hands softened by long immersion, I managed to cut myself on them.
Sizes: XS, S, R, XL. Cols: Red, yellow, silver, blue, pink.
Weight: 2.36kg
Website: Mares
---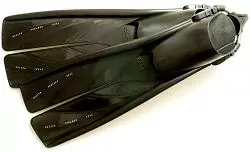 Atomic Split-Fin £120
0.9m/s
These split-bladed fins come complete with a stainless-steel spring strap. I felt that the foot-pocket was actually a little large for me, and consequently they felt loose on my feet. I was concerned that this would be reflected in a poorer performance figure, but in the event these fins proved to be not only among the fastest during my sprint but, tellingly, I could cruise at nearly that top speed with little effort.
Sizes: S, M, L, XL. Cols: Black, purple, blue, yellow, pink.
Weight: 2.63Kg
Website: Typhoon
BEST IF YOU CAN AFFORD THEM
---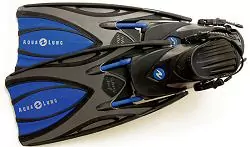 Aqua-lung Slingshot £120
0.8m/s
These big fins included all of my foot within the foot-pocket, and the flexibility can be adjusted using movable silicone springs. At the weakest or most flexible setting I got good speed. At the stiffest setting I was slightly slower (at 0.75m/s) and the fins became agony to use, indicating that a really powerfully built diver might get even better results. The blades look big enough to use as surfboards!
Sizes: S, M, L. Cols: Black, red, blue.
Weight: 2.7kg
Website: Aqua Lung
---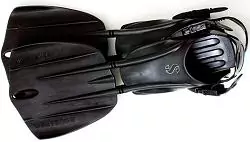 Scubapro Seawing Nova £129
0.75m/s
With an avant-garde design that looks a little silly but works well, these were probably the most comfortable of all the fins tested here. The foot-pocket completely swallowed my feet, and the elastic bungee-style spring-strap kept them snug.
I got a good turn of speed that I could maintain without pain.
I can image that these fins will become very popular once people get the chance to try them for themselves.
Sizes: S, M, L, XL. Cols: Black.
Weight: 2.50kg
Website: Scuba Pro
MOST COMFORTABLE
---
Omega Amphibian £160
0.85m/s
These uniquely folding fins that allow you to walk normally while wearing them have a foot-pocket that swallowed most of my foot, meaning that although the blade was fairly stiff and unforgiving I could go for it without any ill-effect, and no complaints from my leg muscles. The folding effect has advantages for shore divers, because you can safely walk with them, and they click into place as soon as you start finning.
Sizes: M, L, XL. Cols: Black, yellow, blue, orange.
Weight: 2.1kg
Website: Scuba Comfort
BIGGEST SURPRISE