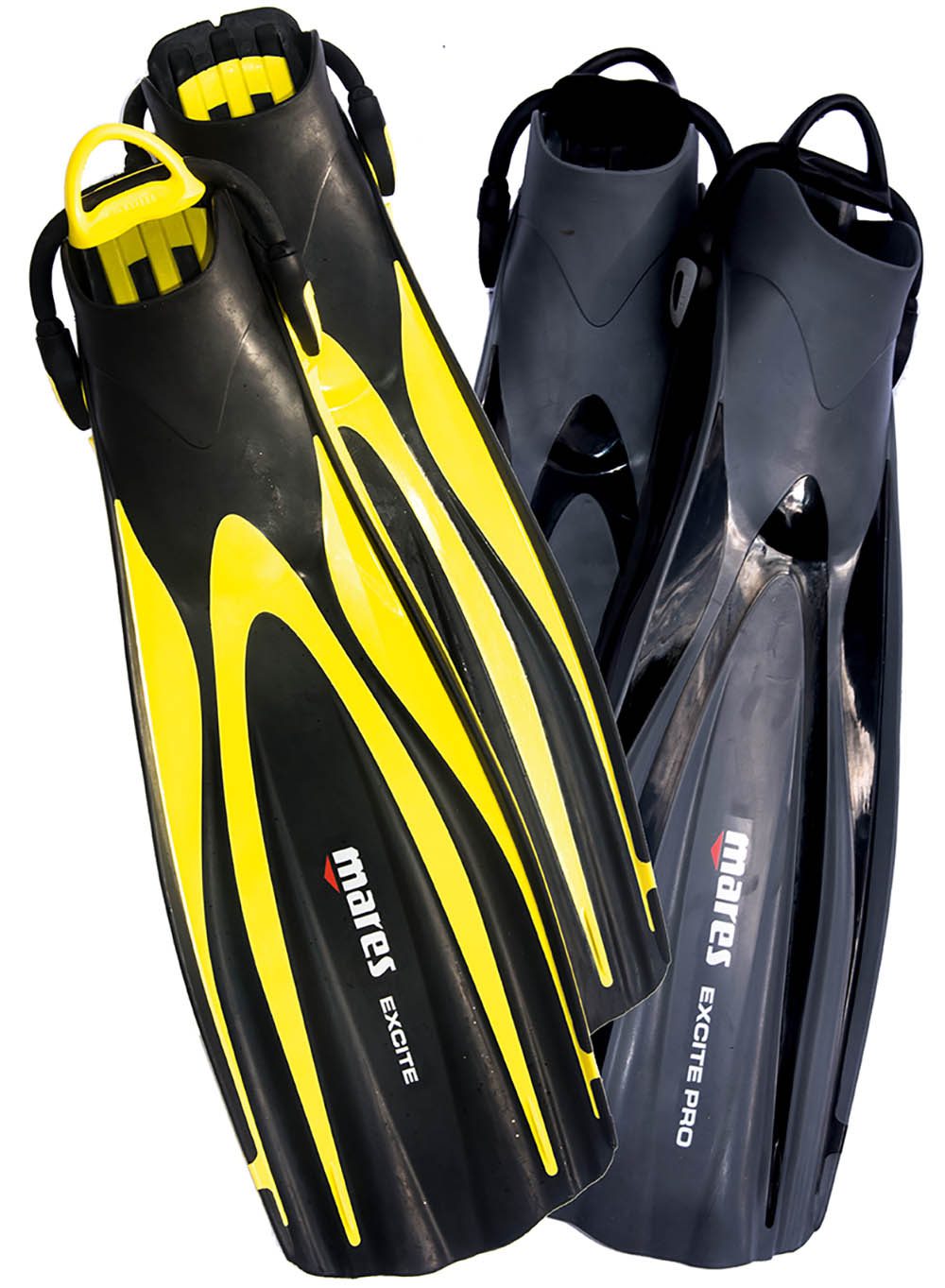 Appeared in DIVER May 2018
MARES IS SYNONYMOUS with  one of the very few diving products to have become iconic – the Plana Avanti fin, launched more than 30 years ago. And ever since, Mares has struggled to eclipse the Avanti's reputation and entice divers with a completely new type of fin.
If imitation is the sincerest form of flattery, Mares must feel very smug. There are lots of Avanti knock-offs out there. The Avanti and its immediate successor, the Avanti Quattro, have been immensely popular, and versions of the Quattro remain in the company's current line-up. It was a fin I owned and liked very much.
Mares' success in fin design came with innovative technology that enabled it to blend different materials. This allowed the blade to flex and cup water in a way that was more efficient than competitors' fins moulded from a single slab of plastic or heavy rubber.
Design
The Mares Excite and Excite Pro reviewed here also blend different materials together, in this case rubbers and thermoplastics. They are graceful-looking fins with sleek, narrow lines and long blades.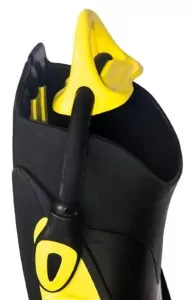 But looks aren't everything. The three main functions of a fin are comfort, propulsion and manoeuvrability. Has Mares got these right?
The short answer is unequivocal – yes. In performance tests under water, it seems form does follow function. I used the Excite and the Excite Pro over about half a dozen dives, but the one that confirmed their performance for me was a hard-swimming yomp into deep water against the clock.
On that dive, I covered around half a kilometre with the Excite Pros. I was able to glide along at a cracking pace, helped by the easy-breathing regulator I was testing.
Like the Avanti, the Excite's blade has flexible panels that deform to scoop the water, direct it behind you and increase thrust, while reducing effort.
Part of the secret to good fin performance is
to reduce turbulence. Turbulent water impairs the efficiency of your fin, and Mares has worked hard to minimise this.The Excite's foot-pocket blends seamlessly with the blade to help water flow smoothly onto the blade.
Side-ribs, much deeper on the fins' underside, channel the water-flow along the length of the blade and help to keep it from uselessly spilling off the sides.
Even the ribs that provide rigidity and divide the flexible blade panels have tiny winglets to further direct the water – at least, that's what
I assume they do.
In Use
These are easy fins to use when adopting a crawl stroke, frog kick or, with a little practice, when reversing. Swimming backwards, apart from letting you show off to dolphins, which have yet to master the art, is a useful technique. It enables you to get very close to something like coral, then gently back away without harming it.
I use this skill when shooting close-ups and also when filming, when I need to keep people swimming towards me in frame. The blades don't hook up on each other as you swim, as wide-bladed fins can do.
The underside of the foot-pocket has an anti-skid surface, so you're less likely to slip on the dive-boat or pier before you jump.
The foot-pocket features internal ribs that keep your boot secure while using the fin, yet prevent the suction effect, so your foot won't stick when you want to take the fin off.
Holes let water in and air gently trickle out, so if you use them for snorkelling there's less disturbance to marine life from bubbles escaping as you duck-dive.
They also won't trap and spill water over the guy to whom you handed them up.
The bungee fin-straps were a pleasure to use. I was shore-diving, and usually shuffle onto the beach with my fins on. I'm one of those divers who struggles woefully in hip-deep water to get my fin-straps off without falling over, especially when encumbered with cameras. But the large thumb-loops are easy to pull off, even when wearing thick gloves. They are, however, very secure during your dive.
You can also use the loop to hang your fins from a bolt-snap on your harness until needed. The straps can be bought separately, and will fit many other brands of fin.
The difference between the Excite and Excite Pro is subtle. The Excite is said to be optimised for comfort; the Pro, with a slightly more rigid blade, for propulsion. This implies that the Pro is more suited to a strong swimmer, which I'm not. My high-speed dash to 40m and back makes me think that the distinctions between the two are slight, and most people won't really notice them.
Conclusion
Both the Excite and Excite Pro are very efficient fins, capable of impressive performance. They are easy to use, comfortable to wear and manoeuvrable. And the bungee strap is a very nice feature. Recommended. My thanks to Dive Charters Gibraltar and Gibraltar SAC for their test support.
Specs
TESTER> Steve Warren, photography Nicky Martinez
PRICE> £132. Bungee fin-straps are available separately, £32
SIZES> XS-XL
WEIGHT> 2.76kg per pair (medium)
COLOURS> Excite, blue or yellow; Excite Pro, grey
CONTACT> mares.com
DIVER GUIDE>  10/10