Appeared in DIVER October 2019
Oceanic is one of the biggest dive-gear manufacturers. Back in the 1970s, its first regulator was the Omega, a bold servo-assisted, side-exhaust model renowned for being an easy breathe. Servo-assisted mechanisms are associated with high performance, but are expensive to build and can require more maintenance than conventional second stages.
A number of regulator manufacturers have experimented with servo second stages, but few have persisted.
Oceanic made it to an Omega 111, but the current second-stage line-up returns to traditional diaphragm-operated levers and underslung exhaust valves.
In the top-of-the-line Zeo, many interesting features are concealed within the conventional-looking first and second stages. So how well does it stands up to Oceanic's claims of easy breathing under demanding test conditions?
First Stage
The Zeo uses the Oceanic FDXi first stage. Made from brass with a PVD coating to further resist corrosion, it's a compact, lightweight diaphragm design, the type increasingly seen on high-performance regulators.
If a first stage can't feed a regulator enough air, even the best second-stage performance will be impaired. At depth, especially below 30m, air under pressure becomes much denser and feels viscous as you inhale it, while a bunch of physiological changes also making breathing harder.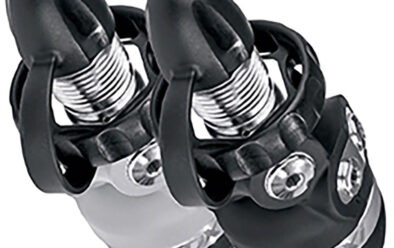 To help mitigate such challenges, the FDXi is actually overbalanced. It doesn't increase the pressure of the air it sends to the second stage to exactly match that of the surrounding water – 4 bar at 30m, for example – as a normal balanced first stage would do. Instead, it delivers air at a slightly higher pressure than that of the surrounding water.
Oceanic also claims that its internal air routeing reduces the pressure drop that occurs when air goes around a corner. This happens with most first stages with hoses that run off the side of the casing. This drop reduces ease of breathing under high demand, so maintaining pressure is important.
Confusingly, the Zeo, as required by EU law, is stamped as EN250-rated for use by a single diver to 50m but appeared not to be EN250A-certified.
I was surprised that such a regulator would not meet the higher A standard. EN250A confirms that a regulator has passed machine breathing tests at 30m when the primary and an octopus are being breathed hard simultaneously.
This provides a degree of confidence in a regulator's ability to be used for emergency sharing. It's an EU requirement that the EN certification is stamped on the regulator.
Confirming that the Zeo was EN250A-rated took a lot of research. It's not noted on website, perhaps reflecting a North American bias.
The importer stated that all Oceanic regulators do meet this standard, and I finally found the written confirmation buried in a generic manual for Oceanic regs.
The FDXi is rated for use in water as cold as 4°C. An optional coldwater kit that uses air to isolate the external diaphragm spring from the water is available for cooler conditions.
This also protects the spring and diaphragm from contaminants such as silt that might inhibit performance. The FDXi can be used with up to 40% nitrox without any mods.
There is a high-pressure port for pressure gauges and transmitters on either side of the first stage. There are also two mp ports, one of which is used for your primary second stage, on the left and right sides. As with most diaphragm first stages, these are fixed, not swivel-mounted.
You can choose from yoke, 200 or 300 bar DIN connections. I prefer 300 bar DIN and carry a simple screw-on yoke adapter in case I can't hire a DIN cylinder. Oceanic offers a yoke adapter as an option.
Second Stage
The Zeo, as befitting a high-end second stage, is pneumatically balanced. A second stage supplies air only when you want it by using a spring to keep a valve closed until you inhale.
The problem with an unbalanced second stage is that as you descend and water pressure increases, so does the pressure of gas leaving the first stage. It tries to push the second-stage valve open, so the spring must be strong enough to hold it closed, even on deep dives, until you inhale.
To overcome the spring resistance, you must use lung power – basically, sucking. Anything that increases breathing resistance is unhelpful, and becomes more problematic the greater your demand for air.
At the very least, you'll use more air simply because of the energy expended just to inhale.
A pneumatically balanced second stage uses a weaker spring than an unbalanced model. It harnesses air pressure by allowing air to surround the spring. This is used to supplement the spring's strength as needed. On deeper dives, air pressure increases to balance the air pressure coming from the first stage.
A lighter spring can be used, just strong enough to hold back the incoming air at low surface pressure, so the second-stage valve should be easy to open with the least amount of effort on your part, regardless of depth.
The lung effort you expend to open the valve and get the air to flow is called cracking effort. The Zeo has user-adjustable cracking effort. It can be dialled in at any point during a dive by turning a large scalloped knob.
Once you have cracked the valve and the air has started to flow, the venturi takes over most of the inhalation effort for you.
Most of the regulators I've owned have adjustments, but I'm not a fan of using them. Increasing cracking effort might be something you need to do if strung out on a reef hook or shotline and facing into a roaring current, but I've never experienced a freeflow in those circumstances myself.
Swimming hard against high current, I want the easiest-breathing, highest-performance reg I can get my hands on, and a better set of lungs.
A simple lever lets you turn off the venturi to prevent freeflows when the Zeo is not in your mouth. Venturi switches are also known as dive/pre-dive controls for a reason.
Under water, they should never be in pre-dive mode. A flexi hose links the first to the second stage, where it attaches via a ball joint.
In Use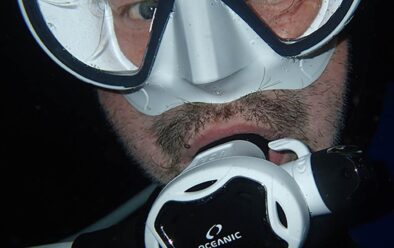 The Zeo second stage is very light and there's no noticeable weight on your jaw, even on dives exceeding an hour.
The mouthpiece bite-tabs are very soft which, I suspect, also adds to the feeling of comfort. The flexi-hose is unnoticeable when you turn your head.
Whether or not the ball-joint really helps, I wasn't sure. I couldn't feel it moving when I rested my hand on it and looked left and right and up and down. The diminutive design allows you to get your eye close to a viewfinder, and the exhaust T does an excellent job of diverting bubbles from your field of view, both benefits for underwater photographers.
Put this reg in upside-down by accident and it's unlikely it will dislodge your mask. Clearing it inverted by purging or exhaling is easy.
I'm no fan of breathing-adjustment controls, but most high-end regs have them. It's easier to compete by fitting them, even if they go unused.
The cracking-effort control is easy to grip.
A nice feature prevents you overtightening it. The venturi lever is easy to flick open or closed. Leave the Zeo wide open and it is a high performer with a very smooth breathing action.
Octopus Test
My deepwater, high-demand reg-sharing exercise aims to simulate a situation in which two divers are breathing hard from a single first stage using both a primary and secondary or octopus simultaneously.
No octopus was supplied, so I fitted another manufacturer's top-of-the-line pneumatically balanced second stage, adjusted for the easiest breathing possible. With experienced instructor Nick Balban, I descended to 32m.
To get our breathing rates up, we finned as hard as we could against our shotline anchor. Once I felt I'd reached my maximum breathing cycle, Nick came onto the octopus, and as his work-rate increased, I tried to detect any increase in breathing resistance from the Zeo. I could not.
What we can't subjectively assess is work of breathing – this is something measured on a breathing simulator as part of the EN certification process. But I feel our real-world test is reassuring and worth the effort.
Conclusion
The Zeo pushes all the right buttons if you're looking for a lightweight regulator that is also an exemplary performer. It's easy to travel with, so comfortable it's nearly unnoticeable and breathes beautifully. Highly recommended.