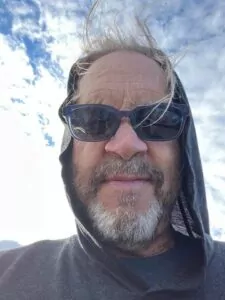 It's almost 30 years since MICHAEL MENDUNO organised the first two of the pivotal Rebreather Forums. Now he's back with RF4, the first of these events to be held outside the USA (it's in Malta). So what better time to explore at length the hot issues, how far rebreathers have come and where they go from here – hydrogen, anybody? He talks to Steve Weinman
"Rebreathers were in there at the beginning of tech diving, and they're still at the leading edge," says Michael Menduno. "There was Bill Stone back in 1987, with his 80kg dual rebreather, his vision – and here we are 30-plus years later, with Harry [Dr Richard Harris] on his 230m dive at Pearse Resurgence with his dual Megalodon rebreather on hydrogen.
"So it spans the gamut, and it's still definitely the tool for deep work, for long work, for exploration… but it's still small. Half of tech divers don't have rebreathers, so there's still some nuance to tease out – which I hope RF4 will do, to get a clearer picture of the market."
It was US diver Menduno who, through his hallowed magazine AquaCorps, organised Rebreather Forum 1 in 1994 and RF2 in 1996. He had already done something similar for nitrox diving with a 1992. workshop.
These were all highly influential events in the emerging world of "technical diving", the term invented by Menduno. RF1 marked the point at which the use of rebreathers by the closed cave and deep-wreck communities was arousing interest among sport divers who wanted to buy their own units and learn to use them – a development that would require a firm grip on safety and performance issues.
In his new book Technically Speaking, Simon Pridmore quotes early adopter Captain Billy Deans' succinct assessment of the situation: "The challenge is going to be bringing the technology to the market without killing too many divers in the process."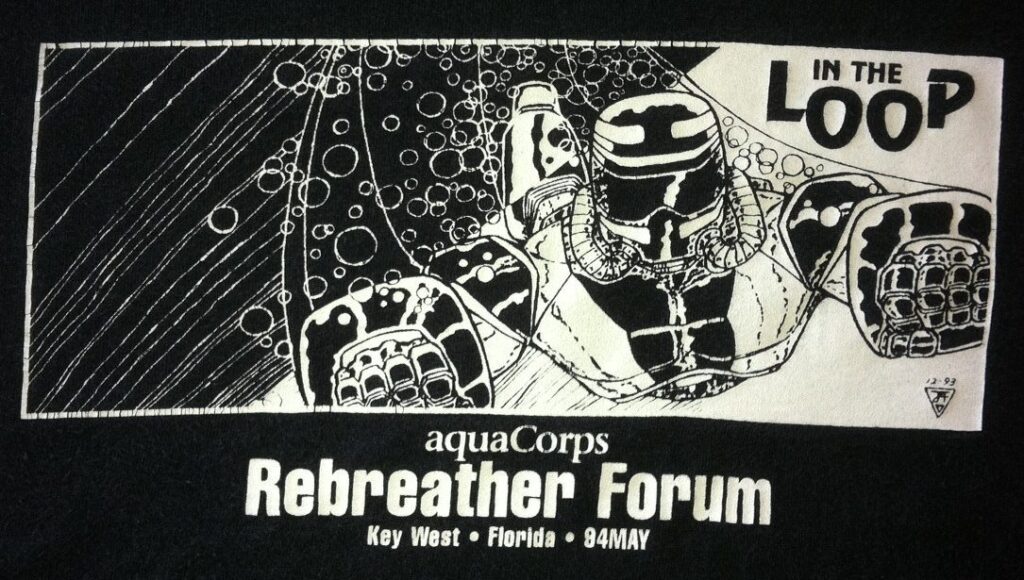 As the '90s moved forward, closed-circuit rebreathers persisted in being regarded by many open-circuit divers as "boxes of death" – this was well before general acceptance that CCR fatalities were almost invariably caused not by equipment malfunction but by "pilot error".
By the time of RF3 in 2012 (organised this time by Richard Vann) more refinements and features had been built into rebreathers in a bid to make them "failsafe". By now most training agencies had come onboard with the efforts of manufacturers such as Poseidon and Hollis to drag CCR into the mainstream.
The "recreational rebreather" had been introduced – yet the fact remained that rebreathers were not intuitive for divers to use. There were always decisions to make on dives.
In 2015 the RF-related Rebreathers & Scientific Diving workshop was organised by Neal Pollock in the States, but it is only now, 27 years on from RF2, that Menduno has dropped back into the hot seat from his California base to mastermind RF4 – in Malta.
"I forgot how much work these things take," he says, speaking about a month before the main event. "I haven't organised a big event for decades, there are just so many details – and whoever thought of doing it on another continent?!" He mimes a head exploding.
"The first three forums were in the US and, come on people, this is a global thing! Once we decided on Europe everyone pointed to Malta and said: that's the place to do it. I think it's going to be good but it definitely makes it harder trying to do things nine time-zones away. But as of today we have 251 people signed up, we're at break-even money-wise and people are trickling in every day, so it's looking good.
"RF3 in Orlando was huge, over 400 people, and it was a little different in that it was more like a conference than a symposium. We'll have a single track of presentations in one meeting room, straight through.
"Orlando wasn't a diving event, but we decided people want to go diving – and Malta is a great place to go diving." The presence of key sponsors on the islands was another factor in the choice of location – DAN Europe has offices there, while RAID's Paul Toomer was able to hook Menduno up with Heritage Malta, and is organising the diving through the 10 registered tech centres on Malta and Gozo.
"I haven't dived there yet but I'm bringing my rebreather," says Liberty- and Inspiration-user Menduno. "I'm not going to get to dive before the meeting but maybe after it, in Gozo."
Rebreather Who's Who
Many of the RF4 presenters will be familiar names from RF3 and some from the '90s events – people like Kevin Gurr, Simon Mitchell, Mark Caney, Phil Short, Richard Harris, Neal Pollock, David Doolette, John Clarke, Oskar Franberg, Vince Ferris and Richie Kohler.
"For me, some of the fun will just be to spend three days hanging around with the Who's Who of world rebreather diving, listening to the presentations, having lunch with people and networking," says the organiser. "It's exciting!"
Menduno's form in organising significant tribal gatherings extends beyond rebreathers – he also put together the first Tek, EUROTek and ASIATek conferences. He has been at the centre of technical diving since the beginning. A scuba diver from 1976, by the early '90s he was in Florida working with Billy Deans to set up Key West Diver, the first tech training centre. These days he is also known as executive editor of GUE's InDepth online magazine.
Why now for RF4? "I started thinking about this two years ago, about the issues and how we've come a long way since RF3, where the number one issue was safety.
"It seemed like every other week someone was dying on a rebreather, so that was a big focus. There was equipment too: solid-state sensors were just coming onto the market and we thought hey, that would be good!
"At RF3, with Poseidon, PADI etc we had this vision that in 10 years everyone would be on rebreathers, that recreational divers would be diving semi-closed units and the techies buying closed-circuit – and that just hasn't happened. Recreational rebreathers are not a thing!
"Back in the day, at RF3, no one was doing checklists. People were dying on rebreathers not because of equipment failures but because of human factors, and checklists were part of that. But it seems like we've improved. Safety is better, the equipment is better – so it just seemed time.
"I started talking to people and there was a lot of pent-up enthusiasm. A year and a half ago at DEMA the first person I approached was Drew Richardson of PADI, which had sponsored the second two forums and been there at the first. He concurred, said it would be great, and we kicked it off from there."
Safety first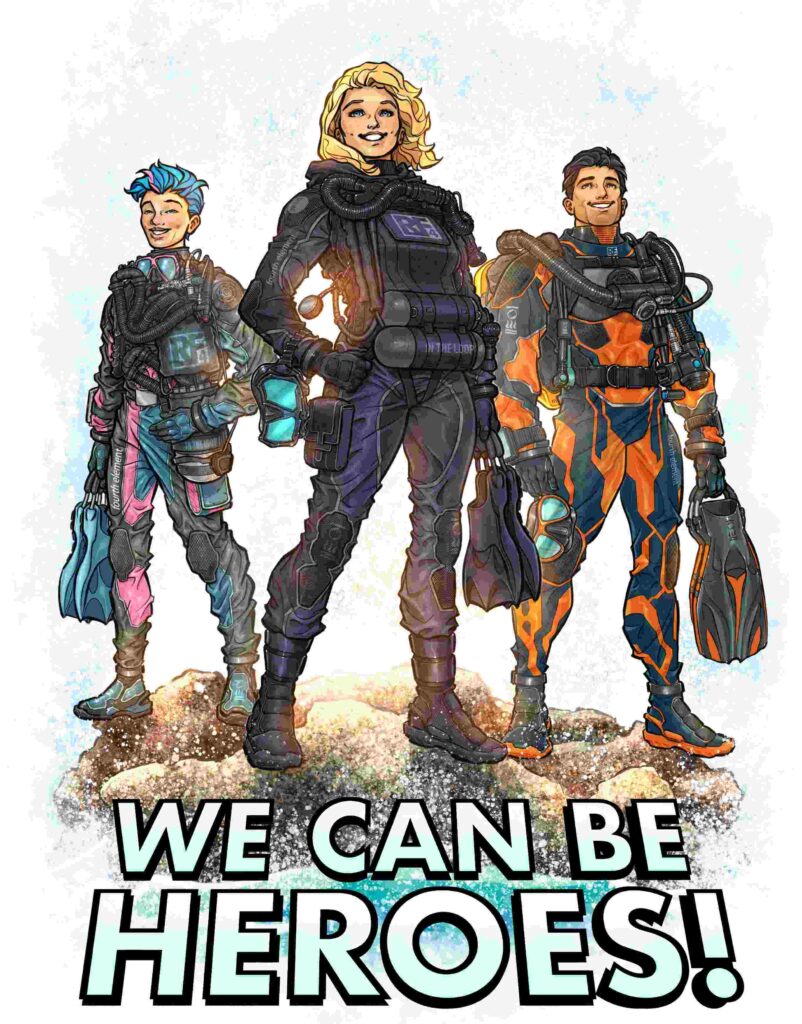 RF4 proper begins on 20 April, though the gathering extends over a full fortnight, with diving and related events sandwiching the three days of presentations and discussions. With the focus on safety and performance, the idea is to concentrate minds on what has happened, and what happens next.
Rebreather Forums are intended for dive pros; technical, government, military and scientific diving leaders; and organisations already involved or interested in this sphere of underwater activity.
So does that exclude amateurs who want to hang out with the movers and shakers? "We're loose, it's definitely a meeting for professionals but we don't really have credential police," says Menduno. "Where does that professional line lie? Hardcore explorers, for example, should be there, but it's not aimed at someone who's just taken a rebreather course. We're trying to strike this fine balance – those that need to be there should be there!"
Menduno might have a sense that rebreather diving has become safer, but do the statistics bear that out? "Frauke Tillmans, DAN US research director, is addressing the question in her presentation, looking at whether it is safer, in what ways and why.
"Eleven years ago Dr Andrew Fock, a hyperbaric doctor and rebreather diver in Australia, gave this paper that everyone quotes, saying that rebreather diving is 5-10 times more risky than open circuit. So the question is, has that changed?
"Anecdotally we still lose about 20 rebreather divers a year, and that contrasts to 120-140 divers overall in the USA, Europe and Australasia [the main rebreather markets]. Given how many more scuba sets there are than rebreathers, it would appear that the rate is higher, so that needs analysis.
"It's fair to say that we're still diving these machines but don't know exactly what we're breathing every moment. Presumably you're watching your PO2s, but is there CO2 in the loop? We're just poised to get much better sensor technology, which again we would hope will make things safer."
The numbers
Statistics remain a vexed question, however. "One of the problems in our industry is that if we ask how many rebreather divers there are, or how many rebreathers are out in the field, we have no answers. We know how many people die, but we don't know how many people were diving.
"So there's a data-consolidation effort this time among the training agencies to pull in all their certification data for the past 10 years for rebreathers. We're giving it to DEMA's research firm to scrub, so we'll get a consolidated total of how many people have been trained over that period and how many are trained a year. That should give us a better handle on how many active rebreather divers are out there, and help us determine the safety.
"We do know that in 2012 when RF3 happened there were 10 rebreather manufacturers, and now there are 25, with some 30 models.
"I'm working to get a handle on the number of rebreather instructors of all agencies out there, and it looks like it will be a fairly significant number of thousands. If they're all teaching x number of students a year, that'll give us an idea of how big it is."
Rebreather accident data capture has improved, says Menduno. "But one of the recommendations that came out last time was that the community should have an accident investigation team, like they do with airplanes. What happens is that we hear about someone dying or getting injured, then it all goes hush hush because of lawsuits etc, so we're not able to benefit from the knowledge of what went wrong.
"It's pretty clearly recognised that rebreather accidents are rarely if ever to do with the equipment and, even if our equipment breaks, we're supposed to be expecting that and to have a protocol to deal with it, so that should not lead to a fatality.
"I think it's recognised that rebreathers are just complex machines, and as humans sometimes we make mistakes. We need to find systems and support so that when we make mistakes, we don't die for them."
Hot issues
So what are the most contentious issues due for an airing at RF4? One that has remained controversial since RF3 – and in fact was also an issue back at RF2 – is that of airway protection in the event of a diver becoming unconscious. "There are a number of fatalities you can look at where if they'd had a mouthpiece retaining strap they would not have drowned," says Menduno.
"The military have standardised around full-face masks and mouthpiece retaining straps, which have the additional benefit of taking off some of the jaw strain, particularly if you have a BOV [bail-out valve]. But it's not broadly accepted, even though the Rebreather Training Council has made a safety initiative for straps, just as checklists weren't accepted 10 years ago. People aren't behind it."
Menduno cites an instructor trainer who told him: "The military need it but we don't – if you monitor your gas, why do you need one?"
"Which is kinda like saying: if you don't have an accident, why do you need a seatbelt? If you don't make a mistake… but we will make mistakes! It's our nature to make mistakes."
So nothing has moved on this since RF3? "Except that the Rebreather Training Council has come out to say that this is something we should do, some agencies are, I think, stepping forward on it as part of their classes.
"And more manufacturers are coming on board, so I think we have better mouthpiece retaining straps now. Martin Parker at AP Diving has a new strap, and at RF4 everyone is going to get a pretty nice, newly designed strap by Lombardi Undersea."
Sensors are another hot issue. "Ten years ago it seemed there was no argument that solid-state sensors would probably be more reliable, so the thinking was that by now everyone would have them on their machine. But in fact Poseidon's is the only one, so I think that bears some investigation and discussion.
"CO2 sensing is another issue. The thermal sticks that measure the heat of the scrubber bed that a number of units like AP and rEvo and others have – I think the technology is probably now there and will be discussed at the forum. It would be good to have that addition to rebreathers."
Despite general acceptance of the importance of checklists, it also seems that this box has yet to be entirely ticked off. "Looking at human factors, I've had quite a few people say to me that everyone was on checklists after the last forum, but now this sort of complacency has developed again – so that's going to be interesting."
Another looming issue is rebreather instructor insurance, says Menduno. "I just spoke to someone in Canada who is being quoted $15,000 [about £8,900] a year. It's an economic issue; insurers are just not getting in enough premiums to cover losses."
And there will be no shortage of physiological issues to discuss. "For example, these days on 'big' dives, in terms of depth or length with lots of deco, people are coming up with their CNS clocks at 200, 300 – they're exceeding the clocks, and yet nothing happens. They didn't tox, so are the algorithms off or what? There are definitely issues around how we measure oxygen toxicity.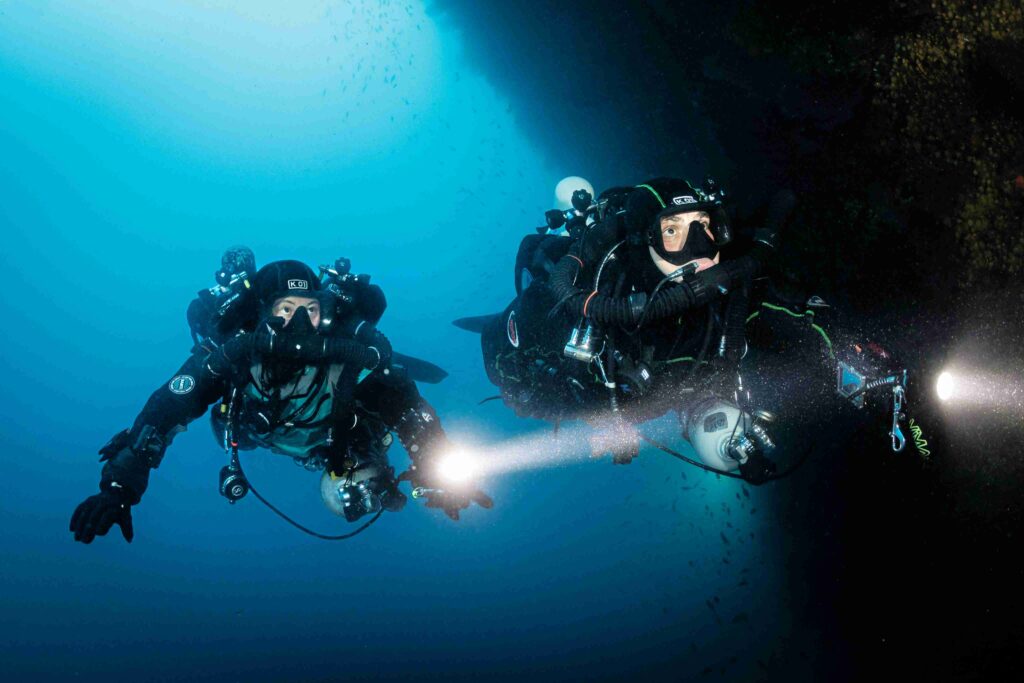 "On the decompression side, too, there are issues. A number of years ago David Doolette at the Navy Experimental Diving Unit did some experiments to show that really you shouldn't have to decompress longer when you're breathing helium than you do if breathing nitrogen, for example, as the diluent.
"The Buhlmann algorithm penalises you in a sense for this. It adds decompression time for helium and the finding is that that's probably not accurate, so I know the Navy is working to redo its tables to adjust for that.
"It's not just a matter of shortening the table, just lowering the decompression on a trimix table, because we don't really know on some profiles how much decompression is really needed. You can't just eliminate it because its helium v nitrogen – again, there's some nuance there."
'Voodoo gas'
If there are obstacles on the agenda, there are also breakthroughs. Foremost among these is the world's first hydrogen rebreather dive, carried out by Dr Richard Harris and the Wet Mules dive-team in New Zealand this February, to a test depth of 230m at Pearse Resurgence.
On the last night of RF4, a banquet will be held with keynote speaker Dr Harris delivering his report on this exciting 13.5hr dive. It was carried out to determine the practicality of using hydrogen to improve diver safety and performance on extremely deep scuba dives, and the next step will be to descend beyond 300m.
"That will be a very interesting discussion," says Menduno. "People don't appreciate the challenges. They used to call nitrox the voodoo gas – well, hydrogen, you can definitely call that the voodoo gas.
"It's problematic in the primary sense, because hydrogen is explosive if you have more than 4% oxygen, so just handling it becomes tricky. If you put it shallow you have to have more oxygen, and then you're going to be breathing an explosive mixture in a rebreather filled with lithium batteries and everything else. What could go wrong?
"It'll be pretty much limited to deep depth and it's still a question of how many people are diving to those depths – it's more than it was 30 years ago, but it's still a pretty small percentage. So it's possible hydrogen might be used for very specialised projects and more work needs to be done, but it's certainly a huge pioneering step by Harry and the Wet Mules."
Past and future
At less ground-breaking levels, how do the training agencies now regard the future of rebreather diving? "They pretty much all now do rebreather training, but Brian Carney at TDI, arguably the largest tech training agency and which probably does the most rebreather certifications globally, tells me that rebreather courses aren't even in their top 40. 
"So it's a nuanced picture. Rebreathers are definitely the tool of choice for many things, but not everyone is doing those things. Also, prices still haven't come down because it's not a huge volume, and if you're going to get a rebreather and can't pay the 10-12,000 euros or dollars there's a big, robust used market, because that price differential is a big one.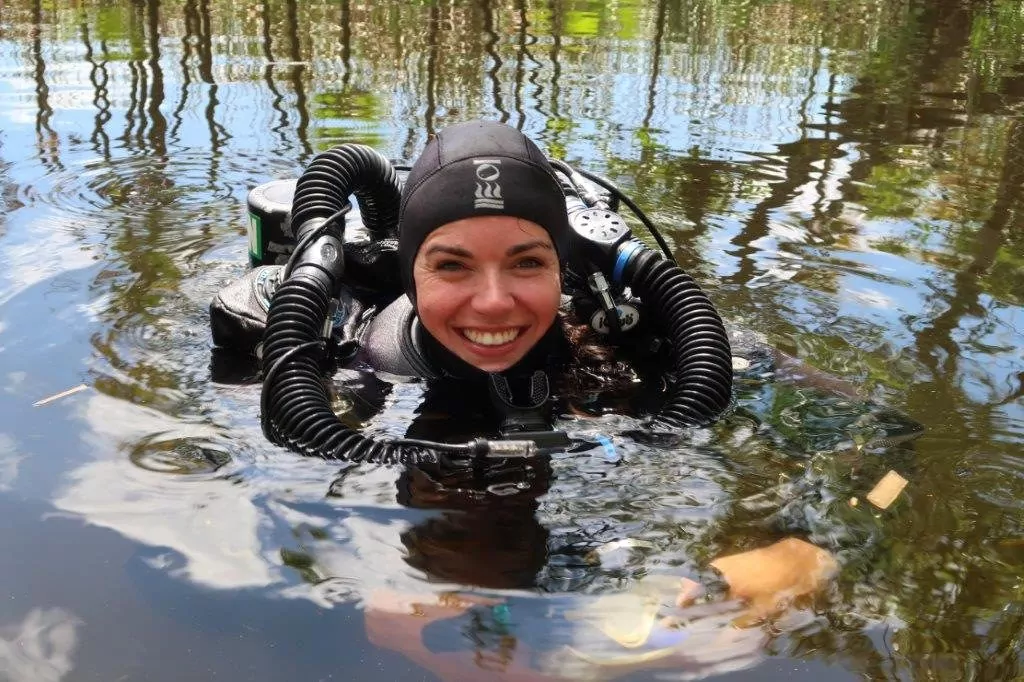 "I'm sure the number of rebreather divers has grown but maybe not as much as we think because, as new people come in, older ones are retiring. I hope the forum will provide a much sharper picture of what the market looks like."
Had Menduno expected the rebreather story to turn out differently? "I did. What I called the "tech diving revolution" back in the 1990s was a technological one and it was really about moving to mixed-gas diving. That was the precursor to rebreathers, because they are mixed-gas diving.
"We knew we wanted them back then and it just took a while to get them – like, another decade. The interest might have started in the '80s but there really weren't commercial models until Martin Parker came out with the Inspo in '97, followed by Gordon Smith's KISS that same year, and then the Meg.
"Yeah, I thought techies would all be on rebreathers and recreational divers would all be diving a Hollis Explorer or whatever.
"I'd been out of rebreather diving for a while for various reasons, recently got back into it and was reminded of just how much work they are! I was doing a Liberty class in Florida, and we'd roll out at 7am and roll back in at 7 at night; we hadn't had dinner but we'd think, wait, we have to prep the rebreathers first.
"But a lot of recreational divers, they just want to be in the water. A few people, maybe high-end divers and photographers, want them but otherwise they haven't really caught on. Mares is trying now to move that forward with the Horizon, and it'll be interesting to see what's next…" Many pressing questions – expect some intriguing answers to emerge in the aftermath of RF4.
All the papers presented at RF4 will be edited into scientific proceedings and circulated along with video versions around October. The following presentations are scheduled:
Thursday, 20 April: Michael Menduno (overview); Neal Pollock (hazards); Frauke Tillmans (accident review); Gareth Lock (human factors); Vince Ferris & Oskar Franberg (military diving); Pete Mesley (equipment options for diver safety); Andy Pitkin (bail-out strategies); Mauritius Bell (mixed-platform / mode diving).
Friday, 21 April: David Doolette (advances in decompression theory and practice); Mark Caney, Sean Harrison & Paul Toomer (training); Kevin Gurr (equipment developments); Simon Mitchell (CO2 monitoring developments); John Clarke (demystifying scrubbers); Richie Kohler (emergency procedures); Neal Pollock (thermal management); Timmy Gambin (CCRs in Malta shipwreck diving).
Saturday, 22 April: Simon Caruana (diving safety and medicine); Rachel Lance (future of physiological monitoring); Phil Short & Kevin Gurr (blue-sky future technologies); Alessandro Marroni (real-time physiological diver monitoring); Simon Mitchell ("strawman" brainstorming session); Richard 'Harry' Harris (hydrogen rebreathers).
Rebreather wreck-diving is offered from 14-18 and 24-28 April, and try-dives with a range of equipment from 14-18 at the National Pool Complex. New Fathom and KISS sidemount rebreathers, iQSUB's XCCR and FLEX2, rEVO, Mares Horizon, Lungfish ORCA and Dive Rite chest-mounted CHO2ptima models are expected to be available.
The three-day forum costs 531 euros (including VAT) to attend, including reception, lunches and banquet. It takes place at the Old University of Malta in Valletta – find out more at the RF4 site.
Also on Divernet: Sport Rebreathers, Past, Present & Future