TECHNICAL DIVER
The Technical Diving Revolution – part 1
MICHAEL MENDUNO is the man who coined the terms 'technical diving', as well as 'tekkie'. In the first of a three-part series, the US diver traces the origins and development of the trend-setting arm of the sport, and recalls some of the highlights of its first decade.
Though still regarded as crazy by some in the military and commercial-diving circles, technical diving, which just turned 30 depending on how you count it, is no longer considered the radical fringe. It has taken its rightful place as the vanguard of sport diving.
Today, nitrox is nearly ubiquitous among sport divers and helium is the gas of choice for deep diving – deep air diving is no longer deemed viable.
The trend today is for divers to limit nitrox diving (including air) to 30m and use a helium mix beyond that to offset the effects of nitrogen narcosis and gas density.
In fact, some training agencies have even begun to adapt helium mixes for recreational divers. Mixed-gas dive-computers are commonplace, and sport divers have also now surpassed the military to become the largest user group of closed-circuit rebreathers on this water planet.
The situation was very different when these technologies were just being introduced to sport diving, in what I then called the "technical diving revolution".
At the time, 40m was considered the maximum depth limit for scuba. Decompression diving was strictly verboten, and the only recognised breathing mix was air.
The emergence of technical diving in the decade from the mid-1980s to the mid-to-late-1990s was arguably one of the most exciting and profound chapters in the history of diving.
'There are places that no one has been to since the dawn of time. We can't see what's there.
We can see what's on the dark side of the moon or what's on Mars, but you can't see what's in the back of a cave unless you go there.'
Sheck Exley, Exley on Mix, aquaCorps #4, Jan 1992
At the time, as founder and publisher of aquaCorps: The Journal for Technical Diving (1990-1996), I described the transition as a technological revolution akin to the PC revolution in the world of computing.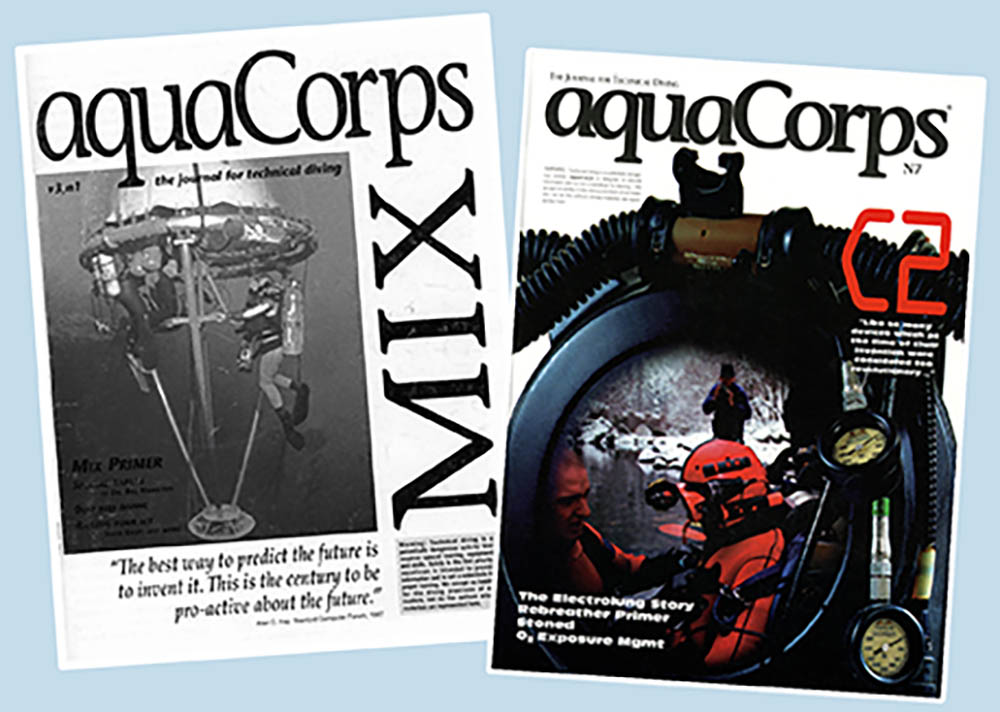 Like the PC, mixed gas or "mix" was clearly a disruptive technology. In less than a decade, sport divers and their scientific diving counterparts transitioned from air diving – a single gas to handle all exposures – to mixed-gas diving.
In doing so, we collectively pushed our self-contained diving envelope from "no-stop" exposures to a maximum of 40m to full-on decompression dives to depths of 75-90m and beyond.
In the words of tech-diving pioneer Capt Billy Deans: "We doubled our underwater playground." Though tech divers were conducting a few sub-90m dives at the time, many of us thought that these were exceptional, and beyond the reliable range of open-circuit scuba.
There was also tremendous interest in rebreather technology, which at the time was essentially the sole province of military divers. It would take almost another decade to develop the necessary (mixed-gas) infrastructure, training and consumer-oriented manufacturing base for rebreathers to become a common tool for exploration and extend our envelope even further.
In retrospect, it was inevitable that sport divers would make the transition to mixed-gas technology, which was first developed by the US Navy in the 1930s and later adapted by commercial-diving contractors in the '60s to improve diver safety and performance.
Like the military and commercial-diving communities before them, amateur explorers were pushing the physiological limits of air diving and consequently sought out the means to extend those limits. As self-contained divers, they also needed to find a way to extend gas supplies as they ventured deeper and stayed longer.
However, unlike the military and commercial-diving communities, which had deep pockets, extensive infrastructure and tightly controlled diving operations, the sport-diving communities' transition to mixed gas and rebreathers was largely a seat-of-the-pants venture.
As a result, the "tech" diving revolution was controversial, and a disproportionate number of divers lost their lives in the early years as the tech community sought to work out reliable operating standards and procedures.
The history of diving is the story of the quest to go deeper and stay longer. Mixed gas is one of the enabling technologies to do that.
The US Navy was the first to develop mixed-gas – specifically helium – diving protocols in the 1930s to be able to rescue sailors from downed submarines.
Commercial divers followed in the '60s, developing their own protocols and methods as oilfield diving pushed beyond reliable air-diving limits.
At the time, commercial air dives were limited to about an hour or less bottom-time to depths of 75m.
In contrast, tech divers' motivation was summarised in simple terms by renowned cave-diver Sheck Exley in his quote at the start of this article. I think it's fair to say that without this genetic disposition to explore, we wouldn't be discussing the history of tech diving at all, or possibly even sport diving; and it's not just explorers who are subject to this impulse.
I propose that recreational divers are drawn by this same urge when they descend on a reef or a kelp forest for the first time, or the 10th, and in doing so are able to vicariously touch the wilderness that surrounds us.
This need to "go where no one has been before" was a driving force in the 1980s, which was a time of intense underwater exploration, particularly in the cave-diving community.
It was not uncommon at the time for explorers to be conducting relatively long 60-125m dives on air using oxygen for decompression, at their own peril.
Needless to say, the details of many of these dives were kept secret by the individuals involved, lest the innocent be led to slaughter. Even in the cave community, where these dives were more or less accepted as necessary to push back the frontier, there were no guidelines for diving beyond 40m.
In the mid-to-late 1980s, small groups of experienced divers led by pioneers such as Dale Sweet, Jochen Hasenmayer, Sheck Exley, Bill Gavin, Parker Turner, Bill Main, Lamar English, Stuart Clough, Rob Palmer, Olivier Isler, Billy Deans and others began experimenting with helium mixes to push the limits of self-contained diving still further.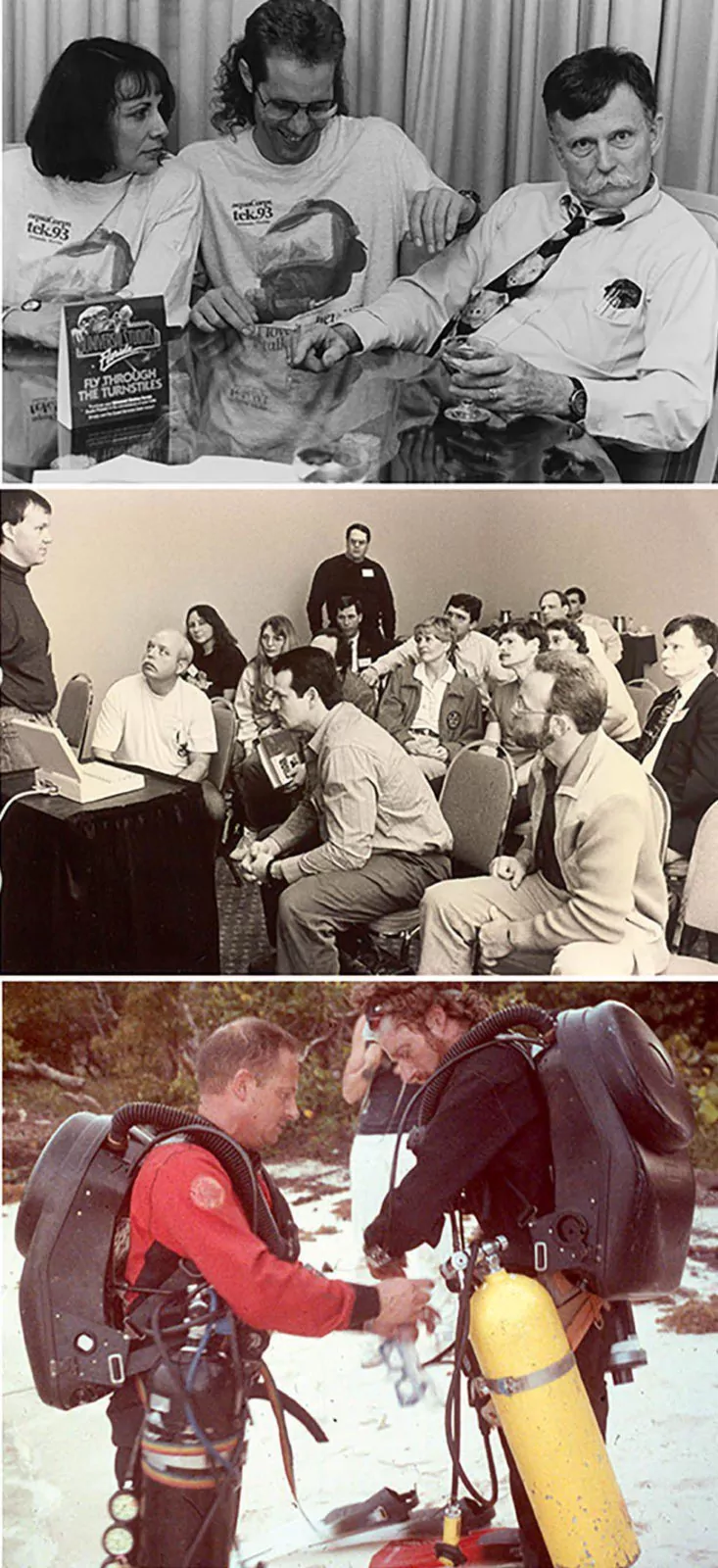 Diving physiologist Dr RW "Bill" Hamilton and others such as anaesthesiologist John Crea, UK engineer Kevin Gurr and COMEX diving consultant Jean Pierre Imbert aided them by providing special mix decompression tables.
If you went to seek Dr Bill's help with a mix dive, he would first try to talk you out of it and explain all the risks. If he couldn't talk you out of it, and he was convinced that you weren't going to kill yourself, he would agree to help.
It seems remarkable today that explorers such as Exley were conducting mixed-gas cave dives as deep as 189-274m in the mid-to-late '80s, before most of the sport-diving community could even spell nitrox, let alone appreciate its use.
The fact that the cave environment offered confined water and ample areas for staging cylinders (and decompressing) made it a more accessible proving ground for mix technology than open water.
The wreck-diving community was also engaged in extensive exploration, and was pushing air limits with relatively short 15-25 minute dives to 61-79m. Most of these dives were conducted on air using US Navy tables or dive computers, and in the early days few if any wreck-divers were using oxygen for decompression.
Billy Deans, who owned a Key West Florida dive-shop, began developing mix protocols after losing his best friend on an air dive on the Andrea Doria wreck in 1985.
That same year, he helped Capt Steve Bielenda install an oxygen decompression system on Bielenda's boat the rv Wahoo, based in Montauk, New York, that got divers out of the water faster and with fewer bends.
Soon everyone was decompressing with oxygen. Deans went on to create the first technical-diving training centre, and trained many north-eastern wreck divers to dive mix.
Arguably the poster-child for mixed-gas diving was the Wakulla Springs Project, organized by caver and engineer Dr Bill Stone in the autumn of 1987. The project captured the imagination of the diving community, or at least those in the know.
In two and half months, Stone and company were able to map some 3.7km of underground passageway at depths ranging from 79-98m.
They used a host of new technologies and techniques, including open-circuit heliox with nitrox and oxygen for decompression, high-pressure cylinders, long-duration scooters and an underwater decompression habitat.
Compared to sport diving at the time, Wakulla was the equivalent of an underwater moon-shot. As the first large-scale mixed-gas expedition of its kind, it's reasonable to recognise Stone's Wakulla project as the starting point for the emergence of tech diving.
Though the Wakulla Springs dives were accomplished using open-circuit scuba, Stone realised that rebreathers would eventually be needed to overcome the limitations of open-circuit gas logistics for deep cave diving.
Accordingly, Stone and his team built a 75kg prototype, the MK-1 fully redundant rebreather, dubbed FRED (Failsafe Rebreather for Exploration Diving), which Stone trialled in a 24-hour long dive. And Stone was not alone.
Stuart Clough, principal of Carmellan Research, and British explorer Rob Palmer, with the help of engineer Kevin Gurr, later president of VR Technology, were using modified Mk-15 military rebreathers along with open-circuit heliox to explore the Andros Blue Holes in 1987.
And in Europe, cave-explorer Olivier Isler teamed up with engineer Alain Ronjat to build the RI 2000 semi-closed rebreather, which he used to push the La Doux de Coly siphon in 1989.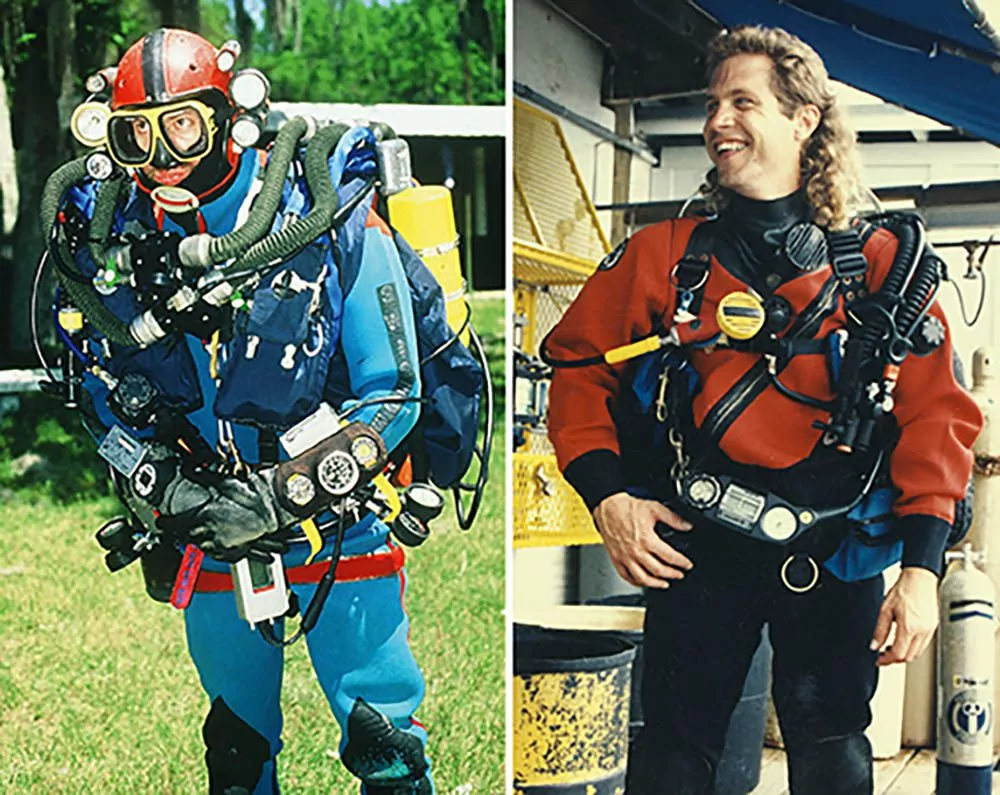 So what is technical diving?
Back in the late 1980s and early '90s, technical diving was distinct from recreational diving. At the time aquaCORPS offered this definition:
"Technical diving is a discipline that uses special methods, equipment, training and skills to improve underwater safety and performance, enabling divers to explore a wide range of underwater environments and perform tasks beyond the range of recreational diving.
"This typically involves 'extended-range' exposures outside the recreational envelope (no-stop dives in the 0-40m range) and is usually conducted in an 'overhead environment' of a wreck, cave or decompression ceiling where the diver cannot freely ascend to the surface."
Later, Lamar Hires, founder and CEO of Dive Rite, offered a simplified definition of tech diving: "A technical dive is any dive where you have to switch regulators, ie make a gas switch".
Today, the distinction between technical and recreational diving has become more nuanced. There is a continuum of diver skill levels, from newly certified recreational divers to veteran tekkies, and widespread use of what were once considered advanced technologies such as nitrox and helium breathing mixes, computers and rebreathers.
Read parts 2 and 3 here:
The Technical Diving Revolution – part 2