Workers dredging for aggregates in a Kent quarry lakebed last April were surprised to come across the remains of what has turned out to be a rare Elizabethan-era ship.
The hull timbers lay about 300m inland on a Dungeness headland, and the CEMEX quarry team were quick to call in experts from Wessex Archaeology, while the county council requested support and funding from Historic England. The find has been kept quiet but is due to be featured on the BBC2 TV series Digging for Britain at 8pm tonight (1 January).
On the programme Prof Alice Roberts will discuss the discovery of the unidentified English-built sea-going vessel, very few examples of which survive, with Wessex Archaeology marine archaeologist Andrea Hamel and Historic England's head of marine heritage strategy Antony Firth.
"This was one of those completely unexpected finds," says Prof Roberts. "Who expects to find a historic shipwreck in a quarry? Luckily the workers recognised they'd stumbled on something quite extraordinary and called in the experts from Wessex Archaeology.
"This large piece of a hull is so well-preserved, it's giving us precious insights into Elizabethan shipbuilding."
More than 100 hull timbers were recovered, with dendrochronological analysis confirming them as English oak hewn between 1558 and 1580. This was a transitional period for shipbuilding in northern Europe, as vessels moved from traditional clinker construction to the form in which the frame is built first and flush-laid planking added later – as on the Mary Rose.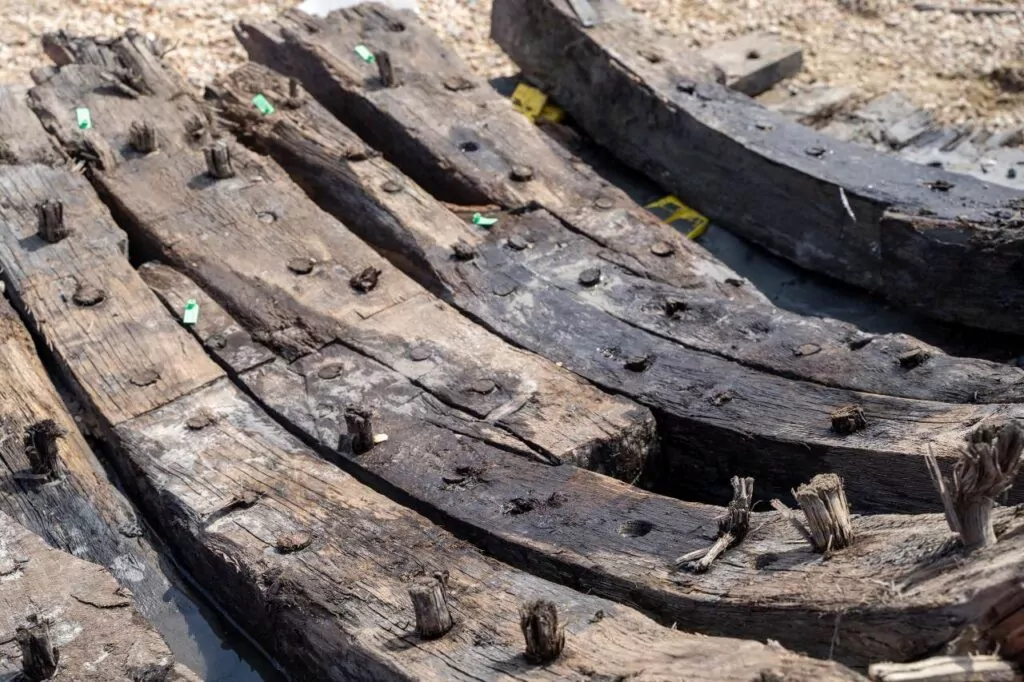 The English Channel was a major trading route in Tudor times. If what is now the quarry site lay on the coast during that period, the ship is likely either to have wrecked on the shingle headland or been discarded at the end of its useful life.
The archaeologists are recording the vessel's details using laser-scanning and digital photography. Once their work is complete, the timbers will be reburied in the lake so that they can go on being preserved in its silt.
Also on Divernet: Diving Brothers' Wreck Find 'Biggest Since Mary Rose', 750-Year-Old Wreck Found Off Dorset – Timbers And All, Cash For Divers Recovering Artefacts, Spotlit: England's Historic Shipwreck Sites