A freediving couple have smashed a 13-year Guinness World Record by kissing under water for 42 seconds longer than the previous holders.
Also read: Pushing photo-shoot limits for new world record
"One Breath" Beth Neale, 40, and Miles "Aquaman" Cloutier, 33, sealed their lips together for 4min 6sec in a pool at the LUX South Ari Atoll resort in the Maldives on 4 February, with the news released by GWR to coincide in with Valentine's Day.
The couple's three-year project to break the old record, which had been set on an Italian TV show in 2010, proved more challenging than they had anticipated.
They met five years ago in Bermuda, where Neale from South Africa runs five-day freediving and conservation camps for children. Cloutier, from Canada, turned up as a non-diving volunteer. Now engaged, they live together in South Africa with their 18-month-old daughter, working as underwater wildlife film-makers.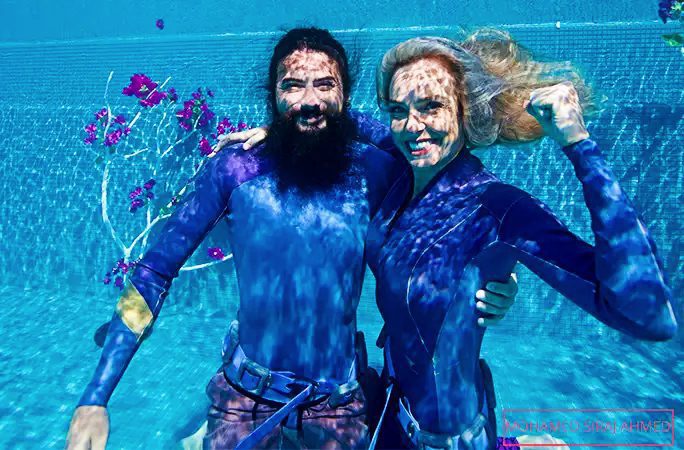 Neale, a four-times South African freediving champion, has set a number of national and African Continental records and taught Cloutier to freedive. She is a Pure Apnea Master Freediving Instructor and also a PADI Advanced Open Water Diver – she had been scuba diving for almost 10 years when she did her first freediving course in a UK quarry while living in London.
The couple took several weeks out for serious training for their underwater kissing record in South Africa, but once in the Maldives found that pre-bid nerves kicked in to the extent that they couldn't even match the existing record time.
"Three days before the record I just could just not hold my breath," Neale told GWR. "It was very interesting for me because I'm a freedive instructor, and all the things I tell my students, I wasn't able to follow myself for the first time in my life."
What made the difference from her usual ocean freediving was having to remain still and be aware of the passing of time, she said.
On the day, after their warm-up routine the couple completed two trial underwater kisses of two and three minutes before going for the record.
They had asked the watching crowd to stay silent until the four-minute mark had been passed, but in the event neither of them could hear the cheering – in Neale's case probably because she was curing her nerves by listening to Eminem's Lose Yourself on her underwater earphones.
The record was verified on the spot by a GWR adjudicator.
Also on Divernet: Freediver Goes For An Epic Walk, Deepest Female Scuba Diver Just Added 10m, Wheelsdan Claims 3 Worlds At Stoney, Icebreakers: Freediving Records Topple