A single world freediving record was broken at the 30th AIDA World Championship event in the Olympic-sized pool at Jeju Stadium, South Korea. It came on 13 June, the Dynamic No Fins (DNF) competition day, as Polish athlete Julia Kozerska broke her own women's record by 4m by swimming a distance of 213m.
This was Kozerska's seventh AIDA world record, her previous DNF 209m having been set at the World Championship in Bulgaria last year. Considered the purest and most demanding of freediving pool disciplines, DNF involves swimming horizontally under water using only arm-strokes and frog-kicks.
Kozerska said afterwards that she had been uncertain of her ability to achieve such a distance on the day, having worked hard during the previous day's Dynamic Bi-fins (DYNB) competition. It was only as she reached the turn after her fourth length of the 50m pool that she had decided she was capable of pushing further for the record.
The week-long event hosted the most freedivers at a pool world championship in AIDA's history, with 146 competitors from 30 countries taking part.
DYNB, the newest freediving discipline introduced in 2018, brought a number of national and continental but no world records on day 1. There was a new men's record for the UK, however, set by Adam Drzazga with his 208m swim. The world record in this discipline is 290m, set by Poland's Mateusz Malina in March 2022.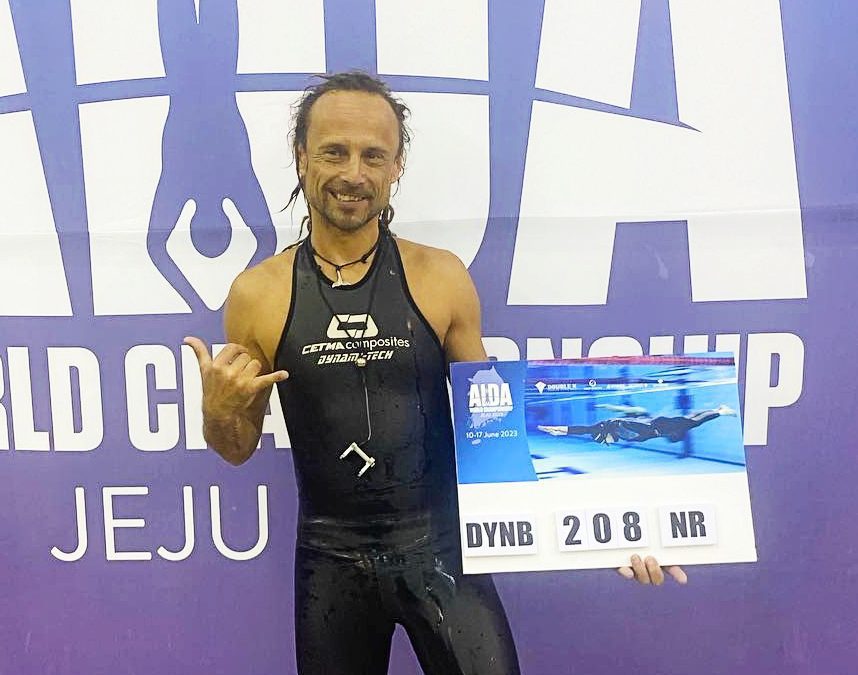 The other World Championship disciplines were Static Apnea (STA) and Dynamic With Fins (DYN), and altogether 10 AIDA continental and 60 national records were broken over the course of the week.
Kozerska and Aleksandr Maksimov, who is Russian but was allowed to compete as "International", earned the most combined points from all four disciplines and were named overall winners of the competition.
Also on Divernet: British freediver breaks 15-year national record, Freediver Zecchini smashes bi-fins world record, 10 top tips for freedive equalisation, Bare-skinned freediver cracks ice depth record, The best freedive in the world